50 Pressure Cooker Recipes To Make Life Easier
Similar to a crockpot in the sense that you'll get a meal ready in a less messy and fussy way, pressure cookers take it up a notch and do it quickly too! Soups, pot roast and more, with these 50 pressure cooker recipes your life will be so much easier. That goes for desserts and sides too and not just main courses!
1. Pulled Pork
Chili Pepper Madness teaches us how to make a quick and dirty pulled pork to be used for all kinds of dishes. Top off a baked potato or a classic BBQ sandwich!
2. Chicken Noodle Soup
A reliable and yummy chicken noodle soup recipe has to be a part of everyone's home. And if you visit Chef de Home you'll learn how to whip yours up in the pressure cooker.
3. Cheesy Chili Mac
The entire family will entire this cheesy chili max. And have fun with toppings too – sour cream, jalapeños and even some fresh avocado add extra deliciousness to the dish. (via)
4. Rice Pudding
Yes, you can even make some desserts in your pressure cooker. Learn how to make classic rice pudding with some help from Pressure Cooking Today.
5. Tomato Sauce
Kitchen Confidence has all the details you need to make some scrumptious tomato sauce that you can use for lots of different dishes. Smother your chicken breasts or mix in with your spaghetti, you'll win every time.
6. Honey Sesame Chicken
Pressure Cooking Today also helps in the creation is this delicious bowl of honey sesame chicken. Hop on over and grab the recipe now!
7. Hazelnut Flan
How does some hazelnut flan sound? You can learn how to make this in the pressure cooker too and wow your guests at your next dinner party. (via)
8. Pork Ragu
Learn how to satisfy the family with a bowl of pork rage by visiting Bitchin Camero. And don't forget some fresh mozzarella or parmesan to sprinkle on top!
9. Blackberry Italian Soda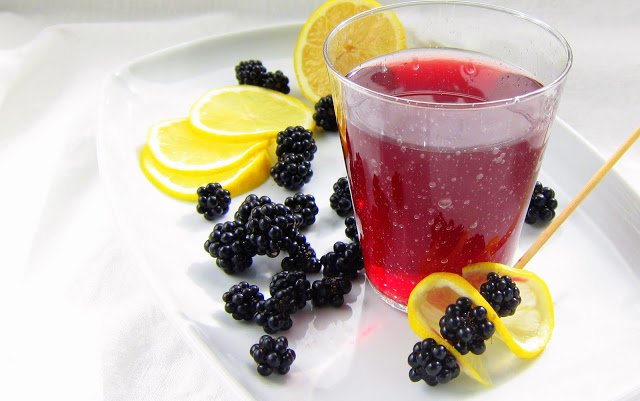 We were just as surprised to find tis Italian soda recipe! Who knew you could make this sipped treat with a little help from your pressure cooker? (via)
10. Barbacoa Beek
With an accompaniment of rice and a pressure cooker, Skinny Taste brings us a yummy and healthy recipe for everyone in the family to enjoy. And you can personalize your own plate with toppings you love!
11. Green Chili Pork Carnitas
These pork carnitas can prove to be a fun dinner night with the family as well. The meat can be cooked up quick and then you can sort out whatever toppings you'd like: onion, pico de gallo, cheese, sour cream, avocado and more! (via)
12. Rotisserie Chicken
Yes, you can even roast an entire chicken inside! A Pinch of Yum has all the details behind this easy-to-follow recipe.
13. Enchilada Pasta
Enchilada pasta is another meal that the entire family will dive into a love. Check it out at The Homemade Cook.
14. Cilantro Lime Rice
Are you a fan of Chipotle's cilantro lime rice? If so, check out the recipe and serve it up at your family's next taco night! (via)
15. Vegan Lentil Chili
This lentil chili may be vegan but it's just as satisfying as recipes that are plumped with beefs. Grab the recipe at Peas & Crayons.
16. Sweet Soy Sauce Shredded Chicken
Recipe Tin Eats made some sweet soy sauce shredded chicken that can be used atop a variety of dishes. Whether it's rice or a way to jazz up your salad, you'll love it!
17. Asparagus Risotto
Risotto can be quite tricky to make but it can be a bit easier when you have a pressure cooker to help you out. And over at She Knows you'll learn how to whip up an asparagus version.
18. Sausage and Mash
Every Nook & Cranny made some sausage and mash that will satisfy all the tummies at the table. It's a great dish for winter nights served up after a small salad course!
19. Zucchini Basil Soup
My Food Story has all the details behind this refreshing zucchini basil soup. We love this as a brunch staple or a springtime treat.
20. Coca-Cola Baked Beans
Take your neighborhood BBQ to the next level with a batch of these Coca-Cola baked beans at the table. Snatch up the recipe over at Kitschen Cat.
21. Ribs
Why not indulge a bit with some ribs at home? Make it an easier dish to make for the family by using the pressure cooker to your advantage with this one! (via)
22. French Dip Bowls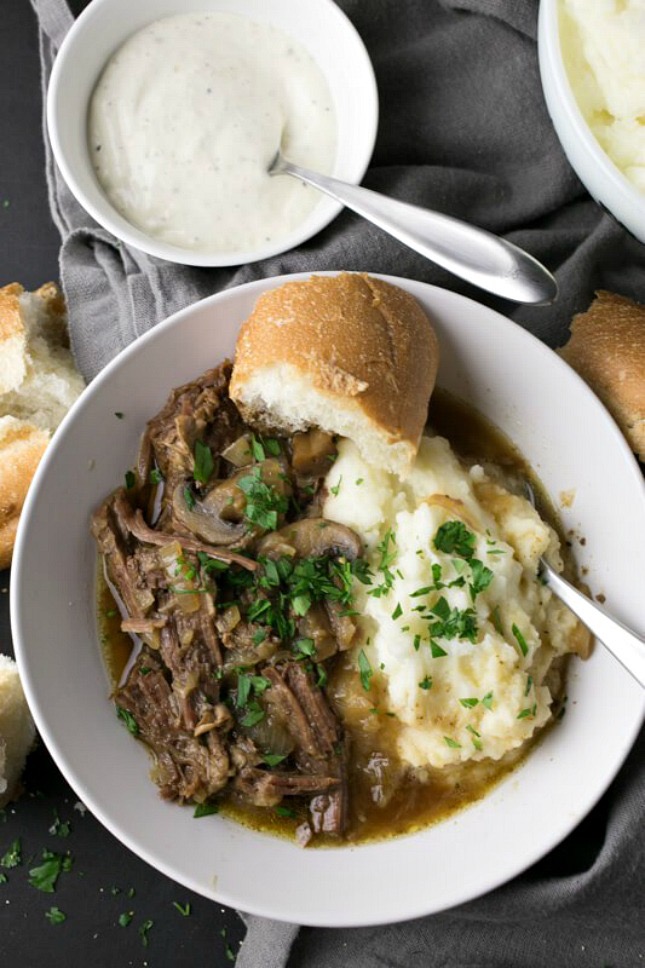 Get all the flavors of a classic French dip inside this bowl of yumminess. Accompanied with some mashed potatoes, you'll love this dish from Chattavore.
23. Rosemary Black-Eyed Pea Soup with Kale
Rosemary black-eyed pea soup could be your new way to start off the New Year. Grab the recipe at Light Orange Bean.
24. Sweet BBQ Meatballs
Pressure Cooking Today gives us this sweet BBQ meatball recipe that just made potlucks so much easier. Whether you need an appetizer for a brunch, shower or any other get-together, it'll be a new go-to treat!
25. Smoky Bacon Chili
Some smokey bacon chili from PaleOMG will have the entire family satisfied and happy too. A dollop of sour cream on top is all you need to finish it.
26. Spaghetti Squash and Meat Sauce
Skinny Taste gives us all the details behind a yummy plate of spaghetti squash. You'll learn how to whip up some meat sauce to top it off too.
27. Roasted Chicken with Lemon and Rosemary
Lemon and rosemary chicken is scrumptious and on the healthy list of dishes to create as well. Grab the details over at Our Best Bites.
28. Chicken Enchilada Soup
Here's another bowl full of goodness that the entire family will love. Check out the recipe for this chicken enchilada soup over at Real Simple Good.
29. Lamb Leg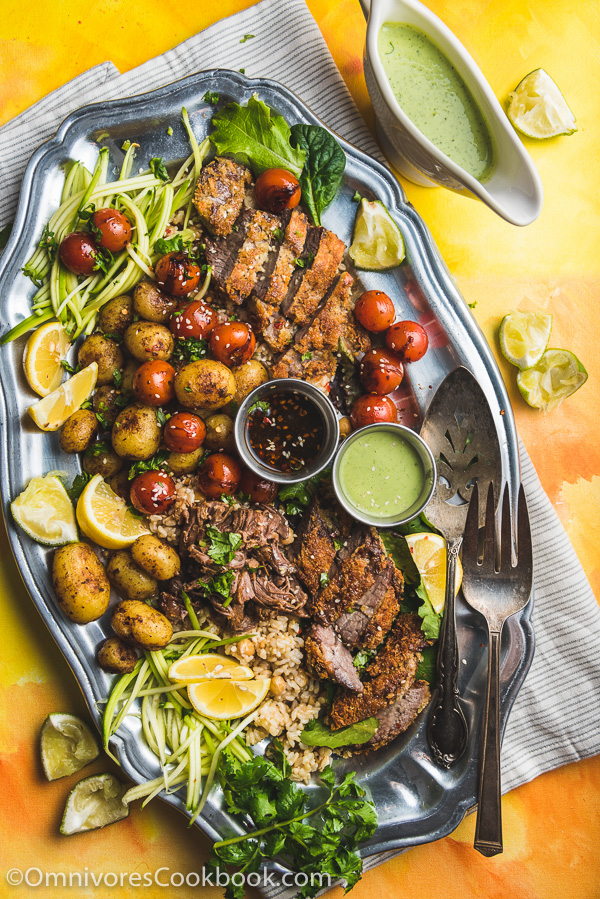 Even lamb leg can be made easier with some help from your trusty pressure cooker. Make dinnertime a little more adventurous tonight! (via)
30. Summer Italian Chicken
This summer Italian chicken from Nom Nom Paleo has so many wonderful benefits: it's delicious, it's light, it's refreshing and it's good for us and the family too!
31. Fried Chicken
Yes, you can even make fried chicken in the pressure cooker. Follow along with the details over at Cookistry to learn how.
32. Turkey Verde and Rice
The Creative Bite whipped up some turkey verde with rice and we're positive that the entire family will love it. It's not too scary for the kids and it's got enough flavor the the adults to love.
33. Green Chile Chicken
This green chili chicken from Stupid Easy Paleo looks rather scrumptious, don't you think? We love the fresh lime and how tender the chicken is.
34. Mexican Beef Stew
Some Mexican beef stew can be quite the satisfying dinner as well. Grab your pressure cooker out from the cabinet and get to work! (via)
35. Beef Barley Soup
Little Spice Jar knows the way to our hearts when we just need a warm, comfort food. Some beef barley soup will always hit the spot.
36. Chicken and Rice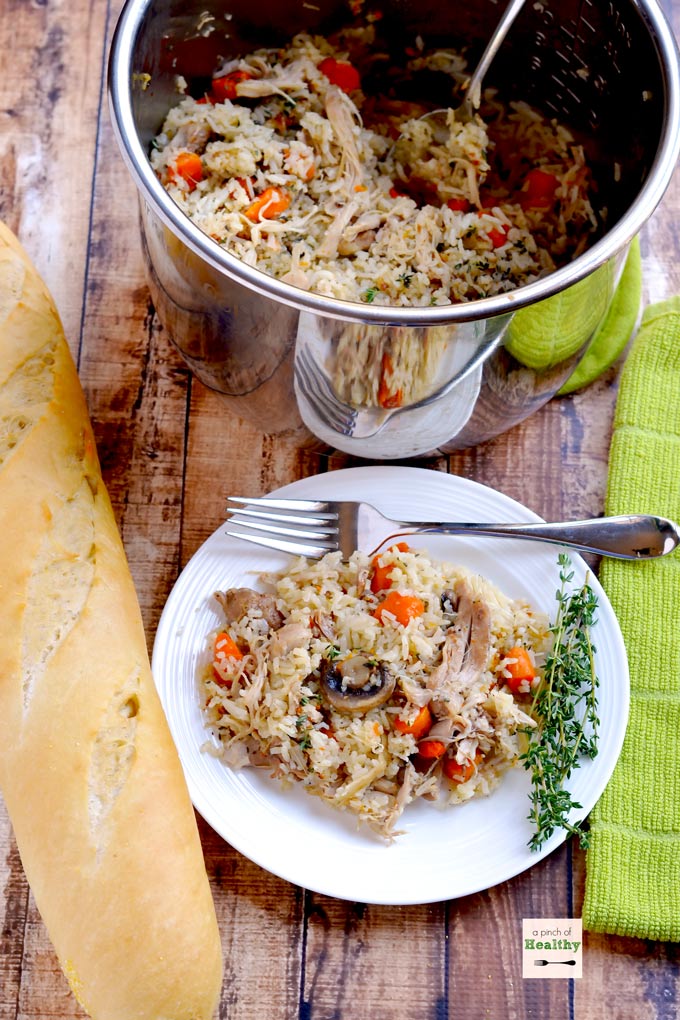 Chicken and rice will also always be a family staple. Snatch up the recipe at A Pinch of Healthy and make everyone at the dinner table happy tonight.
37. Ginger Garlic Drumsticks
These are great for weekends, football games or any other kind of friendly get-together with the family. Living Sweet Moments teaches us all about these ginger garlic drumsticks.
38. White Bean Chicken Chili
Here's another easy chili dish that you'll love. With some chicken and white beans, it's both healthy and yummy too. (via)
39. Asian Steamed Dumplings
These Asian steamed dumplings will accompany some honey sesame chicken tonight or act as a great dish to bring to a party. Grab the details at Healthy Slow Cooking.
40. Cashew Butter Chicken
Wholesomelicious has one of our favorite recipes on the list. Run now and learn how to make a cashew butter chicken bowl – with rice – for everyone to enjoy!
41. Honey Sesame Chicken
See, you can whip up those dumplings and then this honey sesame chicken in the pressure cooker too. All you need is that pressure cooker to get the party started! (via)
42. Chicken Cordon Bleu Casserole
If you love all the flavors behind a chicken cordon bleu, then you'll love this casserole. Check it out over at Adventures of a Nurse.
43. Pork & Sauerkraut
My Life Cookbook made a pork and sauerkraut bowl that can warm up some cold nights in the fall and winter. It's an easy dinner that packs a punch!
44. Turkey Meatball Stroganoff
How about some turkey meatball stroganoff tonight? With this recipe from Skinny Taste you'll fill up with a healthy version of a favorite comfort food.
45. Potatoes
Accompany your meal tonight with some potatoes helped made by the pressure cooker. Snag the directions from Simply Stacie.
46. Shredded Mexican Chicken
Learn how to make some shredded Mexican chicken from Rebooted Mom and use it for a multitude of different dishes. This chicken can be placed on top of rice, used in tacos, on salads or even stuffed inside bell peppers or baked potatoes!
47. Buttery Lemon Chicken
Some buttery lemon chicken from Mama Instincts can make a plate full of penne even more delicious. Grab the details after the jump!
48. Indian Butter Chicken
Who loves Indian butter chicken? Even if you've never heard of it before, we're certain you'll love this bite from The Castaway Kitchen.
49. Ham Hock Soup
Classic, ham hock soup from The Wooden Spoons should also become a staple meal for the family. It's the perfect way to use leftover ham!
50. French Dip Sandwiches
And finally, learn how to use your pressure cooker to make some French dip sandwiches. It's an easy, satisfying dinner for everyone to dive into tonight. (via)