25 Beautiful DIY Porch Ideas
Now that we're in the midst of the warm season here in the northeast, the hot weather has given most porches and patios a drab, sad look. If you're in the same boat, spice up your outdoor space with one of these fun DIY projects that will surely give your space some serious pizzazz.
1. Hey Y'All Welcome Mat
Welcome guests onto your porch with this fun DIY mat. Just grab a plain old outdoor mat from IKEA and some paint and get to work on this whimsical "hey y'all" welcome mat. Make your way over to Dream A Little Bigger to find out how to make one yourself.
2. Citronella Floating Candle
Make a few of these pretty floating candle mason jars that will keep mosquitos away from your porch. Simply fill up a couple of mason jars with water, lemon, lime, and rosemary. The last step is to put a few drops of citronella oil in the water to repel bugs. Read more at Nest of Posies.
3. Pallet Bench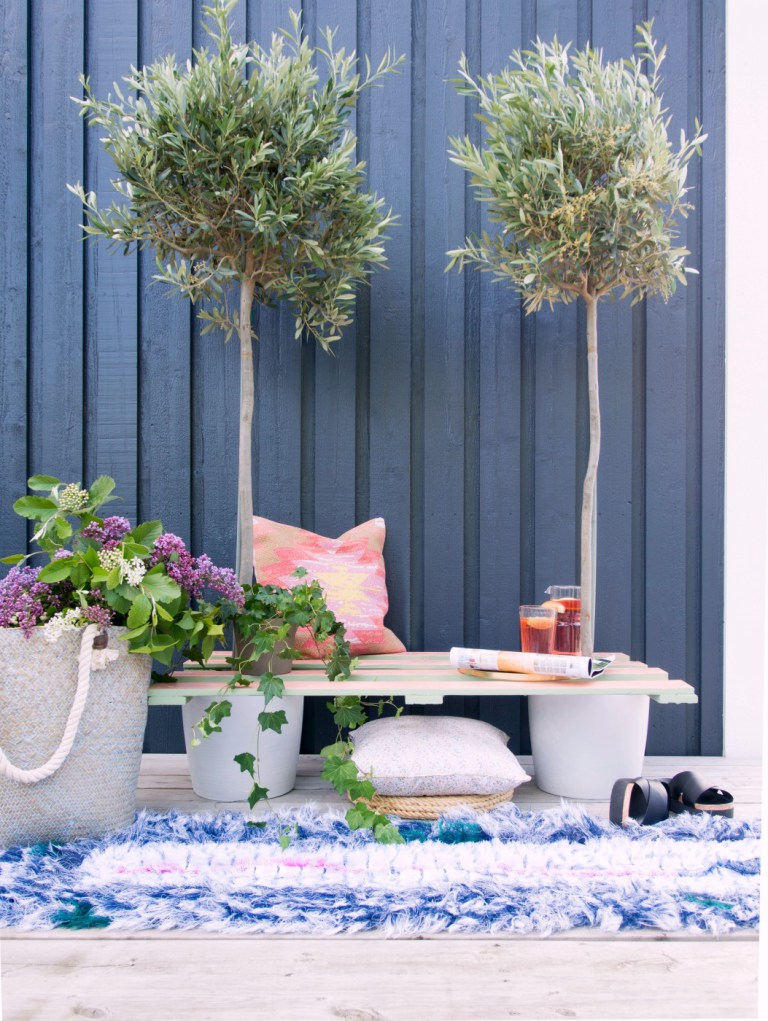 Add some seating to your porch with this fun DIY pallet bench. The "legs" consist of two potted trees, while the seat is made out of a deconstructed wooden pallet. Make your way over to Monsters Circus to check out the instructions (and use Google Translate if you don't speak Danish).
4. Mason Jar Light
If you love mason jars, here's another great project for your porch. Simply remove the outside of your existing light fixture and replace it with a mason jar. Easy peasy! Head over to Saved By Love Creations to find out more about this fun little project.
5. Wooden Door Mat
If you are a fan of rustic wooden accents, give this beautiful wooden welcome mat a try. It's incredibly easy to make – all you'll need is lots of 2×2 wood and some white rope. Make your way over to Domestic Imperfection to check out the full tutorial and more photos.
6. Modern Planters
Make a set of gorgeous wooden plant stands to hold plants on your porch. They have a modern feel, with a touch of rustic appeal as well. Make your way over to Remodelaholic to find out exactly how to recreate these for your own outdoor space.
7. Easy Timber Side Table
Add some functional beauty to your porch by creating this lovely timber side table. You'll need four pieces of 6×6″ timber, a saw, and a few other woodworking materials. Head over to Francois et Moi to find out how to create one of these lovely side tables yourself.
8. Striped Outdoor Rug
Learn how to transform an inexpensive outdoor rug into a brightly colored show stopper! All you'll need is a cheap, plain colored rug suitable for outdoor use along with spray paint and masking tape. Design Improvised shares the full photo tutorial right here.
9. Embellished Cement Flower Pot
Cement is a great material to use outdoors, thanks to its durability. Here we have a neat project that combines the strong cement with a pretty geometric design on the outside surface. Head over to Hawthorne and Main to find out all the details of this project.
10. Wooden Trellis
Create this modern grid lattice using small pieces of wood, and place it on your porch to add some decorative interest. It can be used for herbs that like to climb, small bean plants, etc. Make your way over to Francois et Moi to check out the full photo tutorial.
11. Chair Drink Holder
If you like to drink a cold glass of iced tea out on the porch in the afternoon, you might consider making one of these adjustable wooden drink holders that attaches to any railing or chair arm. Head over to Build-Basic to check out the full tutorial and building plans.
12. Rustic Plant Stand
This pretty plant stand would be the perfect accent for any porch – use it to raise up a potted plant, adding some height and interest to the space. And it won't take long to make, either! Head over to Upcycled Treasures to find out how to make one yourself.
13. DIY Outdoor Curtains
Add some softness to your porch by making a set of curtains that frame the doorway. These drapes are incredibly simple to make, and they can easily be removed to wash them. Make your way over to Storefront Life to learn how to make these lovely grommeted curtains.
14. House Number Plaque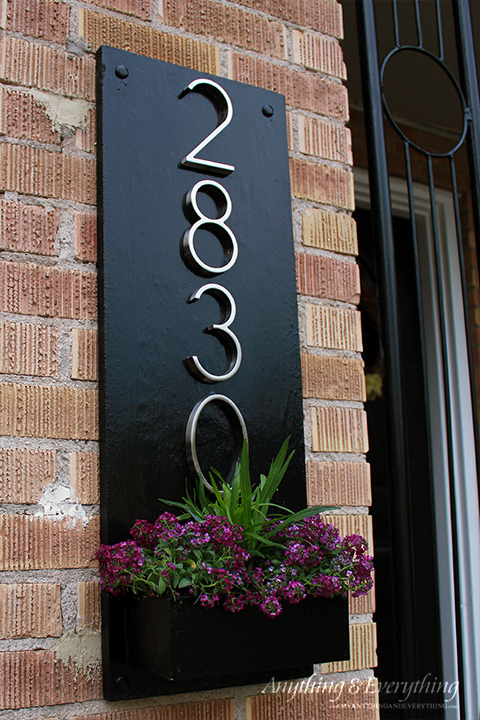 Make sure guests can plainly see your house number by making one of these modern house number plaques. The silver numbers stand out on the black background, while a potted plant adds some pretty color. Check out the tutorial over at Anything & Everything.
15. DIY Outdoor Storage Box
Keep your outdoor pillows and blankets dry and clean during inclement weather by making one of these handy outdoor storage boxes to stash them in. Grab some woodworking tools and get to work with this great tutorial from Build-Basic.com. Check it out over here.
16. Simple Outdoor Bench
If you're in the market for some seating on your porch, consider one of these simple outdoor benches made from large stone pieces and a slab of wood. Make your way over to Lina Pa Landet to check out the tutorial (and use Google Translate if you don't speak Swedish!).
17. Wine Bottle Torch
If mosquitos are an issue on your porch, this DIY torch might be the perfect solution for you. Just grab an empty wine bottle and a few other materials to get started on this quick and easy mosquito-repelling torch. You can find the instructions over at Lifehacker.
18. Tree Branch Ladder
If you have an empty corner of your porch that needs some decoration, try making this ladder. It is constructed using thick tree branches, and small potted flowers are hung from each rung to add some color. Head over to Ashbee Design to see the instructions.
19. Rolling Tree Stump Table
If you like to sit on the porch and relax, try making one of these gorgeous rustic tree stump tables to set your beverage on. And the best part is that it has wheels so you can easily roll it around to different locations. Head over to HGTV to check out the tutorial.
20. Outdoor Pillows
Make your outdoor seating a bit more comfortable by adding a few pillows to the mix. These pretty yellow pillows are made out of placemats, believe it or not! Make your way over to A Pumpkin and A Princess to find out more about these pillows and the whole porch makeover.
21. Colored Mason Jar Votives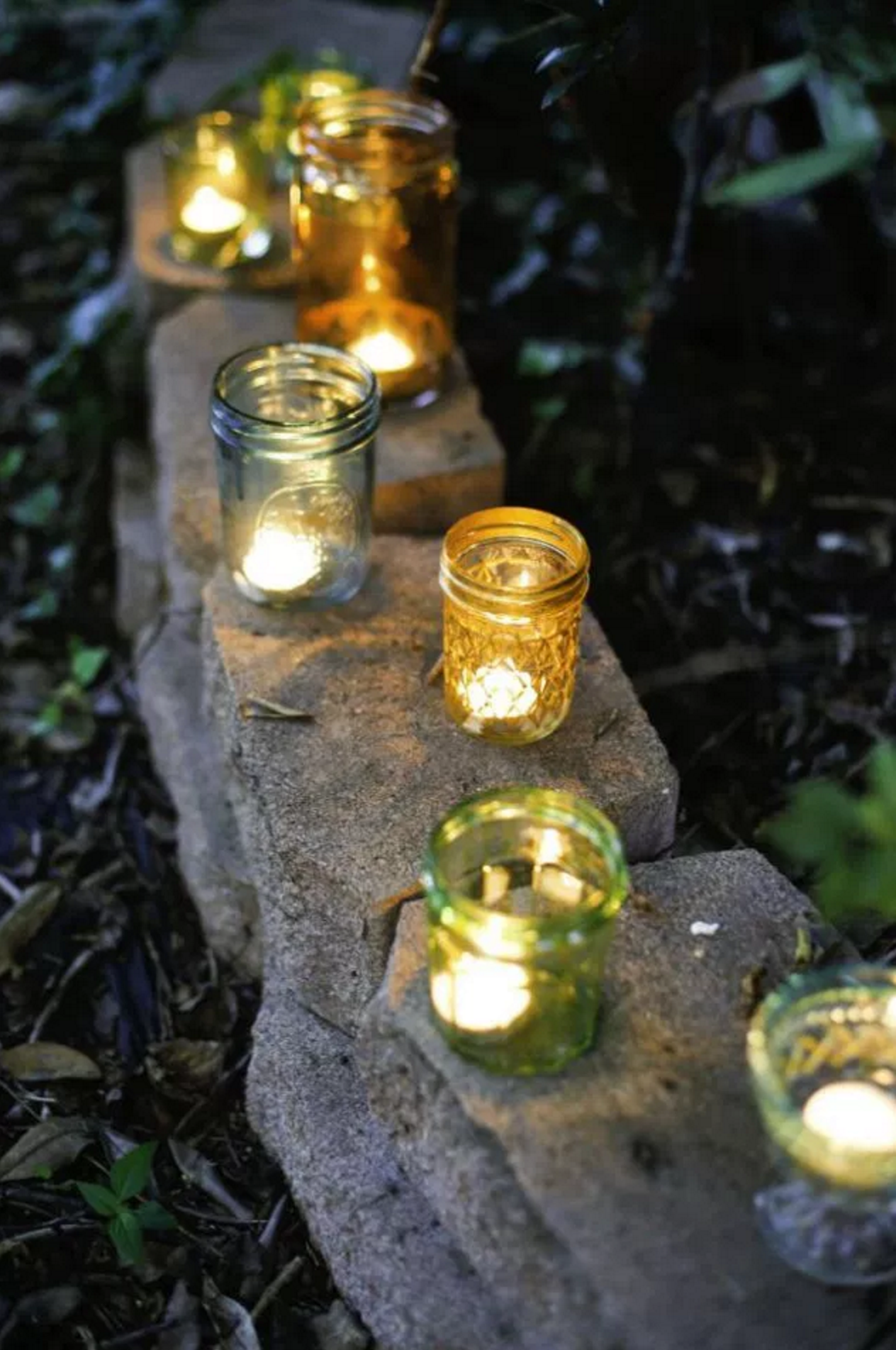 This simple project packs a big punch when you create a number of different colors and cluster them on your porch. All you'll need to make these votives is some food coloring, Mod Podge, and of course lots of mason jars. Check out the full tutorial at Hello Glow.
22. Upcycled Tire Planter
Do you have an old tire laying around that you've been trying to get rid of? Well before you do, consider this easy DIY tire planter. Just grab some rope, wood, and a few other items for this simple DIY project. Get the tutorial over at Addicted 2 DIY. 
23. Color Blocked Wreath
Dress up your door with a gorgeous color blocked wreath like the one above. And because it is made using artificial flowers, it will last a long time. Make your way over to A Pretty Fix to check out the tutorial and to see more photos of the project.
24. Round Hanging Planter
Add some character to your porch with this unique round hanging planter. It is very simple to create – it is made using an old embroidery hoop, a bowl, and some E6000 glue. It really doesn't get any easier than that! Check out the how-to over at the Northstory blog.
25. Stone Boot Tray
If you like to keep dirt outside of your home (who doesn't?!) then you might want to give this easy DIY project a try. This boot tray is made out of wood and then filled with small stones to catch all of the dirt and rain that accumulates on your shoes. Get the tutorial here.