13 Pieces Of DIY Moroccan Decor That Will Add Flavor To Your Home
Gorgeous colors and vivacious prints, there's something about this part of the world that induces smiles and puts a happier pep into our step. Thankfully, there are some easy ways to turn your home – or specific nooks and crannies – into a paradise of sorts. These 13 pieces of DIY Moroccan decor can definitely add the right kind of flavor to your home.
1. Floor Pouf
Colors + Craft will walk you through the process of creating a floor pouf from scratch. Pick your fabric – this orange is perfect – but we feel as though metallic gold could be a great choice as well. Take the leap and get started on your own today.
2. Tiled Mirror
Check out CN Traveler and learn how to start with some beautiful Moroccan-inspired tile and turn it into something extra special. This mirror could highlight the guest bathroom or your bedroom. The neutral tone makes it a quality piece for any nook or cranny.
3. Side Table
This side table is perfect for bedrooms and living spaces alike. Create a pair for balance and then use some paint to add beautiful color – think teal or plum. Grab the free plans from Rogue Engineer.
4. Wood Art Pieces
These art pieces are perfect for jazzing up all kinds of corners in the home or apartment. We love them in the foyer or on the patio, but they provide just the right amount of texture and poise for the bedroom as well. Check it out at Casa Watkins Living.
5. Tassel Blanket
Shannon Tate Interiors gives us a fabulous tutorial for creating this gorgeous Moroccan-inspired blanket. The tassels are such a charming, textural touch but mostly we love the creamy tones – which is a wonderful way to subtle inspire your room with this vivacious style.
6. Lampshade
Even your shades can be inspired by Moroccan decor. And you can see how to make that happen with this DIY from Hometalk. You'll love flipping on the light at night and seeing the beautiful designs.
7. Pillow Makeover
Made In A Day took a regular pillow and made it over in Moroccan spirit. Pom poms and extra thread – think texture and vibrant tones! There are so many wonderful and personalized ways to dive into this project.
8. Lanterns
These lanterns can be used to decorate the breakfast nook, the guest room, or – our favorite – the back patio. They provide romantic light and a nod to Morocco! Learn how to make them over at Jack & Jinger.
9. Coasters
The bars and dining room tables can be decorated with some worldly style as well. Just check out Darby Smart to learn how to whip up some tile coasters. This is a quick and easy DIY to finish off in an afternoon.
10. Round Rug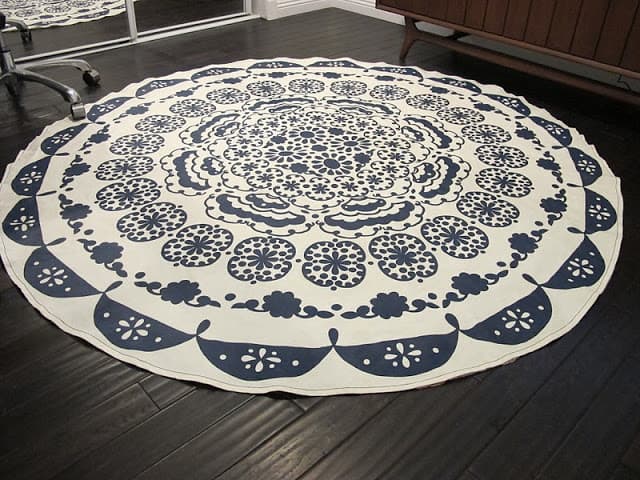 Dream Book Design has a great DIY for a round throw rug with lots of Moroccan personalities thrown in. Hop on over now and take a peek at how to get yourself started. And grab all the paint colors that inspire you! And an old tablecloth – which is the real secret!
11. Painted Basket
Check out Indeed Lovely for a quick and easy tutorial surrounding storage options that match with a Moroccan-inspired vision. Add some paint for a personalized design and then start tidying up those closets in the family room.
12. Dessert Plates
Add some color to the kitchen by making some of these dessert plates. Hometalk will provide you with all the details. Start out with some glass plates and mod podge paint.
13. Dinnertime Scene
Camille Styles shows you a beautiful dinner style spread that we can gather inspiration from. Also, the colors are the perfect way to bring in vivaciousness and Moroccan spirit into the dining room but also into dinner time with your family and friends.