32 Photo Collage DIYs For Your Dorm Room, Apartment or House!
Whether it's your first time away from home in a dorm room, your first apartment after college graduation or your first home bought together as newlyweds, you'll want some fresh ways to spruce, jazz and style your home. And a big part of creating and cultivating a warm and cozy place to be, is with pictures of family, friends and all of your favorite memories.
That's where photo collages come in.
32 Best Wall Collage Ideas and Whatnot
If you're ready for this, let's see what are some of the best wall collage ideas we've encountered in our research.
1. Coffee Table
At One Mom with a Mission, we learn how to create a photo collage right inside the coffee table for all to see. The family, your friends and guests alike will all get to enjoy this beauty.
2. Driftwood Display
If you want to not only create a funky piece for the home but highlight a favorite person or beloved moment of your life, choose those photos and make something similar to this piece from Handimania.
3. Instagram Prints
Make, Bake & Love used some of their Instagram photos and put them on display! We love this idea of printing some of your favorite app shots and create chic, framed pieces of wall art from them.
4. Mini Heart
We're in love with this mini heart collage from Fresh Mommy. Not only is it personal, but it's adorable, it's charming and it's quite the artistic puzzle as well.
5. The Corner
Cover your corner is some of your favorite photos. This raw, brilliant project from Ideas to Steal is a great idea for your dorm room or as a way to bring style to the walls of your apartment.
6. Clothespin Frame
Be Kind & Smile Often shows us how to create a super simple and versatile piece of art for your home. Grab some of your favorite family photos, clothespins, wire or twine and a bare frame to get started.
7. Vintage Door
AtPhotog Mommie, you'll get an easy-to-follow tutorial and a beautiful new idea for your home. All you need is an older door to get yourself started!
8. Instax Wall
How can you not swoon over this charming Instax wall. Cover a doorframe, anywhere in the house, with a bunch of photos from your polaroid, instax fun. See how they did it at Small + Friendly.
9. In the Kitchen.
We love this idea Elsa pulled off from A Beautiful Mess. Created a collage of photos and other memorabilia from her first year of marriage in the kitchen!
10. Just Letters
Of course you can always take someone's initials and create photo collages right on top of them. A la modeshows us how to make some beautiful, black and white versions.
11. Polaroid Banner
Makeup By Holly found a way to take some polaroid photos and not only spruce up the bedroom but put a personal touch on this more popular idea. She colored the clothespins and created a 3-lined, headboard piece.
12. Hanging Wall
Here's a unique piece of home decor that you can conjure yourself and use some of your favorite photos from Instagram as well. Tinker in Me will show you how to create your very own!
13. Hanger Made
Although Simple Stylings isn't showing us how her friend made this adorable piece for her, we find it a bit self-explanatory and inspirational enough to feature here for our crafters.
14. Another Bit
Here's another wall collage that we're swooning over and made with Polaroid prints. Apartment Therapy provides us with this beautiful inspiration that's perfect for youthful spirits.
15. Geometric String
One of the most unique and creative ways to display your photos, The Caldwell Project shows us how to recreate this geometric string collage inside our own hallways or bedrooms.
16. Wall Heart
You can even create a heart right on the wall like at Made By Girl. It's simple, sweet and quite trendy – but it's also doable for novice DIYers.
17. Pillows
Okay, so, this may not be a classic DIY, but it's still got the cozy, handmade feel. You can get customized pillows made and filled with your favorite photos, and thanks to Apartment Therapy, we know that now.
18. Framed Foyer
Create this right inside your foyer for all your guests to be welcomed by. Love Lines DIY gave us this gorgeous, and easy to duplicate, inspiration!
19. Lamp Shade
Did you know you can create a lamp shade full of your favorite photos too? Well, find out how on Under the Sycamore!
20. Wood Pallet
For a more rustic take on the classic photo collage, visit Simply Kierste and learn how she made this cozy piece of home decor while including some of her favorite pictures.
21. Canvas
Paint a canvas and then just tape photos on! That's how easy it was for Annapolis & Company and their ultrasound photo collage came out beautifully.
22. Tablerunner
This tells us how to recreate this irresistibly unique and charming table runner. It's perfect for all types of celebrations but also the holidays too when guests come over!
23. Beeswax Clusters
At One Love Photo you'll see how she made photo collages by printed photos on tissue paper and then encapsulating them in beeswax!
24. Embroidery Hoops
One of my personal favorites of the bunch, this photo chandelier was made geniusly by Natalme. And can you guess the foundation to this piece? Embroidery hoops!
25. Wire Board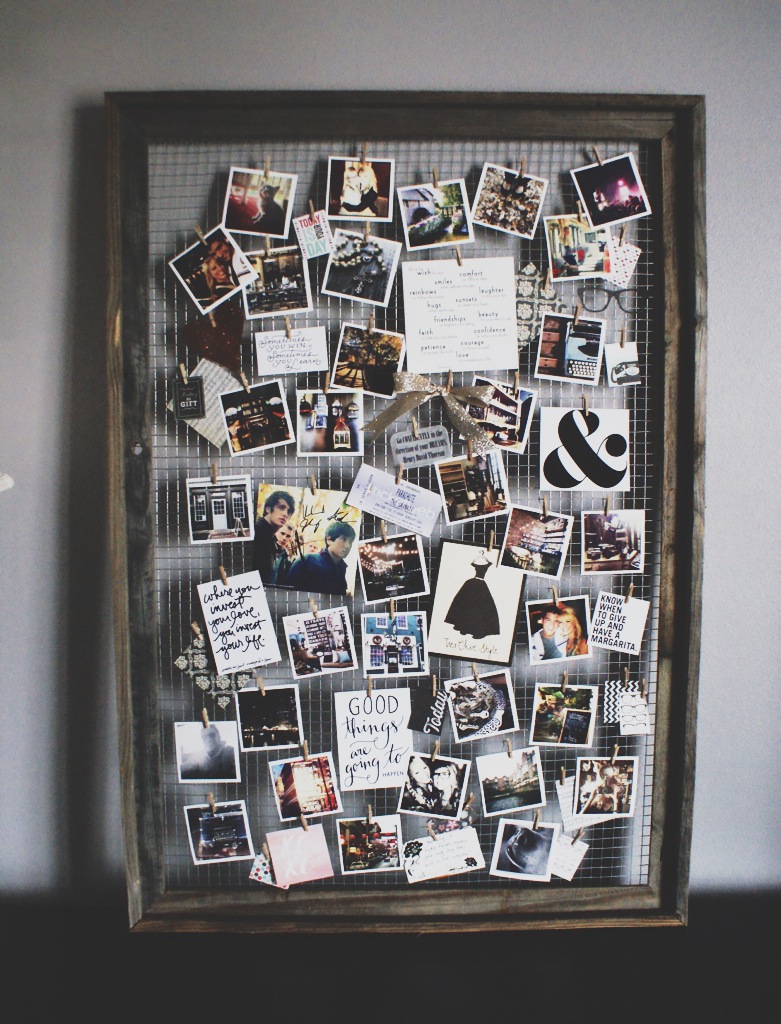 Grab some wire to create this industrialstyle mood board filled with your favorite photos. This is a perfect way to dress up a craft room or bedroom, brought to us by Jillianastasia.
26. Jar Wreath
Who knew that you could take mason jarlids and create a wreath? And who knew you could add some photos to that as well? That's What She Said sure did!
27. Older Window
Capturing Joytook some vintage windows and used them to her advantage. We're in love with this swoon-worthy, family-friendly project.
28. Funky Frames
You could always create a photo collage that matches well and adds personality with funky frames. We love this youthful and charming additions that tatertots & jello showed off.
29. A Star
This may not be the most obvious choice in terms of photo collages but we love this cozy, sweet idea by the one behind Scraps & Scribbles.
30. Completely Strung
Now we have another inspirationalway to hang your photos, create banner collages and spruce the walls. This provides color and interest, and it was featured on Apartment Therapy.
31. Foam Frame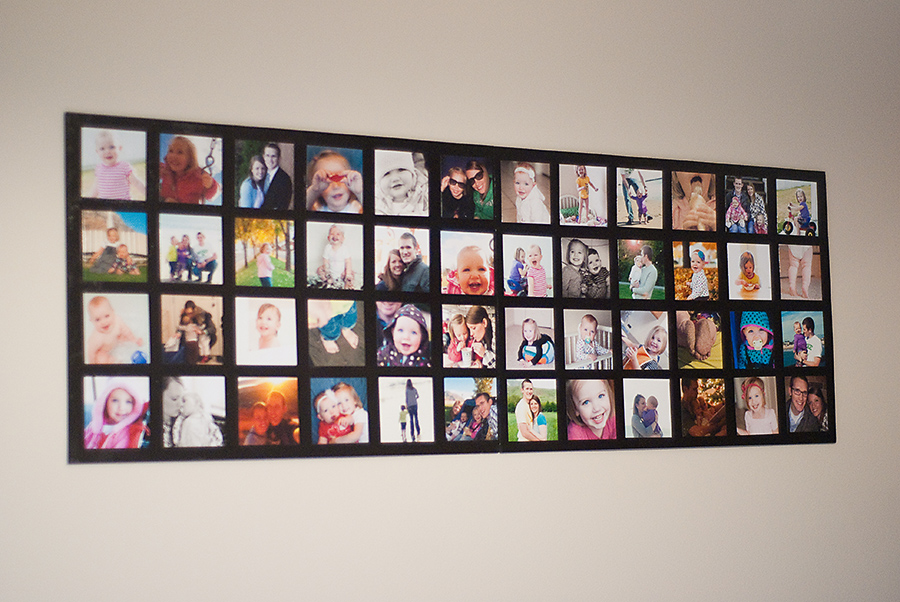 This project costs under $20 and was just a genius way to make something chic and personal for the home. Bits of Everything started with foam boards and some free photo printsto get this idea off the ground.
32. Chalkboard Door
Over at Always, Amanda, you can learn how to make a beautiful like this for the mudroom, foyer or the kiddos' play area. This is such a versatile, functional and adorable DIY to share within your home.