15 Pretty Patterns to Make with Chiffon
Are you an avid sewing enthusiast or perhaps just a crafter who loves using fabric in other ways than just creating seams and pleats? Then perhaps you've developed a preference for working with a particular fabric like we have! Sometimes the feeling of a material, the way it glues or sews, and the visual effects or textures you can create with it are just so appealing that you just can't help but love it. Our latest fabric obsession is chiffon!
Check out these 15 adorable and totally stylish DIY projects made from or involving chiffon in all kinds of creative ways.
1. Big chiffon flower brooch
Love Maegan guides you through the process of creating an adorably fluffy chiffon brooch designed to look like a big, blossoming flower. We love the way the layers of chiffon create a sort of fluffy texture that resembles the petals of a peony, but with more body!
2. Peach chiffon and black lace blouse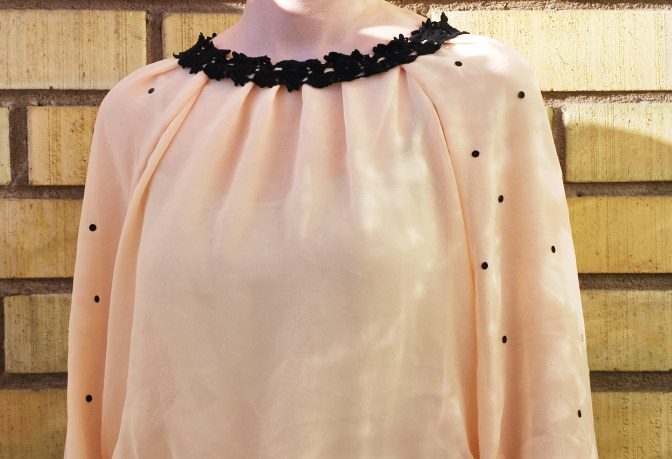 If you're confident in your sewing skills then perhaps you came across this list hoping for sewing patterns in order to make yourself actual garments? We don't blame you! DIY clothing is always fun to make for yourself but it's particularly enjoyable to work with chiffon because you can make versatile pieces like this chiffon and lace blouse. The loose fitting style makes it so you can wear it quite casually, but the lace collar also means you can dress the look up if you pair it with the right accessories. Get the full instructions on From Rags to Couture.
3. Romantic butterfly blouse
Perhaps you have a pre-made chiffon blouse that you enjoy the fit of, but that you wish had a little more personality or style? Try embellishing it with- surprise, surprise- even more chiffon! We adore the way Fashion Rolla used contrasting pieces of chiffon in a soft pink to create little butterfly shape details across the chest and shoulders.
4. DIY chiffon maxi skirt
One of the best parts about making clothing from chiffon is the way the material flows and shifts with your movements, especially if you're walking around outside in the breeze. Few garments will show that characteristic off in the material as well as a long maxi skirt! Zaira Benson shows you how to make one (and we're willing to bet that the process is easier than you think).
5. Beaded chiffon flower
Do you love the idea of making a chiffon flower like the brooch you saw above but you'd rather your flower actually have a centre instead of just being a bunch of petals? Well, lucky for you, iCreative Ideas has already outline the steps you'll need to follow to make that happen! We love the way they've taken the newly created centre as an opportunity to add a bit of sparkle or beading.
6. A-line chiffon bridesmaids dress
Perhaps you're up for more of a challenge than just a shirt or a skirt and you've been hoping to find a good pattern for a full stylish dress? Well, if you ask us, we think chiffon is the perfect material for making gorgeous bridesmaids dresses! We're particularly huge fans of how slimming and flattering this a-line design from CraftyGeeky is.
7. Pink pleated chiffon skirt
Have you been able to appreciate the skirt options we've given you so far, but none of them have quite grabbed our attention yet? Well, here's another one for your consideration! There are so many things to love about this design. We like the way the chiffon layer is almost sheer except for the lining underneath. We love the length. More than anything, though, we love the pleats! Check the design out in more detail on Threaded.
8. 70s style chiffon dress
Did you like the idea of making a dress of out pretty, flowing chiffon but the a-line bridesmaids dress above is just a little too formal for what you had in mind? Then check out this more casual design from From Rags to Couture instead! We love the way the cut and top trim looks like a total throwback to the 1970s.
9. Colour block chiffon top
Sometimes all the detail a top needs to really stand out is a simple colour blocking effect that creates some solid contrast! We love the way Chic Steals created this effect by making a light red chiffon blouse and adding a solid black collar. The overall visual is simple but it still makes an impact.
10. Chiffon rose with leaves
You've already seen two different chiffon flowers on our list, but maybe you had something a little different in mind when it comes to design? Rather than peonies or bejeweled blossoms, try making this gorgeous chiffon rose created by bunching and swirling the material around itself. We love the added touch of leaves and a hair clip by iCreative Ideas.
11. DIY chiffon "shoncho"
Have you ever heard of a "shoncho"? Well, we hadn't either until we came across this post, but we're certainly glad that we have now! The design is a stylish cross between a shirt and a poncho and we love the relaxed fit and casual look it gives. As with all chiffon clothing, we also love the slightly sheer effect it has even though it features a pattern. Check the simple sewing process out in more detail on See Cate Create!
12. DIY flowing chiffon dress
When you read the sentence "70s inspired dress" about the design above, did your mind's eye go somewhere a little different, even though that style was quite accurate for the era? That makes a lot of sense, since the 70s were such a rich time for fashion. Perhaps this pretty, flowing maxi dress is more along the lines of what you were thinking! We're in love with the gorgeous zig-zagging pattern that Sew Up made this version in and, of course, we're so glad to see that it's made of chiffon!
13. Chiffon dress underlay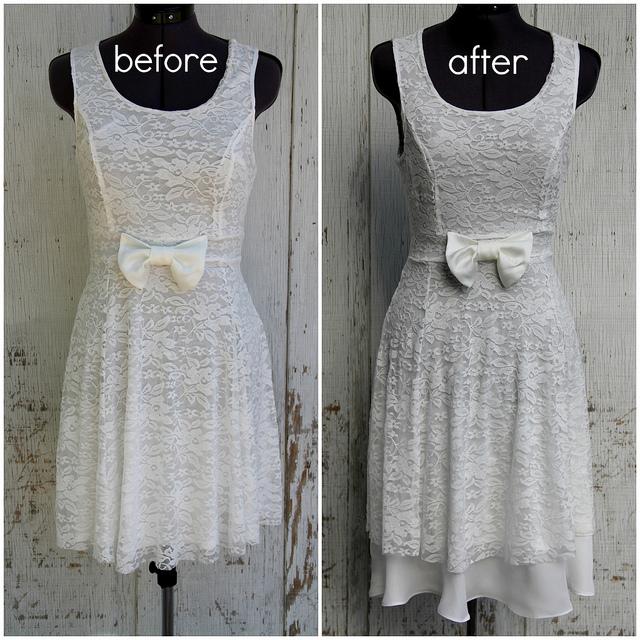 Do you own a dress that you love the style of but you're just tall enough that the skirt hem falls a little too high on your legs? Realizing that a dress is too short for your tastes is no reason to get rid of it, especially if you're a DIY enthusiast! Instead, follow Bead and Cord's lead and sew a pretty chiffon underlay beneath the skirt to give it some extra length.
14. Chiffon gathered skirt
Did you love the pleated chiffon skirt design above but you're actually looking for even more pleating in order to take advantage of the way your favourite material gathers in such an easy, perfect way? Then we think you'll love this more gathered version instead! You can control how dramatically you gather the material in order to create larger or smaller pleats. See more about the design on Delia Creates.
15. Ruffled chiffon heels
Maybe your favourite part of working with chiffon is that its one of the easiest fabrics to create stylish ruffles out of? We certainly do love the way it sits against itself when it's bunched into thin, sheer layers. Styleoholic suggests creating a sassy ruffle on the back of a pair of bright pumps to add even more personality than they already had!
Do you know another DIY enthusiast who loves working with and wearing chiffon as much as we do? Share this post with them for a little bit of sheer colourful inspiration!