Welcome in the Spring With These 26 Patio Furniture DIYs
Warmer weather is just around the corner and it's time to start planning out your new and bright home decor. Let's start with the porches and patios, from the landscaping to the new pieces of furniture, what do you envision for your house? Welcome in the spring with these 26 patio furniture DIYs that we're swooning for!
1. Patio Table with Built-in Ice Boxes
Remodelaholic has this amazing DIY that will make your porch area even more enjoyable and luxurious. Just check out this table with built-in ice boxes after the jump!
2. Day bed
Check out this snazzy day bed made from simple pallets! Lovely Greens has all the details on how to make this charming piece for your own patio.
3. Modern Bench
This chic and modern DIY bench is one of my personal favorites on the list. We love how versatile this one is too, check it out at DIY Candy.
4. Aluminum Chair
A Beautiful Mess made over a simple aluminum chair and turned it into something special. Take something vintage and give it a creative upgrade!
5. Rolling Cooler
Check out Home Depot to gather up all of the instructions on creating this beautiful rolling cooler that's both functional and stylish. It's perfect for entertaining!
6. Murphy Bar
How about installing this perfect-for-entertaining murphy bar right outside near your patio! It'll make those summer nights so much more enjoyable, don't you think? (via eHow)
7. Wine Barrel Water Fountain
How does adding a water fountain to the backyard sound to you? Catch all of the details on how to turn an old wine barrel into a relaxing retreat with help from A Lo & Behold Life.
8. Couch
Life on Virginia Street made a couch with a little bit of innovation and creativity. Check out how to make something so functional for your patio entertaining and enjoying.
9. Tire Table
You could always use some old tired to create a patio coffee table that pops right as you walk into the backyard. Paint it with some bright colors and infuse it with you personality like Madcap Frenzy did!
10. Simple Hammock
Design Sponge shows us all how to create a simple summer hammock that we all need as a park of our backyard retreat! It's easily personalized for yourself or your family too!
11. Pallet Furniture Set
Create a set of table and chairs for the patio by hopping over to Bridgman Blog and learning all about it. Paint them in the colors of your choice and put a bit of yourself inside the design.
12. Mosaic Table
Centsational Girl created this beautiful mosaic tile table that we're absolutely swooning over. The colors are the perfect bit of spring and scream of the "seaside" experience.
13. Drink Station
You don't have to have a bar but a drink station could be what the family needs for the warmer months of the year. Fill it up when you have guests over and enjoy! (via i should be sipping the floor)
14. Rug Ottoman
Grab an old rug and turn it into an ottoman! Pretty Prudent gives us a innovative and creative way to upcycle and creative a super stylish rug.
15. Colorful Bench
Aristocrafty made a colorful and charming bench that we're absolutely swooning for. Personalize with tones that compliment or home or go crazy with the brights!
16. Flower Pot Table
Over at Apartment Therapy you'll find a sweet table DIY for your patio. Display some flowers and add some colors to your outdoor area!
17. Wire Table
Holtwood Hipster made this minimalistic, trendy wire table that would be the perfect addition to your outdoor scene. You could even paint it to add some color!
18. Potting Table
This one can even be a great addition to your foyer or front porch. Either way, catch the details over at Pallet Furniture DIY.
19. Repurposed Terracotta Pot
Home talk used a terracotta pot and turned it into a funky and charming table for outside! Hop on over and check out all of the instructions!
20. Ladder Shelf
making it in the mountains made this rad ladder shelf that you could use to display beautiful plants or even some knick-nacks. It's another way to personalize your space!
21. Milk Crate Stool
Working Class featured these snazzy milk crate stools that the entire family will enjoy. We can see the kiddos and some friends really enjoying these in the summertime!
22. Otomi Table
Is this otomi table from Hi Sugarplum! not the absolute sweetest! We love the burst of orange but we would love seeing this in a powder blue or pop of purple!
23. Concrete Table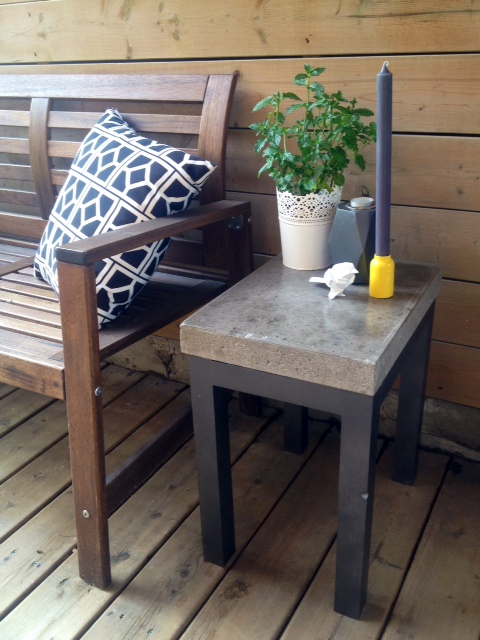 Storefront Life used a concrete slab as its main bit of inspiration behind this easy patio table. Grab all of the easy details after the jump!
24. Toadstools
Create a whimsical wonderland right outside on the patio with these DIY toadstools from Twig & Toadstool. We love the creativity and fun behind this one.
25. Hammock Chair
A Beautiful Mess created this beautiful piece that works for both inside and outdoors as well. You can personalize this one to your delight as well!
26. Cedar Bench
My Daily Randomness has a great tutorial for creating a cedar bench that the entire family can enjoy throughout the year. And it can easily be painted!