15 Trendy Novelty Recipes to Make at Home
If you're a regular to the site, then you've probably already noticed that I just love writing about food. All kinds of food. Entrees, desserts, unique recipes, recipes from all over the world- I don't mind the topic as long as there's food involved. If you've ever searched the Internet for recipes before, however, then you'll also know that even the simplest, most average food item search can yield some pretty crazy results. Every once in a while, however, a recipe pops up that, even though it's a totally weird combination, grabs my attention completely and makes me wonder how those things really would taste together!
Check out these 15 novelty recipes made of kooky, creative combinations of food! Next time I have time off work, I'm going to make my way all the way down this list, and that's no lie.
1. Bourbon marshmallow bacon S'mores
As if regular S'mores weren't already an awesome enough combination, How Sweet Eats shows you how to take them to the next level by adding bacon! You'll need:
3 1/2 envelopes of unflavored gelatin
1/2 cup of cold bourbon
1/2 cup of cold water
2 cups of granulated sugar
1/2 cup of light corn syrup
1/4 tsp of salt
2 large egg whites
1 tbsp of vanilla extract
2. Margarita guacamole
Oh, Bite it! shows you how to make guacamole that includes many of the ingredients in and also kind of tastes like a margarita! You'll need:
2 avocados
1/4 cup of sour cream
2 small tomatoes (chopped)
1-2 jalapenos (chopped, optional)
1 packet of guacamole seasoning
3 tbsp of tequila
Limes
Salt
3. Oreo popcorn
Lisa Harris Pantry shows you how to make a sweet and salty popcorn recipe that's sure to have your kids bouncing off the walls (both form excitement and sugar) in just a few simple steps. You'll need:
6 oz of white chocolate (melted)
1 bag of popcorn (popped)
10 Oreo cookies (crushed)
4. Fried chicken corn dogs
Do you love fried chicken? Do you love corn dogs? Do you love novelty food combinations? Then Food Network has everything you need in all in once recipe! You'll need:
1 1/2 cups of buttermilk
1/3 cup of hot sauce
Kosher salt
8 chicken tenders
1 ear of corn
1 tbsp of honey
1 3/4 cups of all-purpose flour
1/2 cup of coarse yellow cornmeal
1 tsp of baking powder
Vegetable oil (for frying)
Hot sauce, ketchup, honey mustard or yellow mustard (for dipping)
5. Jalapeno corn waffles with sriracha and maple syrup
Domestic Fits gives you a waffle recipe featuring a syrup that's anything but ordinary. If you're the kind of person who always keeps a massive bottle of sriracha sauce in your fridge, then you're going to adore it. You'll need:
Waffles:
1 cup of fine yellow corn meal
1/2 cup of flour
1 tsp of baking powder
1/2 cup of corn kernels
1 large jalapeno (chopped, stem and seeds removed)
1/2 tsp of salt
1/4 cup of cheddar cheese
1 tbsp of brown sugar
1/2 cup of melted butter
1 cup of whole milk
1 tbsp of canola oil
1 egg
For the Syrup:
1/4 cup of real maple syrup
1 tsp of sriracha chili sauce
6. Melon-margarita pops
Are you looking for something fresh and cooling but still unique enough that you're not likely to find it in the average restaurant or corner store? Check out these amazing fruit popsicles from Martha Stewart. You'll need:
3/4 cups of tequila
1/2 cup of Grand Marnier
1/2 cup of fresh lime juice
A pinch of coarse salt
8 oz of cantaloupe (rinds removed)
8 oz of watermelon (rinds removed)
7. Rainbow cookie pops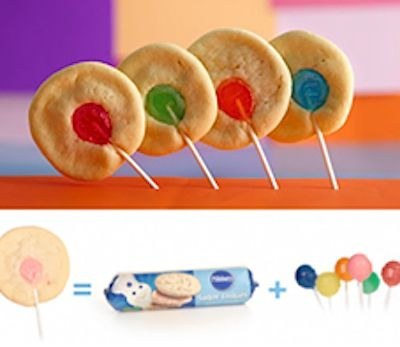 Are your favourite mashup recipes the kind that combine candy and baked goods? I don't blame you, and I've found you an amazing novelty snack from Tablespoon! You'll need:
1 roll of Pillsbury refrigerated sugar cookies
24 fruit lollipops (unwrapped)
8. Deep dish fruit pizza
When you see the words "deep dish" your mind probably goes somewhere else other than fruit, but The Pioneer Woman is here to show you the delicious sweetness of fruit pizza! You'll need:
1-1/3 cup of shortening (may substitute butter)
1-1/2 cup of sugar
1 tsp of orange zest
1 tsp of vanilla
2 whole eggs
8 tsp of whole milk
4 cups of all-purpose flour
3 tsp of baking powder
1/2 tsp of salt
2 jars (13 oz each) of marshmallow creme
2 packages (8 Ounces Each) Cream Cheese
Peaches
Kiwi fruit
Blueberries
Pears
Raspberries
Other Fruit Optional
9. Caesar salad pizza
I eat a Caesar salad with my pizza almost every single time I eat a pizza, so this combination recipe from Food Network practically blew my mind! You'll need:
Pizza Dough
2/3 cup of extra-virgin olive oil (plus more for brushing)
6 cloves of garlic (finely chopped)
Freshly ground black pepper
1 1/3 cups of warm water (around 105 degrees F)
1 tbsp of sugar
One 1/4 oz of packet (2 1/4 tsp) active dry yeast
3 3/4 cups of all-purpose flour (plus more for dusting)
Kosher salt
2 large, ripe beefsteak tomatoes (each cut in to 6 to 8 thin slices)
3/4 cup of finely grated Parmesan
Caesar Salad
Zest and juice of 1 lemon
1 large egg yolk
2 oil-packed anchovies (finely chopped)
1 clove garlic (finely grated)
1/4 tsp of honey
1/4 cup of extra-virgin olive oil (plus more for drizzling)
Kosher salt and freshly ground black pepper
2 romaine hearts cut into 1/2-inch thick and 1-inch wide pieces (about 8 cups)
A chunk of Parmesan for topping
10. Cheesecake stuffed peaches
One of my favourite ways to combine food is to take two flavours that are the complete opposite end of the taste spectrum and mash them into one dish, just like BHG did here! You'll need:
6

peaches (halved and pitted)

1/4

cup of butter (melted)

3

tbsp of cinnamon-sugar

1/2

an

8 oz package of cream cheese (softened)

1/4

cup of sugar

1

egg yolk

1 1/2

tsp of vanilla
11. Pretzel fried chicken with fig mustard dip
As if fried chicken isn't delicious enough when you make the regular recipe, BHG is here to mix it with one of your very favourite snacks: pretzels! You'll need:
2 1/2

cups of honey mustard and onion-flavored pretzel pieces

1

tsp of ground cumin

2

eggs (lightly beaten)

12

chicken drumsticks (about 3 1/2 lbs total, skinned)

Nonstick cooking spray

1/3

cup of fig or apricot jam

1/4

cup of grainy mustard

thyme leaves
12. Churro ice cream sandwiches
As I write this, I'm sitting here trying to think of a more delicious dessert combination than churros and ice cream and I can't, so I'm pretty grateful to Sugar Hero for this awesome recipe! You'll need:
For the Horchata Ice Cream:
1 cup of long-grain white rice
1 cinnamon stick
1 cup of milk
2 cups of heavy cream
1 can of sweetened condensed milk
⅛ tsp of salt
2 tsp of vanilla extract
For the Churros:
1 cup + 2 tbsp of all-purpose flour
1 tsp + 1 tbsp of cinnamon
1 cup of water
2 tbsp of brown sugar
2 tbsp of vegetable oil
¼ tsp of salt
2 large eggs
1 cup of granulated sugar
6 cups of oil for frying (or enough to fill a large skillet with 1½-2 inches)
13. Deviled egg pasta salad
While we're thinking of all these combination entrees and desserts, let's not forget about sides! There are plenty of novelty side dishes out there as well. I'm particularly excited to try this one from BHG. You'll need:
1/2

cup of red onion (thinly sliced)


1/4

cup of cider vinegar

1

tsp of

sugar

8

oz of large elbow macaroni

12

hard-cooked eggs

1/2

cup of mayonnaise

3

tbsp of country Dijon-style mustard

1/2

tsp of salt

1/2

tsp of smoked paprika

1/4

tsp of cracked black pepper

1/2

cup of sweet pickle (chopped)


1 1/2

cups of celery (very thinly sliced)


Smoked paprika and/or pepper (optional)
14. Lobster roll corn dog with tamarind ketchup
Lobster is literally one of my favourite foods and the thought of being able to enjoy it on a stick like a delicious corn dog at a fair thanks to Food Network makes my mouth water just writing this. You'll need:
6 cups of vegetable oil
3 cups of corn meal
1/2 cup of sugar
3 eggs
1 1/4 cup of milk
2 8 oz lobster tails
Tamarind ketchup:
2 cups of tamarind (fresh)
2 cups of red tomato (chopped)
1 cup of white onion (diced)
3 cloves of garlic (minced)
2 cups of orange juice
1/2 box of brown sugar
1 cup of mango (chopped)
2 red bell peppers (grilled)
15. Guacamole hummus
Blessed be this day! I've finally found an awesome way to combine my two very favourite dips thanks to Martha Stewart! You'll need:
1 can (15.5 oz) of chickpeas (rinsed and drained)
3 cups of cilantro leaves (fresh)
1 garlic clove (chopped)
1 ripe avocado (roughly chopped)
3 tbsp of extra-virgin olive oil
1 tsp of fresh lemon juice
Coarse salt and ground pepper
Lemon wedges
Tortilla chips
Do you know another amazing novelty or combination recipe that's absolutely delicious but that's not on our list? Tell us all about it in the comments section!