When it comes to crafting with our kids, we can always tell which kinds of DIY projects they're going to pick from the options we give them. It's easy to do; we know they'll pick the most colourful crafting option ten times our of ten! Our little ones are bright, excitable kids who see the world in rainbows and that's reflected in their sense of style, the things they love, and the things they like to make. Recently, they came across the concept of melted crayon crafts at a play date with a friend and, because the project involved using an entire range of crayons all in one place, the kids have been obsessed with the idea ever since, begging us to help them gather up as many broken crayons from their colouring boxes as we can find in order to try it out in all different ways for themselves. That's why we've been searching the Internet for as many melted crayon crafting options as we can possibly find in order to bookmark them and try them out with our kids whenever they please.
Just in case you and your kids are as intrigued by the idea of making stunningly creative rainbow crafts with melted crayons as we were, if not more, here are 15 of the best ideas, designs, and tutorials we've come across in our search so far!
1. Raining crayon silhouette canvas
Have the classic melted crayon canvases you've seen sweeping the crafting community as of late always reminded you of technicolour rain? In that case, we have a feeling you might find this adorable umbrella silhouette and melted rainbow rain art outlined step by step on Seriously, I'm Thrifty very intriguing indeed! They show you how to do it with a stencil but you could also freehand paint or draw your silhouette if you prefer, particularly if you're a talented artist.
2. Silhouette ballerina with a melted crayon tutu
If you're going to create stunning art that falls into your kids' interests by harnessing the beauty of rainbow colours, would you rather keep that theme going and create an image that pays tribute to one of their favourite hobbies or activities as well? Then it's time for the little dancer in your household to rejoice, because Ideas 2 Live 4 has the perfect inspiration project for you! Check out how they affixed crayons to a canvas in a semi-circle around the tutu of their ballerina painting, rather than all the way across the top.
3. Captain America melted crayon art
Did your kids get really excited about the melted, multi-coloured rain idea, just like you thought they would, but you still can't help but wonder whether you might be able to find an idea for the silhouette shape that they'd like even more than the one we showed you earlier on our list? Well, this one's for the comic book and super hero lovers in your home! Take a look at how Nishtha Sisterhood painted the silhouette of Captain America protecting himself from the rainbow rain using his iconic shield.
4. Splashing crayon box art
Are your kids actually such huge fans of mixed media crafting that you're not sure you even need this whole silhouette element involved in your process (even though it's pretty neat), because you think they'd actually have more fun gluing things to their art instead? In that case, we'd definitely suggest taking a look at how All Women's Talk glued the box their now-melted crayons came in to the top corner of their canvas to make it look like the crayons and their colours are splashing out across the canvas from inside.
5. Bright melted crayons on a black background
Have your kids taken one look at the regular white canvas inspiration photos you've shown them so far and asked whether there might be a way to make the colours show up even more than what you've seen so far? Well, believe it or not, there actually is, and it's a lot of fun to watch as you make it happen! Check out how Mark Reyes painted their canvas black first, melting brightly coloured crayons downward so they look almost neon against the dark background.
6. Melted crayon photo canvas
Are you the kind of crafty parent who loves doing projects with your kids that have a little something for them and a little something for you in one place? Then we think perhaps you'd all have a lot of fun working on this awesome melted crayon photo set together, as outlined by DIY Bed Frame! They show you how to split the crayons in half so the pictures you've chosen are framed by bright crayon ends and melted smears on either side. Talk about an idea that's a little more interesting than your average picture frame!
7. DIY elephant melted crayon board
Rather than using all the colours in the crayon box at once just for the sake of cramming as many colours into a project as possible, is it actually the beautifully coloured watery effect that you and your kids love so much about this kind of project? Then we have a feeling this beautiful sprayed water idea featured on Antonella Marie might be right up your alley! We love the way they chose a range of blue shades to make their melted portion look like water and then painted the silhouette of an elephant below as though it's spraying the water upwards.
8. Resist art melted crayon portrait
Perhaps your kids are a little older and open to a bit more of a crafting challenge, so you're looking for a stunning melted crayon craft that will let you work on combining a couple of different DIY techniques in one place? In that case, we'd definitely suggest taking a look at how My Little Projects used resist art to block out some negative space shapes in order to create an image and then melted and swirled colourful crayons over that to fill in the background. The effect is nothing short of stunning no matter what kind of image you choose to create.
9. Melted crayon dream catcher canvas
Are you feeling quite enamoured indeed by the idea of getting a little extra creative with the kinds of shapes and elements you turn your melted crayon sections into in order to make all kinds of new images along with a bit of silhouette painting? Then we'd definitely encourage you to take a closer look at how Nishta Sisterhood draw the outline of a lovely dreamcatcher, melting crayons in a stunning colour combination to look like the feathers that might hang down from the bottom.
10. Crayon heart pencil toppers
Believe it or not, dripped canvas art isn't actually the only kind of melted crayon DIY project you can teach your kids how to make! Just in case you think they'd be a little more interested in actually make hard shapes with their melted crayons rather than just letting them flow while they're still liquid, here's an adorable heart shaped pencil topper idea outlined on Skip To My Lou that's perfect for Valentine's Day (or any day that you'd like to show someone how much you appreciate them, really).
11. DIY crayon heart garland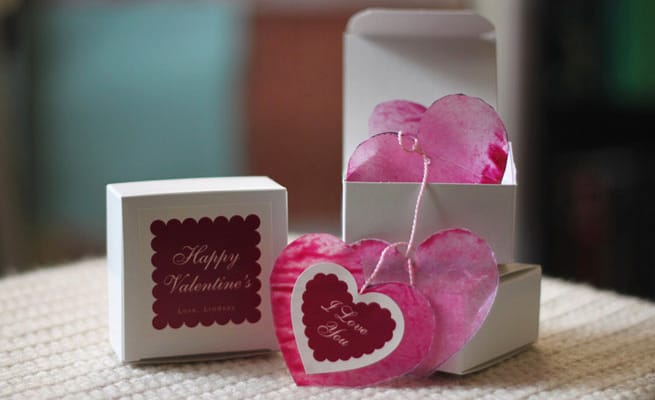 Thick, structured hearts aren't the only kinds of crayon hearts you can make! We're actually quite in love with the way Evermine took a slightly more delicate approach to the idea and made these nearly see-through, paper thin hearts that they linked together like a stunning, cheerful garland in order to send a very sweet message. They even show you how to put that garland in a cute homemade box for gifting!
12. Geometric crayon block candles
Are you still thinking about how much you would like to actually build more structured things with the colourful wax that results from melting candles, even if you're not sure that particular idea would really interest your young children? Well, since we've already shown you plenty of ideas for them… here's one for you! Check out how Brit + Co. created these fantastic colour blocked tea light candles that have an attention grabbing geometric shape.
13. DIY jumbo toddler crayons
In reality, are you pretty sure your kids brought up the topic of all their broken crayons to you mostly because they are tired of colourful with small, breakable crayon stumps rather than because they're budding artists who want to learn a new crafting technique? Well, either way, we still have a feeling that both you and they will find this melted jumbo crayon tutorial featured on Momtastic a lot of fun to both make and use when it's done.
14. Crayon wands
Did we almost catch your attention well enough with the idea above that you were just about ready to get down to business, until your kids saw how big the final crayon would be and expressed some concern about how well they'd be able to colour inside the lines in their favourite colouring books with something so chunky? Then perhaps they'd get along a little better with this regular width "Franken-crayons" from Family Maven that are simply long and colourful but still nice and easy to maneuver.
15. Melted crayon hot rocks
Are your kids actually the kind of artsy creators that adore things like painting and drawing… but particularly with some kind of unique twist? Then we think perhaps they'd very much enjoy the way Red Ted Art used melted crayons to create stunning rainbow art on rocks and stones, rather than just on canvases! Our kids have made so many of these that our porch is practically a neighbourhood attraction thanks to how wonderfully colourful it is.
Have you made other kinds of awesomely colourful and super fun melted crayon crafts and DIY projects that your kids adored creating but that you don't see here? Tell us all about how you did it or link us to photos of your finished product in the comments section!