Knitting patterns for dolls
Let us brag for a second; we've always been avid knitters, for our entire lives, and that's something we're very proud of indeed. We can knit just about anything, whether it's intricate or straight forward, complicated lace or garter stitch, big or small. Every once in a while, however, we tired of making things that are very large and difficult, no matter how capable of doing it we are. Sometimes it's nice to just create something small, simple, and whimsical because it's like a fun palate cleanser between projects that are a little more of an undertaking. That's why we've actually found ourselves on a bit of a doll and doll clothes knitting kick lately! Once we'd done one or two projects, we suddenly felt really motivated to try a few more, and suddenly we were pouring over all our favourite knitting websites in search of new doll based patterns to try out on our needles.
Just in case the idea of knitting entire dolls, or even just knitting some accessories for your kids' favourite dolls, appeals just as much to you as it did to us, if not more, here are 15 of the cutest and most unique patterns and designs that we've come across so far in our search!
1. Betsy doll and her knitted bunny
Did we really catch your attention when we started talking about knitting an entire doll as a project, rather than just knitting a dress or an accessory for a doll? Well, we can't say we blame you, because that's actually one of the most fun projects we've ever done, if we're being fully honest with you! We were really big fans of this adorable Betsy doll because not only was she a blast to knit herself, but her pattern also comes with the stitch instructions for making her a cute little bunny friend. Imagine how excited our kids were when they saw that we'd not only knit them a doll, but also knit a doll for their doll! See the full pattern in more detail on Love Knitting.
2. Collared baby onesie with matching hat and booties
Have your kids always been huge fans of very realistic baby dolls, taking delicate care of them as thought they were their own real babies? Then we have no doubt that they'd really appreciate some clothes for their favourite dolls that look like something you might have actually knit for your kids themselves when they were tiny babies. That's why we felt we simply had to show you this stunning little collared doll's onesie with its matching hat and booties, outlined all together on Doll Knitting Patterns.
3. Knitting embellished princess gown
Perhaps your kids' very favourite game to play with their dolls is one in which the dolls become beautiful, elegant princesses rather than just regular little girls? Well, we're sure there are probably plenty of store bought princess dresses out their for popularly sized dolls, but none of them will have as much breathtaking detail and care put into their making as something you created yourself. We'd definitely suggest taking a look at how ABC Knitting Patterns did this beautifully stitched princess gown embellished across the bodice with tiny pearled beads.
4. Matching textured beret and poncho
Are your kids actually gearing up to be quite the little fashionistas, and you can tell that both in the way they dress themselves and in the way they're always talking about wanting to dress their dolls? Well, we're sure there are probably pretty stylish doll outfits in stores and all, but we adore the idea of being able to make them even more fashionable custom pieces by hand. That's why we thought this wonderfully textured matching poncho and beret doll set featured step by step on Zibbet was such a lovely idea!
5. Fairy doll knitting pattern
Were you very intrigued indeed by the idea of knitting an entire doll yourself because you love the idea of using your skills to create soft toys from scratch, but you also know that your kids' taste in toys is a little more magical and whimsical than the look of the previous design we showed you? In that case, we have a feeling this adorable flower fairy knitting pattern featured on Free Knitting Patterns might be a little more up your alley!
6. Knitted flip doll
Just because you're knitting something small and fun as a simple palate cleanser doesn't mean you can't tackle a version that's slightly more advanced than what you've seen so far! We actually love the concept of knitting a doll that's absolutely a nice, quick project for you but that also still puts your well honed skills to good use. That's why we just can't get enough of this adorable Princess Ana from Frozen design that's like two dolls in one thanks to the way it flips at the skirt, as though Ana is changing outfits. Get the full instructions and some helpful tips from In The Loop Knitting.
7. Mohair glamour dress
If you're going to knit your children some stylish doll's dresses, would you rather make them something a little funkier and more unique looking than what you've seen in stores? After all, playing pretend with their dolls is a great time to get more creative in their clothing choices than just working with store bought options that mimc the same regular outfits they might find in their own shopping section. That's why we thought this funny little ruffled dress, knit partially with mohair just for a cool change in texture, was such a cute idea! Get the full stitching pattern thanks to ABC Knitting Patterns.
8. Colourful knitted babies
Just in case you're still totally enamoured with the idea of knitting your kids little dolls from scratch but you know that they're actually always preferred baby dolls specifically, rather than dolls that look a little closer to their own age, then here's an alternative pattern that we think might be a little more along the lines of what you were looking for! Check out how this pattern from Craftsy shows you how to make a whole set of colourful knitted babies in comfy onesies, but with different faces and accessories, just for personality and diversity.
9. Knitted doll's lounge suit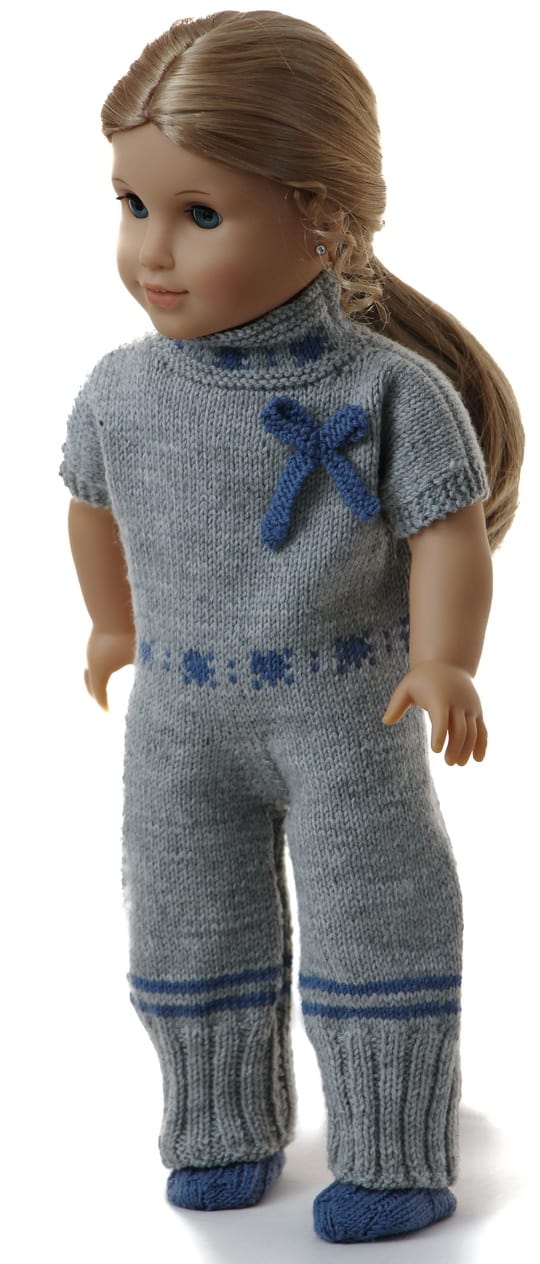 Are your kids the kind of avid doll lovers who actually take their very favourite dolls absolutely everywhere, dressing them each morning in an outfit that's fit for what you're all doing that day? Then we think you'll probably be in need of at least a few casual outfits for down days where your little ones and their toy friends will simply be watching movies, rather than having elaborate imaginary adventures! That's why we couldn't resist including this completely adorable knitted lounger suit featured in detail on Doll Knitting Patterns.
10. Classic doll cardigan
Perhaps you're actually a little bit closer to the beginner's end of the knitting spectrum but you're still intent on getting creative and putting your skills to the test in order to make your kids some cute extra outfits for their favourite dolls? Then we'd definitely suggest taking a look at how Cindy Rice Designs designs this simple and adorable little cardigan that lets you practice stockinette, ribbing, garter stitch, and button holes, all in one quick, adorable project.
11. Vintage baby doll sleeper pattern
Did we really catch your attention with the little dolly lounger pattern because the garment looked quite vintage and you've always loved stylishly vintage pieces, but now you can't help wondering whether there might actually be an option out there that really is knit from a vintage pattern published decades ago? Then we have a sneaking suspicion that you'll be very pleased indeed to see how Icky Cat uncovered and tried out this adorably vintage baby doll sleeper pattern for their own kids.
12. Lacy doll halter
Did your ears actually perk up when we started talking about doll clothes that look just like what your own kids wear on a daily basis or might shop for in their favourite stores, because that's actually precisely the kind of clothing your kids like dressing their dolls in the most of anything? In that case, we think perhaps you'll all get a kick out of this adorable doll sized lacy halter top outlined step by step on Pixie Faire! We like the idea of using this project as a little bit of lace practice because it's small enough to be manageable even if you're a lace beginner.
13. Sailor's shirt and dress patterns
Have you actually been scrolling through our options and hoping to find a pattern that will give you instructions for two garments in one, just so you can make even more things for your kids' dolls in one sitting? Well, if you happen to find adorable little sailor inspired outfits even half as lovely as we do, then we have a feeling this pattern from ABC Knitting Patterns might be right up your alley! They show you how to make a shirt and a dress version of the same adorable idea.
14. Sweet and simple wool collar with stitched flowers
When we started talking about small, quick doll projects, were you actually thinking of something very small indeed, perhaps even smaller than what we've shown you so far, so that you can quickly whip it up out of the scraps you've had lying around in your stash? Well, we happen to think that's a fantastic idea and it's actually one of our favourite ways to use our own yarn ends up as well! That's why we couldn't resist putting this lovely little floral doll's collar on our list. Get the full details from talented designer Fig and Me.
15. Knitted cupcake dolls
Are you still feeling rather intrigued not only by the idea of knitting and entire doll yourself from scratch, but also by knitting a transformational doll that has some kind of cool extra element… but you just weren't quite feeling that specific flip doll design we were talking about earlier? Well, as parents of kids who are so obsessed with Frozen that the mere mention of the most gets the song "Let It Go" permanently stuck in our heads, we can't say we blame you for wanting to work with a different theme for once. That's why we were so pleased to stumble across these absolutely fantastic cupcake dolls outlined step by step on Aunte Kristy! Rather than flipping up and down to reveal two different dolls, these little dollies' skirts fold up and unfold to turn from little girls into cute sprinkled cupcakes.
Do you have other knitting patterns that you've made for the doll lovers in your life (and that they adored and play with all the time), but that you don't see anything quite similar to on our list? Tell us all about what you made or link us to the pattern in the comments section so we can try it out as well!