13 Ways To Store All Of The Kids' Stuffed Animals
We know kiddos can cause clutter, but there's no clutter like that of a room that's been filled to the brim with teddy bears and all their other stuffed animal friends. It seems like an impossible feat. Where can we put all their cuddly buddies? How can we store them so they're accessible but not filled up every corner of every room? Well, here are 13 ways to store all of the kids' stuffed animals that actually work!
1. Hanging Layers
This ladder-like innovation from It's Always Autumn is perfect for a smaller stuffed animal collection. Hang and display your favorites and still allow the kids to grab who they want to spend time with and go! It's a low-level craft and there aren't too many materials needed either.
2. Sling
Create a sling to display your favorites! You know what works well? A large scarf or pashmina! Check out the details at O For Owl.
3. It's a Circus
You're seeing things clearly, we promise. You can literally create a circus for your kiddos' stuffed animals to become a part of. It's a wonderful storage solution but one with some pizzazz! The project can be found at Hallmark.
4. Chandelier
Getting the stuffed animals up and off the floor is always a great idea. And with this one from diyinspired.com it's done in an innovative way with a lot of premiere styling. A stuffed animal chandelier is really a little gal's dream come true.
5.  Wire Baskets
Honestly, sometimes the most simple solution is the best. At Pretty Prudent, you'll find some easy inspiration for cleaning up the playroom. Wire baskets hold a lot more stuffed animals than you may realize – with a lot of wiggle room.
6. Corner Cage
Since the stuffed animals are always in the corners anyway … why not utilize that extra space? Create a corner cage to keep the teddies and dolls inside. Check out the tutorial by visiting Down Redbud Drive.
7. No-Sew Hammock
You don't have to know how to sew to make a hammock for all the cuddle buddies. Just pick out your fabric and where you'd like to hang it. Visit Little Mager House for more information.
8. Crates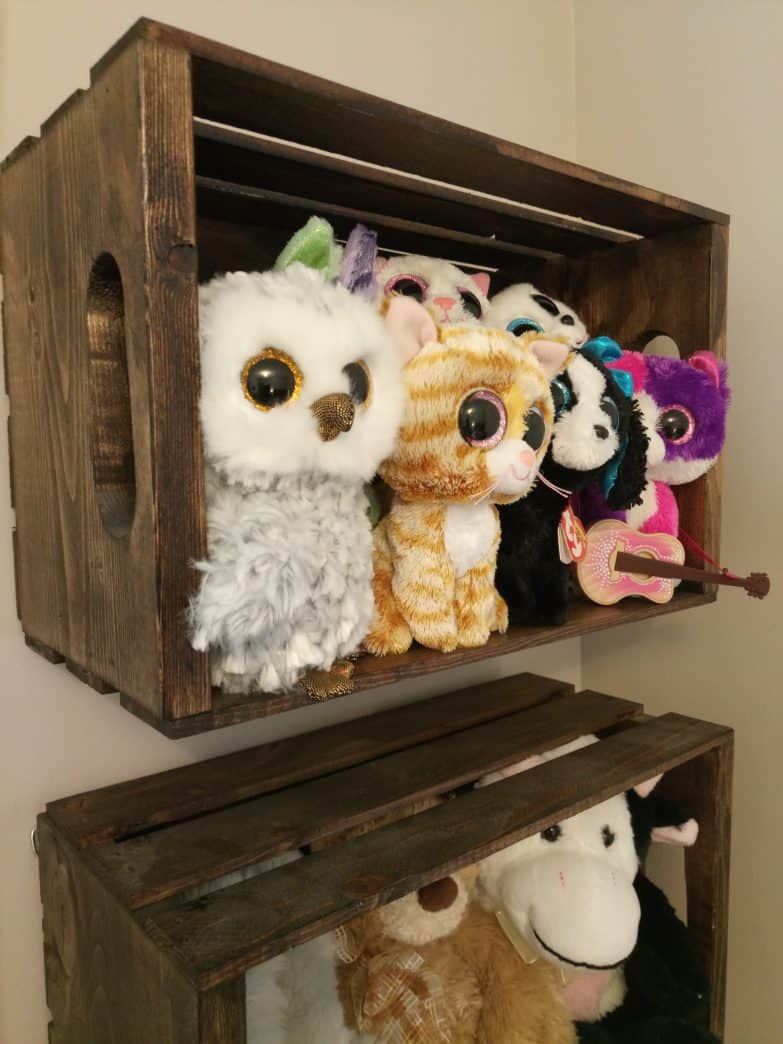 Simimlar to write baskets, wooden crates can do the trick. If you're house a more farmhouse quality, take your pick of wood-made bits. At Nifty Thrifty DIYer you'll snag the right inspo. Just know that wooden designs won't have as much give as the wire.
9. Pet Vet Clinic
De Su Mama went with an idea that's both organizational but also playfully functional. Store the stuffed animals in a cubby system that's also a pretend "animal clinic." Clean up will be fun and full of imagination.
10. Bean Bags
Take all of those stuffed animals and turn them into a bean bag chair. It's a quick clean up. The bean bag becomes functional afterwards. And you'll say so long to cluttered areas or lost teddies. Grab the tutorial at Family Maven.
11. Hanging Pillowcase
Houseologie went a simple route as well but it's one that works so nicely. A hanging hamper gets clutter off the floor and using space that gets overlooked most days. This has a minimalistic feel to its finished look.
12. Netting
Simple netting works for stuffed animals too. Make a sling or hammock out of the fabric and personalize it with pom poms or tassels. Visit Lemon Squeezy Home for the tutorial.
13. Wall Baskets
Centsational Style showed off these wonderful wall baskets. All kind of toys or even art supplies could be organized inside – inside the playroom. But it's the stuffed animals that are perfect for filling them up!