17 Keychain DIYs To Spruce Up Those Car Rings
These are fantastic DIY gift ideas. They're also a great way to give the kids a means to get their hands dirty and to tap into their creativity. These 17 keychain DIYs are perfect for sprucing up those car rings and adding some personalized flair. Take a peek at the tutorials we love below!
1. Macrame Beads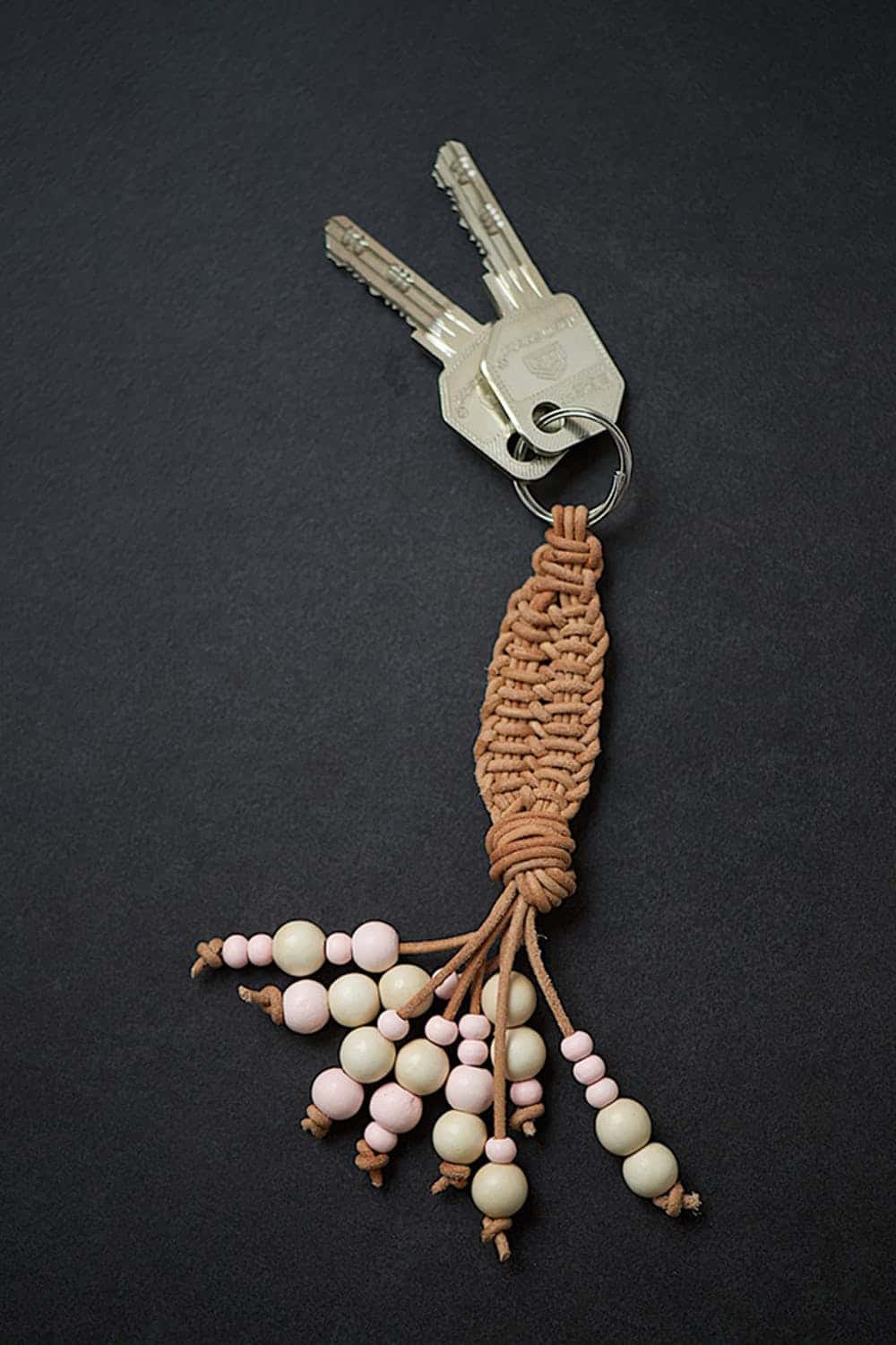 Lebenslustiger makes some beautiful macrame keychains for our boho babes. Add beads or leave them bare, whatever you think you or your loved ones would enjoy most. And use colorful material for a more vibrant finished product.
2. Leather Feathers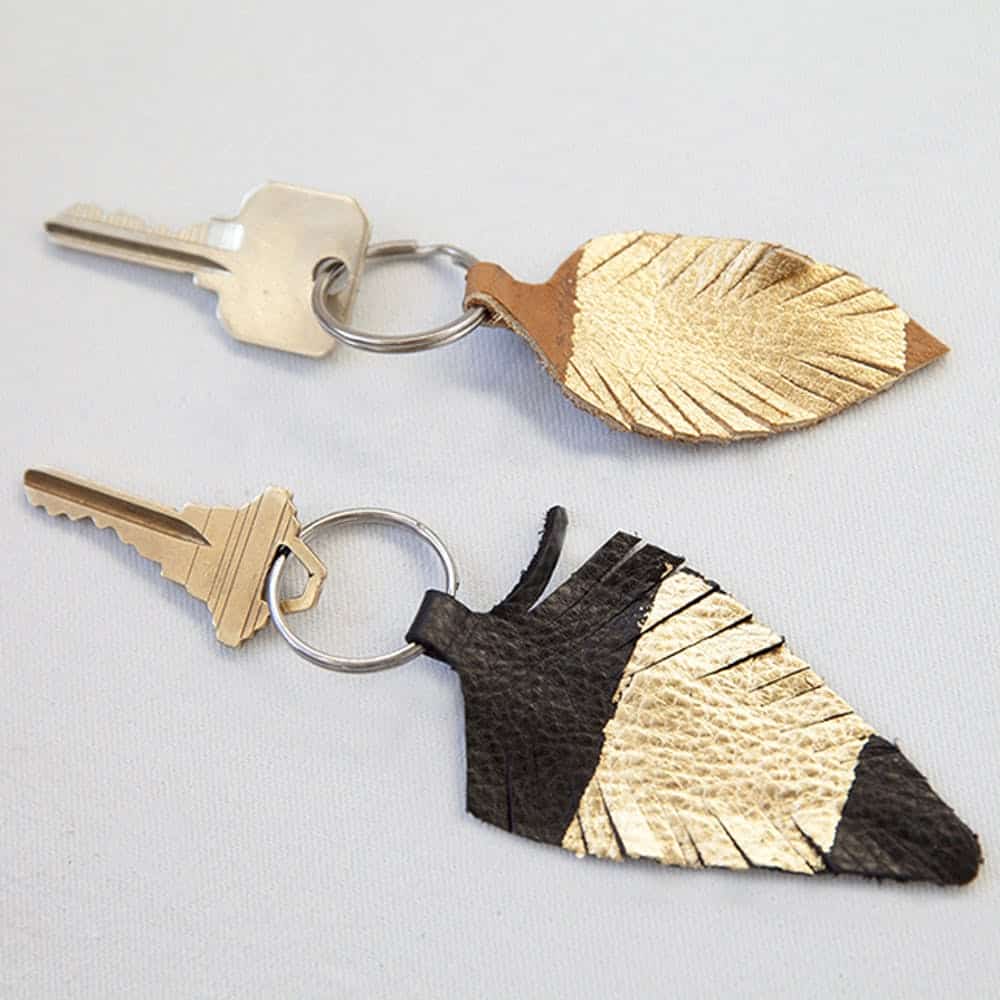 Creative Bug Blog went with some leather materials and metallic paints. There are just so many ways to personalize this project, but we love the minimal spirit behind the original project. And it's just so easy to recreate!
3. Paint Sticks
All of those paint sticks you have out in the garage could come in handy – who knew?! Go grab them and get started on this fun project from Ruffled. Personalize them for your pals and give them away as appreciation gifts.
4. Animal Toys
We've seen those plastic animal toys turn into fun knobs and magnets, but they can be keychains too. Add some playful spirits to that ring with some help from Ginger Snaps. Keep them in their original colors or add some metallic for a more glam effect.
5. Confetti
We're seriously swooning for these confetti packets. Glitter or paper bits, you can easily whip these up in a weekend. Perfect as favors or as a present for the bestie, grab the instructions by visiting Instructables.
6. Monogram Clay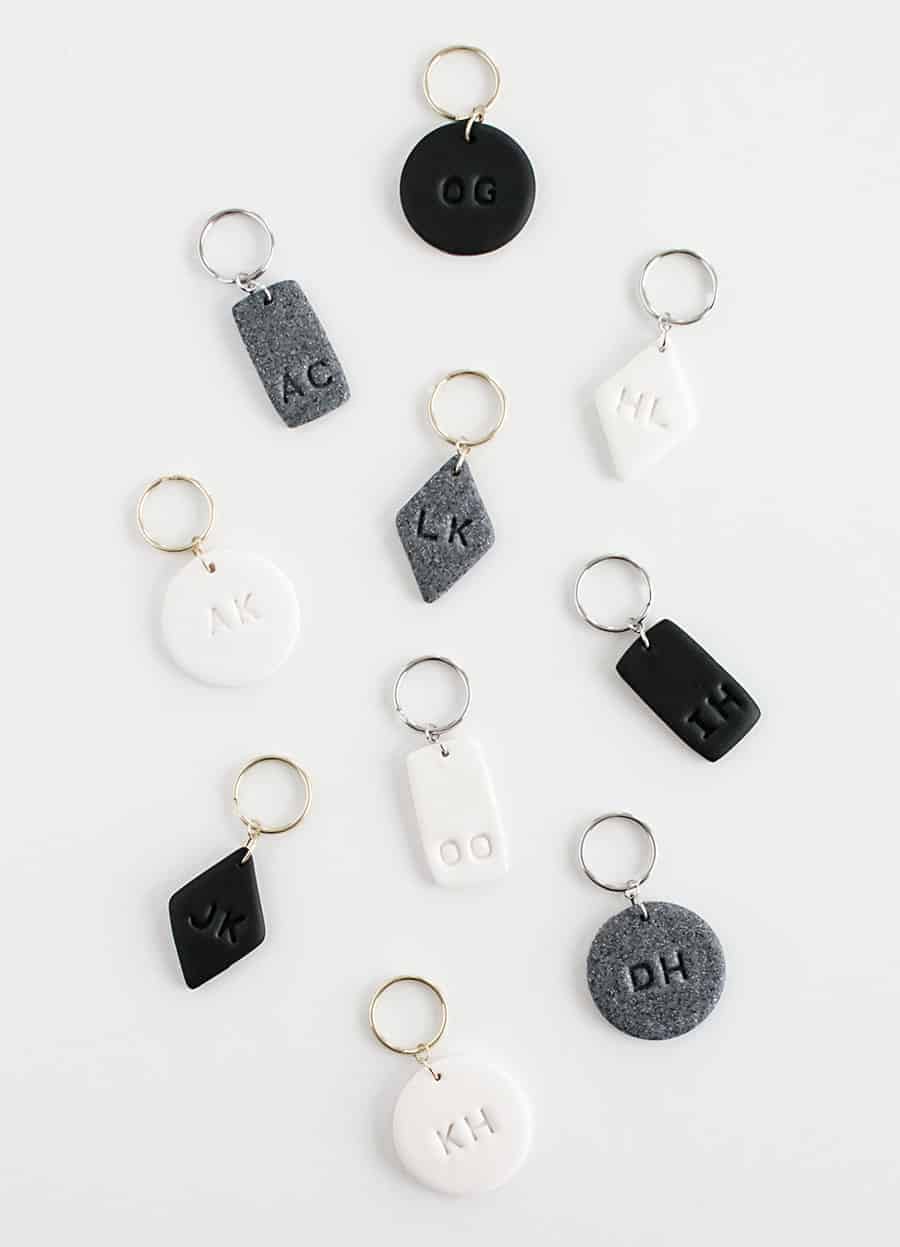 Over at Homey Oh My, you can learn how to create some modern clay keychains complete with a monogram. These are perfect as a bridesmaids' gifts or even favors for a bridal or baby shower. Dip them in metallic paint for an extra pop!
7. Fruits
These little fruits are just the cutest, don't you think? A small apple or even a lemon, add some springtime to your keyring. Dream a Little Bigger has the tutorial featured on their site.
8. Speckles
Sugar & Cloth has a tutorial for clay keychains as well. The difference here is that they're speckled, adding a bit more of a stylistic touch. Again, we think this one will definitely speak to the hearts of the minimalist lovers.
9. Pom Poms
Didn't we all love these fluffy pom poms back in the day? It's time to go grab a bag and get to work! With a little help from Made in a Day you'll be able to churn a lot of these out for all your loved ones to enjoy.
10. Wooden Beads
Sometimes the simplest of projects are the best. These beautiful wooden beads create a functional and friendly keychain that anyone can enjoy. Check out more details by visiting The Sweetest Occasion.
11. Embossed Hearts
Club Crafted did a similar project to the clay predecessors. Except for this time, they're full of color and full of Valentine's Day spirits. Emboss the hearts with your fav sweethearts' lines and pass them around for Cupid's big date.
12. Ribbons
A bout of scrap ribbons makes our favorite keychain of the bunch. We love the varying textures and how romantic (and easy) the finished project seems. We found this one while perusing on Ribbons.com.
13. Coke Cans
Mod Podge Rocks upcycles old soda cans and turned them into keychains. Grab everyone's favorite soda and personalize their own keychains. This would be a fun stocking stuffer or weekend project to do with the gals.
14. Pillow Hearts
These plush little hearts are quite charming as well. You don't have to be a veteran sewer to complete it either. Check out Love Maegan for more insight on how to make it happen.
15. Geo Shapes
Lovely Indeed did mini pillows as well but with a geomteric, modern twist. Follow along as the tutorial guides you through the easy process. Even novice crafters can make these cuties happen.
16. Gold-Wrapped Tassels
Tassels are definitely on trend and in style, so we believe you should probably learn how to make them. With this tutorial, you can create keychains or zipper accessories for your purses. Check it out at Miss Renaissance.
17. Glitter Hearts
These tiny glitter hearts – on wooden slabs – are just too cute. We found this tutorial on Flax and Twine and love the combination of mixed materials and rustic charm. Take the leap and follow along now!