15 Irresistible Pumpkin Recipes That Will Get You Through to December
Just because November is coming to an end and Thanksgiving has come and passed doesn't mean you can't keep enjoying your favourite seasonal fall flavours and foods right away! There are still a few days left in the month and besides, there are no steadfast rules that say you have to give up the best things about fall the moment a certain time of year or day passes! That's why you'll still catch us eating all of the pumpkin recipes we can get our hands on right up until our family starts feeling the Christmas spirit and demanding recipes that are a little more holiday-centric instead.
Just in case you love pumpkin more than just about any other ingredient in the fall too, and you're also looking for more recipes to get you through to the holidays, here are 15 mouth watering pumpkin recipes that will help you preserve that delicious fall taste!
1. Pumpkin ricotta pizza with graham cracker crust
If you're going to keep up the pumpkin menu on into winter because you just can't help but feel like you didn't get quite enough during the fall, you might as well make something unique, right? In that case, we absolutely suggest taking a look at this pumpkin pizza recipe made with ricotta cheese and a delicious graham cracker crust. Check out the full ingredients list on Colavita Recipes!
2. Bourbon caramel pumpkin pie
Are you the kind of perpetual fall lover who will make a delicious pumpkin pie any time of year, whether it's fall and Thanksgiving or not, just because you love it so much? Well, we certainly can't say we blame you! We think, however, that you should definitely start collecting unique pumpkin pie recipes with extra flavours and ingredients that will help you keep things interesting! This year, we became completely obsessed with this bourbon caramel pumpkin pie from Town and Country Mag. It's got that pumpkin spice you love but with a little bit of extra bite and sweetness thanks to the added flavours that go above and beyond.
3. Nutella swirled pumpkin pie
Are you totally into the idea of continuing to enjoy pumpkin pie long after some people would choose to stop, but the recipe we listed above just doesn't quite catch your attention? In that case, we definitely think you should take a look at this pumpkin Nutella swirl pie from Sally's Baking Addiction! It's the perfect balance of pumpkin spice fall flavours and deliciously sweet chocolate for a mouth watering blend.
4. Pumpkin tart with chocolate olive oil crust
Are you quite keen on the idea of combining pumpkin with chocolate but you're so completely in love with classic pumpkin pie filling that you don't really want to change that part of your baked treat up? Then maybe you should check out how Colavita Recipes made this completely scrumptious chocolate pie crust! We love that they chose to make their crust using olive oil for a slightly healthier choice than they could have made using other more classic recipes.
5. Pumpkin eggnog pie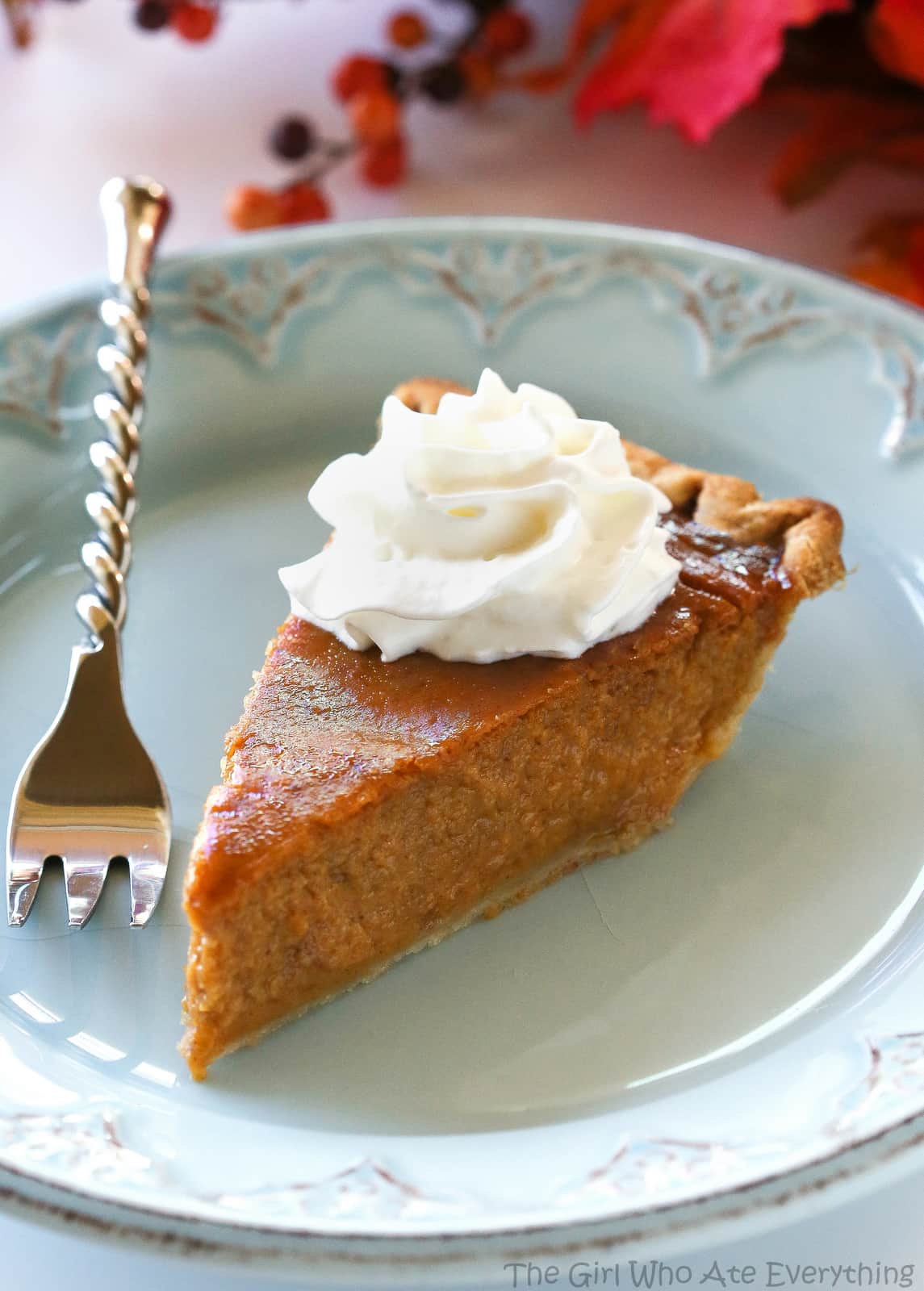 Can you tell that we're just really not ready to give up pumpkin pie season just yet? We're not ashamed to admit that at all, so we just keep looking for brand new flavour combinations that will help us justify making yet another pumpkin pie this season to our families! This pumpkin eggnog recipe from The Girl Who Ate Everything is actually a perfect pie flavour for making right between Thanksgiving and Christmas, so it's absolutely on our list next.
6. Pumpkin meringue pie
Have you always enjoyed pumpkin pie quite a lot but it's still not quite your favourite kind of pie because you're always been most partial to meringue? Well, who ever said you can't combine the two to make the ultimate delicious pie experience? We love the way The Pioneer Woman used techniques similar to making a deliciously fresh, summery lemon meringue pie but replaced the filling with a perfectly spiced pumpkin pie filling to keep that autumnal element in there too.
7. Pumpkin pancakes
Have you had enough of pies for the moment and now you're scrolling our list in search of something that's definitely still pumpkin flavoured but maybe a little bit less dessert based? In that case, we think you simply must take a good look at these amazingly flavourful pumpkin pancakes! They're so decadent that they almost feel like you're eating dessert, but they're really no different from any other fancy pancake recipe besides tasting wonderfully seasonal. Check the whole idea out in more detail on Colavita Recipes!
8. Pumpkin S'mores tart
Were you completely intrigued by the idea of combining pumpkin and chocolate but you're actually such a lover of spices and sweetness in one place that you're even willing to take that concept to the next level? In that case, we have a feeling that this S'mores pumpkin tart recipe from How Sweet Eats might be just the kind of thing you have in mind. We like to make this one with a crust that's a little bit extra crispy (but not too crispy) to balance out the super creamy combination of the fillings and the topping.
9. Pumpkin dulce de leche ice cream pie
Pumpkin ice cream is something that we've always wished we saw around more often. We know that isn't likely if you live in the kind of place that has already gotten freezing cold by this time of year, just like we do, but we crave it anyways! That's why we've searched our own homemade pumpkin ice cream recipes before. The pumpkin ice cream quest from previous years is how we stumbled upon this nearly unbelievable pumpkin dulce de leche ice cream pie from Cocktails, Cupcakes, Crafts and now we make it at least once every fall.
10. Coconut macaroon pumpkin pie
When we talked a little earlier about the idea of combining a fresh summery flavour or pie with a fragrant fall pie filling, were you completely intrigued but you almost wished the concept gave you more? In that case, we think we might have finally found the recipe for you. Rather than just replacing the fruity summer flavour with pumpkin filling like the previous recipe did, however, Self Proclaimed Foodie actually cements the taste of tropical coconuts into the recipe even further by using shredded coconut to make the pie crust!
11. Pumpkin hand pies
Has all this talk about pumpkin pie practically got you drooling by now but your kids are so tired of sitting still at the dinner table for multiple course that you know you'll have trouble getting them to do it again until Christmas, even when there's a yummy pumpkin dessert involved? Then maybe everyone would be better off if you made them these delicious grab-and-go style pumpkin hand pies instead! Check the whole idea out in full on Shugary Sweets.
12. Savoury pumpkin pie
We know that we didn't actually specify at the beginning of this post that our entire list would be comprised of sweet things specifically, but it has occurred to us by this point that most of our favourite pumpkin recipes are, in fact, baked goods. We'll fully admit that we're addicted to pumpkin sweets, but that doesn't mean there aren't savoury pumpkin recipes out there that we totally adore as well! This savoury pumpkin pie dish from iFood Real is the perfect example of what we mean. They show you how to make the pie crust out of almond meal, whole wheat flour, avocado or coconut oil, and maple syrup, as well as how to create a filling from eggs, pumpkin puree, unsweetened almond milk, and- wait for it- more maple syrup. Just because the recipe is savoury doesn't mean it can't be sweetened just a little bit!
13. Savoury pumpkin quiche
Are you a huge fan of the idea of making yourself a savoury pumpkin pie type recipe but the one above just doesn't do it for you because the maple syrup sweetens things on you just a hair too much? In that case, we wonder whether you might prefer something like this pumpkin quiche instead. It's quite similar to the savoury pumpkin pie recipe, but it's a little bit saltier and is made with delicious raisins. Get the full ingredients list on Taste of Home.
14. Pumpkin and cheese stuffed pasta shells
If we're finally going to start talking about savoury pumpkin recipes, then you might as well consider something that will make an entire, completely delicious entrée! That's why we thin you should definitely take a look at these fantastically fragrant pumpkin and cheese stuffed pasta shells from An Edible Mosaic. It's like you're taking a big, delicious bite of fall with every shell you eat!
15. Roasted pumpkin and smoked blue cheese lasagna
Are your favourite recipes always the ones that casually combine an ingredient that you're absolutely obsessed with right now with one of your favourite classic dishes? We'll admit that we sure love a classic lasagna too, but that doesn't mean we're not willing to add some extra flavour and shake things up every once in a while! That's why we absolutely adore this roasted pumpkin and blue cheese lasagna recipe from Naturally Ella. As if the pumpkin wasn't an awesome enough idea, the cheese is here to save the day with flavour!
Do you know someone who adores pumpkin just as much as we do, if not more? Share this post with them to help them enjoy their favourite seasonal food in scrumptious new ways!