How to build a bench with these free DIY woodworking plans
Patio season hasn't quite arrived yet but we've already started thinking about what we'd like to make ourselves this year that will help us take full advantage of that outdoor space. This year, we think we'd like to try our hand at making an impressive bench! Even if you'd rather make a furniture piece for an empty indoor space you've been hoping to fill, a DIY bench that your friends and family can use while they put their shoes on in the entryway or something similar is a very satisfying project indeed.
Just in case you're as interested in the idea of making your very own DIY bench as we were, if not more, here are 15 of the very best designs, ideas, and tutorials we've come across in our search for guidance and inspiration so far!
1. Bench made from an old bed frame
If you're going to put in all the effort and time it takes to make yourself a homemade bench from scratch, would you prefer to use that as an opportunity to do a bit of upcycling too? In that case, we'd definitely suggest taking a look at how Pretty Handy Girl used some basic woodworking skills to transform an old bed frame into a bench that features the headboard as a backing!
2. Curved corner bench from old chairs
Have you always loved the idea of having a homemade looking bench in your home but the space you've got to work with is small and you don't think you have any straight spots to fit a long seat in? Then perhaps you'd get along a little better with this bench that's built quite simply to fit right into a corner! We love the way My Repurposed Life made the back from a series of old kitchen chairs.
3. DIY corner bench with no back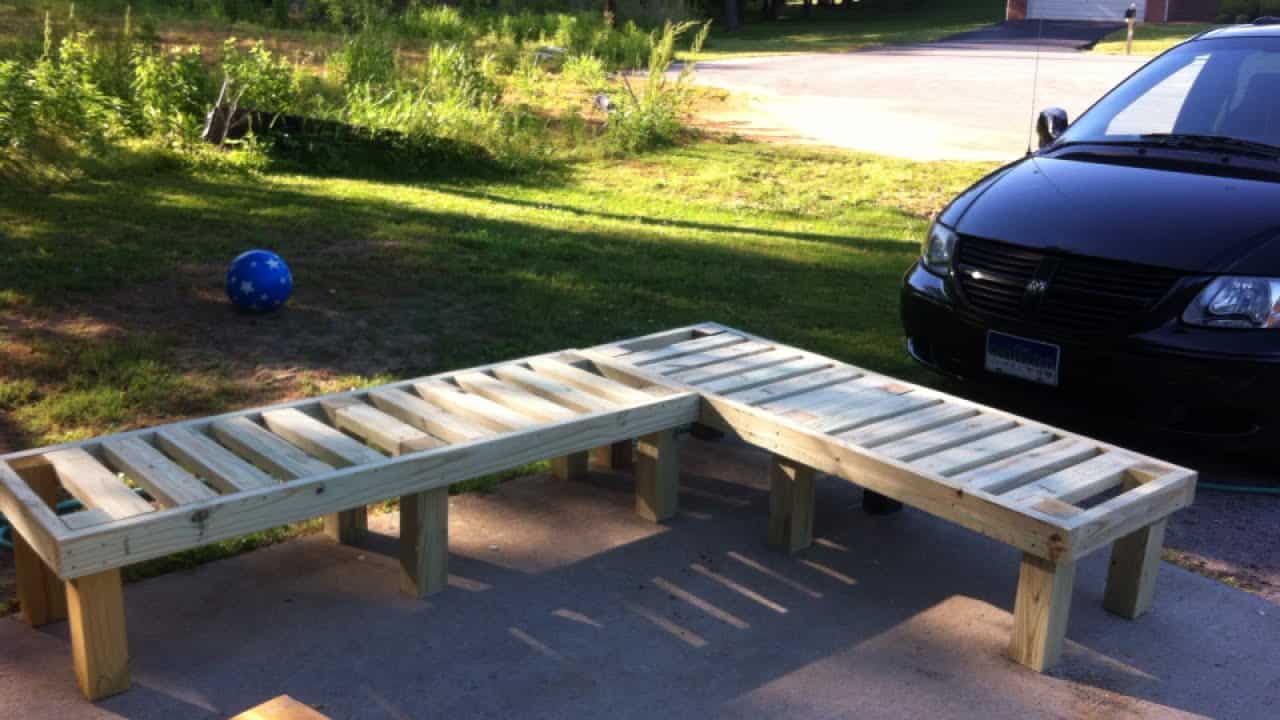 Did we really catch your attention with the idea of making a corner bench but you prefer a sort of minimalist reclaimed look that might suit a cottage or a rustic setting rather than something with backs? In that case, we'd absolutely suggest taking a look at how Guidecentral used reclaimed pallet wood to make a bench with longer seats, a sharper corner, and no backing.
4. Concrete block and cushions bench
Not every bench you'll find in the diverse DIY tutorials out there are made of wood alone! Just in case you like a more industrial influenced reclaimed look, here's an awesome stacked together bench design that's made from a wooden black for the seat and painted cinder blocks for the frame. Get the full details for making a version of your very own on The Pry Posse.