24 DIY Herb Gardens To Practice Your Green Thumb With
From the windowsill to the backyard, there are tons of ways to test your plant growing abilities – in a big or small way. Today, we're going  with the edible route. These 24 DIY herb gardens are perfect for practicing your great thumb with and lighting up the dinner table with new ways to jazz up your homemade meals. Let's take a look!
1. Mason Jars
Camille Styles shows us how to make mason jars chic with this beautiful walled herb garden. Test out your green thumb and breathe life into the kitchen or patio.
2. Coffee Table
Shelterness has one of my favorite projects on the list! Check out the amazing details behind the construction of this coffee table herb garden!
3. Vintage Kettles
And if you hop on over to Shelterness again, you'll find out how to use some vintage kettles and put them to good use again. If you have a more eclectic taste then this is the perfect pick for you!
4. Chalkboard Planters
Shelterness has the details for using chalk paint to create your herb garden as well. This is a more traditional idea but one that we love just as much!
5. Hanging
If you're looking for something more grandiose and more intricate, then hop on over to Homemade Modern and try your hand at making this gorgeous hanging piece!
6. Clothespins
Clothespins can help you out too. Just visit 7th House on the Left to grab all the details on these cuties.
7. Tin Containers
Turn those tin containers into something brand new with help and instruction from Ewa in the Garden. We are loving this outside idea!
8. Backdoor
The Vintage Wren showed us how they make an herb garden right outside the back door. Water them everyday and grab what you need for dinner in an instant.
9. Vertical Wall
AKA Design has another walled project to learn about and try your hand at. If you're looking for a larger DIY to try, this is it!
10. Shoe Organizer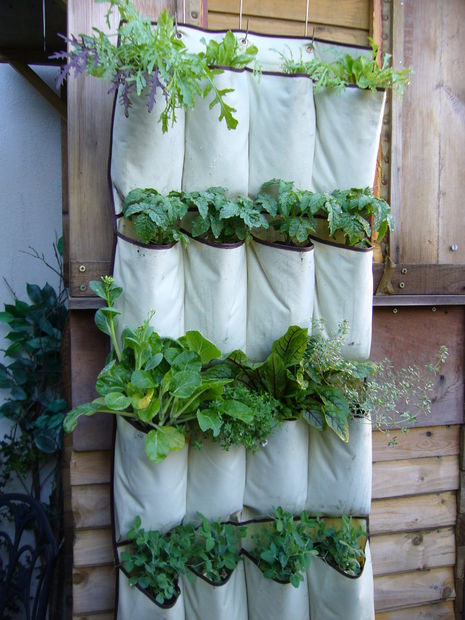 Who knew a shoe organizer could be used to grow your herbs. Check out this innovative idea at Instructables.
11. Tea Tins
Apartment Therapy featured some vintage tea tins and how they can be used as planters too! It's so innovative and fun!
12. Fairy
Dabbles & Babbles has one the kiddos will loved to be involved in too. Your herb garden can double as a fairy garden.
13. Wine Rack
Curbly gives us a super fun Ikea hack to try out. This wine rack can easily be turn into a super modern herb garden in an instant!
14. Personalized
Loveshack Chic has an easier and more personalized idea featured. Pick out your papers and make your own labels as your herbs grow.
15. Industrial
If you like an edgier, more industrial style, you'll want to visit Infarrantly Creative. It's the perfect windowsill treat or home office desk addition – just switch the succulents for herbs!
16. Starbucks Cups
Honey & Lime shows us why we shouldn't be so quick to throw out our Starbucks cups. Because they can obviously be turned into the perfect, "basic" planters!
17. Plastic
BHG gives us some charming, easy inspiration for the kitchen as well. Plain, white and plastic planters look beautiful on a simple wire rack as the plants start to grow.
18. Baskets
House To Home gives us another idea that we may not think of at first. Woven baskets – of all kinds – can be planters for our herbs too!
19. Patio
Check out Overstuffed if you want to create a simple patio herb garden for the entire family to help out with and enjoy. It's easy and sweet!
20. Concrete
Shelterness gives us yet another great idea – especially those with more minimal style visions. Yes, concrete too can be turned into the most perfect of planters.
21. Pallets
If you're handy with wood pieces 99 Pallets has a project for you. This pallet design can hold every herb you'd want to grow!
22. Cedar
Angie The Freckled Rose used a simple cedar planter to create her own herb garden. We love it's traditional sense and easy beauty.
23. Teacups
If you want something on a smaller scale, then you'll want to visit Shelterness just one more time. Catch the details for teacup planting now!
24. Wagon
Precious Sister shows us how to take an old wagon and turn it into a beautiful herb garden! We are loving this unique idea and how beautiful it would be in your own yard.