Call us over zealous, but we believe that pretty much anything in life can be turned into either a crafting opportunity or a DIY project- even the stuff that isn't very much fun to do. In fact, we're so adamant that just about anything can be DIY that we recently even made the switch in our home to homemade cleaning products rather than store bought ones full of chemicals! Mixing your own cleaning products might not be the most exciting type of DIY you've done all month, but we find it helpful for keeping our home clean in a more natural, healthy, and environmentally friendly way. While some of these products do still contain things like Borax, we've done our best to find you "recipes" that are much lower in harsh ingredients than the average product you'd buy in the store.
If you're curious to see what we use now or you agree that natural homemade cleaners are best but you're not sure where to start in making your own, then this list is for you! Check out these 15 DIY cleaning solutions that will help you keep just about every area in your home spotless.
1. All-purpose bathroom cleaner
Apartment Therapy understands that sometimes you just need to do a bit of tidying up in the bathroom that doesn't require any special treatment or ingredients as long as it gets stuff shiny and clean. For this all-purpose cleaner, you'll need:
Baking soda
Borax
Castile soap or vegetable oil-based liquid soap
Distilled white vinegar
Essential oils (peppermint or lavender are great options; choose ones that have disinfectant properties and a smell that you enjoy)
Kosher salt
Water
2. Homemade soft scrub for tiles
Sometimes tiles around your bathroom and kitchen need a good scrubbing with something other than a cloth because materials and grime tend to stick to them, but you don't want to scrub them with anything too hard or they'll scratch. Instead, try making your own soft scrub like this one by Live Renewed! You'll need:
3/4 cup of baking soda (be generous)
1/4 cup of castile soap
1 tbsp of water
3. Natural clothing stain remover
Discovering stains on your clothing is always discouraging, but using very harsh stain removers can actually ruin certain garments and materials even more! That's why we started making our own effective stain remover with a different mixture of ingredients, just like Good Housekeeping. We still make sure to reserve this for durable materials, but we find it more helpful than most mass produced brands. You'll need:
• 1 gallon of hot water
• 1 cup of powdered dishwasher detergent
• 1 cup of regular liquid chlorine bleach (don't use ultra or concentrate)
4. Homemade dishwasher detergent
Have you been finding that your store bought dishwasher detergent leaves residue on your dishes and also gets used up quickly enough to cost you more money than it's worth? Then check out this DIY alternative from Bonzai Aphrodite instead! It's easy to make and we got more mileage out of it. You'll need:
Borax
Powdered washing soda
Distilled white vinegar
5. Grapefruit and salt bath tub scrub
The funniest part of making your own cleaning supplies with natural ingredients is that a lot of the things you eat and therefore probably already have in your kitchen actually have antibacterial properties that are useful in home maintenance. Citrus fruits like grapefruit are a perfect example and Apartment  Therapy agrees! To make their awesome tub scrub, you'll need:
1 grapefruit
1/4 cup of coarse kosher salt
6. Borax-free homemade laundry detergent
Are you keen to start making your own effective laundry detergent but you're also intent on keeping your mixture Borax free? Don't worry, there are definitely "recipes" that will help you do that! This one from My Healthy Green Family is a great example. You'll need:
1 bar of glycerin soap (grated finely)
1 cup of washing soda
1/2 cup of baking soda
1/2 cup of citric acid
1/4 cup of coarse salt
7. Essential oil mold killers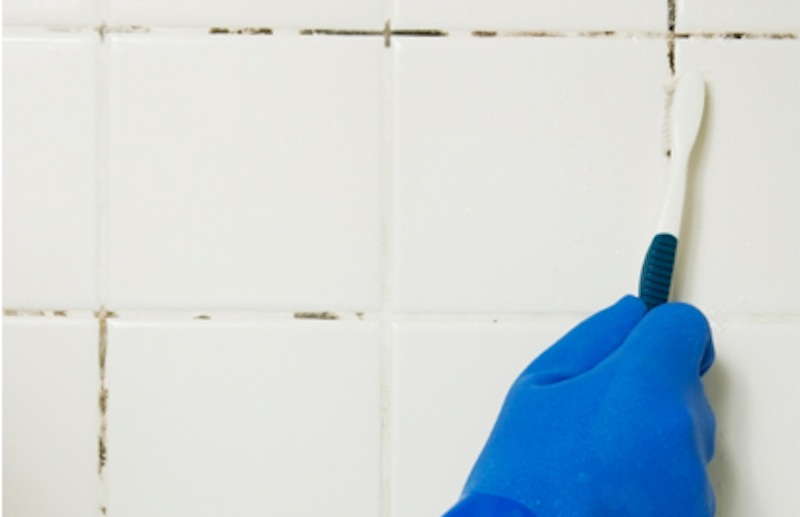 If there's anything in the realm of home cleaning that concerns us greatly, it's mold. We can't stand seeing it anywhere in our home and we'll do anything to rid ourselves of it. We also, however, prefer to keep things as natural as possible whenever we can. If that means taking the time to make our own awesomely effective cleaning products, then so be it! Care2 shows you how to make a great mold killer using:
2 tsp of tea tree oil
2 cups of water
8. Grease cleaner
Grease is definitely a common problem in the kitchen, but that doesn't mean you have to let it stick around, especially if store bought solutions haven't quite worked to your satisfaction. In cases like that, Good Housekeeping is here with a great alternative for you to try! You'll need:
• 2 cups of water
• 1/2 cup of white or cider vinegar
• 1/4 cup of rubbing alcohol (70% concentration is recommended)
• 1 to 2 drops of orange essential oil for a fresh scent (optional)
9. Aluminum foil and baking soda silver cleaner
Do you have some antique or high quality silver that you'd love to keep polished against tarnish, but that you're hesitant to use store bought polishes on because you're never fully confident in what's actually in them? Then follow Apartment Therapy's lead and make one of your own! You'll need:
1 cup of boiling water
1 tbsp of baking soda
1 tbsp of sea salt
1/2 cup of white vinegar
10. DIY glass and mirror cleaner
There are plenty of DIY cleaners out there that are marketed on the basis of being "streak free", but somehow we still find it hard to get one that truly lives up to that name. We actually had better luck when we mixed a glass cleaner ourselves and used it on our mirrors and windows! Check the instructions out on Today. You'll need:
1 tsp of dish soap
½ cup of white vinegar
3 cups of distilled water
11. DIY "cleaning slime"
Okay, we'll admit it: this DIY cleaning slime idea from Herbs and Oils Remedies both horrifies and intrigues us all at once. While it might sound totally gross to stick dirty things to a ball of goo, think about how convenient it is for those hard to clean places! To make your own, you'll need:
2 tbsp of Elmer's Glue-All Multi-Purpose Glue
4 tbsp of Borax
4 tbsp of Water
12. All natural after-shower spray
Are you the kind of extra clean house keeper who would prefer to tackle mess and grime before it even happens, rather than just when it's built up? Then you're probably a big fan of after-shower spray! Instead of exposing yourself to mass produced chemical products every time you shower, try this DIY version from DIY Natural. You'll need:
White vinegar
Natural dish soap
tea tree and eucalyptus essential oils
13. Toilet fizzies
Here's another one for the pre-emptive cleaner! Every so often, drop a toilet fizzy into the bowl so it's shiny and clean more consistently but you're not always spending retail price money on the store bought version of this idea on Popsugar. You'll need:
1 cup of baking soda
1/4 cup of citric acid
1/2 tsp of vinegar
1 tbsp of hydrogen peroxide
15 to 20 drops of antibacterial essential oil (your choice for scent)
14. 2-ingredient air freshener
Perhaps you have a sensitive nose and would prefer to make yourself a mixture that will help keep things smelling even fresher between cleans than usual? Then Free People has the simplest "set out and leave it" recipe for you! You'll only need two easy ingredients:
Baking soda
Peppermint oil
15. DIY wood polish
There are plenty of decent quality store brand wood polishes out there, but if you have very high quality wood pieces that mean a lot to you, you might prefer to polish them with something that you made yourself so you know precisely what's in the mix. We suggest this great polish from Apartment Therapy! You'll need:
1 sliced lemon
1 tbsp of grapeseed or olive oil
1 tbsp of water
Do you have another awesome and super useful homemade cleaning remedy that you use all the time and would highly recommend but that you don't see on our list? Tell us how it's made in the comments section!