50 Healthy Breakfasts That Will Start Your Day Off Right Every Morning
Whether you pre-make or have time when you wake to whip something scrumptious up, that first meal of the day really is the most important. And with these 50 healthy breakfasts you'll be starting your day off right every morning for both you and your family. Take a peek at some of our favorites!
1. Low-Carb Breakfast Burritos
Delishstarts us off right with this low carb breakfast burrito recipe. You'll be satisfied and get all the great flavors without the extra calories and sugar!
2. Egg Muffins
If you hop on over toTwo Peas and Their Podyou'll learn how to make these yummy and healthy little egg muffins. The kiddos will like them too and you'll get to hide some spinach inside.
3. Yogurt-Filled Cantaloupe Melon Bowl
PopSugarshowed off this easy yogurt-filled canteloupe that everyone in the family would love to dive into. You'll have fun "designing" your own "bowl."
4. Southwest Egg Scramble
Here's a scrumptious southwestern scramble fromKeep It Skinnythat will satisfy lots of palettes without all the guilt! Serve it up with some whole wheat tortillas and pico de gallo.
5. Slow Cooker Banana Nut Oatmeal
How does some yummy banana nut oatmeal sound to you? Whip this up in the crockpot with some help fromThe Lemon Bowl.
6. Green Goddess Smoothie
Spoon Universitymixed up this green goddess smoothie that will also get your day started off on the right foot. Check out all the fresh ingredients after the jump!
7. Blueberry Breakfast Quinoa
This blueberry breakfast quinoa fromDamn Deliciouslooks rather yummy, don't you think? Grab the recipe and go snag some fresh blueberries for the morning.
8. Flatbread Breakfast Pizza
Who doesn't love pizza? Well, you can have it in the morning and in a healthier way with some help fromVery Breakfast.
9. Superfood Pancakes
Your pancakes can be made in a healthier way too. Just visitDomestic Gothsand learn how to make them and top them off just right.
10. Eggs Baked in Avocados
Serious Eatsutilizes everyone's favorites … avocado! Fills hem up with some eggs for an extra-special morning treat. We'd add some cheese too!
11. Sweet Potato Waffles
Did you know that you can take some sweet potatoes and turn them into waffles? Top them off with some spinach and egg for a healthy breakfast! (via)
12. Broccoli Pancakes with Spinach and Parmesan
Yummy Addictionknew how totake pancakes and flip them on their sugary heads with this one. Who knew broccoli cakes in the morning could taste so good?
13. Oatmeal Raisin Breakfast Cookies
You could always have some cookies in the morning – and they can be good for you! Check out how to make these oatmeal raisin breakfast cookies! (via)
14. Spanish Sweet Potato Omelette
Goodness Greenwhipped up a beautiful, Spanish sweet potato omelette that you'll learn to love and make every weekend. It's also a great choice for brunch time!
15. Banana Pumpkin Spice Smoothies
Perfect when fall comes rolling in, begin your morning with this pumpkin banana smoothie fromSkinny Mom! It'll definitely put a little pep in your step.
16. Ham, Apple & Sweet Potato Scramble
Paleo Newbiegrabbed some ham, sweet potatoes, apples and eggs to make this fun scramble. Everyone in the house will want a bite of this creation!
17. Flourless Greek Yogurt Banana Oat Muffins
These are great for an entire family that needs something to grab-and-go in the morning! Check outChelsea's Messy Apronfor all the muffin's details.
18. Easy Eggs and Veggies
A pan of eggs and veggies will get your day starts off well too. VisitPip and Ebbyto see their favorite choices to throw in.
19. Turkey and Egg Breakfast Casserole
Aimee Mars Livingused turkey sausage at the center of this yummy creation. Check out all the directions behind this fun morning dish.
20. Peanut Butter Banana Chia Oatmeal
This oatmeal has us drooling. Hop on over toEating Bird Foodfor this banana and peanut butter masterpiece.
21. Ham and Cheese Egg Cups
Here's another low carb option that we're loving. Over atEmily Bites, you'll find all the details behind these ham and egg cups!
22. Sweet Potato Breakfast Bowl
Sweet potatoes are great options for morning meals. And over atHealthy Livyou'll find another recipe that utilizes them to their fullest potential.
23. Strawberry Oatmeal Bars
The best part about these oatmeal bars is that they're only 100 calories! Grab the recipe and get started on these by visitingWell Plated.
24. Black Bean Breakfast Burrito
Here's another burrito recipe we're loving. And this time you get to add a bit of black beans inside! (via)
25. Greek Yogurt Breakfast Bark
Go Eat and Repeatbrings us another grab-and-go recipe that the entire family will be happy with. Some greek yogurt bark – topped with your favorite ingredients will always be a yummy choice.
26. Avocado Toast
Check outThe Kitchnand learn how to made a beautiful variety of avocado toast! From classic to with a bit of tartness or brunch, there are so many fun ways to layer one of the best healthy treats.
27. Baked Paleo Spinach Donuts with Matcha Glaze
How about some healthy donuts for when you wake up in the morning? It's possible, just check it out at Joy Fun Sunshine.
28. Very Berry Baked Oatmeal
This very berry oatmeal bake fromDiethoodis looking rather tasty, don't you think? Grab the recipe after the jump!
29. Whole Egg, Bacon and Avocado Quesadilla
Recipe Tin Eatswhipped up some delicious-looking quesadillas that are both tasty and healthy! These whole egg and avocado creations make for a great morning bite.
30. Veggie Loaded Breakfast Casserole
Little Spice Jarloaded up the veggies in this one! Throw in your favorites and create a breakfast casserole out of all the healthy goodies!
31. Baked Dever Omelet
Cooking Classymade a Denver omelette bake that has us drooling. And please don't forget some fresh avocado slices on top.
32. Breakfast Salad
Who knew that a salad for breakfast could be such a good idea. Grab all the delicious details over atCamille Styles.
33. Egg Wraps
The Lean Green Beanmade a low carb egg wrap we're loving too. Again, you get your favorite breakfast bites without all the guilt!
34. Apple Peanut Butter Banana Smoothie
Even the kiddos will want to have a sip of this one in the morning. Apple, peanut butter and banana – sweet and delicious! (via)
35. Oatmeal Breakfast Bars
Wrap some of these up and the kids can take them right out the door and scarf them down on the way to school. Snag the recipe for these oatmeal breakfast bards fromFood Faith Fitness.
36. Waffle-Iron Baked Apples
We're loving this innovative idea fromCupcake Project! Cut up some apples and throw them on the waffle iron!
37. Apple Cinnamon Baked Oatmeal
Apple cinnamon baked oatmeal is the best way to start off the weekends with the family! Everyone will be excited to sit at the table and begin their day together. (via)
38. Make Ahead Smoothies
Check outSimple Green Smoothiesfor a few varieties of make ahead smoothies! Grab the jar, grab the blender and go!
39. Kale Goat Cheese & Sun-Dried Tomato Egg Bake
Here's another egg bake we're loving.Fit Mitten Kitchenmixed kale, goat cheese and sun-dried tomato in this yummy treat.
40. Oatmeal Breakfast Banana Split
This oatmeal breakfast banana split will not only have the entire table at the kitchen table in the morning, it'll have them helping out in its creation too! Check it out atCourtney's Sweets!
41. Gluten-Free Quinoa Waffles
Whip up some waffles using quinoa! It's definitely a healthy way to go but still getting a bit of an indulgent bite! (via)
42. Overnight Oats
Check outSpoon Universityfor a few different overnight oat recipes that we're loving. It's great when you've got an early morning and won't have time to actually make breakfast.
43. Mediterranean Breakfast Sandwich
We found this beautiful breakfast sandwich over atBHG. If you're a fan of Mediterranean flavors, this is definitely something to try out!
44. Fried Egg Toast with Tomatoes
Fried egg toast with tomatoes looks rather scrumptious. Learn how to make this beauty over atBHG.
45. Cinnamon, Ginger & Brown Sugar Baked Grapefruit
This is what's known as a "bruleed" grapefruit. It's a bit indulgent, but a grapefruit truly is one of the best ways to start your mornings. (via)
46. Pesto Egg White Omelettes
Here's another delicious omelette idea and it's fromFood Faith Fitness. We are loving the idea of adding pesto right on top for an extra bit of zest!
47. Black Cherry Breakfast Parfait
Vegetarian Departmentshowcased this gorgeous black cherry breakfast parfait and we're in love! You get a sweet bite without too much guilt.
48. Vegan Banana Oatmeal Cookies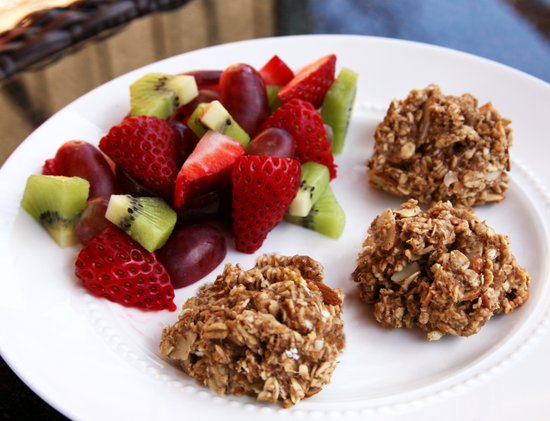 PopSugarbrings us more breakfast cookies that you can make and use for busy mornings. You can even add some dark chocolate chips for a bit of indulgence.
49. Scrambled Eggs, Beans, Tomatoes and Pesto
Real Simplemade this breakfast and we love how tasty and healthy it really is. Add toast to the side if you'd like, but it's so good it doesn't even need it!
50. Bunless Bacon, Egg and Cheese Sandwich
You can even make a breakfast sandwich without the carbs. Check outDelishfor this bunless bite!