Grilled Potatoes with Avocado Chimichurri
Potatoes are usually fried, baked, mashed, or even hashed, but today, they are getting grilled.Grilling potatoes may not be your go-to spud cooking method, but it adds mega wow factor. The potatoes pick up a smoky flavor and get crispy crunchy exteriors. The insides stay pillowy soft and fluffy, similar to a french fry.After a short stint on the grill, the potatoes are topped with a creamy and herbaceous chimichurri sauce. Chimichuri is a fresh herb sauce, similar to pesto. It is used in the Caribbean and in South America. It is a mix of fresh herbs and garlic. This version adds in a ripe avocado for creaminess. It's texture is the perfect contrast to the crispy potatoes, and it adds a summery freshness to this side.
Grilled Potatoes with Avocado Chimichurri
Here are a few tips to grilled potato perfection:
Tip #1: Boil first.
If we tried to grill raw potatoes, we would be at the grill all day. To cut down the cooking time and ensure perfectly fluffy interiors, we need to boil the potatoes before taking them out to the grill. This step pre-cooks the potatoes so that the only thing left to do is get those golden brown grill marks.
Tip #2: Pat dry.
Once the potatoes are boiled until they are fork tender, drain them well and pat them dry. In order to get those gorgeous grill marks, the potatoes have to be dry and free of excess moisture. Spread the potatoes out on a clean towel, and with a second towel, pat the potatoes dry.
Tip #3: Turn up the heat.
The trick to great grill marks is a hot hot grill. Crank your outdoor grill up high and let it preheat before you start grilling. If you are using a grill pan inside, be sure to preheat it well and use a high heat.
Tip #4: Resist the urge to fidget.
Once you place the potatoes on the grill, let them sit for a while without nudging them around. This allows the grill marks to really develop. If you try and move them around, you also increase the risk of the potatoes sticking to the grill. When the grill marks are good and golden, the potato will naturally unstick itself from the grill. Give the potatoes a flip, and repeat on the other side.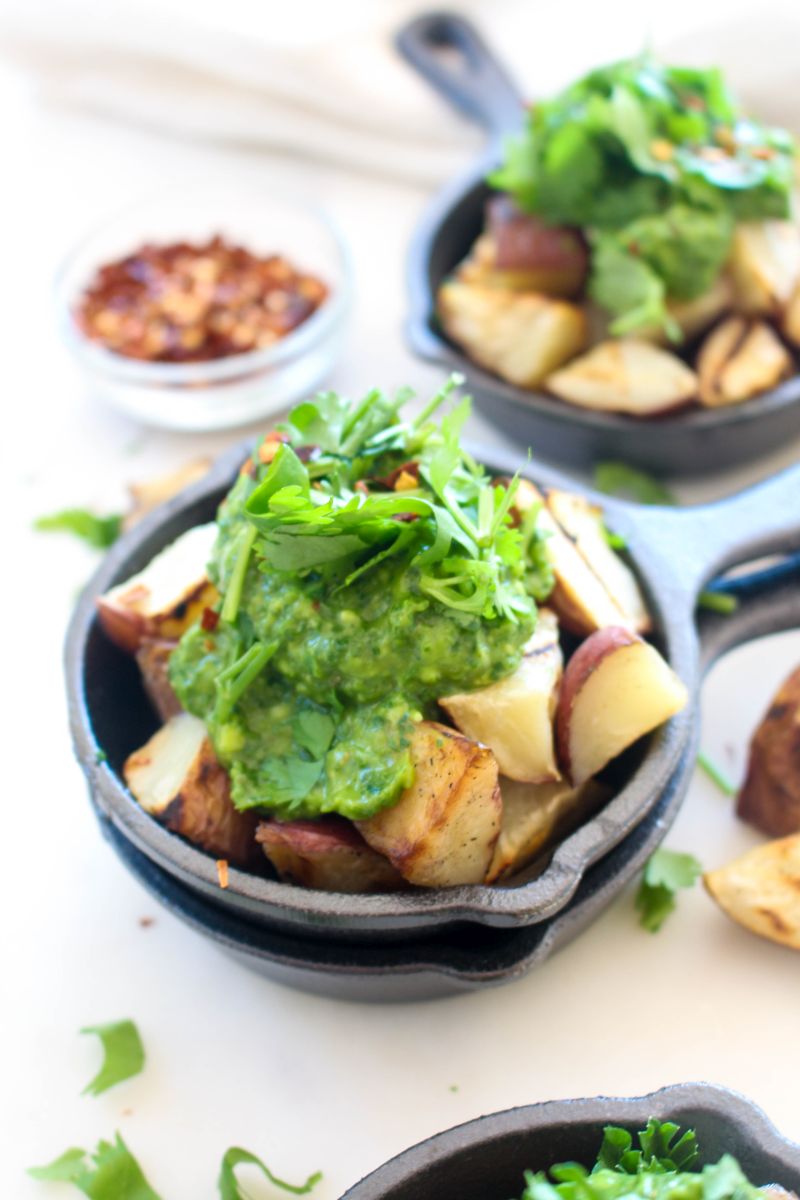 Ingredients:
2 lbs baby potatoes, washed and cut into bite sized pieces
1/2 bunch parsley
1/2 bunch cilantro
1 clove garlic
2 tablespoons white wine vinegar
2 tablespoons water
1/2 avocado
1/2 tablespoon dried oregano
Big pinch salt
Optional garnishes:
Chopped cilantro
Chopped parsley
Red pepper flakes
Directions:
1. Add the potatoes to a pot and cover with water. Boil until the potatoes are fork tender. Drain and toss with a big pinch of salt.
2. While the potatoes are boiling, add the parsley, cilantro, and garlic to a food processor fitted with an S blade. Pulse until the herbs and garlic are minced.
3. Add in the white wine vinegar, water, avocado, oregano, and salt. Process, scraping down the sides as necessary, until the avocado is smooth and the herbs are still a bit chunky.
4. Heat a cast iron grill pan, or an outdoor barbeque. Grill the potatoes, until they are cooked all the way through and have golden brown grill marks.
5. Serve the potatoes topped with chimichurri and desired garnishes.