Grilled Vegetable Kabobs with Charred Scallion Chimichurri
These grilled vegetable kabobs with charred scallion chimichurri are a quick and dinner easy side that is full of healthy ingredients and big flavors!
When the weather warms up, I am always looking for the grill to create healthy and quick weeknight dinners. The main use of this outdoor cooking method might be for grilling meat, but vegetables benefit from a round on the grill just as much as protein. The high heat brings out the sweetness in the veggies and the grill marks add a pleasant smokiness.
Vegetable Kabobs are one of the easiest things to grill. Whether you are a grill master or a barbecuing beginner, kabobs are an easy and quick weeknight meal that the whole family will love.
They are as simple as skewering your favorite veggies onto sticks and laying them onto the grill. Turn the kabobs periodically so that they cook on all sides, and with just 20 minutes of work, you are rewarded with perfectly cooked and super flavorful Vegetable Kabobs.
Mushrooms are a serious powerhouse when it comes to nutrition. They contain nutrients that can't be found in any other food. Mushrooms are one of the best foods for boosting immunity helping us to ward off a cold or the flu, but also more serious conditions like cancer. Eating mushrooms can promote healthy cholesterol levels and help reverse anemia creating a healthy blood supply.
Zucchini can grow wild in the garden come spring! This easy to grow vegetable is high in nutrients and low in calories, which can help us to both loose a few pounds and maintain a healthy weight. Zucchini is a great source of vitamin C and potassium and can aid in digestive health, reducing the effects of ulcers and leaky gut syndrome.
These easy Vegetable Kabobs are a loose recipe. You can swap any of the veggies for one of your choosing. Shallots, cauliflower, broccoli, crookneck squash, whole garlic cloves, and okra would all be delicious in this recipe.
No matter what your vegetable choice, the thing that brings it all together is the Charred Scallion Chimichurri Sauce. The scallions are grilled which mellows out their flavor and makes them smokey and sweet. They then get ground into a sauce in the food processor with some fresh parsley, cilantro, and garlic. Lemon adds freshness to the dish and olive oil thickens up the sauce. Drizzle this on any grilled vegetables of your choosing, and you will have one delicious summer side dish.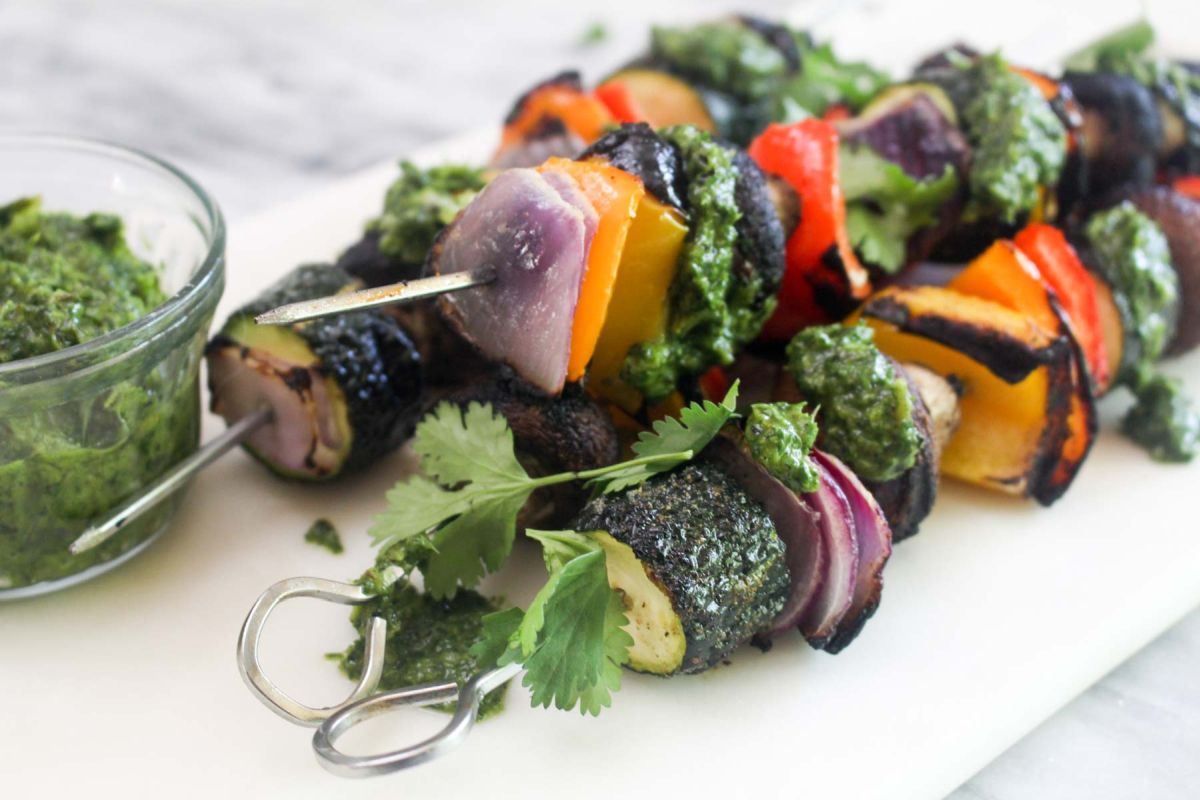 Ingredients for grilled vegetable kabobs:
2 zucchini, cut into 1 inch rounds
2 bell peppers, cut into squares
1 onion, quartered
8 oz crimini mushrooms
2 tablespoons avocado oil OR grapeseed oil
1/2 teaspoon salt
1/4 teaspoon pepper
1/4 teaspoon garlic powder
4 scallions
1/2 bunch parsley
1/2 bunch cilantro
1 clove garlic
1/2 lemon, juiced
1/2 cup olive oil
Directions to prepare the grilled vegetable kabobs:
Slide the vegetables onto metal skewers alternating between veggies.
In a bowl, whisk together the avocado oil, salt, pepper, and garlic powder. Brush this mixture onto all sides of the veggie skewers.
Place the scallions onto a hot barbeque or grill pan. Grill until tender and slightly charred. Remove from the grill and set aside.
Add on the kabobs and grill until the veggies are tender and have grill marks, turning to cook evenly on all sides.
While the veggies are grilling, add the scallions, parsley, cilantro, garlic, and lemon juice to a food processor. Process until the herbs are finely chopped, scraping down the sides as needed. Add in the lemon juice, olive oil, and a pinch of salt and pepper. Process until smooth and creamy.
Serve the sauce with the grilled veggies.
This quick summertime side is the perfect addition to any weeknight supper! You can swap out the veggies for a nutrient-packed dinner that is tailored to your tastes. Just don't forget the sauce! The Charred Scallion Chimichurri makes this side dish the star of the show.