These Gender Reveal Cakes Are a Delicious Way to Share Your Joyful News
Gender reveal cakes are a delicious way to announce your joyful news to family and friends. Our gallery will give you several ideas for creating a cake that will be the talk of your baby shower.
Oh Baby! Reveal Cake
A grey, white, and yellow outside makes this cake a sophisticated choice for your baby shower. The inside of the cake can be tinted to reveal baby's gender. Learn how at Joann.com.
Present Gender Reveal Cake
A new baby is the most precious gift of all. Pay tribute to the blessing of a new son or daughter with a present-inspired gender reveal cake design. Parents.com has the details.
Baby Shoe Gender Reveal Cake
Baby shoe decorations make for a sweet gender reveal cake design that works with a wide range of shower themes. Photo via Pinterest.
Pink and Blue Ombre Pattern Cake
An ombre pattern of pink and blue frosting is a subtle choice for your gender reveal cake. Photo courtesy of Rebecca Cakes & Bakes.
Pinata Gender Reveal Cake
Most gender reveal cakes simply have a tinted inner layer. However, this one is filled with colorful candies and sprinkles in pink or blue.  Sweet and Savory has the details.
Baby Bottom Cake
Frosting roses and a fondant baby bottom make this cake an adorable addition to your gender reveal celebration. Photo via Half Baked.

Gender Reveal Cake for Twins
Use two layers of cake that are tinted different colors to make a gender reveal cake for twins. Photo courtesy of Instagram.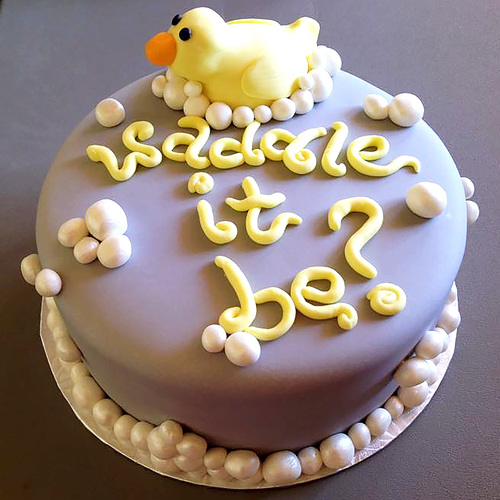 Rubber Ducky Gender Reveal Cake
Rubber ducky baby showers are a popular gender neutral option. Make a gender reveal cake with the "Waddle it be?" saying on the outside. This beautiful dessert is from Rainy Cakes.
Twinkle, Twinkle, Little Star Cake
Craftsy has a roundup of clever themed gender reveal cakes, including this design that's perfect for a nursery rhyme themed baby shower.
Owl Gender Reveal Cake
Guess whoo? Pink or blue? Whimsical owls decorate cute gender reveal cake from Trinity's Desserts.
Dr. Seuss Inspired Gender Reveal Cake
This spectacular gender reveal cake is the perfect choice for the mom-to-be who grew up loving Dr. Seuss stories and can't wait to start reading her favorite books to her new baby.  A Sweet Passion has the details.
Touchdowns or Tutus?
If you need a fairly large cake for your gender reveal party, try a layered cake with coordinating boy/girl themes. This touchdowns or tutus design is from But a Dream Cakes.
Baseballs or Bows?
Another example of a layered gender reveal cake, this design from Peggy Does Cake highlights baseballs and bows as the selected boy/girl theme.
He or She? Cake
A simple chocolate cake decorated with sprinkles and a colorful inside layer is sure to be a hit at your baby shower. Photo via Justine Johnson Photography.
Question Mark Gender Reveal Cake
Question mark candles and colorful frosting dots are a quick and easy way to prepare a gender reveal cake for your celebration. Image via Jat Your Service.