50 Fun Hairstyles To Experiment With At Home!
Long, short or just a medium-length that you want to do some funky things with – it doesn't matter how long you hair is – you can have fun no matter what. Twists, turns, braids and ponytails … we're here to give you the scoop on a lot of stylish ideas to play with. These 50 fun hairstyles are perfect for experimenting with at home and seeing what you like!
1. Twist & Pin
This DIY hairdo from Marie Claire is super simple but adds just the right amount of personality to your look. Grab some bobby pins and start twisting!
2. Colorful Fishtail Braid
Add some color to your look without using any dye. This fun DIY from A Beautiful Mess is a great vacation day look or one to celebrate with!
3. Braided Headband
Love, Maegan shows off some other kinds of braiding skills that we're loving. Check out this boho-inspired braided headband!
4. Make Waves
Play around and experiment at home with your flat iron as you make some waves! Brit + Co shows us just how easy this really is.
5. Hair Headband
This is super preppy, works for the office and can restyled with some fun bobby pins too if you'd like. Visit MC for the tutorial now!
6. Banded Chignon
There are so many wonderful ways to wear this sophisticated and elegant chignon. Learn how to recreate it on yourself at Camille Styles.
7. Sea Salt Waves
Learn how to make a sea salt spray right at home that's perfect for recreating those sea salt waves we love. Free People has all the details!
8. Pretzel Braid
Check out how funky and fun this pretzel braid is! A Cup of Jo shows us how to make this versatile hairstyle happen!
9. Half-Up Twist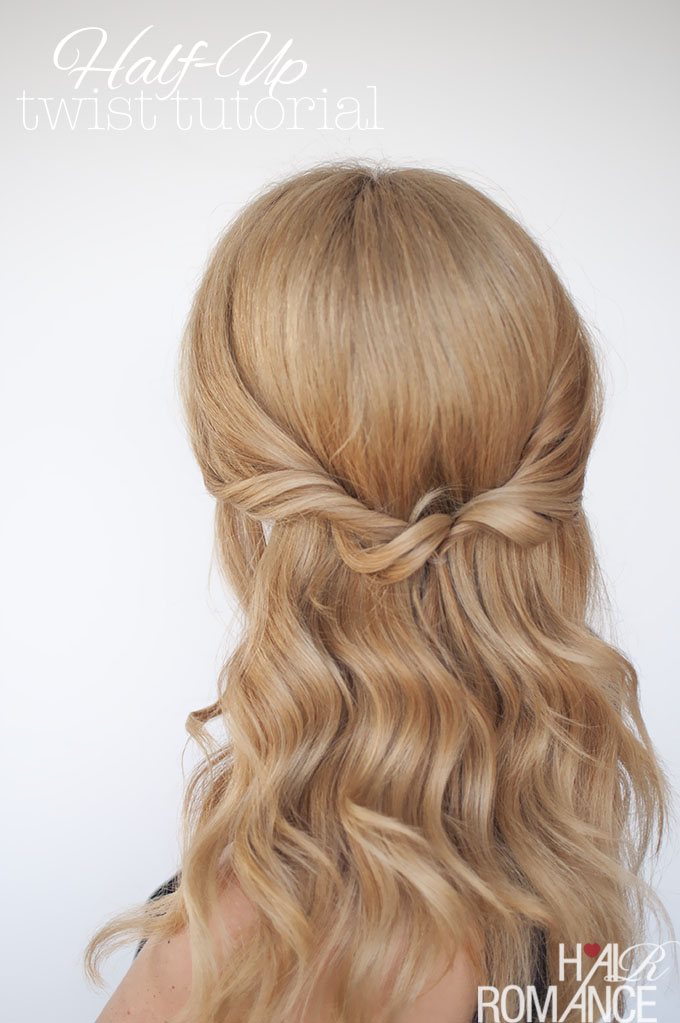 Hair Romance gives us the scoop on how to make this half-up twist. It's another versatile style that can be dressed up, dressed down or just had fun with!
10. Party Lob
If you're rocking a lob then this party look is for you! Look to Lulu's for this fun way to wear a half-up hairstyle!
11. Half-Up Bun
Lulu's shows us how to create a neat little half-up bun. Give your long locks an extra pop of personality with this easy experiment.
12. Headband Tuck
Check out this fun and quirky look that's perfect for class in the morning or dinner with the gals. Hop on over to our favorite, Marie Claire, and snag the details.
13. Baby Bouffant
Cosmo gives us a quick and dirty tutorial on how to create a baby bouffant in the comfort of our own home. We love this throwback look, don't you?
14. Bubble Ponytail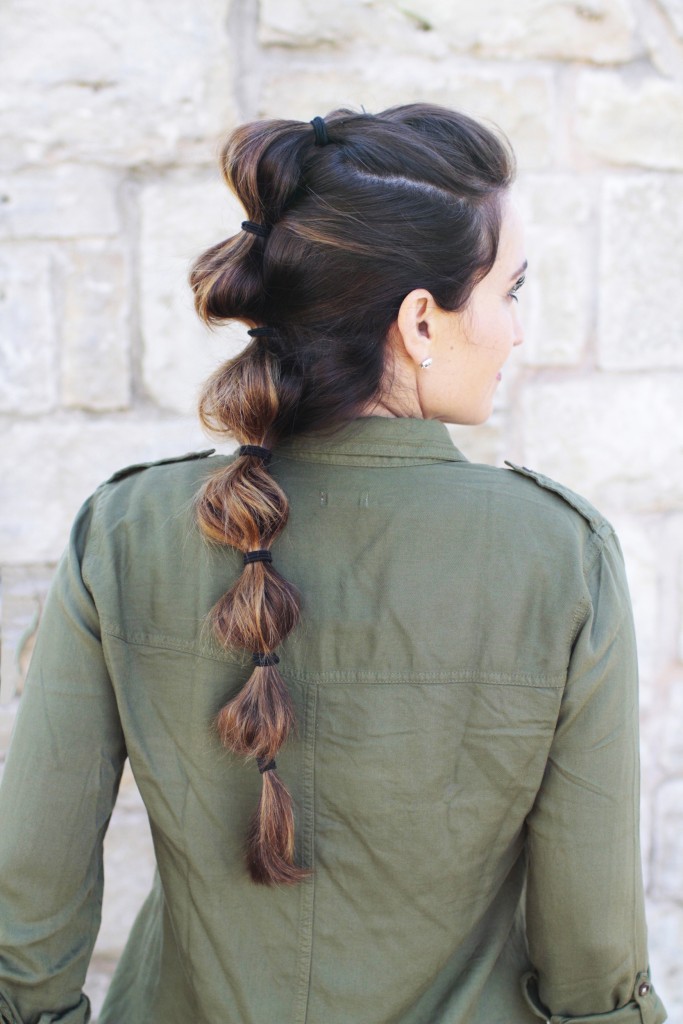 For those of us with longer hair, this bubble ponytail from CGH is right up our alley! It's such an edgy and unique style to play around with.
15. Bouffant Side Pony
I Spy DIY shows us how to DIY this fun ponytail look. On the side with a little bouffant, it's definitely got a vintage flavor.
16. Milkmaid Braid
Here's a sweet style that we all should learn how to recreate at home. And if you visit Le Fashion, you'll learn this afternoon!
17. Parted Ponytail
Check out this sleek, parted ponytail from A Cup of Jo. It's perfect for traveling or on a day you just feel like being chic and comfy.
18. Half-Up French Braid
Missy Sue shows us how to make this relaxed and messy half-up French Braid. We're loving this look for everything from weddings to evening class!
19. Faux Bob
If you've ever wondered what you look like with a chic and fun bob, then look no further than this tutorial. A Beautiful Mess gives us a fun hairstyle to try while also checking out what it's like to have shorter locks.
20. Fanned-Out Bun
Marie Claire also has the tutorial for this super sexy and feminine fanned-out bun. If you want a look with a bit of volume but off of your face, go with this!
21. Glam Roll
If you're feeling like infusing your look with a bit of old Hollywood glamor, then you'll want to check out Cosmo and snag the details on this look.
22. Knotted Crown
Over at Brit + Co, you'll find the DIY for this knotted crown. It's great for traveling, dressing up or as a way to not have to blow dry your hair in the morning.
23. Half-Up Hair Bow
Who wouldn't love to flaunt this charming little hair bow. We See Rainbows gives up the scoop and it's hard not to find whimsy and sweet.
24. Segmented Pigtails
Brit + Co also gives some great pigtail DIYs including this segmented look. It's a fun and grown up way to wear the classic style.
25. Grown-Up Half-Up Half-Down
We love this fancied version of a half-up half-down style. With the extra kick it makes it a more sophisticated look for day or night. (via Marie Claire)
26. Fishtail Bun
Barefoot Blonde makes one of the most gorgeous buns ever and it involved a fishtail braid. Learn how to recreate it after the jump!
27. Wavy Side Bob
If you've got shorter hair, then you'll want to scoop up this DIY. Brit + Co gives you the entire tutorial and every step you need to complete it.
28. Fully Twisted
Obviously, we have great inspiration from Brit + Co and this style is no different. Get completely twisted with this tutorial!
29. Pigtail Buns
How adorable are these pigtail buns?! Follow along and visit the tutorial over at Brit + Co and have fun styling these at home.
30. Cool Girl Twist
Here's another easy twist that jazzes up a casual down do. Marie Claire has the tutorial that makes this an easy peasy morning routine.
31. Quick Twist
Check out this quick twist over at The Beauty Department. And the beauty of this tutorial, is how you can style it with any accessory you'd like.
32. Simple Top Knot
We all need to know how to pull off the simple top knot. And fortunately enough, we have this awesome tutorial from Treasures & Travels.
33. Super Twist Side Ponytail
A Beautiful Mess gives us another great tutorial that involves some twists. We love how easy it is to sass up your ponytail.
34. Dutch Ponytail
Check out this gorgeous style from Barefoot Blonde! A voluminous ponytail topped with a Dutch braid, it's a stunning way to do your hair any day of the week.
35. Single Braid
Again, something the most simple addition makes the biggest different. Check out this simple boho braid featured at C-Heads.
36. All-Over Braided Ponytail
This look is perfect for going to the gym, going to class or just giving your classic ponytail some pep. Brit + Co has all the details.
37. Textured French Twist
Here's another French twist hairstyle that we're swooning over. It's unique and so versatile, and you can snag the details over at Camille Styles.
38. Reversed French Twist
Visit Marie Claire for this reversed French twist ponytail DIY. It's just a great way to get your hair out of your face but be able to catch a feminine tune as well.
39. Half-Up Boho Braid
Here's another boho braid we're loving and this time it blends itself with a half-up hairdo. Visit Kassinka for the follow-along tutorial.
40. Celtic Knot
Check out this Celtic knot hairstyle over at Twist Me Pretty. It's such a fun and intricate look that can easily be done yourself!
41. 5-Minute Side Braid
For a quick way to jazz up a normal day's hair, peek at Brit + Co's 5-minute solution. Just swoop over some hair and get started.
42. Braid-Wrapped Ponytail
Wrap up your ponytail with a little braid! The Freckled Fox has the tutorial for all of us to follow along with.
43. Chainlink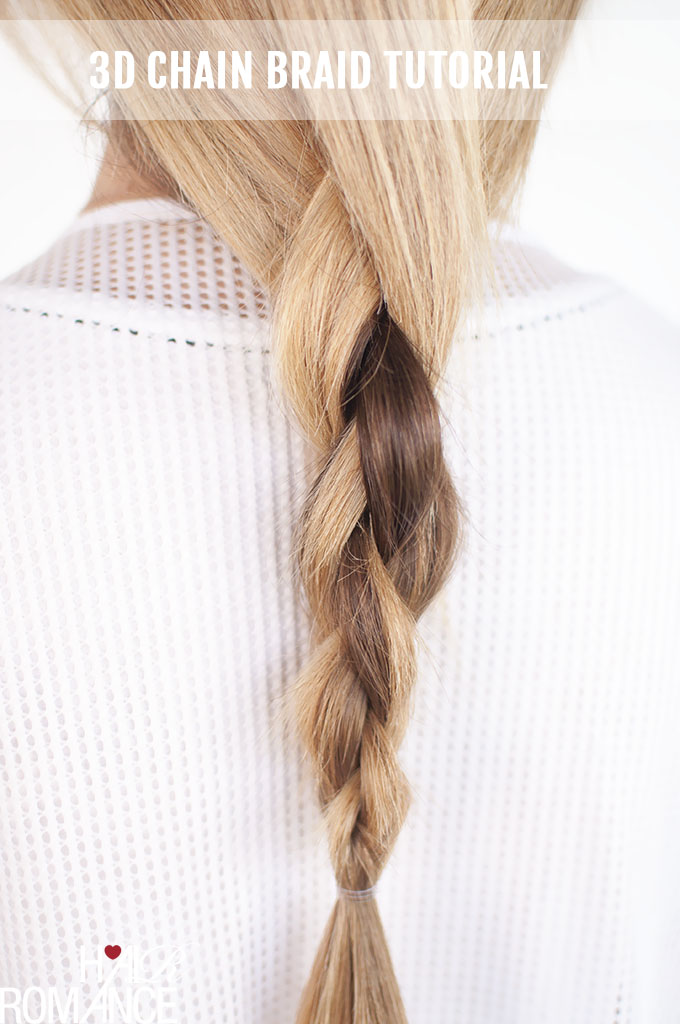 Hair Romance has the know-how for us to recreate a chainlink right into our ponytails. It's so edgy and creative!
44. Corset Braids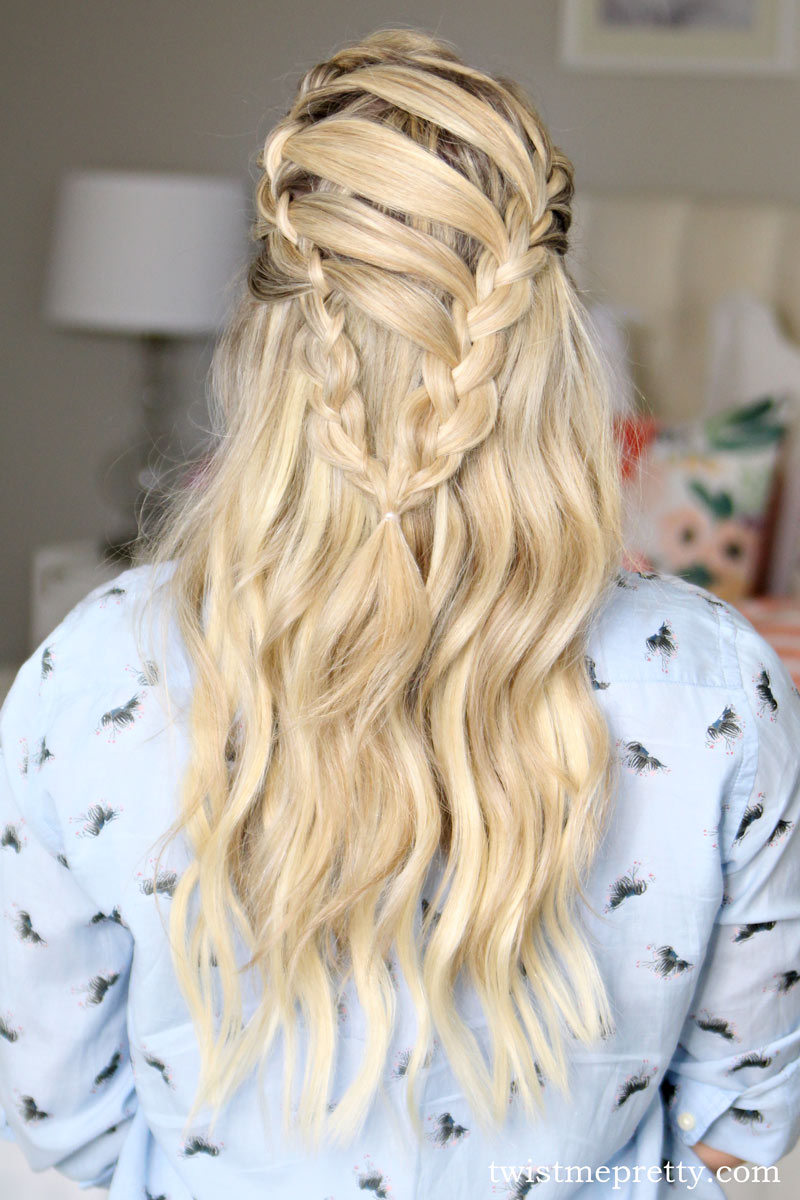 We are so loving this sexy corset braids. Hop on over to Twist Me Pretty and snag all the details you need to make them yourself.
45. Dutch Pigtails
And finally, you'll need to visit Brit + Co one more time to learn about this pigtail design. They're messy and they're dutch and we love them!
46. Side Chevron Twist
Brit + Co gives us another great idea for when you want to nix the blow dryer. With a wet head, learn how to create this chevron concoction.
47. Mermaid Tail Braid
A Cup of Jo shows us how to make this awesome mermaid tail braid! Dress it up, dress it down, go to work or go to the gym with this hot little number!
48. Make Flat Iron Curls
A Beautiful Mess can also teach you how to make curls using your flat iron. And they're the absolute most perfect boho, beachy waves around!
49. Waterfall Braid
We are so in love with this romantic and feminine waterfall braid from Once Wed. It's perfect for so many events including just an everyday zesty style.
50. Modern Messy Bun
Take a peek at this easy breezy hairstyle. Get your hair off your neck and add a fun accent piece to your casual bun.