15 Delicious Food Recipes Involving Lavender
The older we get, the more unique and sophisticated we find our palette getting as well. For example, if you'd told us when we were teenagers that we might someday very much enjoy eating and drinking things that have been flavoured with flowers, we wouldn't have believed you. It turns out, however, that unique ingredients like lavender are some of the most refreshing and delicious ones out there!
Check out these 15 lavender made recipes that are so fragrant and yummy that they're borderline delicacies, if you ask us.
1. Pink lemonade lavender thyme sorbet
In recent years, ice creams, gelatos, and sorbets that combine unique flavours in unconventional ways have been all the rage. We're pretty big fans of these chilly treats, but we'd never like one before as much as we loved this pink lemonade lavender thyme sorbet from Boulder Locavore! The best part is that you can skip the trip to the ice cream parlour and make as much as you'd like for yourself at home.
2. Lemon and lavender chicken
When you think of lavender recipes do you automatically start picturing sweet dishes and desserts? Then let Pop Sugar remind you that there are plenty of savory entree options out there for you as well! This delicious lemon and lavender chicken idea is just one, but it's a wonderfully fresh tasting dish that perfectly blends the subtle floral hints with a bit of zest.
3. Grilled leg of lamb with lavender rosemary rub
Do you actually love the idea of cooking a meat entree involving lavender but you eat chicken far too often and kind of want to switch things up? Then try treating your family to a leg of lamb instead! Complement the tender meat with a delicious rub made from rosemary and lavender blended together, just like Joanne Weir did here.
4. Lavender scented summer fruit salad
Have you always loved lavender the most in fruity summer dishes because it reminds you of the fresh breeze on warm air? Then this scrumptious fruit salad that's both scented and flavoured ever so subtly with lavender is definitely the dish for you. Besides being a healthy start to your day or a nutritious snack, it's the kind of flavourful dish that just makes any chilly day feel like summer is just around the corner.
5. Edible flower lavender sugar cookies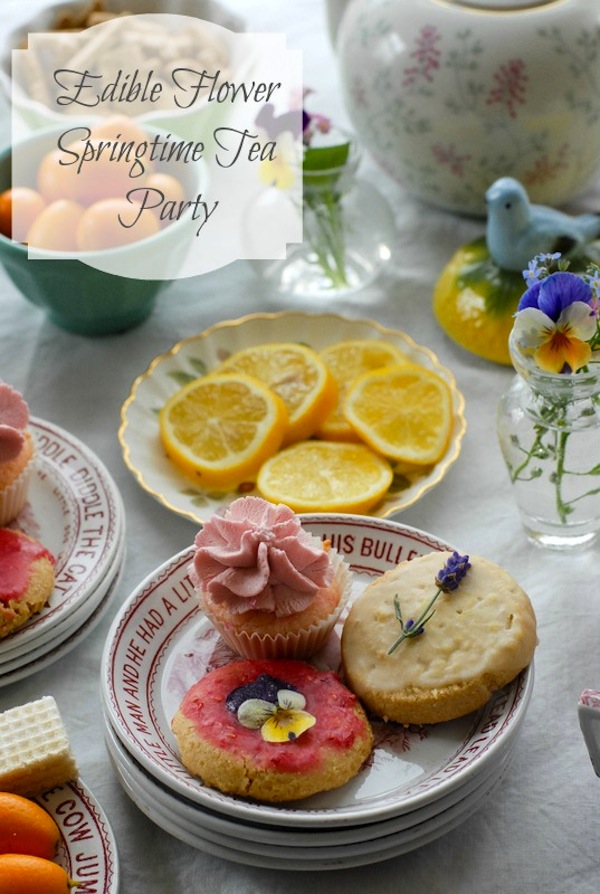 Sugar cookies are one of our very favourite treats, but we do admit that sometimes we like to switch things up a little when it comes to flavour. Because we do enjoy the original sweet and subtle taste so much though, we like the flavoured version best when the new taste is just a fresh hint of something. That's exactly what these lovely lavender sugar cookies from Boulder Locavore are like!
6. Peach feta salad with lavender dressing
Are you a huge fan of salads but you're always on the lookout for new ideas to keep yourself from eating exactly the same thing all the time? Then we have a recipe for you that's a unique enough combination that's practically gourmet! Honest Cooking combines lettuce with fresh onion, juicy sliced peaches, and feta cheese, topping the whole delicious thing off with a smattering of fragrant lavender dressing.
7. Honey lavender panna cotta
Panna cotta is another one of those dishes where we're more than willing to eat it whether it's the classic original kind of made with some type of unique flavour, but we'd be especially enthusiastic to take a bit out of this delicious lavender version by The Ktchn! As if that weren't enough, the panna cotta is nestled into the centre of a bed of fresh strawberries, which practically makes our mouths water.
8. Meyer lemon lavender mojitos
If you thought lavender was only a greant ingredient and garnish in foods but not drinks then we're sorry to tell you that you've been missing out! Make up for lost time by making yourself one of the freshest lavender beverages we've ever come across: these lemon lavender mojitos from Boulder Locavore.
9. Lavender creme brulee
Just in case you're still not quite satisfied with the lavender versions of the classic desserts we've shown you, here's another option that we really think you'll love! Jamie Oliver guides you through the process of making a lavender creme brulee that's just as sweetly crunchy on the top and creamy in the middle as usual, but with a fresh floral flavour all the way throughout.
10. Peach lavender jam
Have you always loved the way lavender tastes when it's used in combination with fruits? That's actually our favourite way to enjoy lavender as well! We're particularly fond of peaches because they remind us so much of long, hot summer days and they're also naturally sweet without really needing added sugar. That's why we're so in love with this amazing lavender peach jam recipe from Love and Olive Oil!
11. Lavender roasted potatoes
Were you very intrigued by the idea of making a savoury lavender dish but you'd not a big fan the ones you saw already, or perhaps you don't eat meat? Then let the lavender adorn one of your savoury side dishes instead! Boulder Locavore guides you through the process of making lavender roasted potatoes that give you the perfect combination of subtly sweet and savoury flavours all at once.
12. Lavender simple syrup for cocktails
Are you actually so in love with lavender flavours lately that you wish you could add it to just about anything you make yourself on impulse? Then making your own simple syrup is definitely the best idea for you! It's also a surprisingly easy process if you follow the steps laid out by About Food. Try adding it to your favourite cocktail!
13. Chocolate lavender fudge with salted caramel top
Perhaps you're a huge fan of combining different sweet flavours all in one place in new ways that you've never tried before? Then you'll e hard pressed to find one that's even richer than this delicious fudge recipe. Boulder Locavore shows you how to make a wonderfully chewy, melt-in-your-mouth fudge that combines chocolate, salted caramel, and (you guessed it) lavender!
14. Honey lavender ice cream
Perhaps you're looking for a cold sweet treat that will remind you of a summer's day, but your favourite kind of sweetness is subtle and hinted at, rather than rich and overwhelming like some thick homemade ice cream recipes? Then this honey and lavender recipe from Martha Stewart might just be the answer to your cravings!
15. Orange, sage, lemon, and lavender vodka tonic
Do you quite enjoy making yourself a refreshing cocktail after work on a sunny day and enjoying some social time with your friends, but you're not really a fan of the overly sweet cocktail recipes that you see around so often? Try this more gourmet drink blend from Baker's Royale that contains orange, sage, lemon, and lavender with a bit of vodka and tonic water. Simple but delicious!
Do you know someone who loves lavender as much as we do? Share this post with them for some lovely, fragrant kitchen inspiration!