25 Genius IKEA Table Hacks
Despite its attractive pricing, IKEA furniture is mass-produced, which means it lacks originality and character. But there are ways to infuse IKEA pieces with some personality, and they're quite easy. So here are 25 of our favorite IKEA table hacks that are sure to spice up your Lacks and your Hemnes and your Latts.
1. Faux Marble Nightstand
Turn any IKEA side table into a chic nightstand in no time! Believe it or not, the "marble" top is actually created by using adhesive marble-look contact paper. And the legs are glammed up by adding metallic spray paint. Head over to Kristi Murphy's blog to find out how to recreate this stunning look yourself.
2. Colorful Kids' Table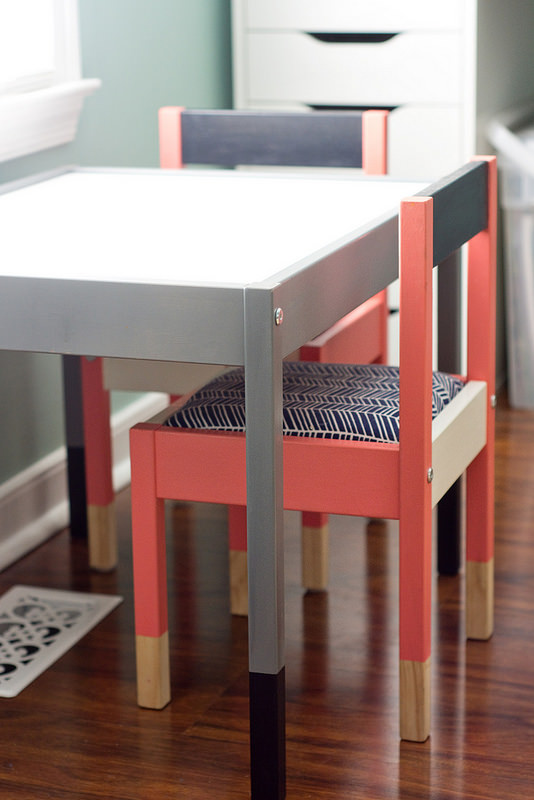 At $24.99 for the whole set, the Latt Children's Table from IKEA is a steal. But that being said, it's also pretty boring. So Courtney from Cook Like a Champion decided to do something about that. With just a few paint colors and some craft foam, she created a colorful, comfy place for her daughter to do projects. Get the tutorial here.
3. Striped End Table
This project can be adapted for virtually any IKEA table – all it requires is some tape, paint and a bit of patience to lay out the pattern evenly. But what results is a glamorous metallic end table that would be perfect for the living room. Make your way over to Dwell Beautiful to read all about this easy, genius technique.
4. Barn Wood Table
If you've ever spent any time at IKEA (or on their website, for that matter) you'll probably know that the Lack end table costs a mere $13.99. So it is the perfect table to use for a hack. This barnwood hack gives the Lack a rustic, sophisticated look… transforming it from basic to beautiful in just a few easy steps. Get the how-to here.
5. Faux Marble Bedside Table
The Hemnes Nightstand is another popular piece to hack. Here, a lovely marble look is achieved (again) with adhesive contact paper while a unique piece of hardware gives the drawer a custom look. This is a taller table, which is perfect for those tall beds and sofas. Get the full tutorial over at The Vault Files.
6.  Cube End Table
This cube was a piece from the Expedit series, but they now carry a similar one in their Lack line. This might be the simplest hack of them all. The only thing you need to do is swap out the casters for a new set of legs. Find out more about this super easy project over on Sugar & Cloth. The more unique the legs, the better!
7. Nautical End Table
Here is another easy project, perfect for anyone who likes a bit of a nautical or rustic feel. Just grab one of these and get to work. The end result is a weathered and beautiful end table perfect for any room in the house. Get all the tips and tricks you need to know over on Lauren's blog The Thinking Closet.
8. IKEA Closet Island Hack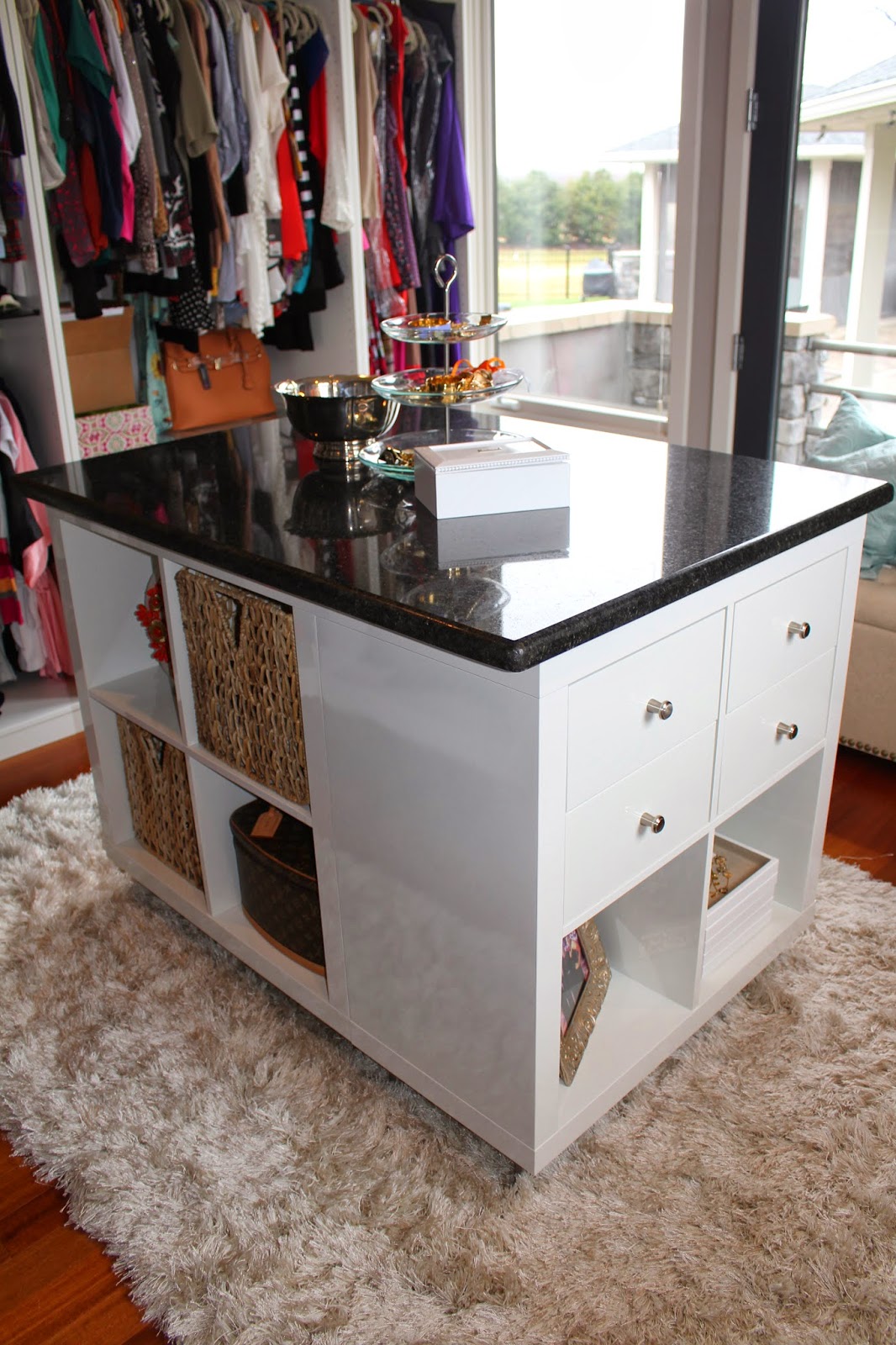 If you have a walk-in closet, this island might be the perfect project for you. Use three of the Kallax shelving units (formerly part of the Expedit series) to create the base storage section, and then add a slab of granite to create the top surface. Get the tutorial here. If you are trying to pinch pennies, consider crafting a top out of wood instead.
9. Embellished Lack Tables
Add decorative metal corners to any IKEA table to elevate the look. Here, brass corners have been added to Lack tables to make them resemble campaign style dressers. And placing two side by side in front of the sofa allows them to be used as a coffee table, or separated and used as end tables. Get the full tutorial over at Little Green Notebook.
10. Veneer Stenciled Lack
This clever project utilizes bamboo wood veneer cut into flower shapes to create a graphic look on a pair of Lack tables. Get all the details, tips and tricks over at Crafty Nest. And if you're not into flowers, you could easily customize this one by using any shape you'd like.
11. Wood Slice End Table
This gorgeous piece walks the line between modern and rustic… and boy, is it pretty or what!? All you'll need for this easy IKEA hack is a Marius Stool (only $4.99) and a thick slab of wood. And the cool thing about this piece is that it could actually be used as a stool as well! Get the full tutorial over at Seakettle.
12. Marble Look Dining Table
This hack uses adhesive contact paper again, but this time a glass top is added to make it more functional for the excessive use that most dining tables go through in a lifetime. Make your way over to Poppytalk to read all about the project and to find out how to recreate the look in your own home.
13. Latt Map Table
Here's another great one for the kiddos. This time we have a map on the top of the table, with subtle plaid seat covers for the chairs. Find out how it's done over at Felt and Honey. And the best part? The black paint actually has a chalkboard finish so the kids can write and draw all over it with chalk.
14. Lack Ottomans
These geometric fabric ottomans are actually made from Lack tables! Simply buy some foam, fabric and a set of Lack tables and you can make these very same ottomans for your home. And you can also hide unsightly items underneath, too! Get the full photo tutorial over at Sarah M. Dorsey Designs.
15. Laundry Basket End Table
Here, the frame of a laundry basket has been used to create a lovely end table. The combination of the white frame with the dark wooden top gives it a wonderfully industrial flair. Make your way over to Almost Makes Perfect to find out more about this simple, gorgeous project.
16. Lack Table Wall Shelf Hack
Okay, okay… so the final product isn't a table. But it began as a table, so that counts, right? This clever wall shelf is a lack table hung on its side on the wall with three of its legs attached to the front to create ledges for knick-knacks. Head over to Redbook Magazine to read more about this genius project.
17. Wooden Laptop Table
This gorgeous rustic laptop table was made from the IKEA Vittsjo table, which comes with a plain glass top… but this one was customized using a wooden plank to cover the top surface. Head over to Primer to check out the full tutorial. And it will cost you less than $60, if you can believe it!
18. Lack Overlay
This Lack table was embellished with a unique overlay, something that is becoming more and more popular with IKEA enthusiasts of late. Head over to Amy Krist's blog to read about how she achieved this glamorous look and to find out where you can buy these lovely overlays for your own IKEA furniture.
19. Gold Nailhead Table
Nailheads are another great way to spice up a plain old IKEA Lack table. Here, gold nailheads line the edges of the table while a fun gold vinyl fabric adorns the top surface. Head over to Lovely Indeed to learn how she achieved this glamorous look, and to find out how you can too.
20. Lack Storage Box
This storage box began as a couple of regular old Lack tables. But with the addition of some wood paneling, it became a multi-functional piece that does double duty as both a table and a storage bin. Head over to IKEA Hackers to find out exactly how to pull off the project.
21. Wallpapered Stool Table
This is one of those pieces that could be used in more than one way. Yes, the Bekvam could be used for its proper purpose… a step stool. But it's almost too pretty to stand on! It would also make a fantastic bedside table, with plenty of space for a vase of flowers, a book and your phone. Head over to This Little Street to learn more about it.
22. Table and Bench Combo
Here, the combination of two shelving units (one standing upright and one on its side) creates the perfect little table and bench combination. This was done in a child's room, but it could easily be used in an adult's bedroom or even in the living room for some extra seating. Find out more about the space here.
23. Tall Lack
Is the Lack the perfect solution for your bedside, only a bit too short? Just combine two lacks and your problem is solved! This will not only provide you with extra height, but also an additional shelf to for storage. Head over to Remodelaholic to find out how to create your own tall Lack bedside table.
24. Children's Game Table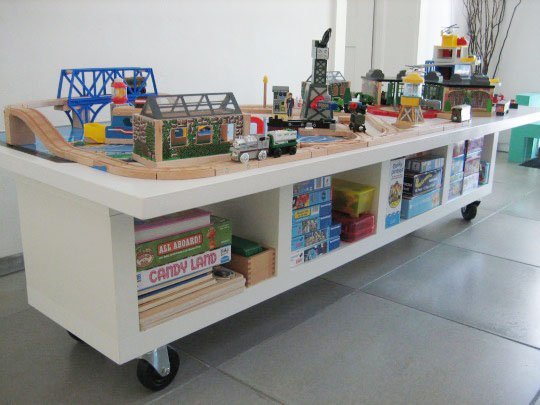 This looks like a child's dream come true! A work surface is added to a shelving unit to create space for building and creating, and a set of casters makes the whole thing mobile. That way you can push it out of the way if guests are coming over. Find out more over at Apartment Therapy.
25. Mid Century Modern Buffet Table
This buffet was created using the IKEA Besta, believe it or not! The Mid Century Modern feel was achieved by adding a faux wooden exterior using adhesive contact paper (again). What a versatile material! Make your way over to the Petite Apartment blog to read the full tutorial.