15 Fall Outfit Ideas For All Of The Season's Festivities
From the pumpkin patch to a late, night scary movie, there is so much to look forward to in the coming fall months. Grab yourself a warm cup of apple cider and rework your wardrobe a little bit to fit all the fun. Here are 15 fall outfit ideas for all of the season's festivities! See what you've got already inside the closet and add some staple pieces to the mix while you're at it!
1. Plaid Dress & Blazer
Glamour starts off our fall wardrobe journey with a bout of plaid and deep, magenta tones. Whether it's a full-length dress or a tailored blouse, this print is perfect for paying homage to the season. There's definitely a cozy appeal here as well, for late dinner dates or casual movie meetups.
2. LBD & Bomber Jacket
Little black dresses are perfect all year round, but styling them in where you take a nod to the season. Cara Loren paired her LBD with some nude stilettos and a black bomber jacket. Easily dressed up or dressed down, this outfit is perfect for a variety of events and festivities.
3. All Neutral Layers
We're swooning for this comfortable, layered look from Sea of Shoes. The neutrals are blended so effortlessly and for the crisper mornings or chillier nights, this is a great look to throw on and enjoy your time in. This ensemble is still rather crisp though, make sure your sweater, jacket and pants are all tailored for a more polished finished product.
4. Peasant Tops & Jeans
There's something magical that happens to nature when autumn hits. The wind is blowing, the leaves are falling and bohemian vibes take hold. And Tuula used that to her advantage with this boho-inspired outfit. A peasant top is all you need to get started to create the perfect weekend ensemble.
5. Red, Black & White
Nicolette Mason knows that timeless color combinations work all year round. Showing off a red, black and white look, we're loving the ease and chic appeal of the finished outfit. Throw on a classic, white tee, a pair of black denim, your motorcycle jacket and some red flats for the perfect dinner date ensemble.
6. Knee-Highs & Minis
Sometimes fall days can be a bit warm. To dress like the season but stay cool, grab a mini skirt and then throw on your knee-highs for more coverage. We love the simple, pop of color that Color Me Courtney went with.
7. Bold Matching Sets
Matching sets are trending right now, and that goes double for the fall months. Find bold prints and rock it! We're swooning for this pant and jacket duo from KB Styled. But you can also find maxi skirts and crop tops with similar features.
8. Rich-Hued, Light Dresses
Hello Happiness gave us another easy idea when it comes to those warmer fall days. Shop around for some lightweight dresses, dipped in fall's favorite colors. This "winetasting" color is a beautiful, feminine tone that celebrates the changing of the seasons.
9. Booties & Trench Coats
Classic and chic, this outfit is made from two pieces that every woman should already have in their closet. A tailor trench coat and chic booties are together like fine wine and chocolates. Just the Design has even more inspiration where this came from.
10. Chunky Sweaters & Belts
Belts are back. And chunky sweaters never left. Over at Life & Lipgloss, we found this simple, weekend outfit solution. Tuck in your fav, knitted sweater and rock a skinny belt for a polished, finished look for brunch or shopping with the gals.
11. Ankle Pants & Button-Ups
Whether it's for a work meeting or a coffee date with your sis, ankle pants are one of the most versatile pieces that you can have in your closet. Pair some with a loose blouse and a pretty pair of flats like you see here at The Fashioneaters. The more tailored the pants, the chicer the look.
12. Crushed Velvets
Crushed velvet is trending and we suggest that you get a few pieces thrown into your wardrobe soon. Whether they're in the form of flats or a fun top like this one from Song of Style, you'll thank us later. We love the velvet that's dripped in richer tones for fall as well. Rose, navy and burnt oranges all look gorgeous with this delicate texture.
13. Crisp White Blouse & Denim
Natasha Oakley gives us another classic outfit that works year round with some minor changes depending on the season. Good fitting jeans, a crisp white blouse and flats work on all body types too – you just have to find which silhouettes fit your shape!
14. Autumn Floral Prints
If you're looking for other prints to set off your fall wardrobe think about adding in some florals to the mix. Natalie Off Duty gives us a great example of a flower pattern that works well for the autumn months. Subdued tones and larger petals evoke that same, easy sense.
15. Rainboots & A Vest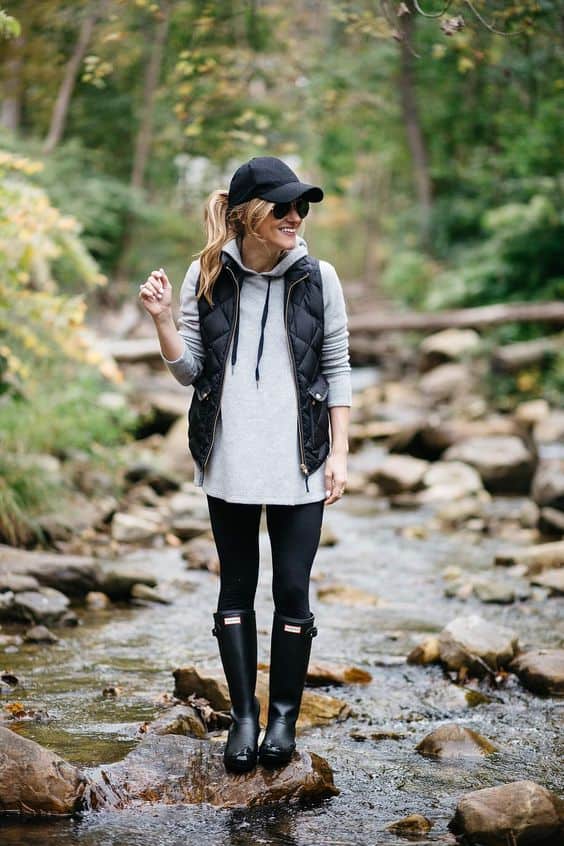 If you're looking to do some outdoor activities with the family, check out this fun, casual outfit idea from Brighton The Day! Your rain boots, comfy tights and a cozy vest is the perfect way to enjoy the day. T-shirts, long sleeve woven tees or a chunky sweater can be thrown in the mix too.