Falafel Wrap with Sriracha Tzatziki Sauce Recipe
Who needs meat! This spicy falafel wrap with sriracha tzatziki sauce makes THE BEST lunch! When somebody who generally turns their nose up at vegetarian food eats something like this and proclaims 'it doesn't even need any bacon' – you know you've succeeded in making a seriously tasty meat-free meal!
Yes, that's the response I got the last time I made these falafel wraps. They're spicy, filling and packed with flavor – meaning even those die-hard carnivores won't feel like this vegetarian meal is missing something.
So simple to prepare, and budget-friendly too, you probably already have most of the ingredients in your store-cupboard and refrigerator.
I love how all of the flavors in this hearty lunch work together. It was only after eating it that I realized the diversity of the origins of the main ingredients:
Siriracha – Thai
Tzatziki – Greek
Falafel – Arab
Flatbread – Lebanese
Despite this varied collection, I think the ingredients were made for each other!
Here's what you'll need for the falafel wrap with sriracha tzatziki sauce:
Serves 2 hungry people
Ingredients for Falafels:
14oz can chickpeas, drained and rinsed
1 red onion, peeled and chopped
2 garlic cloves, peeled and minced
Small bunch parsley
Small bunch cilantro
1 tsp lemon juice
1 tsp ground cumin
½ tsp salt
¼ tsp black pepper
1 1/2 tsp ground coriander
1⁄2 tsp chilli flakes
2 tbsp all-purpose flour
2 tbsp vegetable oil
Ingredients for Sriracha Tzatziki sauce:
1/4 a large cucumber, peeled, grated/shredded and squeezed to remove excess liquid
1/2 cup Greek yogurt
1/2 tsp white wine vinegar
1/2 tsp dried dill
½ a small clove of garlic, peeled and crushed
Pinch of sugar
pinch of salt
1 tsp sriracha
To serve:
2 large flat breads
Salad leaves (I like baby spinach)
Chopped grape tomatoes
Red onion slices
Directions to prepare the falafel wrap with sriracha tzatziki sauce:
Place the chickpeas, red onion, garlic, parsley, cilantro, lemon juice, cumin, salt, black pepper, ground coriander, chilli flakes and flour into a food processor. Pulse until well combined, but not completely smooth (I like to have a bit of texture in my falafel).
Form the mixture into 6 patties.
Heat the oil in a large skillet and fry the falafels on a medium heat, turning once, until golden brown on both sides (about 5-6 minutes).
Whilst the falafels are cooking, mix together the sriracha tzatziki ingredients and put to one side (cover and refrigerate if making in advance).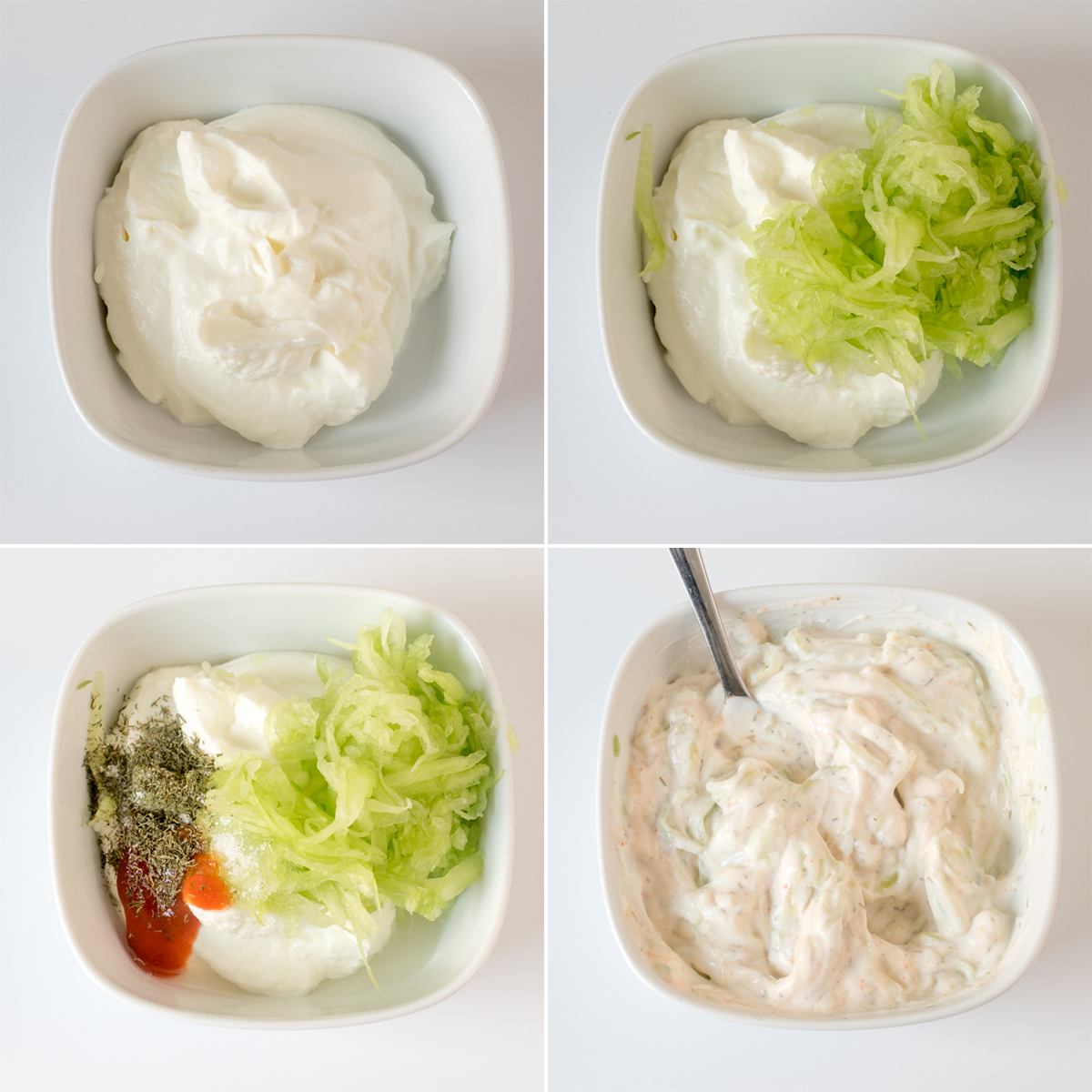 Now it's time to assemble the wraps. Place 2 warmed flat breads on plates, top with salad leaves and chopped tomatoes. Place 3 falafels on each flatbread. Top with tzatziki and red onion slices, then fold and serve!
Delicious for lunch, filling enough for dinner!