12 Easy Quilt Patterns To Move Into Fall & Winter With
The chillier seasons are upon up and it's time to start prepping – which basically just means that it's a great time to do some quiliting. Whether you want to try your hand at a fall-inspired DIY gift or a winter made blanket for yourself, there are a lot of great freebies found online to help with your design process. In fact, these 14 easy quilt pattersn are perfect for moving into the latter half of the year with.
1. Aztec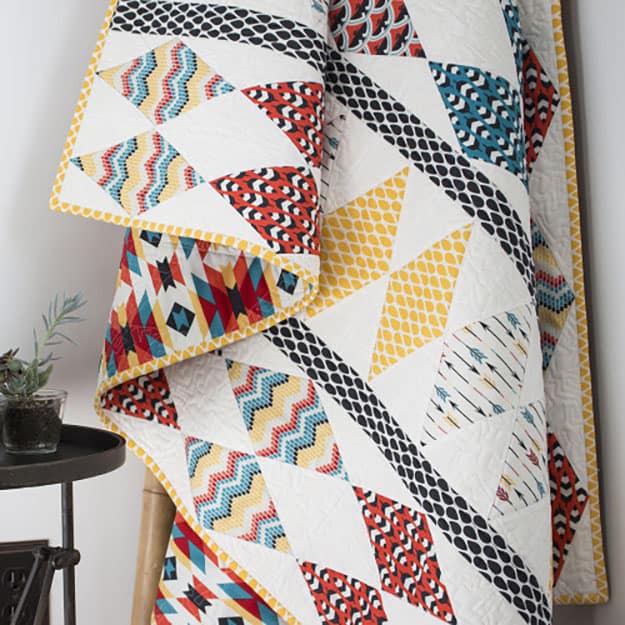 Aztec prints are trending and perfect for bohemian-style lovers. Check out Cloud 9 Fabrics for tips and tricks on making this versatile pattern come to life on your quilt. Mix fabrics or go with neutral patterns – either way it'll feel easy, breezy, and comfy too.
2. Feathers
Anna Maria Horner made a quilt filled with feathers. This one is a beauty and we love all the varying fabrics and colors. If anything, this would be one of the ones that would act as an amazing handmade gift for a friend.
3. Bargello
This is a stunning design from Timeless Treasures. Filled with varying colors and layers, just imagine how beautiful this would be in a pink or purple hue? Grab the pattern after the jump.
4. Kaleidescope
Fresh Lemons has a traditional design. Dubbed "lemons" it has a cozy, cottage-inspired feel that works well for bedrooms or living rooms cuddled up with the family. Again, just grab the pattern after the jump.
5. Patriotic