12 Easy Quilt Patterns To Move Into Fall & Winter With
The chillier seasons are upon up and it's time to start prepping – which basically just means that it's a great time to do some quiliting. Whether you want to try your hand at a fall-inspired DIY gift or a winter made blanket for yourself, there are a lot of great freebies found online to help with your design process. In fact, these 14 easy quilt pattersn are perfect for moving into the latter half of the year with.
1. Aztec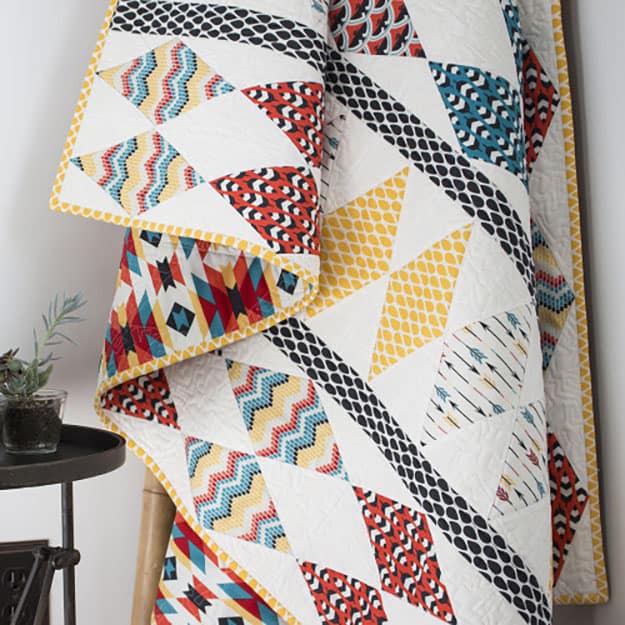 Aztec prints are trending and perfect for bohemian-style lovers. Check out Cloud 9 Fabrics for tips and tricks on making this versatile pattern come to life on your quilt. Mix fabrics or go with neutral patterns – either way it'll feel easy, breezy, and comfy too.
2. Feathers
Anna Maria Horner made a quilt filled with feathers. This one is a beauty and we love all the varying fabrics and colors. If anything, this would be one of the ones that would act as an amazing handmade gift for a friend.
3. Bargello
This is a stunning design from Timeless Treasures. Filled with varying colors and layers, just imagine how beautiful this would be in a pink or purple hue? Grab the pattern after the jump.
4. Kaleidescope
Fresh Lemons has a traditional design. Dubbed "lemons" it has a cozy, cottage-inspired feel that works well for bedrooms or living rooms cuddled up with the family. Again, just grab the pattern after the jump.
5. Patriotic
Although we're used to patriotic prints throughout the spring and summer months, it's really a year long style. Over at How Dear, you'll find a wonderful, patriotic quilt that you can recreate for your own home.
6. Dresden
The dresden print is really pretty for nurserys and little one's bedrooms. Add feminine fabrics for a cuddly ethos and grab the pattern by visiting the wonders at Going Home to Roost. This mint and peach creation is a stunner.
7. Owl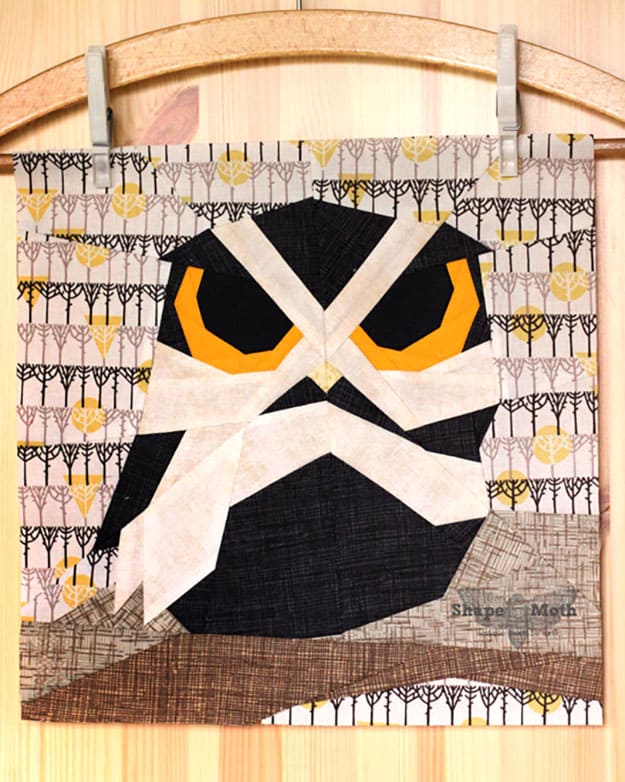 More than a pattern, why not create an actual piece of focus art? Learn how to make a quilt with a owl over at Shape Moth. This one fits right into with autumnal styles at home.
8. Flying Geese
This one from Stephanie Ryan is call the "flying geese." Again, it's a more traditional design. It also has a youthful appeal for those looking for a staple for the nursery or playroom. Depending on the colors or fabric choices, it could also be a great modern addition as well.
9. Herringbone
Michael Ann Made has a free quilt herringbone pattern up for grabs. It's one of the most versatile designs for all kinds of interior design genres and visions. Mix your colors to match the season for the guest room or move room!
10. Pixel Heart
Another non-pattern quilt design is here from Robert Kaufman. This pizel heart is perfect for the young adults or for a gift! Not every quilt has to have a vintage quality about it.
11. Picnic
We're really digging this picnic design from Moda Bakeshop. We love the fun colors and how vivacious its personality it. It's a great way to set the scene for a weekend picnic with your family or pals.
12. Soul Windows
And finally, check out this pattern from Pat Bravo. It has a little bit of everything that we love involved in its design. Aztex inspiration, modern tendencies, and a whole lot of personality is sewn throughout.