DIY Doll Ornament with Bell
In my house, the most successful crafts I ever do with my kids are the ones that combine some kind of seasonal element with something the kids really like. Nothing gets them more excited than putting a holiday spin on things they really like! That's how I came up with the idea of making cute Christmas doll ornaments to hang on our tree this year. The kids had so much fun making them out of bells, which was something I thought of by chance when I found some in a drawer in our craft room, that I couldn't help making another one afterwards so I could outline the process, just in case other people want to try the idea out too.
Check out these full instructions, complete with photos, for making a cute holiday doll ornament with a ball! If you'd rather follow along with a video tutorial instead of written steps, scroll to the bottom of this post to find just one what you need!
For this project, you'll need:
Two spun cotton balls (one big and one small)
A bell
Gold thread
Polka dotted ribbon
A lace paper doily
Paint
Markers (black and red)
Scissors
Hot glue
A dotting tool
Step 1: Gather your materials!
Double check your items list and get what you need to begin.

Step 2: paint small ball red
Put your smaller spun cotton ball on the end of your dotting tool and use your paintbrush to paint it entirely red. Take the ball off and set it aside to dry.
Step 3: paint the head
Put your larger spun cotton ball on the end of your dotting tool and use your paintbrush once more to paint the shape of hair around the top in red. I shaped mine like side-swept bangs at the front and rounded it off to cover the whole back. Set this ball aside to dry too.
Step 4: form the dress
Use your hot glue gun and your ribbon to create a looping bow shape on the bottom. Apply glue on the bottom of the bell and stick the end of your ribbon down, leaving a spare end of about two inches. Apply a little more glue on the part of the ribbon you stuck down, make a loop about an inch long, and stick the end of that down in the glue. Repeat this process until you have several bow-style loops gathered underneath your ball. This will be your doll's skirt.
Step 5:cut and shape the doily
Use your scissors to cut your lace paper doily into slices, just like a pizza or a pie, starting from its outer edge and working into the middle. Once it's all cut up, cut the point tips that once made up the center of the doily off. I made six pieces in total.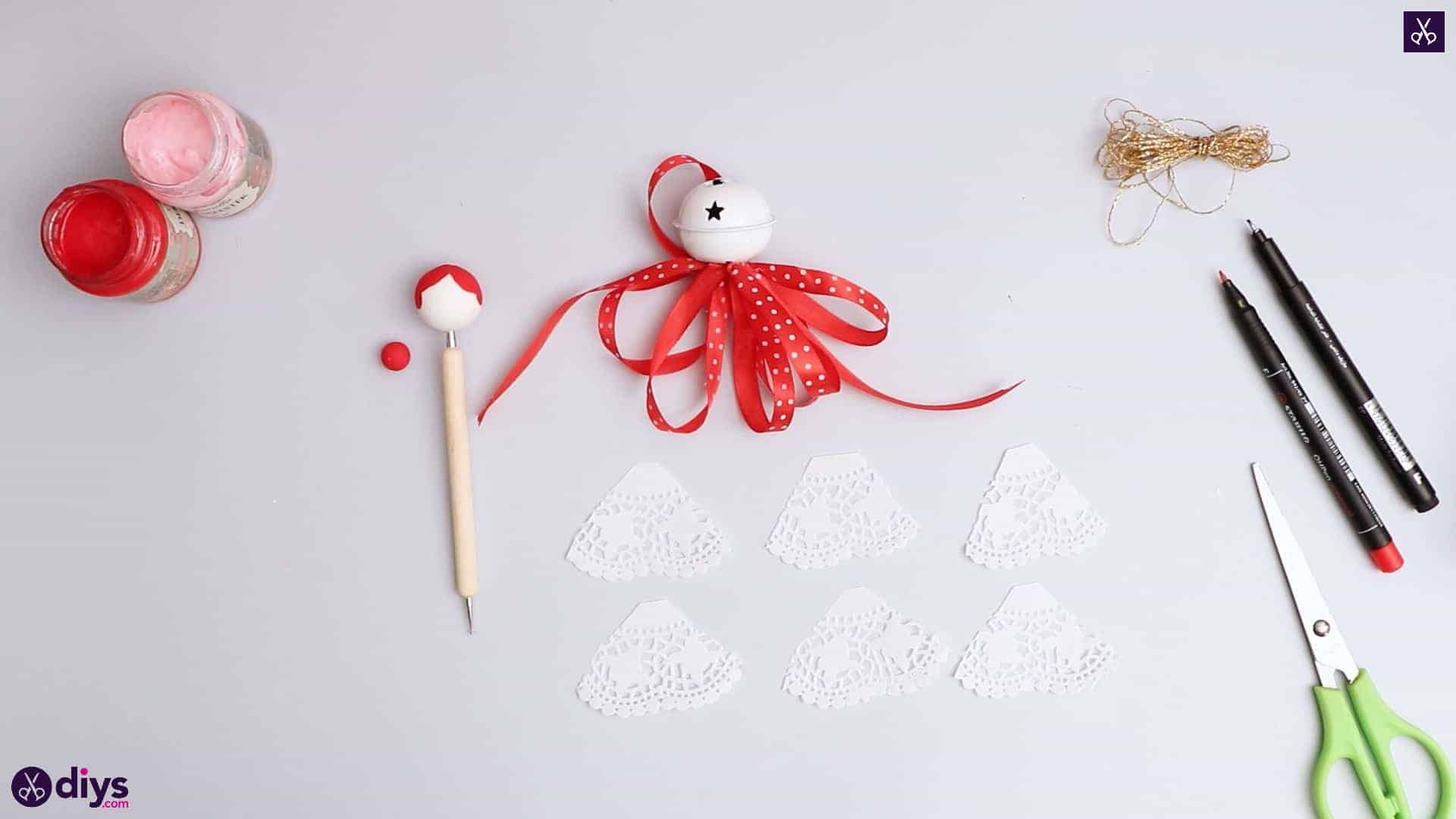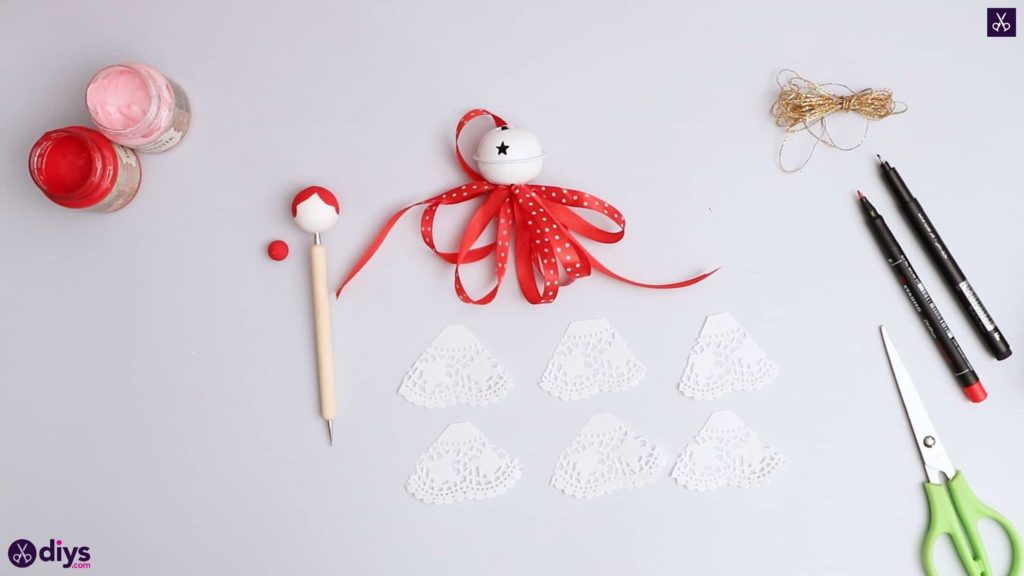 Step 6: glue the doily pieces
Apply glue to the top of your bell and stick your six paper lace doily pieces all the way around to create the collar of your doll's dress. Stick them down by their centers, where you cut the pointed tips off earlier.
Step 7: attach the bun
Apply glue near the top of your larger spun cotton ball, on the part you painted red, and stick down the smaller ball. Your doll now has a head and a bun in her hair!
Step 8: draw the face
Use your black felt tipped pen or marker to draw eyes and lashes on your doll's face, below the red painted hair on your larger spun cotton ball. Then draw a smile using your red pen. Finally, take your doll's head off the dotting tool and use one of the tool's rips to add rosy little cheeks by dipping it in your pink paint. Once your doll's face is complete, apply glue on top of where you stuck the lace collar pieces down and stick the head into place.
Step 9: create the loop
Cut a piece from your gold thread about four inches long. Fold it in half to create a loop at the top and knot the two ends together. This is the loop you'll hang your ornament from. Wrap your whole gold loop around your doll's head, twist it, and wrap it around again to attach your string.
Voila! You now have a pretty holiday doll ornament. Just in case you'd like to try this project out for yourself, here's a fantastic tutorial video to help you!