50 Pretty DIY Wedding Arches
Wedding season is never far off and we all like to be prepared. With more and more brides deciding that DIY is the way to go for their wedding, we came prepared!
When it comes to weddings, DIY projects can help save some money, bring more of the couple's personality into the event, and fit the theme better. One of the coolest things you can have in your wedding is a beautiful arch! Not only will it allow you to take some breathtaking photos, but it will also work as a great backdrop for the ceremony.
That being said, it's the perfect time to start looking into some beautiful arch ideas you can make yourself.
DIY Wedding Arch
Arches can be made from quite a few materials, although more often than not they're made out of wood. Alternatives involve using doors as props, or a wire arch instead. You can check out an extensive step-by-step guide from Kirsten Dunn from Dunn Lumber. They estimate the whole thing will take about two hours to make, so get started!
You'll need quite a few tools to get this done, as well as a few materials:
4 x 4 – 8′ Doug Fir (4)
2 x 4 – 8′ White Wood (2)
Wood Stain
4″ Decorative Screws (12)
3″ Exterior Screws (4)
Basically, once you measure the wood, you cut it, sand it, stain it, and then assemble it, making sure the legs are stable. The whole process is described in detail, so you'll do just fine if you follow the steps.
Wedding Arch Flowers
When it comes to making your own wedding arch, you need to consider whether you want to buy natural flowers or artificial ones. While natural flowers are wonderful, they're also extremely expensive. Plus, they're hard to keep fresh and they need to stay in water for at least 24 hours before the big moment. So, unless you plan on adding flowers to your arch in your wedding dress, you probably want to consider this issue before it becomes a problem.
As far as what flowers to use for the arch, well, we suggest you match those in the bride's bouquet or the color theme for the wedding. Roses, ranunculus, hydrangea, ivy, dahlia, anemone, peony, lemon leaf, silver dollar eucalyptus, myrtle, carnations, and daisies are just some of the plants and flowers that are most popular in arch making.
Wedding Arch Decorations
When we're discussing decorating your wedding arch, you first need to take into consideration the theme of the wedding. If you're having a beach-themed wedding, you may want to go for gauzy fabrics and seashells, if you're going for whimsical arches, you could use white drapery and a chandelier, for instance.
Also, you'll want to get either white fabrics or in shades that best go with the color theme of the wedding. We also suggest allowing the arch itself room to breathe so not all areas are completely covered in fabric or flowers.
Wedding Arch Ideas
As mentioned, wedding arches can come in many shapes and forms, they can carry flowers and pom poms and plants and balloons, and so on. We're going to go over a bunch of pretty arches that you could copy rather easily.
1. Ribbons, Stripped fFabric, and Pom Pom Trim arch
Is the wedding that you're making your arch for one that's full of personality, charm, and colour? Then we have a feeling you just might be the perfect person to create something like this fantastic ribbon, stripped fabric, and pom poms arch featured step by step onA Practical Wedding! We love the idea of adding different types of trim depending on the aesthetic you're going for.
2. Wooden Wedding Arch
Do your DIY skills lie more in your ability to work with harder materials, like doing actual building and woodworking? In that case, we'dabsolutely suggest taking a look at howThe Sorry Girls made themselves a fantastic wooden wedding arbor! Their basic design as you see it here might be simple but you can adorn it with all kinds of things to dress it up and embellish it.
3. Lace Curtain and Floral Bouquet Wedding Arch
When we said the word "whimsical", did your mind automatically go to something slightly more delicate and feminine looking a bit more of a classical sense? In that case, we think perhaps you'd get along a little better with something like this lace curtain and floral wedding arch outlined step by simple step onWedding Chicks.
4. Rounded Curtain and Double Bouquet Wedding Arch
Are you very interested in the idea of a floral and curtain clad arch but you're not sure the flat-topped arbor style frames are really doing it for you visually? Then perhaps you'd prefer a more rounded shape! We're completely in love with the way Fandel made this fantastic arch that looks almost like a permanent garden feature.
5. Roses and Vines Wooden Arch
Are you still thinking about the part where we discussed building your very own wooden arch and the embellishing it however you please? In that case, we'ddefinitely suggest taking a look at howDunn Lumber outlines the steps the process of not only building an arch but also adorning it with roses and vines to make a stunning garden archway.
6. Vintage Doors Wedding Arch
Is the wedding that you're making this piece for actually a little more vintage in its aesthetic, meaning that you've kept scrolling in hopes of finding some kind of stylishly weathered concept with a whole lot of kitschy, old fashioned charm? Then we have a feeling you're going to get alongvery well indeed with this stunning upcycled door wedding arch outlined step by step onThe Knot.
7. Pre-made Frame and Silk Flowers Arch
Have you actually already go a pre-made metal wedding arch frame and you're just looking for ways to dress it up a little and make something nice out of it? Well, adding flowers doesn't necessarily sound hard or seem entirely unique, but it's actually one of the prettiest visuals around and there are some really great DIY ways to attach them subtly so guests can't see how you've fastened them! Get the full details for trying it out yourself onAfloral.
8. Metal Arch with Flowers, Fabric, and Hanging Beads
Perhaps wereally piqued your attention when we started talking about more whimsical looking arches but you can't help feeling like you'd prefer something even more over the top? Then we think you'll get a real kick out of the wayeFavormar added a little drama using more flowing fabric and even some hanging beads.
9. DIY Balloon Arch
Perhaps its actually the party you're hoping to create some decoration for and you've been holding out for something that looks a little more celebratory and typical of, well… a party? The we have a feeling this fantastic DIY balloon arch outlined step by step onSugar and Cloth might be right up your alley! This white arch is typical of a wedding, but the effect would be fun with colours or pastels too.
10. Colourful Balloon and Paper Honeycomb Arch
Did we really catch your attention with the idea of a balloon arch but you're not sure that finished product has quiteenough for your taste? Then we'ddefinitely encourage you to take a look at howGreen Wedding Shoes made their balloon arch with intermittent tissue paper honeycombs throughout! It's a great way to add a pop of contrasting colour to the scheme as well.
11. Curtain Wrapped Wood Frame and Vintage Photo Frames
Perhaps we really caught your attention when we started talking about weddings that have a slightly more vintage aesthetic but you're just not sure that the weathered door tutorial we showed you earlier is quite the look for you? In that case, we'dabsolutely suggest taking a look at howHello May created this arch with decorative hanging vintage photo frames instead!
12. White Curtain Thrown Over Tree Branches

Perhaps the wedding you're helping to make decor for is heavy on the natural elements in its theme and scheme and you're looking to incorporate the nature of the location the bride and groom chose as much as possible? Then it sounds like you'd get alongvery well indeed with the wayIra + Lucy used two tree branches in the place of the arch and threw a lovely white chiffon curtain over them to create the same kind of framing effect.
13. Curtains Hung From a Barn Doorway
Just in case this concept of using an structure that's already there in the wedding site and embellishing it to make it look lovely really appeals to you, here's another concept that'sperfect for a farmhouse chic wedding! We love the wayAce Photographs hung lovely, whimsical curtains from the doorway of an old barn and fastened them back using pretty bouquets.
14. Hand Painted Quote Fabric Strung Between Saplings

Perhaps the idea of using the trees already standing on the wedding site really appeals to you but there aren't quite so grandiose ones as you saw before there, since it's mostly saplings? Then we'd suggest taking a look at this idea fromMoonlight Bridal instead! They hand painted a quote on canvas and strung it up between two trees as a sort of backdrop come arch.
15. DIY Floral Branch Wedding Arch Photo Backdrop
Perhaps you've agreed to help create some kind of beautifully set scene for the portraits happening before, during, or after the wedding as well and you love the way arches look so much that you can't help wondering whether that might be the best photo setting as well? In that case, we think you simplymust take a look at the wayOnce Wed used branches, leaves, and flowers affixed to a grey backdrop to make the simple illusion of an arch for the sake of lovely pictures.
16. Wooden Triangle Arch
Ok, it may not be an "arch" in the true sense of the word, but it's certainly breathtaking! Just a few beams, some flower bouquets to match the bride's and some candelabra with colorful candles will make for a wonderful wedding arch. The mountain backdrop certainly helps set the mood as well. Photo via Elsa Eileen Photography.
17. Barn Arch
If your wedding location can provide such an arch, you just have to bring in the decorations – some flowers and wines to add to the pillars. It's such a pretty arch that you can take advantage of, as this lucky couple did on a farm in Colorado as documented on The Knot.
18. Fall Wedding Arch
With just a few tree branches tied together, you can get a wonderful arch. The bare arch would not be as beautiful if not for the wonderful decorations – draped rich velvet, roses, and hanging vines. It's dream-like! The design comes from Studio 83 Content Creation and photographed by Andie Freeman Photography, shared by Wedding Chicks.
19. White Arches
The rustic arches certainly have their appeal, but these white ones are just breathtaking as well. Once you have the double arches built up, it's only a matter of setting up the flowers – roses, baby's breath, and others in white and pink. Simply wonderful via @adrianaweddings.
20. Exotic Arch
When your wedding is in a place like Hawaii, the arch needs to match the beauty of the location. You can make yourself one of these with iron or wood, as long as the arch is shaped as a semicircle. Then, you get to add Philodendron leaves, roses, and other colorful flowers for a wonderful backdrop for your photos. This wonderful creation comes from @florist_review.
21. Octagonal Arch
Another thing you can build fairly easily is an octagonal arch. Add in a lot of flowers on two of its sides, and you have yourself a breathtaking arch you can marry in front of. It will also act as a great place for people to take photos in. Made by @flaurabotanica, this arch deserves all the praise.
22. Circle Wedding Arch
Sometimes, wedding arches are circular and look how beautiful they are! This great creation from @blueblossomrentals looks beautiful with laurel and roses, acting as the perfect frame for a beautiful bride.
23. White Wedding Arch
Draped in white flowers, this arch makes for the perfect frame for a beautiful bride. Add in a bit of veil in the middle area of the arch, and you have yourself a dreamy creation. Keep in mind, however, that making an arch like this one can be a bit pricey since there are so many flowers there. Photo from @jantievent.
24. Rustic Arch
This one is one of the easiest arches to make. Once you have built the base, like we discussed in the first area of the article, you can just use flowers to decorate the very arch. To add to the rustic appeal, they also added a barrel in the middle, acting as a table for a huge flower arrangement. Simply wonderful via @gridleyfloral.
25. Column Arch
Ok, this one may be a bit more difficult to make at home, since it involves actual columns, but we're sure you'll make it work. Dress the columns in greenery and then, the top area can be covered with multicolored roses and other flowers. Creation of @mickardenfloral.
26. Simply Flowy
Three wood beams. One long white veil. That's it. Well, and the Ocean behind you. That's all you need for a wonderful wedding arch that will make you feel like you're in paradise. Perfect for a beach wedding via @simpleweddingsflorida.
27. Tropical Arch
Whether you actually get to have your wedding in a tropical paradise, or you're just imagining you are, it really doesn't matter as long as you have a tropical arch as beautiful as this one to serve. All you need is a circular arch, lots of greenery, white and pink flowers, and a bit of time on your hands to make such a beautiful creation. Via @italyweddingbride.
28. Wild Pillars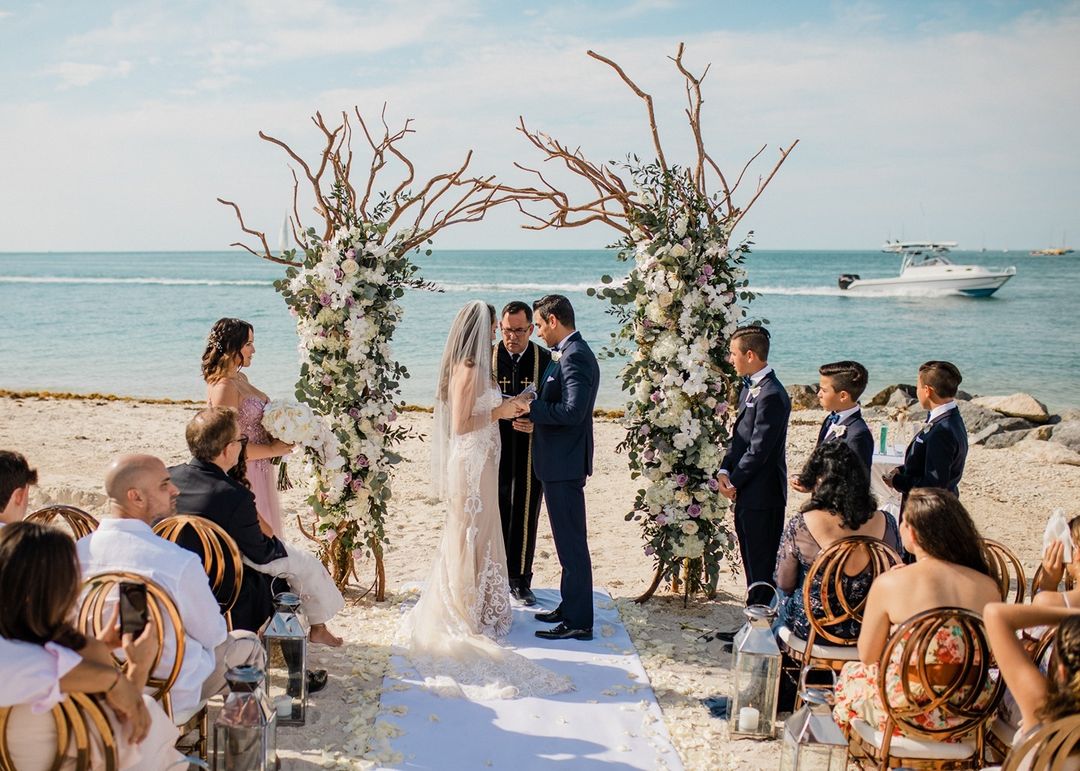 Once more, this isn't necessarily an arch per se, but it is close enough. You need two wooden pillars to hold the flowers, branches, and greenery up and that's it. The bare branches soaring to the sky make this arch look wild and beautiful. Of course, this is perfect for a beach wedding like the one posted by @keywestphotography, but we can also see it working with a forest wedding.
29. Macrame Arch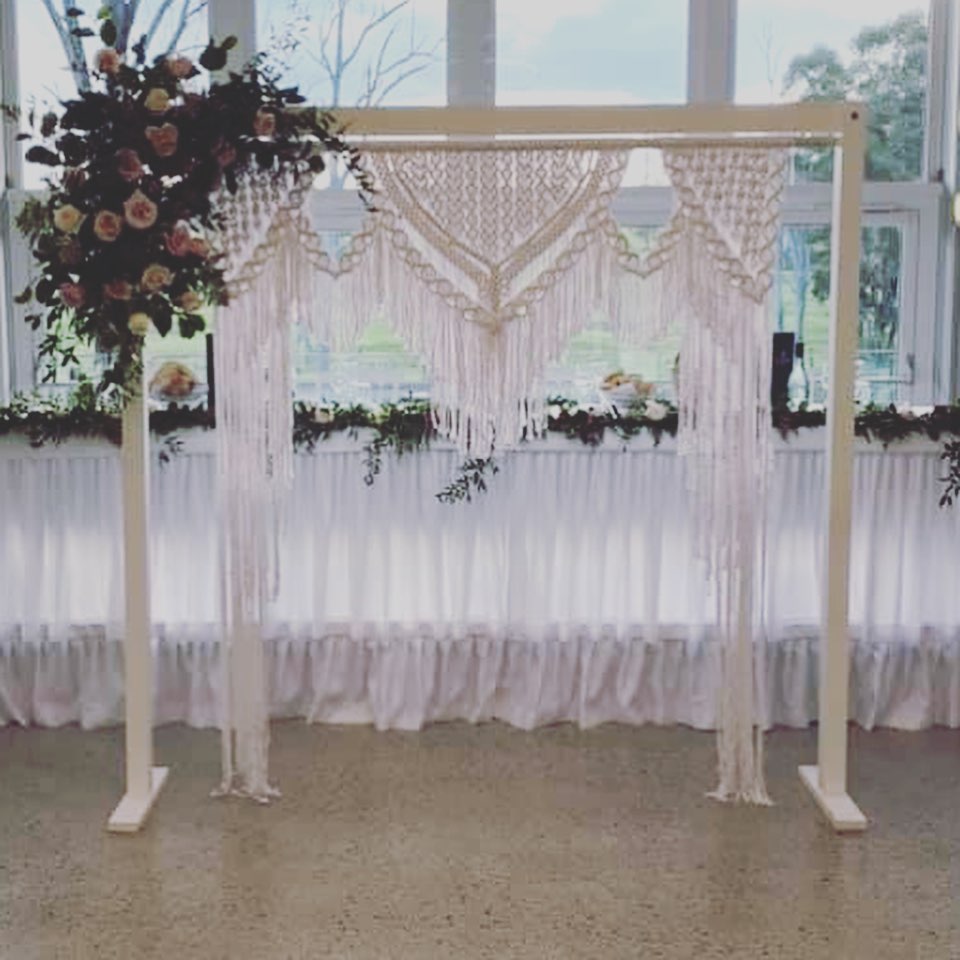 Shared by @knotjaded, this beautiful macrame arch is something you can do yourself with some white cotton. Of course, it will take quite a bit of time to knot all of this together, but it's certainly worth it! Add a flower arrangement on one of the corners of the wooden arch, and you're good to go. Such a crafty bride!
30. Minimal Circle Wedding Arch
As long as you can get your hands on an iron circular arch, you can build a wonderful wedding arch by adding several flower arrangements to the design. It's a simple project, but it's certainly a showstopper via @simplytamaranicole.
31. Eden Arch
Dubbed the Eden Arch by the folks over at @mewsdesignsflorist, this particular design does look like it would fit in heaven. A wide arch, lots of greenery, and white flowers make for a wonderful addition to your wedding.
32. Minimalistic Arch
Sometimes, less is more! That seems to be just the case with this particular wedding arch that is in a hexagonal shape. Add in a couple of flower arrangements and you're good to go. The bride and groom won't be overshadowed by the arch, but they'll still have a beautiful background. We love this design from @kylielouiseevents.
33. Rectangular Flowery Arch
With a basic arch, you can build up by adding lots of greenery and white flowers and end up with a wonderful wedding arch that's out of a fairy tale. You'll need lots of flowers for this design, especially if you want to make it look as if it just naturally grew there over years. A wonderful design from @loveitalyweddings.
34. Lit Arch
Some brides and grooms like things a bit more rustic and simple, so this is a great arch idea for them. On top of a simple wooden arch, just add some hanging lights, a bit of white whispy cloth, and some hanging flowers, and you have yourself a beautiful backdrop for all those Insta photos. This one was created by @weddingsbyrosie.
35. Beachy Wedding Arch
Get some heavy wooden beams, turn them into a beautiful arch, add some flowy white fabric, a couple of rich flower arrangements, and you're good to go. That's the perfect recipe for a dreamy wedding arch like the one from @capture_the_moment_events.
36. Grassy Arch
Perfect for a fall wedding, this grassy arch looks majestic. Add a few roses on one corner, and you're good to go. It's a rather cheap arch to make, compared with many others, so you may want to go with this version regardless of where and when your ceremony is. The project comes from @foundryatoswegopointe.
37. Fairy Arch
If you want to feel like a fairy, this wired arch will help with that. Add in some whispy greenery, some wildflowers, and you have yourself a gorgeous fairy arch for your wedding. The project comes from @newcreationfloral and it's stunning!
38. Yurt Arch
Perfect for a beach wedding, a yurt-like arch brings the boho style to your wedding. Three sticks tied together, some flower arrangements to tie on them, and you're good to go. It's a stunning piece nonetheless, coming from @dieblommekinddecor.
39. Double Triangle Arch
We already checked out a triangle shaped arch for your wedding, but check out how beautiful this double triangle arch looks! Two triangles – one smaller and one larger, two flower arrangements, and an impressive view. This particular project comes from @mango_weddings.
40. Simple Hexagonal Arch
Once again, less is more and this beautiful hexagon arch only needs a bit of flowy fabric and some greenery to look spectacular. Coming from @somethingbeautifulweddings, this is a relatively inexpensive project you can take on.
41. Tripple Circle Arch
Circular wedding arches already look beautiful, but this triple one looks even more so. Even though it could be rather complicated and busy, by adding only a couple of flower arrangements, the design looks clean and pretty. We found this on @attrap.reve and found it so pretty.
42. Flowy Pink and Flowers
Built on a white wooden arch, this wedding design features lots of white flowers, beautiful soft pink flowy fabric, and a chandelier. It's the perfect setting to make any bride feel like a proper princess. A stunning piece via @bellabloommaui.
43. Tripple Arch
We've seen a lot of wedding arches, but none quite like this one. Featuring three arches in total, each one is at a different angle. We can see floral arrangements on the side, giving the whole thing a very cute vibe. We love this design on @herzsprung_eventdesign.
44. Wild Circle
This green circle wedding arch is perfect for unique weddings. Covered in greenery and whispy plants, it looks like something you'd find in a fairy forest. We love this posted by @independentcelebrants.
45. Rosy Arch
This one's a very high arch, featuring flowy white fabric and a ton of flowers. The pink and white flowers and the hanging greenery are all over the top area of the arch, capturing your eye. A beautiful design we found on @gaiasophi in Bali, fitting in with the impressive background.
46. White Portal Arch
Formed out of two curved pillars you can move individually, this particular arch gives us portal vibes. Covered in white flowers, the arch is impressive and fits perfectly in a wedding venue. We found this on @viawedding_decorations.
47. Love Arch
Ok, this one's going to be challenging to make, but at least we're providing you with inspiration, right? This heart-shaped arch is impressive, covered in what feels like a thousand flowers going from deep red to orange, to yellow, to beige, to lily, to purple, to pink. Such a beautiful creation from @allforlovelondon.
48. Pink Fairytale
While many wedding arch makers try to cover the material the arch is made out of, the iron base of this one is still visible, creating a deep contrast with the soft pink flowers. It's a wonderful design that makes a perfect balance between soft and hard from @crazyclara_flowers.
49. Whispy Arch
This next arch we propose is super simple and yet looks so awesome. The wood arch is barely covered with whispy grasses in the top area, resulting in a wonderful way to highlight the happy couple. This would be a fairly easy DIY project. We loved this idea from @tietheknotcalifornia.
50. Pink Heart Arch
We're wrapping things up on a highly pink note. A heart-shaped arch may seem like enough, but if you add more of the same flowers and some flowy grasses painted in the same shade to the mix, we have a candy-like dream. Project comes from @nativepoppy.
Final Thoughts
We've had projects you can take on, and project you should get help for. Whether you're going to make your own wedding arch or not, we are sure we've poposed quite a few ideas that are worth considering. There are so many beautiful designs, that you just have to figure out what's right for your wedding, your budget, and your style. Drop us a note and tell us which ones you've liked best!