Lovely DIY Trellis Tutorials for Your Garden
Are you the kind of person who loves your backyard and garden so much that you're always trying to think of new, creative ways to make it the best it can possibly be? We're like that too, especially since we got more into gardening. Lately, we've actually been thinking a lot about garden trellises, since they're something that can be either practical or decorative in a yard, depending on what you're growing or how you set them up. That's why we've been scouring the Internet for awesome DIY garden trellis suggestions!
1. DIY bean pole teepee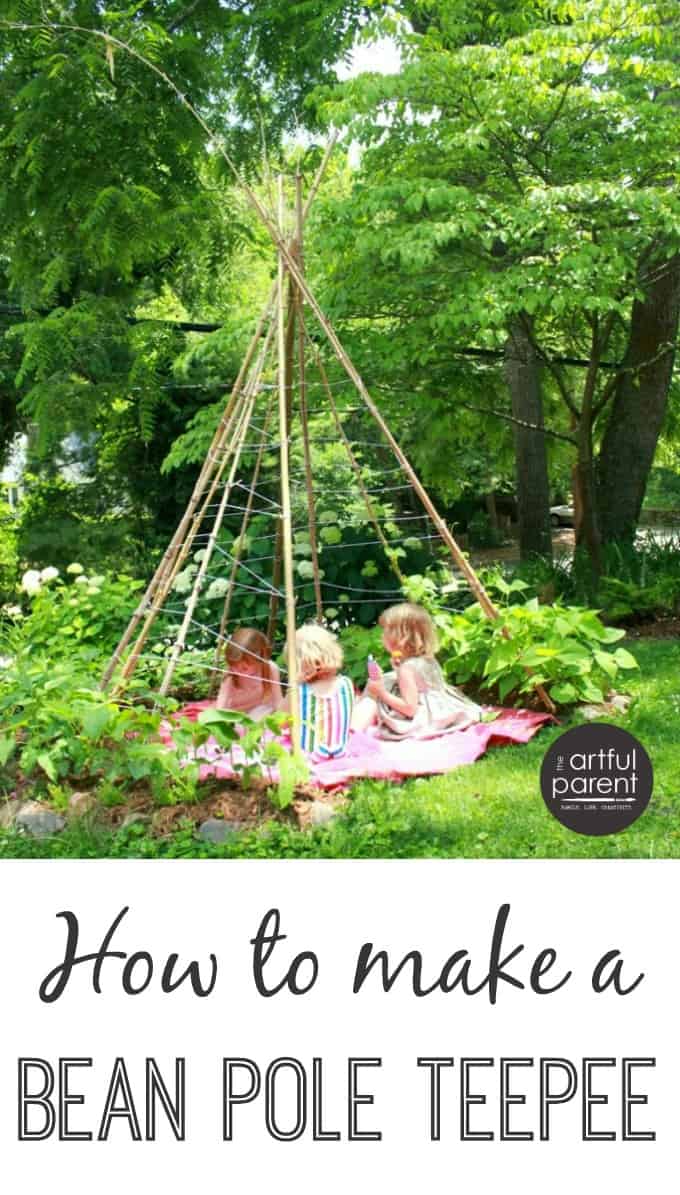 If you're going to put in the time and effort it takes to make a garden trellis, would you rather make it both practical and decorative a the same time? In that case, we're pretty sure The Artful Parent has just the tutorial you're looking for, right out of the gates! Check out how they used bean poles to make a little teepee shaped trellis that's perfect for enjoying picnics in while they plants grow from its base and climb upwards.
2. Jumbo X-frame tomato tellis
Perhaps you're interested in trellises in the first place because you're actually trying to grow a successful vegetable garden and you've read about the benefits of "anti-gravity" tomato gardens, where the plant hangs from part of a large trellis to take weight of its stems? In that case, if your tomato garden is sizeable, then we think you might get a real kick out of the way A Piece of Rainbow made this large X-frame trellis to help more than one plant at once!
3. Old door trellis
Are you looking for a simply installed trellis that climbing plants can happily cling to as they please but that also looks unique and eye catching in your garden? Well, if you have access to vintage sales or a collection of old fashioned home pieces in your garage, look for an old glass door frame and check out how Dishfunctional Designs used theirs as a pretty leaning trellis!
4. Antique headboard trellis
Have we really caught your attention with this whole idea of upcycling vintage home pieces into stunning garden trellises so they look like they're being reclaimed from the land but you're not sure the door frames are doable? Then perhaps you can get your hands on a vintage bed frame or metal head board instead! That's precisely what Apartment Therapy did here and the finished product was stunning.
5. Elegant patio trellis
Would you rather make a trellis that's a little more of a permanent fixture near your patio in order to help certain plants start crawling their way up the house for that beautiful old fashioned effect? In that case, we think you might get along a little better with this solid but elegant looking trellis that's part of a planter built right onto the patio! Blue Roof Cabin is here to show you how it's done.
6. Bike rim trellis
Are you actually the kind of upcycling lover who will use just about any project as an opportunity to save "junk" from becoming trash? Tell, if you're growing anything else besides tomatoes that could use some encouragement growing upwards and might not otherwise climb naturally, then we'd definitely suggest taking a look at how Suited to The Seasons created this support from a steel pole, some string, and two bike rims!
7. Old mattress springs trellis
Did we actually pique your interest quite well when we started talking about the idea of using bed pieces to make lovely trellises because, rather than just having access to and old metal frame, you actually have the pieces of the whole vintage bed? Well, if you can free the springs from the mattress then you just might have what it takes to make this awesome springs rrellis outlined in simple detail on Hometalk!
8. Scrap wood custom trellis
Are you growing something that's actually known for climbing quickly and far so you're looking for a trellis design that you can build to a custom size and change as you need to? In that case, we think you simply must take a look at how Gina Michele made this awesome geometrically shaped trellis system from simple scrap wood in a way that's very easy indeed!
9. Old garden tool trellis
Just in case you're still thinking about how much you love the idea of repurposing old things into garden trellises but you're just not sure that the actual home pieces are things you've got lying around, take a look at this alternative idea from Cottage in The Oaks! They show you how to make an easy, straightforward trellis from an old space with its handle buried in the ground.
10. Simple backyard cedar trellis
If you're willing to buy some pieces of the pre-made kind of trellis you're probably used to at the store but you'd still prefer to put it together yourself in order to get a custom size and shape, then we're pretty sure this tutorial from Remove and Replace will be a little more up your alley! It shows you how to make the simple kind of cedar backyard trellis that just about everyone is familiar with, but in the size you need specifically instead of whatever the store put together as a kit.
11. DIY bamboo trellis
Are you the kind of person who likes to keep things subtle and minimalist, in both function and style? In that case, we have a sneaking suspicion that this next concept from This Pug Life might be a little more your speed. They show you how to make a simple peaked trellis above plants that need a boost, but made from bamboo so the look of the trellis doesn't really interrupt the beauty of the plant.
12. Easy PVC arched trellis
In addition to giving your climbing plants somewhere to go, are you determined to add a bit of country charm to your garden space as well? In that case, we'd definitely suggest taking a look at how HGTV made these small, lovely arches from simple malleable PVC pipe with the knowledge that the leaves will cover them entirely as the plants grow!
13. DIY hanging garden trellis
Are you still feeling determined to use a material for your trellis that looks entirely natural and doesn't interfere with or detract from the beauty of your plants? In that case, we think you'll get a real kick out of the way A Pretty Life in The Suburbs made a hanging trellis that is easy to install in small places, but also constructed it from branches so it fits right in with its environment!
14. DIY window trellis herb garden
If you can use the emptied frame of an old door that has the glass taken out, it only makes sense that you can also use the empty frame of a window too, right? That's what The Sweetest Occasion did here, leaning their frame against a fence but, until the climbing plants were large enough to need the growth space, they also hung small planted buckets or herbs from each cross section for even more green space and charm!
15. Cucumber arch trellis
Were you a pretty big fan of the arching trellis idea that you saw a little earlier on our list but you don't think you need one quite so large because all you're growing this season is cucumbers? In that case, we'd definitely suggest taking a look at how Get Busy Gardening made this more catered arch from malleable wire fencing that arches a little more gently!
Have you made other kinds of awesome garden trellises before that you were very happy with indeed and still use but that you don't see here on out list? Tell us all about what you made and how you did it or link us to photos of your finished work in the comments section!