DIY Simple Concrete Doily Pot
As you might have noticed if you're a regular follower, I've been more than a little bit in love with DIY concrete projects as of late. What you might not know, however, is that I go through phases like this often, and that my obsession previously to concrete was lace crafts! There are just so many stunning things you can make from lace that are so delicate and pretty that I can't get enough of them. I'm sure it only makes sense, then, that someday I'd eventually find a way to combine the two! That's precisely how this lovely DIY concrete lace doily flower pot that I made recently came to be.
I had a strong feeling that I was going to be very happy indeed with this particular idea, so I made sure to document my crafting process all the way through. That way, other crafting enthusiasts I know can follow along and give it a try as well. Check out these step by step instructions complete with photos! If you'd rather follow along with a video tutorial instead of written words, scroll to the bottom of this post to find just what you're looking for.
For this project, you'll need:
DIY fine particle cement
Water
A piece of white paper
A spoon
An empty yogurt cup
An old lace doily
Step 1: check items
Gather your materials and make sure they're all within reach when dealing with concrete!

Step 2: mix concrete
Use your spoon to mix your DIY concrete to the right consistency! Follow the instructions on the back of your package to get the ratio of water to powdered concrete mix just right, since it can vary from brand to brand.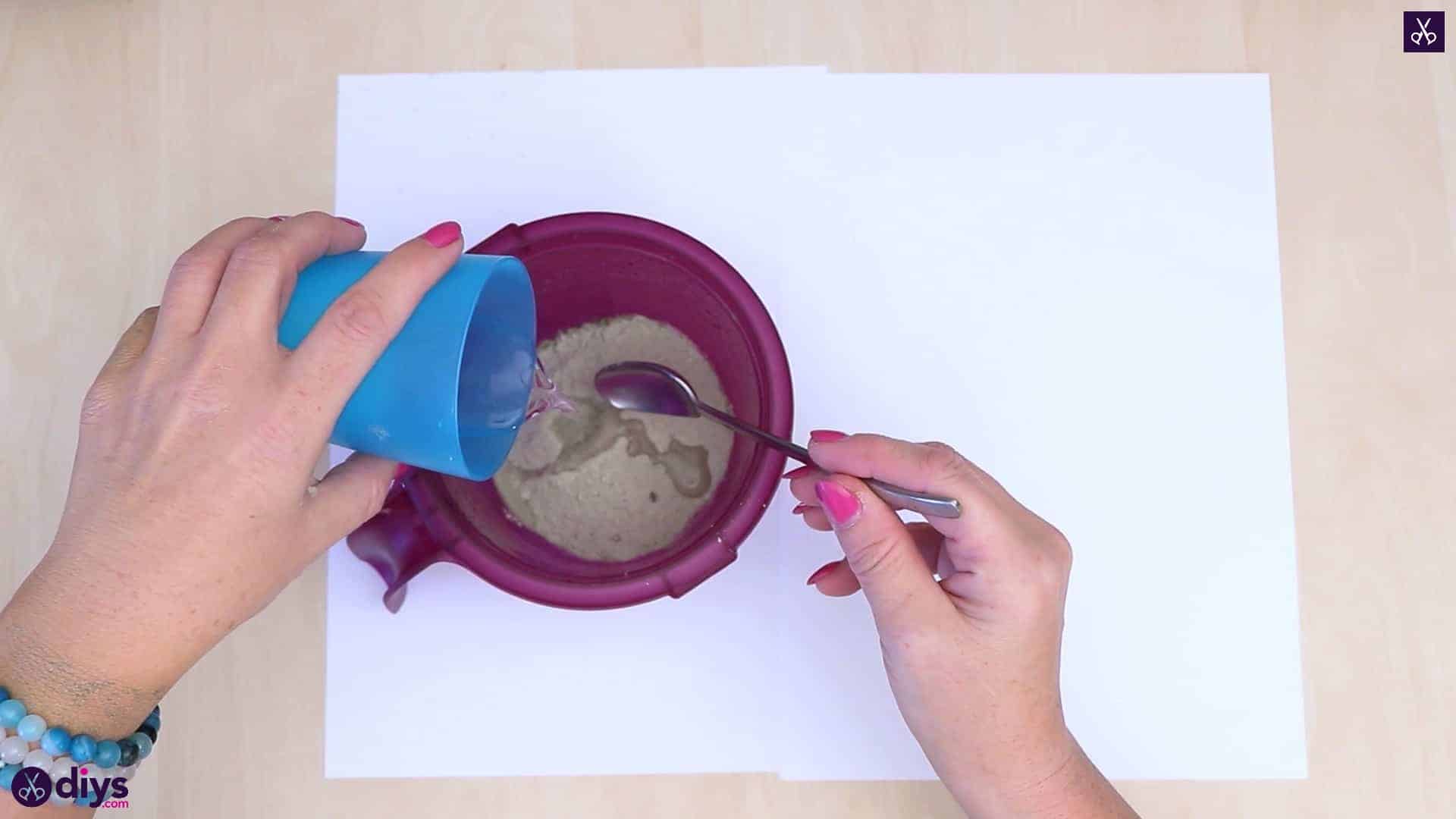 Step 2: soak the doily
Cover your lace doily entirely in concrete! I did this by dipping it into my concrete mixture and then lifting it and turning it to dip it again. I repeated this process until every piece of lace, including inside all of the holes and delicate patterns, was well coated in concrete.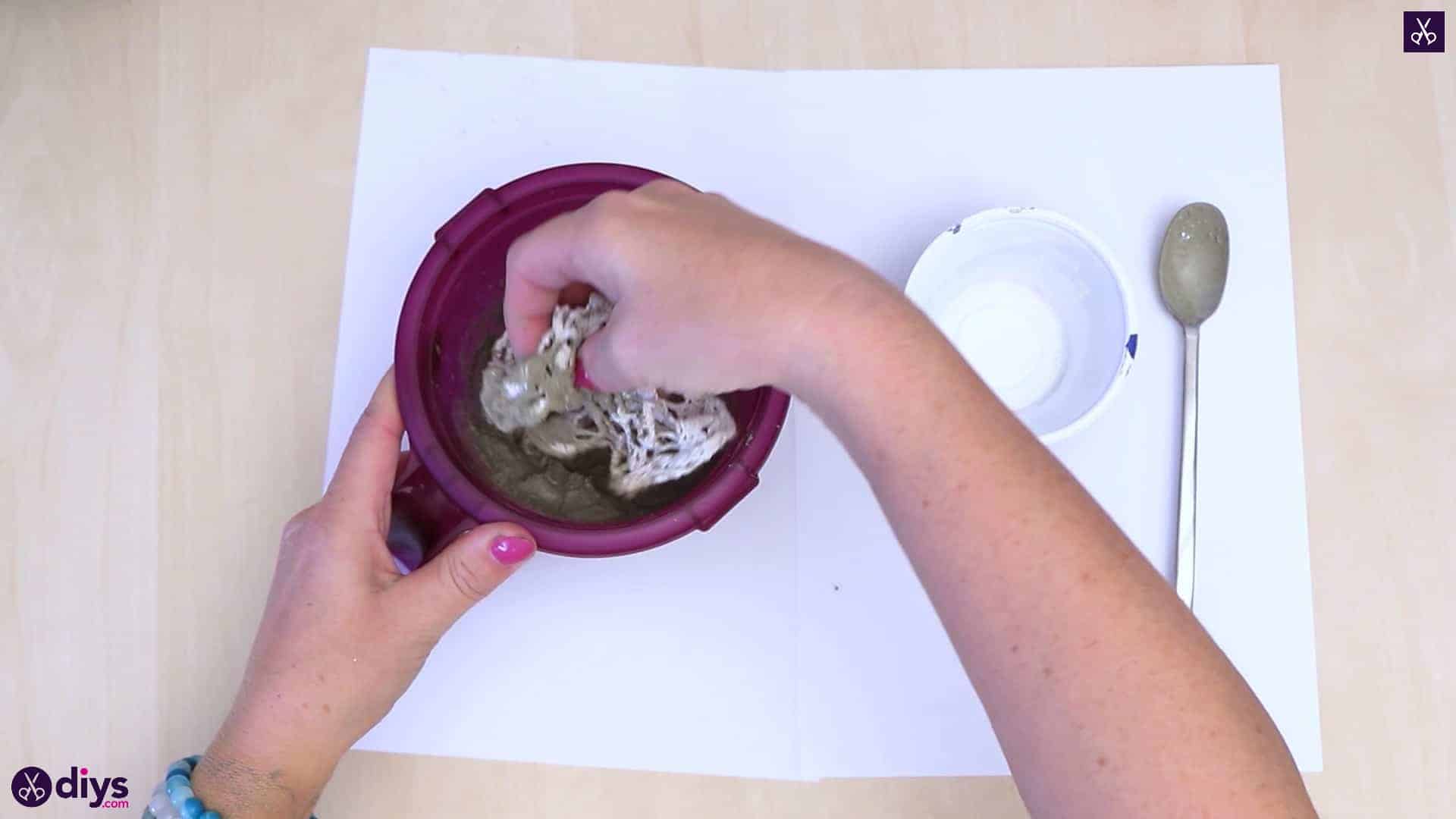 Step 3: shape it
Set down your piece of paper on your worktop to protect the table or surface from getting messy. Turn your empty yogurt cup upside down so its bottom is now at the top. Take your doily out of the concrete and drape it over the yogurt cup evenly, so its center lies right on the middle of the cup's bottom and the rest drapes evenly down the sides of the cup. You want the doily to take on the shape of the cup as it dries, so feel free to adjust the doily and cinch it inwards to rest on the sides of the cup; just make sure it sits evenly and smoothly across the cup's bottom so you know your finished piece will sit flat on a surface when you put it on display later. Set the whole thing aside to dry.
Step 4: remove from mold
When your doily has dried thoroughly and all the way through, turn the whole thing over and carefully pull the yogurt cup out from underneath or inside the doily's new shape. You'll have a new concrete lace pot! It's the perfect size for putting a miniature terra cotta pot into, or you can report a small plant into a yogurt cup that same size and put the cup back in.
I decided not to add colour to my piece because I loved the contrast of the lace and concrete as a sort of industrial chic inspired piece, but feel free to get creative with paint on your finished product! Just in case you'd like to try this project out for yourself, here's a fantastic tutorial video to help you!