If you've ever been a gardening enthusiast of any level, then we're sure you'd probably agree with us that the idea of making unique displays for your flowers is just about as much fun as choosing what to plant and enjoying the garden afterwards! That's why we're always on the look out for awesome DIY flower pot ideas, because things are always a little more decorative and satisfying when you make them yourself.
1. Floral decoupage terra cotta pots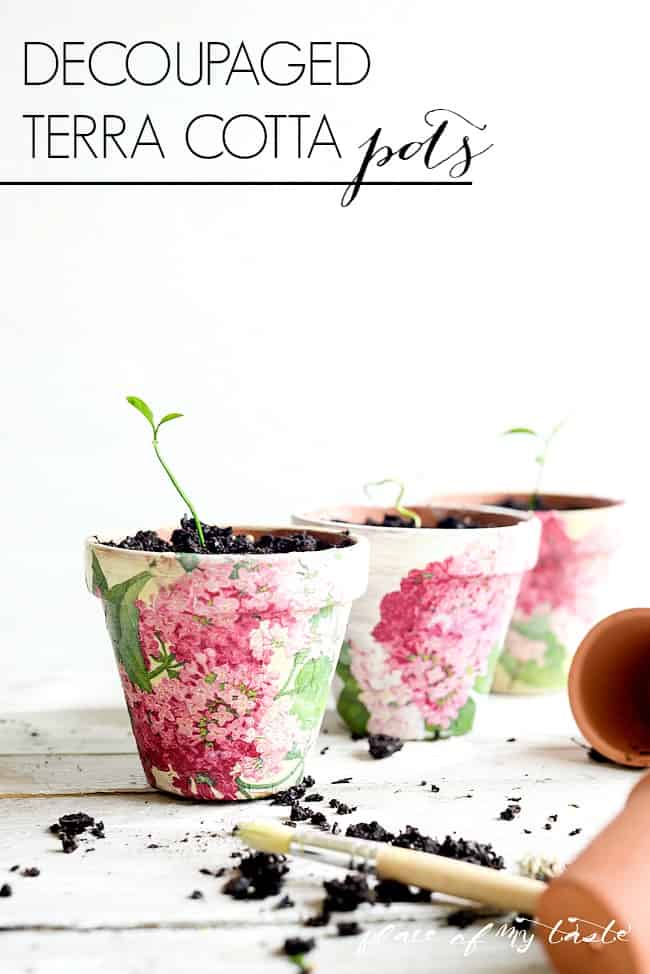 If you've never done the classic crafting technique of decoupage, which is having a resurgence in popularity since it was all the rage in the 19802 and 90s, then we're sorry to tell you that you've been missing out! We're actually such huge fans of this floral napkin decoupage pot idea from Place of My Taste that we actually have a series of six of these sitting on our window sill.
2. Chalk painted and letter stamped pots
Perhaps your personal sense of style and decor has always been a little bit more minimalist but with a slightly rustic and stylishly weathered spin on it rather than a modern one? In that case, we think you just might be the perfect person to give these white chalk painted and stamped letter pots from Rustic and Woven a try! We love how their chosen lettering makes it look like each pot was somehow put through an old fashioned typewriter.
3. Knitted flower pot cover
Are you the kind of multi-talented crafter who loves all kinds of techniques but who has always excelled the most at yarn crafts? That's actually how we are as well, so we're sure it'll come as no surprise to you at all that we got very excited when we stumbled across this knitted flower pot cover pattern featured on The Merry Thought. This is actually a simple enough project that even beginners would have success with it!
4. DIY stencilled clay pots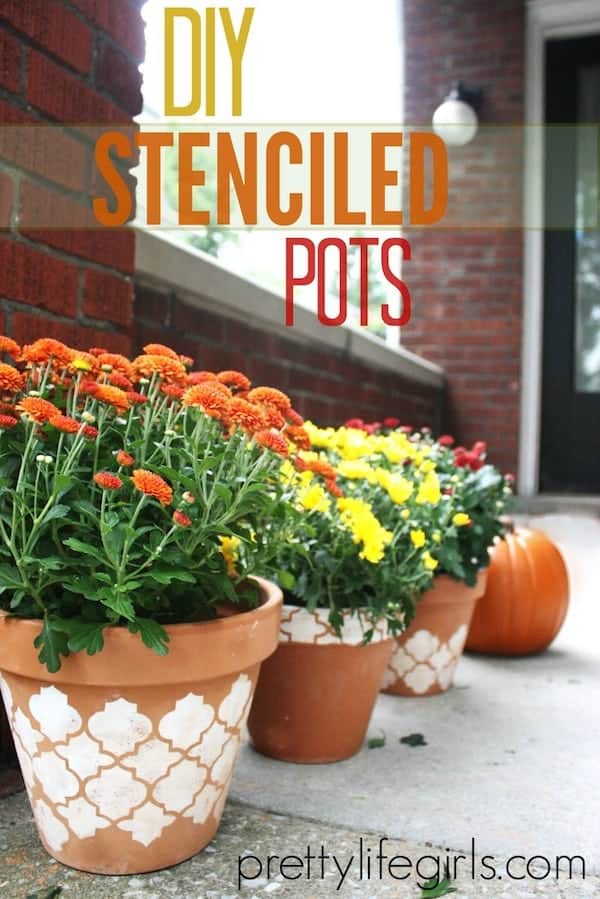 Perhaps you're the kind of person who just can't get enough of a good stencilling session? Well, we can't say we blame you; we went through such an intense stencilling phase that there's hardly a surface in our house that escaped. That's why we thought these awesome, simply stencilled flower pots from DIY Candy were such a good idea. We love that they stencilled the same pattern in different shapes and repetitions, so they are a clear set but with some neat variation.
5. Tied twigs planter
Maybe you're the kind of crafter who likes to go out of your way to work with and include natural elements in your DIY sessions and your home whenever possible? In that case, we'd definitely suggest taking a look at how Nini Makes covered their flower pot in similarly sized twigs and tied them all into place like a little fence using hemp string.
6. Flipped terra cotta pot and tray accent table
Perhaps the flowers or plant you have in mind is actually already potted into something you quite like but you're still convinced that it would look better raised up on some kind of display? Well, believe it or not, you can use a flower pot to make that happen too! We're huge fans of the way Hometalk suggests painting a large terra cotta pot, flipping it upside down, and placing its tray on top to make a sort of makeshift plant table.
7. DIY layered seashell planter
At the heart of it all, whether it matches your wider decor scheme or not, are you really just a big beach lover? Maybe you actually are living on the coat and you've got an awesome beach inspired theme going, so you're looking for something that will match with that. In either case, we'd suggest putting that seashell collection you've been building for years on every beach trip to good use by following in Billabong's footsteps and making these awesome layered seashell flower pots.
8. Wooden pallet planter
Were you quite intrigued indeed by the concept of covering the outside of your flower pots in wood since you're aiming for a rustic, reclaimed aesthetic, but your pots are actually large enough that the twigs and sticks idea won't work unless you start cutting off actual full sized branches? In that case, we think you might get along a little better with something like this upcycled pallet wood flower pot craft outlined step by step on Make The Best of Things!
9. Chalkboard planters
Did we actually really catch your attention when we mentioned chalk paint earlier on our list but you were hoping more to see the classic black chalkboard kind that you can actually write on with white chalk? In that case, we'd absolutely suggest taking a look at how I Spy DIY used that precise kind of paint to make pots that can be labelled or decorated by hand with chalk.
10. Lace decoupage pots
Perhaps we really caught your attention with the mention of decoupage, but you've done so many different projects involving decoupaged paper that you can't help wondering whether there isn't another kind you can try, just to keep things interesting? In that case, we think you simply must take a look at the way A Beautiful Mess made these fantastic lace decoupaged flower pots that are not only very pretty indeed, but also a great way to use up old fabric scraps or upcycling things you don't wear or use anything that have lace panels or trim on them.
11. Bark covered flower pot
Are you actually still thinking about how much you adore the natural and wooden ideas we've shown you so far but you're still holding out on choosing, just in case there's another alternative out there? Then we're pleased to report that your patience has finally paid off, because DIY Enthusiasts has something else for your consideration! Take a better look at their tutorial to see how they made these awesomely natural looking flower pots by covering the outside entirely in bark.
12. Hand painted pretty face planters
Rather than your one most practiced skill in the DIY world being knitting, has yours actually always been painting? Perhaps you're actually only just practicing your hand painting skills, so you've been looking for an excuse to get creative with it in a simple project. Either way, we think you'll get a real kick out of the way Gold Standard Workshop made these flower pots with lovely little hand painted faces on them. We adore the way they gave each one a different expression!
13. Gold leaf terra cotta flower pots
Maybe you're still thinking about how much you loved the idea of making a stylishly weathered project, since that's the overall aesthetic of your home, but you're still intent on adding some kind of eye catching element or touch of glam? In that case, we think Hunted Interior might have just the kind of thing you're looking for! Take a better look at their tutorial to see how these stunning gold leaf terra cotta planters were made.
14. Mosaic planters
If you're going to put in all the time and effort it takes to make something awesome from scratch, would you rather actually create something that is clearly homemade, so people can see and appreciate your love for crafting? In that case, we'd definitely suggest taking a look at how Cut Out and Keep made these awesome broken dish mosaic flower pots that are actually a lot simpler to do than they look!
15. Rock covered flower pot
Just in case you really liked the basic concept of the mosaic idea but you don't currently have access to a bunch of old dishes you can break for pieces, here's a slightly more nature inspired alternative of the same thing! Centsational Style guides you step by simple step through the process of making a flower pot that is encased in simple rocks.
Have you made other kinds of awesome DIY flower pots before that you were very proud of and still have on display but that you don't see here on out list? Tell us all about what you created and how you did it or link us to photos of your finished work in the comments section!