DIY Concrete Reed Diffuser
DIY mixed concrete projects have been my latest obsession. I just get so much satisfaction out of them because I'm literally creating a structured piece from scratch with my own hands! Every once in a while, I like to try and use my favourite crafting supplies to create my own versions of what's trendy in the world of home decor right now, so I'm sure it'll come as no surprise to you that I recently took a show at making my very home concrete reed diffuser for scented essential oils. It was such a success that I decided to make another one so I could show everyone else how easily I did it too!
Check out these step by step instructions for making a concrete reed diffuser, complete with photos. If you're more of a visual learner and would prefer to follow a video, scroll to the bottom of this post to find precisely what you're looking for.
For this project, you'll need:
A cup of water
A roll of masking tape
An abrasive block
A small glass jar
A piece of cardboard
A right angle ruler
A hot glue gun and glue
A mixing bowl
DIY fine particle concrete
A spoon
A protractor
An Exacto knife
A felt tipped pen
Scissors
Vaseline
Step 1: Gather your materials!
Check your materials list and get everything you need first.

Step 2: make the mold
Using your right angled ruler, draw a line two inches long. Measure your protractor tips to be two inches apart and place the pointed anchor tip at the end of the line. Place the pencil tip at the other end of the line and use the protractor to swoop a a line upwards. Then swap your tip locations; put your pointed tip at the end of the line your pencil tip was previously at and vice versa. Swoop a line upwards from here in the other direction. You'll notice that your two swooped pencil lines cross over across from the first two inch line you drew. Put the protractor down and use your right angled ruler to turn the pencil lines into an actual measured triangle, meeting in a point where the protractor lines crossed over.
Step 3: draw the lines
On each side of your newly drawn triangle, sketch a line straight out from the ends, one on each side. You will end up with a rectangular shape sitting along each of the triangle's edges.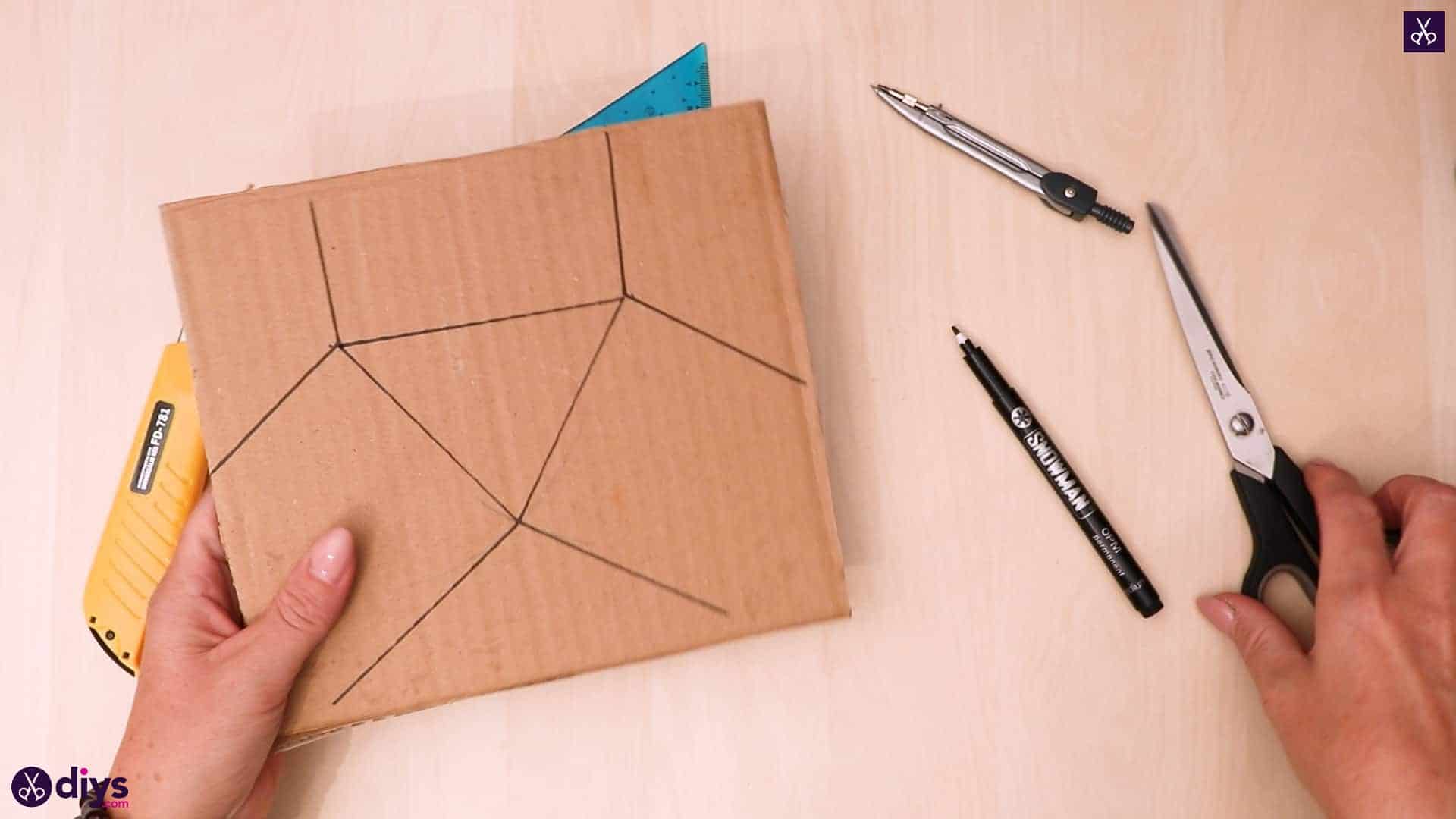 Step 4: cut
Cut out your whole shape, keeping to the very outside edges so the rectangular tabs stay attached with a complete triangle in the center.
Step 5: fold
Use your Exacto knife to break the top layer of the cardboard along all three sides of the inner triangle. Don't push so hard that your knife tip goes right through and cuts your tabs off; push just hard enough that the smooth surface of the cardboard is broken so your tabs will fold more easily. Fold each of your three rectangular tabs upwards so they meet at each end along their short edges. You now have a triangular shaped box.
Step 6: glue
Use your glue gun to apply hot glue along the edges and stick them together so the tabs stay upright, like the sides of a box.
Step 7: mix concrete
Pour your water into your DIY concrete mix and stir it with your spoon. Check the packaging of your mix to get the right ratio of powder to water; it can vary from brand to brand.
Step 8: grease the vial
Tear a long strip from your roll of tape and stick it all around the outside of your triangle to reinforce it for the next part. Then cover the outside of your small glass jar or vial in Vaseline to stop the concrete mixture from sticking to its outside and set it aside to be used in a moment.
Step 9: fill the mold
Use your spoon to fill your cardboard triangle with your concrete mixture until it's almost full; you want to leave a bit of space so it doesn't overflow with the next step.
Step 10: push in the vial
Sink your little glass jar or vial into the concrete, upright in the center. This will make space in the concrete as it dries so the final product will have a hole in the center. Fill in a little more concrete around the vial if necessary.
Step 11: tape down
Tear a strip of tape off your roll and stick it from one side of the triangle to the other over the top of your glass vial, so it stabilizes it in the center of the concrete and keeps it upright. Set the whole thing aside to dry.
Step 12: remove from mold
When the concrete has completely dried all the way through, tear the cardboard carefully away from the outside surface of your new shape. Then gently work your glass vial out of the center as well, leave you with a triangular concrete block with a hole in the top center.
Step 13: sand
Use your abrasive block to sand and smooth the outside surface of the shape to get rid of any blemishes or inconsistencies in the concrete.
Step 14: paint
Use your paintbrush and paints to add colour or create shapes and designs on your new concrete diffuser. I chose a minimalist and geometric inspired black and white pattern, but you can use whatever colours and create whatever shapes you please.
Step 15: add oils
Drop some of your favourite essential oil into the hole!
Put your diffuser reeds or sticks into the hole and voila! Your new concrete diffuser is all finished. Just in case you'd like to try this project out for yourself, here's a fantastic tutorial video to help you!