Delicious Grilled Chicken Recipes
Barbecue season might not quite be here yet where we live, but we know it is some places and the anticipation of good grilling weather is just about enough to get our mouths watering before we've even fired up anything up. That's why we're always on the lookout for delicious grilled chicken recipes! Don't get us wrong, we'll eat just about anything grilled (even if it's made stovetop and not directly on the BBQ), but chicken is our absolute favourite dish to prepare this way.
1. Copy cat Cracker Barrel grilled chicken tenderloins
Have you ever liked a dish from a restaurant so much that you just couldn't help wishing you could make the same thing at home, precisely the way they do? Well, if you've ever tried the classic grilled chicken tenderloins at The Cracker Barrel, then we have a feeling you'll be very pleased indeed to encounter this delicious recreation recipe outlined step by step on Mommy's Kitchen!
2. Southwestern grilled chicken with lime butter
If you're going to grill your chicken at home, meaning you're in a space where you have total creative license, would you much rather create something with a bigger kick of flavour to it? In that case, we have a feeling you'll get along a little better with something like this deliciously fragrant recipe from She Wears Many Hats! They show you how to make Southwestern grilled chicken with lime butter.
3. Caribbean grilled chicken
Just in case you're still interested in the idea of a slightly more flavourful grilled chicken option and you even like the idea of lime flavouring but you'd not sure about the butter part, here's a fantastic and slightly similar alternative! dLife guides you step by step through the process of making a delicious Caribbean grilled chicken recipe that tastes particularly amazing with a bit of lime juice squeezed right over top.
4. Grilled butterflied chicken
To "butterfly" a chicken is a technique that requires removing the backbone and flattening the whole chicken, open and down the middle. This means you're grilling a wider surface area of the chicken, so you get more of that deliciously crispy texture you love so much. Get a better idea of what we mean by taking a look at Serious Eats! They show you how to season it subtly but scrumptiously as well.
5. Basic, fool proof grilled chicken marinade
Perhaps you're pretty experienced with the grilling process itself and you're not feeling like you need too much guidance in that regard, but you're always open for suggestions when it comes to how you can dress your chicken in order to make it taste its absolute best? In that case, we'd definitely suggest taking a look at how Happily Unprocessed made this fantastic homemade marinade that's simple and quick to do despite its nearly gourmet taste.
6. Sweet and tangy grilled chicken marinade
Have you always been the kind of person who really appreciates a recipe that has a dual taste? Maybe you like a bit of salty along with your sweets, for example. In that case, we'd be willing to bed that you'll probably enjoy some sweet along with your tangy when it comes to savoury dishes too! Lucky for all of us, that's precisely the kind of flavour Aunt Bee's Recipes shows you how to make with their unforgettable grilled chicken recipe.
7. Tender grilled chicken thighs with lime and cilantro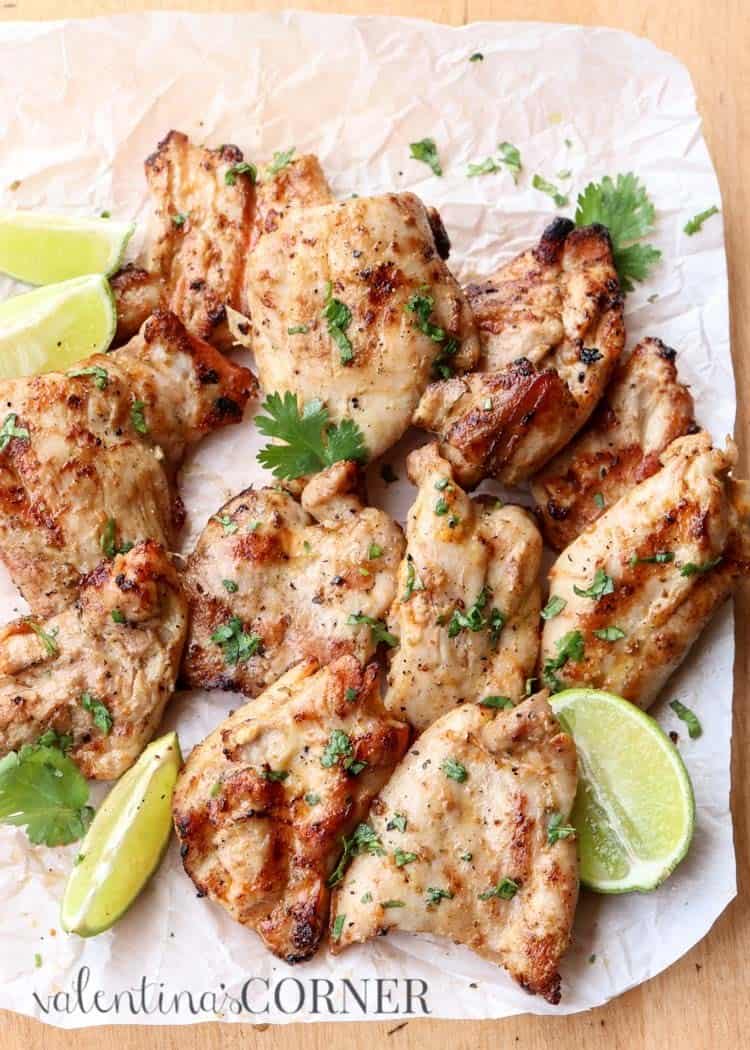 Maybe you're actually still finding yourself scrolling through our list and thinking about the different lime recipes we've shown you so far, but you're still convinced that there are probably other options out there that you can explore too in order to get the most of that great taste? In that case, we'd absolutely suggest taking a look at how Valentina's Corner made these extra juicy and wonderfully tangy tender grilled chicken thighs with lime and cilantro!
8. Spice rubbed grilled chicken
Perhaps you've always been more of an "all-spice" kind of person because you love the blended flavour that results from many tastes and aromas in one place, and you grilled chicken preferences are no exception? Then go ahead and take a look at this spice rubbed grilled chicken recipe from The Pioneer Woman, because they've got just the thing for you!
9. Grilled margarita chicken
Have you actually been scrolling through our post hoping to find something very unique indeed that you've never seen or tried anywhere else before, just to keep things interesting for dinner time at home? In that case, we think you simply must take a look at how All Recipes made this fantastic and totally scrumptious tasting
10. Grilled spicy. cheesy chicken breasts
If you're going to put in the time and effort it takes to make grilled chicken from home, would you rather make a recipe that has just about all the flavour and texture you could possibly ask for? In that case, we'd definitely suggest taking a look at this recipe from HoliCoffee, particularly if you like things with a bit of a kick! They show you how to make grilled chicken breasts that are both spicy and cheesy in the middle.
11. Asian glazed grilled chicken
Are you actually completely intrigued by this concept of having all kinds of international recipe options when it comes to the grilled chicken recipes you've collected and you'd like to gather as many as possible? Then here's a delicious Asian inspired recipe for your list! We've actually tried this one in real life and we adore the way The Brown Lounge outlines the glaze so simply.
12. Honey citrus grilled chicken with basil butter
Maybe you've actually seen quite a number of flavours and taste notes on our list so far that you're interested in but you're having trouble deciding which direction you'd like to take your recipe in? Well, who ever said you have to decide at all? Instead, take a look at how Cookies & Cups combined all kinds of different flavours in one place in this delicious recipe for honey citrus grilled chicken with basil butter.
13. Sweet and spicy grilled chicken pineapple skewers
Have we actually really caught your attention with the concept of making grilled chicken recipes that involve fruit flavours because that will just make you all the more excited for grill season outside? In that case, we think you simply must take a look at the way Recipe Runner made this fantastic grilled chicken skewer recipe that features pineapple chunks and a sweet and spicy flavour!
14. Thai peanut grilled chicken drumsticks
Before we go, here's another stop on the international grilled chicken tour, just to make sure you get a thorough list from around the world! Thai food has always been a huge hit in our house, so we're sure you can imagine just how big a hit this fantastic Thai peanut grilled chicken drumsticks recipe outlined step by step on All Day I Dream About Food was as well.
15. Best-ever grilled chicken sandwich
Perhaps you actually already have a favourite kind of grilled chicken that you love to make but you're feeling quite open to different suggestions of how to prepare, enjoy, or serve it once it's done? In that case, we have a feeling you'll get a real kick out of the way Foody Schmoody made their chicken into the world's best grilled chicken sandwich!
Do you have another favourite grilled chicken recipe that you love making for your family but that you don't see here on our list? Tell us all about how it's made or link us to the recipe and instructions so we can give it a try too!