15 Delicious Cocktail Recipes for Winter
When it comes to holiday recipes, we find that the most popular things you'll learn how to make with a bit of Internet guidance are scrumptious side dishes and mouth watering treats, desserts, or baked goods. Most people we know quite enjoy treating themselves to a celebratory drink or two around the holidays as well, but we find that many of them are really missing an opportunity for added flavour and fun when it comes to the drinks they choose. What if you're not a fan of wine or beer and you'd rather enjoy something with a lot of flavour or novelty to it? That's where fun winter cocktail recipes come in to save your holiday cheer!
Just in case you've always been a fan of seasonal cocktails just like us and you're on the hunt for winter themed drink options, here are 15 of the cutest and most delicious holiday cocktail recipes we've come across so far.
1. Creamy peppermint Schnapps winter cocktail
Are your favourite cocktails during any season or holiday always the ones that have a bit of a creamy texture to them rather than fruity flavours or strong lingering tastes of the alcohol they contain? Then peppermint is a great flavour option for you, and this creamy peppermint schnapps cocktail recipe from Gentleman's Gazette is probably exactly what you're looking for. The taste is downright refreshing!
2. Apple elixir
In your opinion, are fall and winter a time for nothing but cider and cider inspired or flavoured things, so you're trying to collect as many apple flavour based cocktails as you can? Then here's a totally delicious option to get you started off! Serious Eats shows you how to make a mouth watering and fresh tasting apple "elixir" from a perfect balance of liquors and mixes for a cocktail that tastes like a chilled cider.
3. Winter seabreeze cocktail
Even though you enjoy a fruit flavoured cocktail more than most other kinds, do you still prefer that the taste be light rather than heavily flavoured and sugary? Then perhaps a seabreeze is the best option for you! We very much enjoy this winter version of the drink from Catch My Party. You'll get hints of wintery flavours like cranberry, but those are bolstered to an even more delicious place by adding juicy pomegranate seeds.
4. Flavourful cranberry cocktail
Were you intrigued by the idea of a fruity tasting cranberry cocktail but you're not so sure about the idea of putting juicy pomegranate seeds inside? We can see how that flavour might be a little too summery for some people, or perhaps how the idea of having to chew something at the end of your drink might not appeal to you. That's why we were glad to find this simple alternative cranberry cocktail from Food Network as well! It's straight forward and tasty.
5. Bourbon winter sour
When you prepare to make yourself a cocktail, do you use the term quite loosely because you actually prefer simple mixed drinks based on more classic cocktails? In that case, an old fashioned sour might be a little more up your alley compared to some of the fancier things you'll see on this list. Kegworks shows you how to make one using bourbon and some wintery tasting but subtle liqueurs.
6. Tangy cider fizz
Are you still looking for all kinds of cider-like drinks that you can make yourself and your friends so that you have a solid supply of apple based drinks to get you through the winter? In that case, we definitely think you should take a good look at this tangy cider fizz drink from Serious Eats! It tastes similar to your classic favourite but it packs a little something extra thanks to the fizzy texture.
7. Jack Frost cocktail
Have you actually been scrolling through our list in search of some really fun novelty cocktails that are bright, flavourful, and winter themed enough to practically count as part of the décor at your upcoming holiday party? In that case, we think we might have found something a little more your style! This Jack Frost inspired cocktail from Homemade Hooplah tastes somewhat like a festive pina colada, made with blue curacao, pineapple juice, simple syrup, cream of coconut, and a shredded coconut rimmer that resembles snow.
8. Cranberry ginger fizz cocktail
Are you the kind of person who actually kind of enjoys experimenting with your own ingredients and recipes, so you always catch yourself wishing you could combine several different elements from each of the separate recipes on lists like this? Well, here's an idea that already does that for you! Dishmaps guides you through the process of making a cranberry cocktail that has a bit of a ginger flare and is fizzy like a cider.
9. Gingerbread eggnog white Russian
When you sat down to find yourself a holiday cocktail recipe, were you actually picturing something that would be such a treat it could almost be called decadent? In that case, look no further! Delish outlines the ingredients and process for making an alcoholic eggnog that's overflowing with deliciousness. Check out their tutorial to make your very own gingerbread eggnog white Russian drink.
10. Sparkling bourbon pear cocktail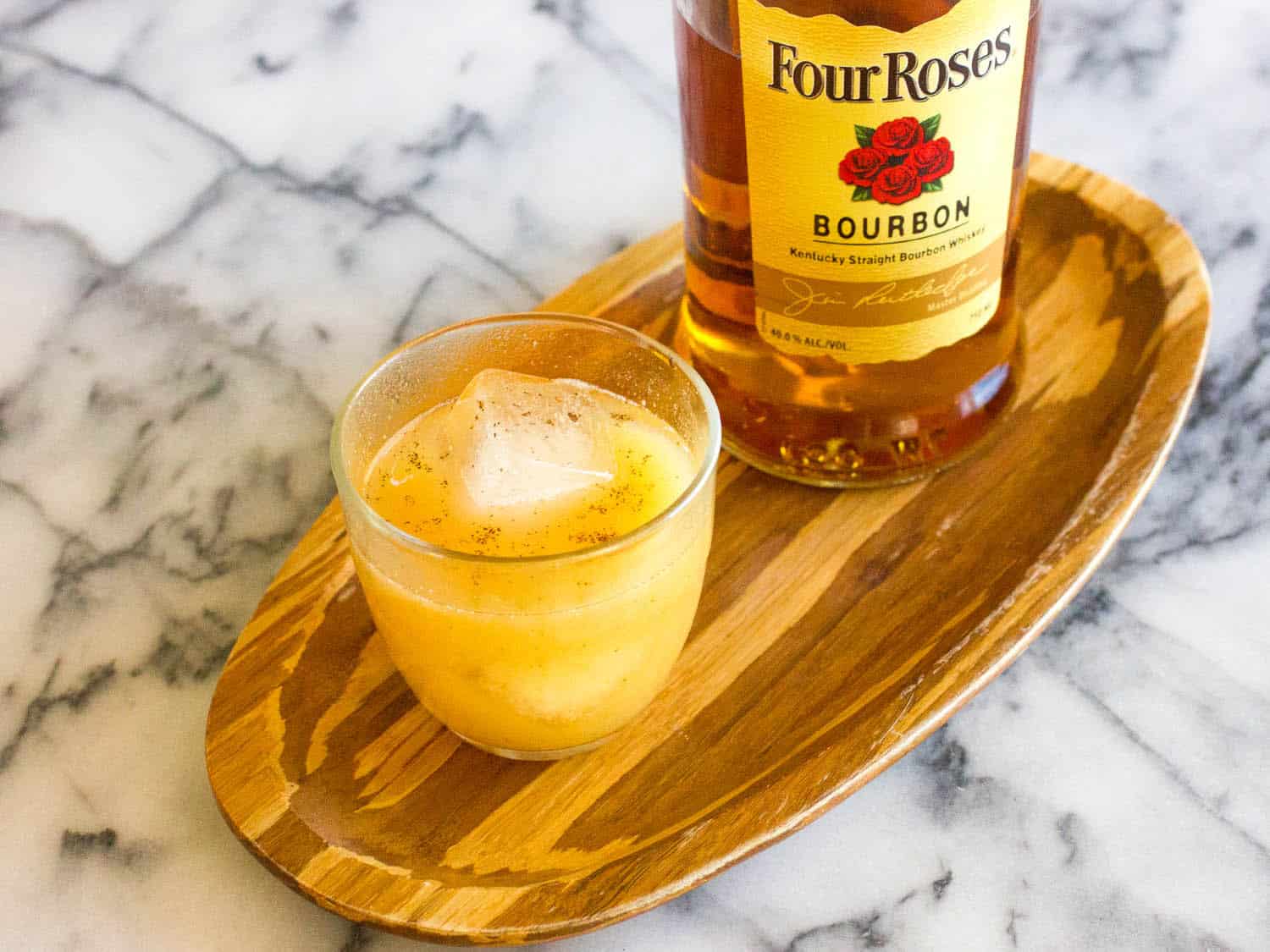 Did our previous mention of a bourbon based drink catch your eye but you've never really been a fan of sours, so you're still scrolling our list hoping to find an alternative? In that case, here's a delicious sparkling option from Serious Eats for your consideration! Their version of a bourbon cocktail gives you some pear flavouring along with your smoky bourbon taste and fizzy finish.
11. Fireball hot toddies with a caramel rimmer
If you're going to crack open a drink in the winter, would you prefer that it be something with a little bit of a bite and some heat to really keep you warm on a cold night? In that case, perhaps something like this fireball hot toddy from Delish would do you some good! This one's great for sipping around the fire after dinner and adding a dripping caramel rimmer like they did here makes it nearly a dessert.
12. Winter champagne
Every friend group has that one person who says they'd love to come over for cocktails but who also has simple tastes and, once they've arrived, is reminded that they'd actually really just prefer a classy glass of champagne to anything with sugar content or a fruit flavour. That's why we were pleased to come across this champagne cocktail idea from Today! Sure, their drink idea is mixed too, but it's simpler than a lot of the other recipes you've seen on this list and the taste is more subtle. Check out how they create their mix with clementine juice, orange peel, orange bitters, sparkling wine or champagne or chilled prosecco.
13. Glogg
If you're going to enjoy a winter drink, do you prefer to stick to a traditional, old time recipe that's long been used to put some warmth back in your blood on the coldest, darkest nights? Then perhaps it's about time you tried glogg! This drink is a classic Danish mulled wine made from a base of fruity red wine with added sugar, raisins, slivered almonds, cinnamon sticks, cloves, cardamom pods, schnapps, and brandy. It's certainly not the kind of drink you'll refill too many times over the course of the night! Check the whole idea out in more detail on Femme and Fortune.
14. Rum eggnog
Are you still thinking about how much you loved the idea of an eggnog cocktail but you're worried the one we showed you earlier, with all that whipped cream and all those toppings, might just be a little too much for you? Then here's a great alternative from Serious Eats! It's absolutely still a deliciously creamy treat but made with a simpler recipe and a taste that's closer to the regular, non-alcoholic version.
15. Coconut white chocolate martini
Perhaps you're the kind of person who appreciates aesthetic a whole lot so, as long as the cocktail is delicious and looks wintery, you're not much concerned whether the tastes that make it up are seasonal? In that case, here's a beautiful white cocktail that will give any party a bit of chilly flare! One Martini shows you how to make a coconut white chocolate martini with a shredded coconut rimmer that resembles snow.
Do you know someone who has had a stressful winter and could use a uniquely classy cocktail or two to unwind with over the holidays? Share this post with them so they have plenty of yummy seasonal drinks to choose from!