Chickpea Salad Sandwich – Easy and Delicious Recipe
This curry chickpea salad sandwich recipe is a healthier version of everyone's favorite vegan sandwich. This gluten-free and vegan recipe can be made in 10 minutes flat! Do you know everyone's favorite chicken salad sandwich? Well, today we are making that same crowd-pleasing sandwich even healthier with a few simple swaps.
It is every bit as full of flavor, creamy, and delicious as the original version. Scratch that. It is even more delicious.
It is a creamy, curry flavor-bomb sandwiched between two pieces of bread. There are nutty pecans, crisp and sweet apples, and crunchy celery bits tucked into this flavorful sandwich recipe.
The healthy swap is pretty simple, just take out the chicken, and add in some chickpeas. Chickpeas, also known as garbanzo beans, have more fiber and nutrients than chicken. They are also more budget-friendly and can be kept in the pantry, so you can make this curry chickpea salad sandwich any time the craving strikes!
Which, trust us, will be often.
Chickpeas also help us maintain a healthy weight for multiple reasons. They are so full of fiber that they are incredibly satiating, which can help us make it to the next meal without reaching for a snack. They can also help regulate blood sugar and are great for digestive health.
Though chickpeas are a low-calorie food, our bodies can't absorb or use all of the calories in beans, making them even healthier than expected. And for each calorie of beans you consume, you are getting plenty of vitamins and minerals.
Our curry chickpea salad sandwich recipe can be made in just 10 minutes and is the perfect summer meal.
If you opt for vegan mayo in this recipe, it makes it summer barbecue and picnic proof. While egg-containing mayo's will spoil if left out, vegan versions won't. That means more picnics, lunch boxes, and lake days be filled with curry chickpea salad sandwiches.
Ingredients for chickpea salad sandwich recipe:
1/2 cup roughly chopped pecans
2 (15)oz. cans chickpeas, drained and rinsed
2 stalks of celery, chopped
1/2 sweet onion, chopped
1 granny smith apple, chopped
For the dressing:
1/2 cup vegan mayo OR regular mayo
1/2 cup plain hummus
2 tablespoons coconut sugar
1 1/2 tablespoons apple cider vinegar
1 1/2 tablespoons curry powder
For serving:
8 slices bread, toasted if desired (gluten-free, if needed)
8 leaves lettuce
Directions to make the chickpea salad sandwich – step by step:
Preheat the oven to 350 degrees. Spread the pecans out on a baking tray and bake until fragrant and golden brown, about 7-10 minutes. Remove from the oven and set aside.
In a small bowl, stir together all the dressing ingredients.
Add the chickpeas to a large bowl. Using a potato masher or the back of a fork, mash the chickpeas.
Add in the dressing and stir to combine.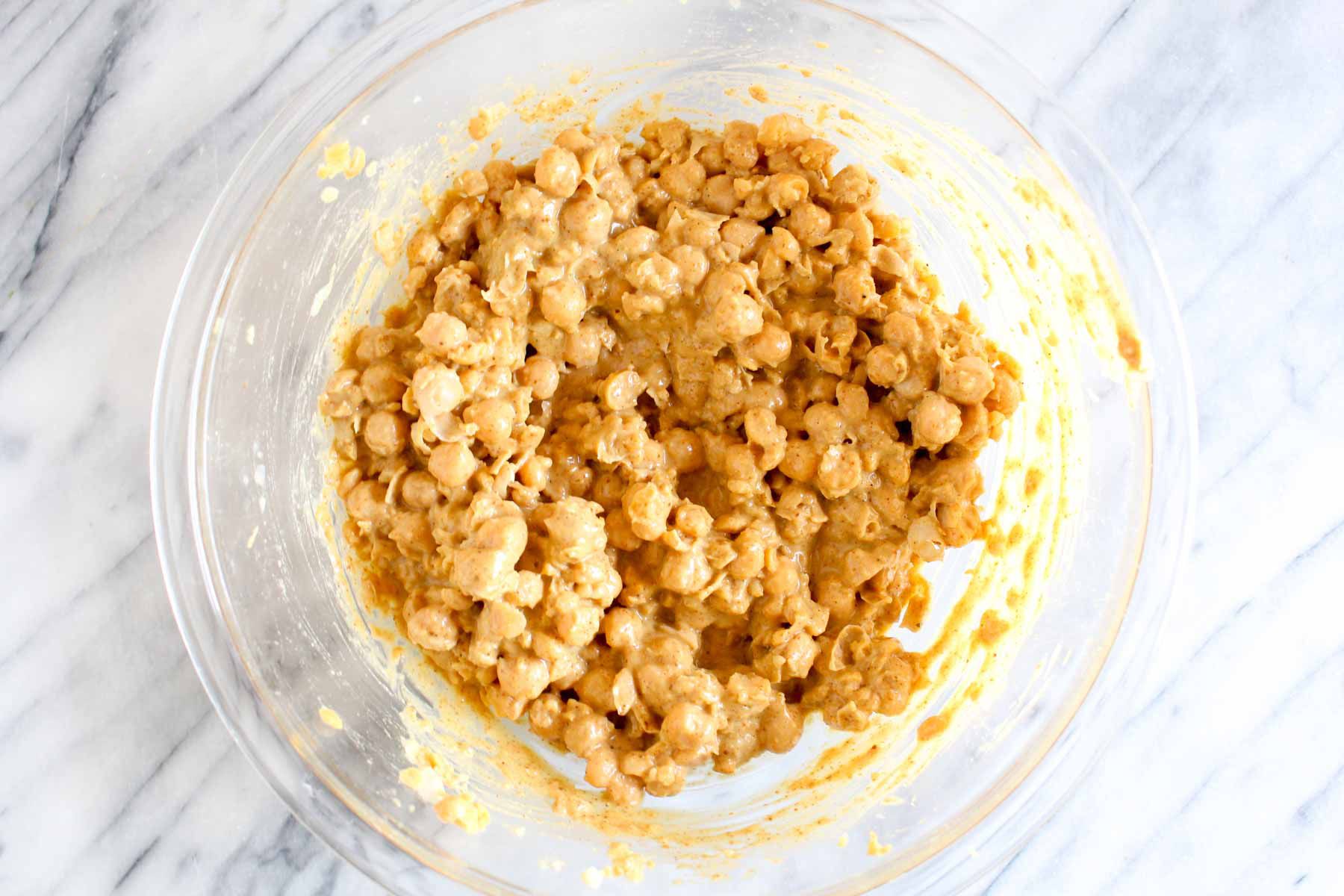 Add in the pecans, celery, onion, and apple. Stir one more time to combine.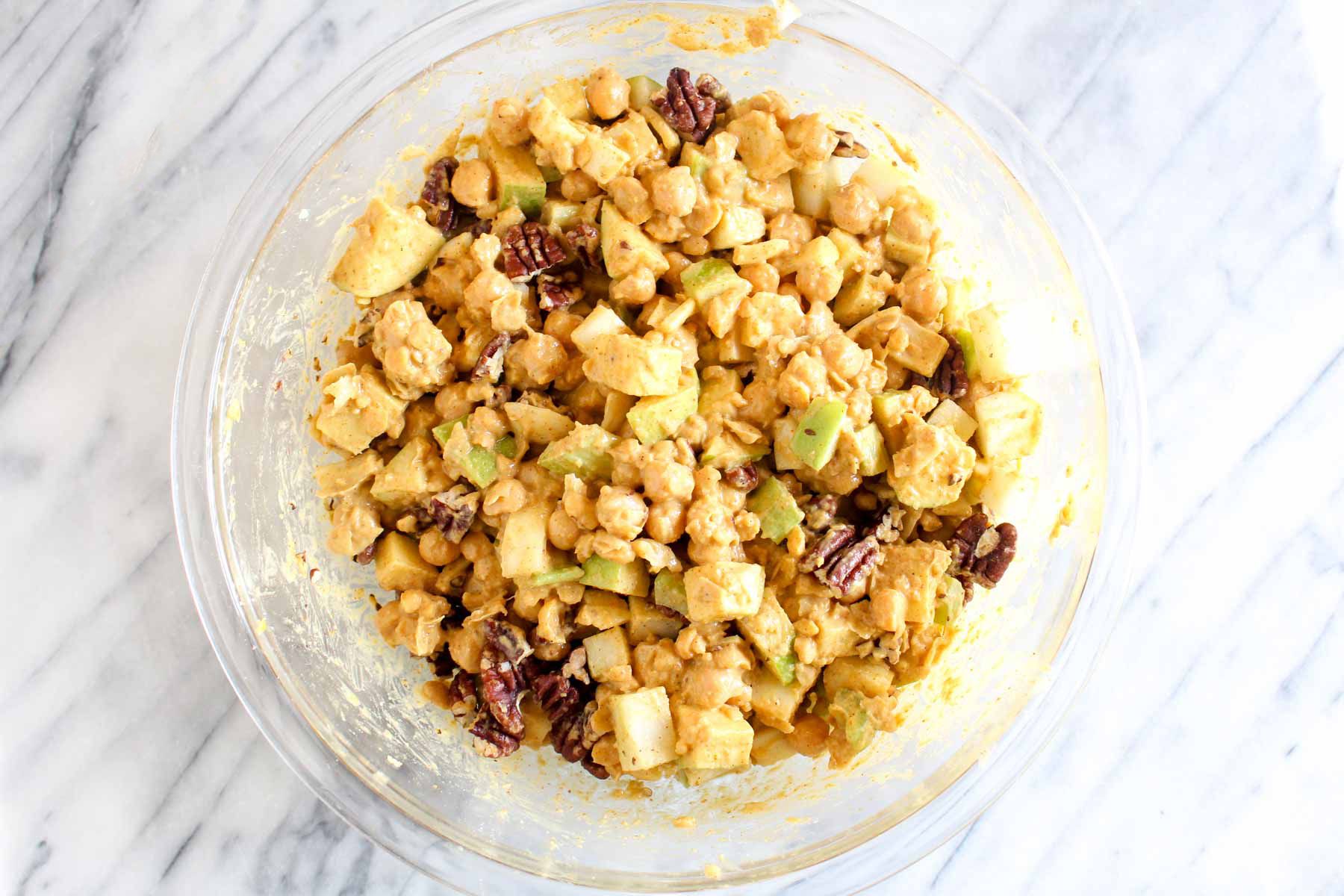 Top one slice of bread with lettuce. Spoon on the chickpea curry salad mixture and top with the second slice of bread. Serve.
Conclusion
Not only is this curry chickpea salad sandwich recipe loaded with flavor, but it is also made healthier too! Chickpeas will power you through all your summer activities with their high fiber and nutrient content. These sandwiches can also be made in a jiffy and can sit at room temperature for hours without spoiling.