Buttermilk Chicken Recipe With Honey Mustard Mayo
Juicy buttermilk chicken recipe tenders with a delicious crispy coating – serve with this sweet honey mustard dip for a seriously addicting treat! Crispy fried chicken – a treat that few find easy to resist. I'm definitely one of those people. I actually worked in a fried chicken shop for 5 years – through school and college, and I'd love to tell you that I have their super-secret recipe – but unfortunately the coating arrived already made up.
However, those five years did refine my fried chicken taste buds, and I actually prefer this homemade recipe!
The chicken in marinaded in buttermilk first – to ensure a beautifully moist and tender result. The coating is a simple dry mixture of a few store cupboard ingredients. No need for a wet batter to get the perfect crunch.
Unless you have a huge fryer, you'll probably need to cook these tenders in batches. The oil bubbles up a quite a bit, so be extra careful.
The cooked chicken can be kept uncovered in a low oven whilst you're cooking the rest.
Serve with fries and/or a lovely big salad. Make plenty though – these things will go fast!!
Here's what ingredients you'll need for the buttermilk chicken recipe:
Serves 4
4 chicken breasts, sliced into long, thick strips
1 cup buttermilk
1/2 tsp salt
1/4 tsp white pepper
1/4 tsp garlic salt
Ingredients for Crispy Coating:
1 and 1/2 cups all-purpose flour
1 tsp salt
1 tsp ground black pepper
1/2 tsp garlic salt
½ tsp celery salt
1 tsp dried thyme
1 tsp paprika
1 tsp baking powder
Ingredients for Honey Mustard Mayo:
4 tbsp mayonnaise
1 tbsp Dijon mustard
1 tbsp honey
2 tsp lemon juice
Also:
Plenty of vegetable oil for deep frying
Step by step preparation guide:
Place the chicken in a bowl or large ziplock bag. Add the buttermilk, salt, pepper and garlic salt. Mix together, cover (if in a bowl) and place in the refrigerator to marinade for 3-6 hours.
Preheat the oven to a low heat (to keep cooked tenders warm). Heat a large pan of vegetable oil (or preheat your deep fat fryer) until hot (you can test by dropping a small cube of bread in there, if it rises immediately to the top and starts to bubble rapidly, it's hot enough). You'll need at least 4 cups of oil.Mix together the crispy coating ingredients in a small bowl. Take the chicken out of the refrigerator and dredge each piece through the crispy coating mixture – ensuring it's fully covered. Place on a tray in a single layer ready for frying.
Once the oil is hot enough, add in 4 or 5 of the chicken tenders. You can add more or less depending on the size of your pan, just be sure not to overcrowd the chicken. Cook for 3-5 minutes until golden brown and cooked in the center. You can check this by cutting open a piece of chicken, if it's no longer pink in the middle, it's cooked. Place on a tray in the oven to keep warm whilst you cook the rest of the chicken.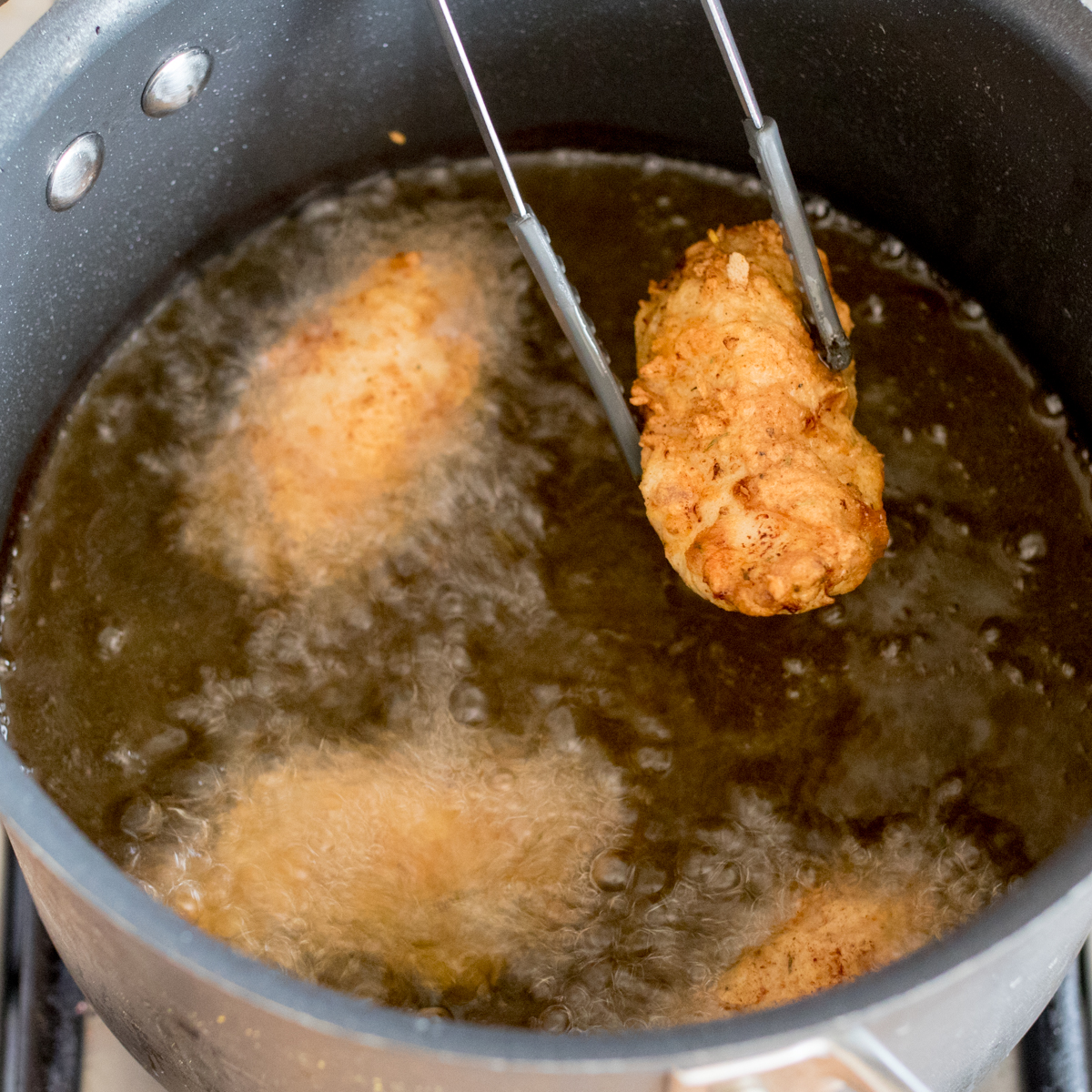 Whilst the chicken is cooking, make the honey mustard mayo by mixing all of the honey mustard mayo ingredients together in a small bowl.
Serve the cooked chicken with the honey mustard mayo.
So tasty!!