Cool Handmade Kitchen Utensils That Will Make You Want to Cook
Have you ever walked into your kitchen and realized that you have nowhere to put things? Perhaps you actuallydo have everything you need but you were looking around recently and realized that it's all just kind of plan and doesn't really match your bright, cheerful personality or the rest of your home decor scheme? Then maybe it's time to get crafty with some of your cooking utensils! Lately, we've been looking for small, simple ways to brighten up our cooking experience just to keep things fun and engage our creative skills with other parts of our lives and, since we just happened to be standing over the stove in our kitchen when we had this thought, that's where we decided to start! That's why we've been on the lookout for awesome upcycling, embellishing, and DIY based kitchen utensil products for the last few weeks.
Just in case you're as interested in making or decorating your own kitchen utensils as we were, if not more, here are 15 of the best ideas, designs, and tutorials we've come across in our search so far!
1.DIY wood and metal ring utensil rack
Perhaps the utensils you have in your kitchen are all well and good and you don't really feel the need to change any of those right now but you're actually finding that you don't really have any convenient places to put them? We frequently wish that our kitchen tools were a little more accessible, but it's usually in the middle of cooking something and we have yet to actually solve the problem. That's probably why this simple but super useful board and metal ring hanger idea featured onGrillo Designscaught our eye so well! We also quite like that the wood and metal combination gives it a slightly rustic finish.
2.Neon painted kitchen utensils
Is your sense of style and personal tastes basically theopposite of down home and rustic because you've always been a huge fan of bright colours and shiny finishes? In that case, we think we've found theperfect way to help you add just atouch of personality to your spoons and flippers. Check out howSarah Heartssat down and did a paint dipping session with some of their wooden utensils, adding a fun neon colour blocking effect to each one.
3.Graphic pattern wood burned kitchen utensils
Have you always been a huge fan of patterns and details thatdo add personality to thinks, but bright colours have sort of just never been your thing? Well, there's nothing wrong with preferring or working in neutral tones and that certainly doesn't mean that the things you create aren't fun looking when you're done! These DIY patterned utensils that have been wood burned are the perfect example of what we mean; you just need a wood burning kit. Take a look at HGTVto see how the technique is done in more careful detail!
4.DIY ombre hand painted kitchen utensils
Were you quite intrigued indeed by the paint dipped utensils we showed you earlier on but you were actually thinking of gifting them to a friend, so you think you might rather make a matching set rather than adding a range of random colours to each tool? Them perhaps you'd actually prefer to make something like this ombre dipped kitchen set instead!Lydia Out Loudguides you through the process of creating the same idea but with a stunning turquoise to mint colour fade instead.
5.Double dipped wooden spoons
Okay, we know we've already shown you how to create colour dipped utensils a number of times, but we just love the effect so much that we can'tnot include them on our list! In this version of the tutorial featured onLike A Saturdayyou'll learn how todouble paint dip your utensils so that you get a colour blocking effect featuring two different shades instead of just one. We really like the idea of keeping one colour consistent and swapping out the others so your utensils look like a matching set but still have some variety!
6.Polka dotted utensils and matching cutting board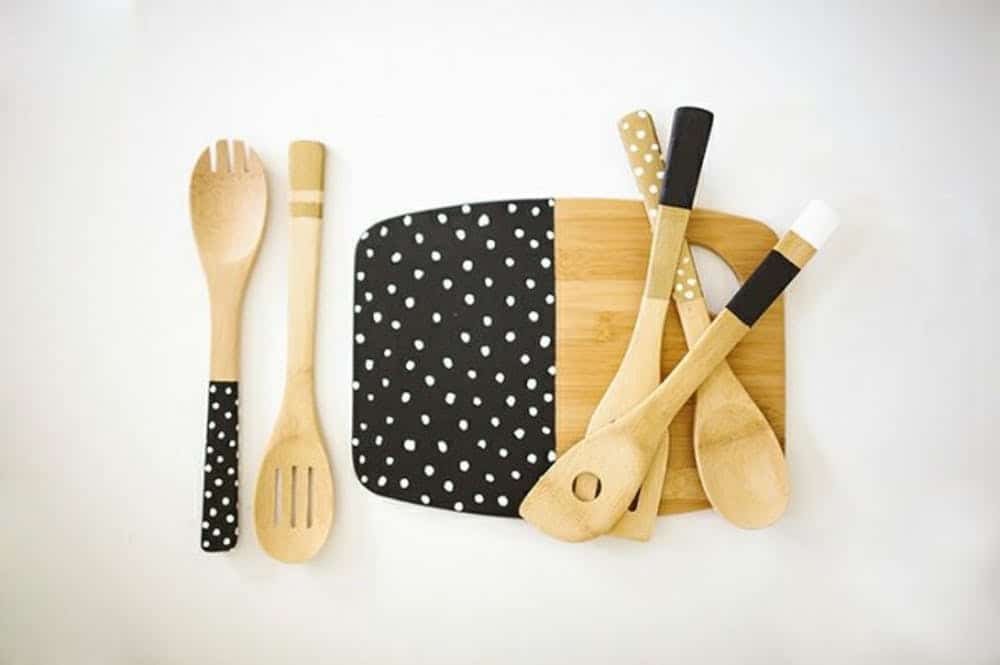 If you're going to go to the trouble of customizing yourself (or someone else) a beautiful set of matching utensils with hand dipped and painted handles, would you rather take the idea a little bit further and perhaps create an additional piece to really complete the whole idea? In that case, we have a feeling you'll get along well by following this utensil painting tutorial featured onSincerely, Kinsey! They suggest matching a wooden cutting board to your spoons and stirrers by following the same (or a complementing) paint scheme and design. They also give you some useful tips and tricks for keep your edges neat and tidy, as well as for sealing the paint well so it lasts longer but is still safe to prepare food on.
7.Negative space geometric patterned serving spoons
By now, you've probably check out enough kitchen utensil painting pages to know how useful tape is when you're customizing and adding colour to such things. What if, however, you've been hoping to find an idea that blends the burned pattern idea we showed youwith the colourful details we've talked so much about? In that case, we'ddefinitely suggest taking a look at howWe See Rainbowsused their tape to create negative space shapes within their paint dipped designs for a bit of extra visual detail.
8.Ombre yarn wrapped serving utensils
Have you actually always been a fan of creating things that very visibly look homemade because you're proud of your handiwork and youwant people to be able to tell that those things were probably not just purchased in a store? Well, if you're open to the idea of temporarily decorating your tools for a single night (ex. for a special occasion or date night dinner), then we have a feeling you'll really appreciate this yarn wrapping idea featured onConfetti Pop! They show you how to had colourful sections to the handles of your serving utensils in a simple way that even your kids could help you with. Just make sure you cut the yarn off before you put them through the dishwasher at the end of the meal!
9.Glitter dipped wooden spoons
Are you quite enamoured indeed with the idea of dipping your spoons and serving prongs into fun, bright colours just to make your meals a little more exciting, but you've always kind of preferred things that have a little bit of shine to them overjust bright colours? In that case, we think perhaps we've found theperfect tutorial for you! Check out howSomething Turquoisecreated a similar dipped effect but this time using glitter. Just make sure you follow the sealing directions very well so that you don't end up with sparkles in your food if you choose to actually serve with them.
10.Paint and patterened washi tape utensils
Perhaps you've actually already made yourself some utensils that you colour blocked by paint dipping already but now you're looking at them and thinking about how you wish that had even a littlemoredetail than what you've given them so far? Well, luckily for all of us,Just Us Fouris here to show you a very quick and simple fix for that! They suggest using fun patterned and brightly coloured washi tape carefully wrapped around the handle to add to the colour blocking effect.
11.Wood burned instructional kitchen utensils
Were you actually quite intrigued by the wood burning idea when it comes to customizing your utensils but you can't help but wonder whether there's a more practical way to put that idea to good use rather than just drawing designs and doodles all over them? Well, we actually did followCherished Bliss's lead in using wood burning to label our kitchen tools in an attempt to help our kids learn while they cooked and baked with us in the kitchen and we found in very effective indeed! Check out how they created their instructional letters on differently shaped tools.
12.Nail polish sparkled utensils
When we were younger, our parents had a specific set of cutlery that was "kid and family cutlery", meaning that it was the regular stuff we used every day and really took a toll on, rather than the fancy special event stuff that we served dinner to guests with on special occasions. Now that we're older we've found that we've established the same system in our kitchen, but we also can't help but wonder whether our kids might enjoy using their forks and spoons more if they looked more fun. Perhaps that would stop them from putting their utensils down and picking their food up with their fingers! That's why this adorable sparkle tutorial fromBrit + Co.caught our attention so well. They show you how to glitter the handles of your forks, spoons, and knives using nail polish.
13.Hand painted chopsticks
Depending on where your family is from and what kinds of foods you like to eat most, silverware and mixing utensils might not be the only kitchen tools you have available for customizing!Jade and Fernis here to remind you that cute effects like paint dipping or hand polka dotting work just as well for jazzing up your chopsticks as they do for adding a little personality to your forks or mixing spoons.
14.Jute wrapped serving utensils
Did youreally like the aesthetic of the wrapping effect that we showed you earlier on our list but your personal tastes have actually always been a little more traditional and neutrally coloured, so you're just not sure that brightly coloured yarn is really the look you're going for? In that case, we have a feeling you might prefer this jute or hemp string wrapped version of the same style of serving utensils instead! See how it's done in full detail onUncommon Designs.
15.Faux marble kitchen utensils
In our kitchen, wooden serving and mixing utensils are absolutely the most popular thing because they're so simple to both use and clean. They're not necessarily the most modern looking things, however, so occasionally they look rather out of place sitting on our stark white pristine countertops and surrounded by brand new kitchen appliances gleaming silver all around. That's why we actually fell in love with this faux marble idea featured onA Joyful Riot! They guide you step by step through the process of making utensils thatlook like they're made of marble when in reality they're created using marble printed contact paper.
Do you know another crafty food lover and DIYand cooking enthusiast who loves combining their interests in one place as much as we do, if not more? Share this post with them so they have all kinds of new ways to get creative in the kitchen beyond just their dinner ideas!