DIY Clothespin Napkin Holder
Have you ever been distracted while you're organizing your home and cleaning out things you don't use anymore, and suddenly found yourself struck by unexpected creative inspiration? I find that this happens to me sometimes with random household items that I wouldn't necessarily expect to use in DIY projects but that I suddenly feel would make awesome tools for creating something fun and unique. That's precisely what happened last week when I was cleaning out the laundry room and came across a pack of plain wouldn't clothespins that I forgot I had and had never opened. Rather than stashing them away again to collect dust and inevitably be forgotten again, I started thinking about how I might use my DIY skills to give them a new lease on life. That's how this clothespin napkin holder came to be!
Once I'd created one napkin holder, I got a little bit obsessed with the idea and started thinking about how I could paint and embellish more of them differently to suit different seasons, holidays, and occasions. By the time I got around to make this lovely floral version for spring, my DIY friends had taken note and wanted to see how I made the holders, so I opted to record the process so I could show them.
If you like the idea too, check out these step by step instructions complete with photos! If you'd rather follow along with a video tutorial, keep on scrolling and you'll find one of those as well.
For this project, you'll need:
Wooden clothespins (the clamping, spring loaded kind with two pieces, not the hold fashioned all-wooden ones)
Wood glue
White acrylic paint (or whatever colour you prefer)
Paint brush
Scissors
Patterned napkin
Decoupage glue (or white school glue, slightly diluted)
Step 1:
Gather your materials!

Step 2:
Gather about 32 plain wooden clothespins and take them apart! You can literally and quite easily just dismantle the pieces, giving you two wooden sides and a metal spring piece. You'll set the springs aside, since you don't need them for this project, but I'd suggest hanging onto them rather than throwing them out; they can be quite useful for other crafts another time. What you'll use here are the wooden sides that you remove from each whole clothespin, totalling 64 in total once you've taken apart your 32 pins. You can use more or less pins to make a napkin holder that's larger or smaller, but mine was perfectly sized for holding the average pack of regular sized square napkins folded triangularly for presentation, and these are the numbers I worked with.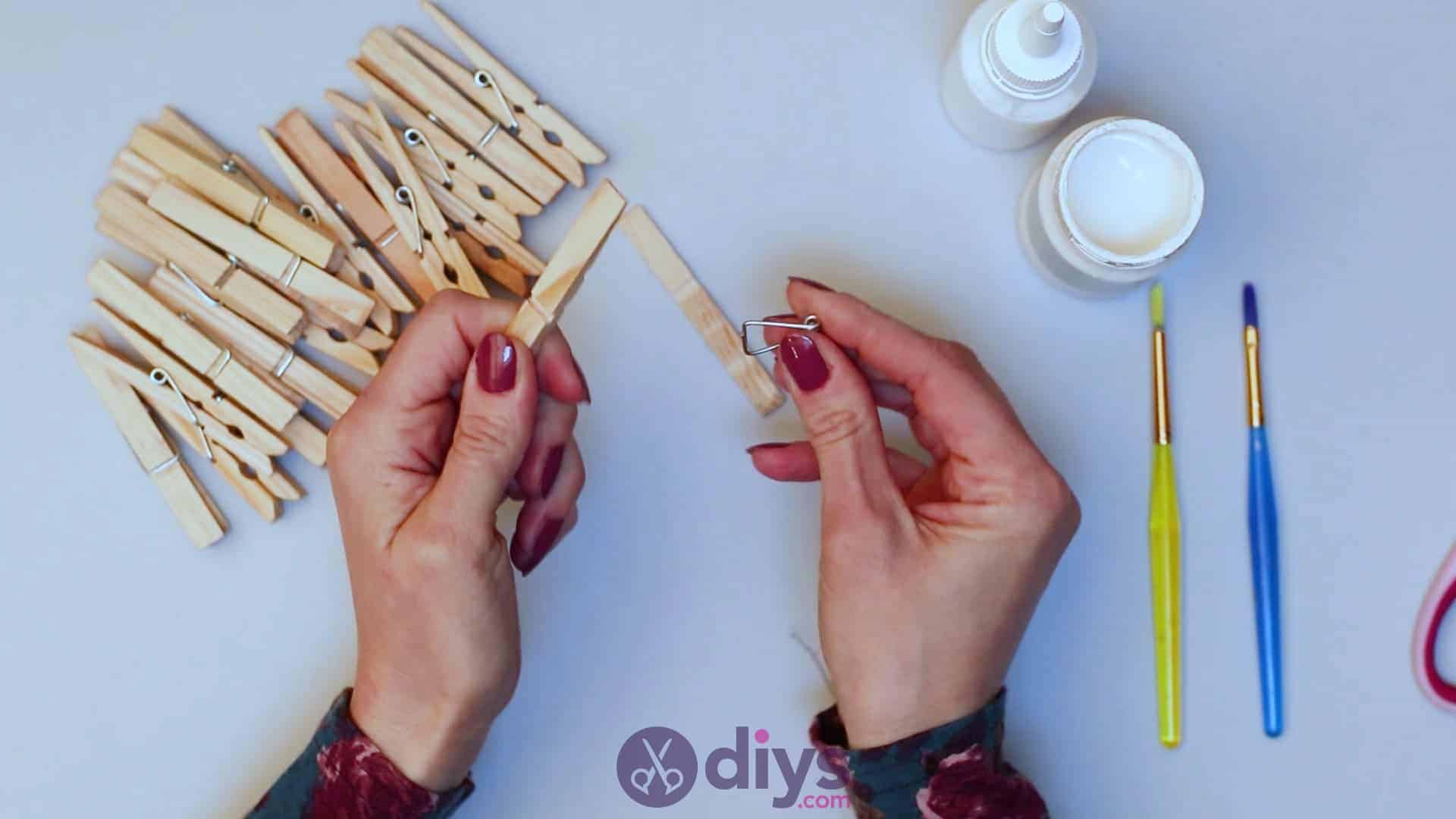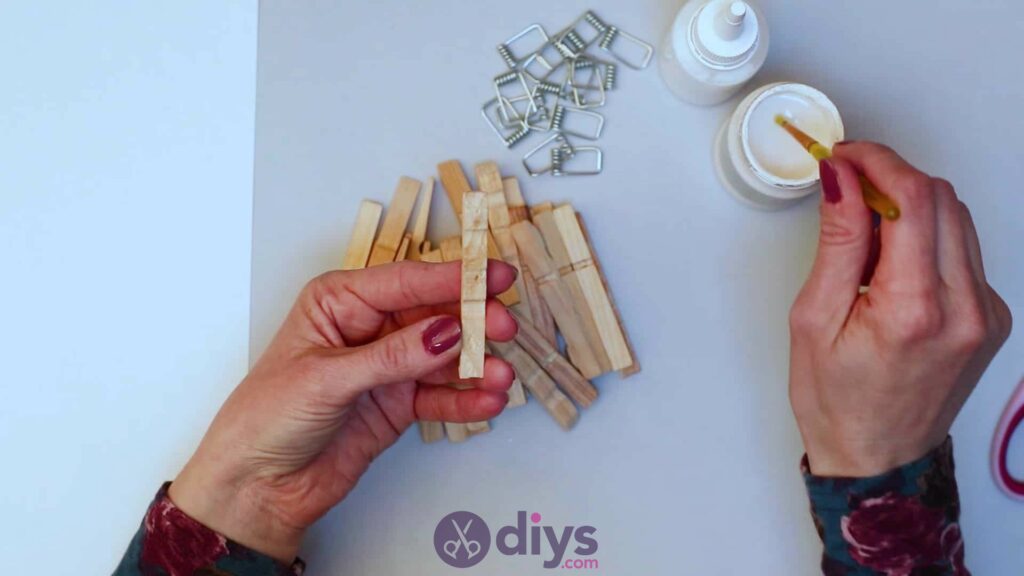 Step 3:
Use your paintbrush and coloured paint (I used white but you can use another colour if you prefer) to paint your wooden clothespin halves entirely, all the way around and on all of their sides. Lay them out on a piece of paper, plastic, or other protective tarp to dry entirely.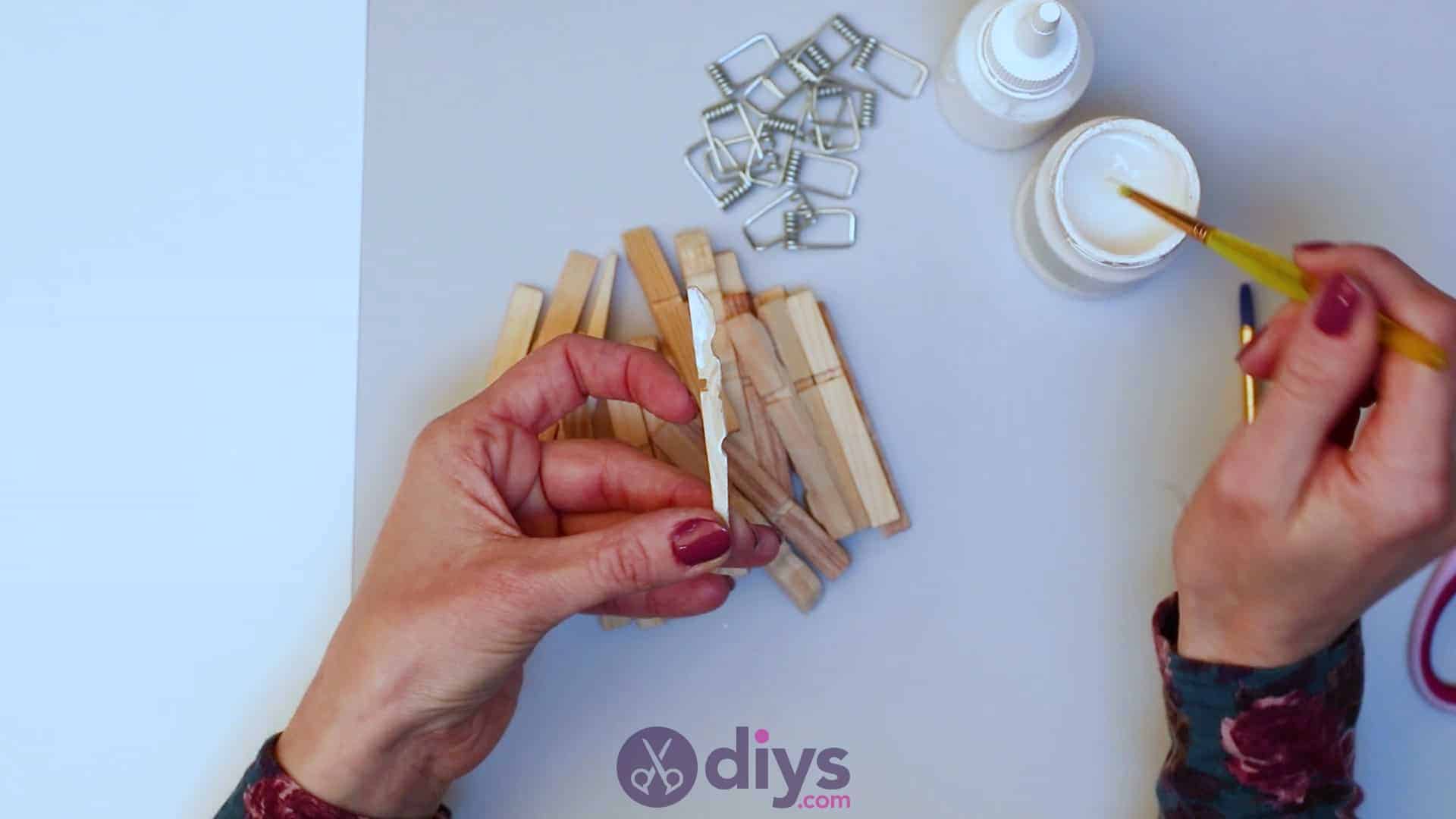 Step 4:
Now you'll create the tapered wooden shapes that will make up the pretty fanned sides of your napkin holder! Pick up one dried wooden half and turn it so the flat side (the one that face outward initially, when the clothespin was whole, and doesn't have any ridges) faces towards you. Apply glue on this flat side, smoothing it all up and down the entire length of the clothespin. Next, take a second clothespin half and stick its flat side to the flat side of the one you just covered in glue, making sure the edges of their top and bottom ends sit evenly with each other. Set this newly paired shape aside until the glue dries and continue making more pairs. I made 28 inverted and double pieces in total, each glued back to back along their flat sides. This gives you 14 shapes on each side when it comes to making the fanned pieces later.
Step 5:
When your doubled shapes are dry, pick up one and apply glue on the side of its tapered end, on the "front" of your righthand wooden clothespin half. You'll only need to spread the glue from the bottom end up to where the first groove or ridge sits, because that's the only surface that will sit flat against another piece and be required to stick; the top part with the ridges will fan out thanks to the increase at the top of the taper. Pick up a second paired piece and stick the flat part of its lefthand tapered side to the part you just applied glue on, making sure the pointed ends line up evenly at their very edges. You'll see how you already have a widened and more rounded shape starting to form at the top ends. Now apply glue on the flat tapered part of the righthand piece you just stuck into place, then stick a third paired shaped in place in the same way, lining its bottom edge up with that of the second one you're sticking it to. Repeat this process until you have a semi-circular or fanned shape, with a little arch at the bottom centre. I glued 14 paired pieces into place side to side like this to get the size and shape I wanted. You can check your work by setting the exposed flat edge of the very first piece you applied glue to on the lefthand side flat down on the table and checking whether the right side arches across far enough yet to also sit flat on the tabletop.
Step 6:
Repeat the entire process above in the same way but to make a second fanned shape. This will be the other side of your napkin holder. Use the same number of pieces so that your two sides are the same size. When everything has dried, you'll have two fanned shapes.
Step 7:
Now you'll built the base or flat bottom of your napkin holder with the wooden clothespin halves you have left. For this part, you'll need four singular painted wooden pieces. To start, hold one clothespin half so you're looking at its ridged side like the front, then turn that side to face the left, so that you now have its thin right edge facing you. Apply glue all along that righthand edge. Then pick up a second wooden half and stick it to the first one along its left thin edge, making sure that the top and bottom ends are even with each other. Their ridged sides and flat sides should face the same way, next to each other. Set your new double-wide piece down to dry and repeat that whole process with another two wooden clothespin halves.
Step 8:
Pick up your first double-wide piece once the glue has dried and hold it horizontally, with the flat sides facing down and the ridged sides facing up. Find the end of the paired piece that's thicker and more rounded, like the clamping end of the original clothespins (as opposed to the thinner, tapered end that was once the handles you'd pinch together to open the clothespin). Apply glue on the tip and edge of that rounded end. Now, hold your other double-wide base piece so that it also sits horizontally with its ridged sides up and its flat sides down, but turn it so that its rounded top end faces the one you just applied glue to. Stick the two together so you have one whole piece that's also double long, with the thinner tapered ends sticking out to the left and right. set the piece aside to dry.
Step 9:
Cut out some pieces, patterns, or shapes from the printed or coloured napkins that you want to embellish your holder with! I chose a floral print napkin so I could cut out some of the blossoms and scatter than across the fanned sides of my napkin holder for a springlike aesthetic and some cute detail.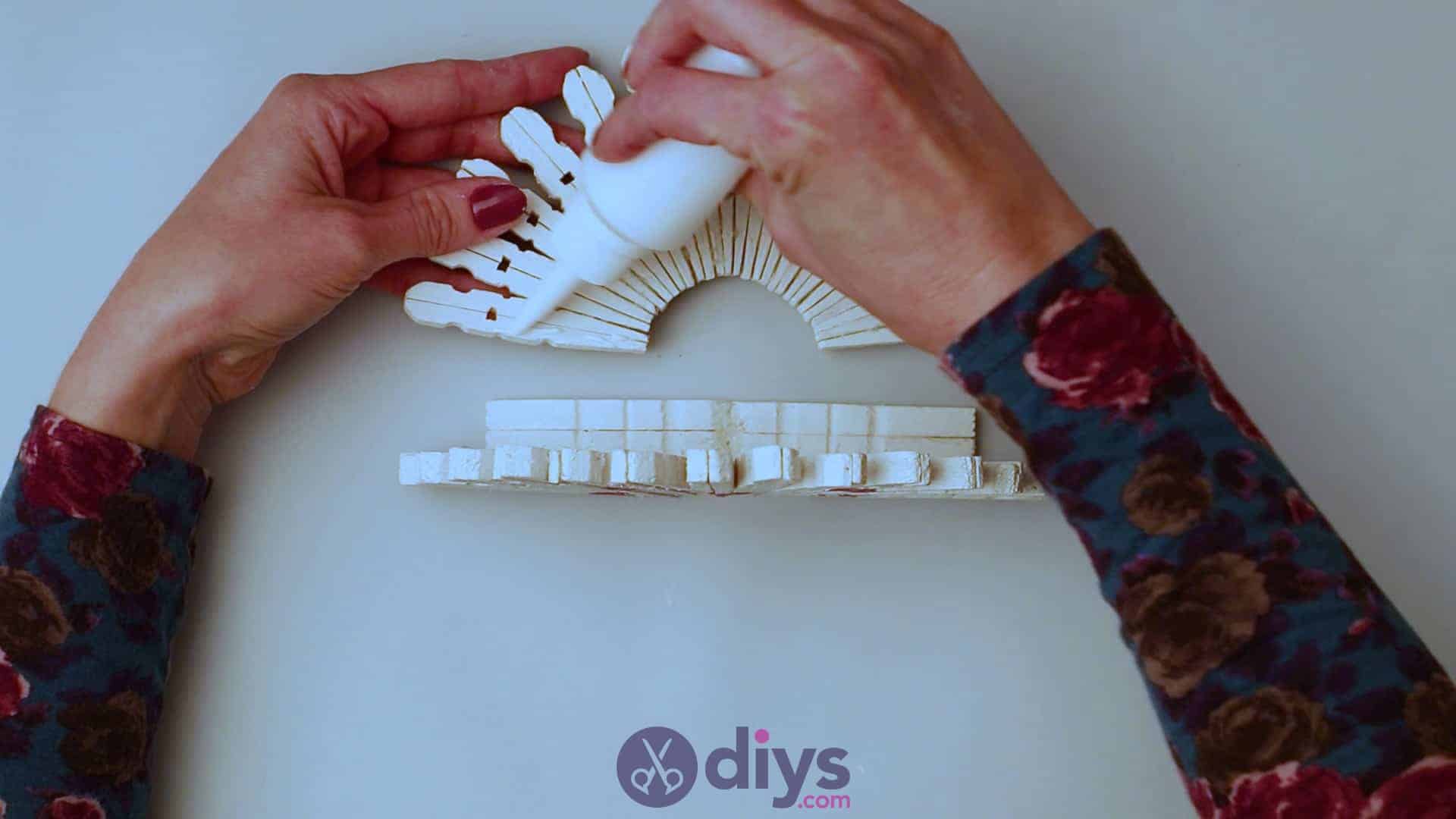 Step 10:
Use your decoupage glue (like Mod Podge) or diluted white school glue and a paintbrush to decoupage your cutout napkin shapes to the fanned sides of your napkin holder. I chose a scattered look, so I didn't have to be extremely careful about placement. Apply a light, thin patch of glue with your brush where you want to stick the piece down, put it smoothly and carefully on that place, and then use the brush again to cover the napkin piece in glue, pasting it firmly into place. Make sure that you use thin layers of glue and a light touch so that you don't wrinkle the piece of napkin or oversaturate it and cause tearing. Also make sure, however, that you do cover the whole shape, its entire surface, and its edges all the way around so that it doesn't peel up later. Do both sides and then set them aside to dry.
Step 11:
Take your bottom or base piece and turn it on its side, so the flat sides face towards you, the ridged sides face away from you, and the side edge faces up. Apply glue all along that side edge, with just a little bit all up and down its length from one tapered end to the other. Now turn your first fanned side so that the side of it that has no decoupage on it faces the base and the edge that you just applied glue to. Position the pieces so that the centre of the base piece sits even with the centre of the fanned side, with its end reaching equidistant towards the edges of the side piece. Stick the two together with the flat bottoms of both pieces sitting evenly and the rounded top edge of the fanned side extending upwards from the base piece. Apply glue on the other side of the base and along the bottom edge of the second fanned side (making sure the plain side faces in towards these other pieces and the decoupaged side faces outwards) and stick it into place in the same way, but on the opposite side. Set the whole completed piece aside to dry.
Fill your holder with some napkins and voila! You've got yourself a finished springtime napkin holder made from clothespins. Of course, you can feel free to use this tutorial as a base technique or guide but get creative with the colours you use and how you embellish the outside. Just in case you'd like to try this project out for yourself, here's a fantastic tutorial video to help you!