Easy DIY Clay Desk Organizer
Why is getting organized so hard to do?  Some people love organizing and keeping everything in its place.   However, there are those who thrive in organized chaos. Their space may look like it is in disarray, but they know exactly where everything is.
If you are someone who follows the organized chaos rule of thumb, you are going to love this DIY.  You can quickly and easily create a desk organizer to whip your chaos into shape! This organizer will take those loose cards, receipts, and mail and put them in a place so they won't get buried under other items and wont go missing, especially if they are important!
Here's what you'll need:
1 Pound of Oven Baked Clay (I chose white, but you could pick any color you want)
Tim Holtz Ideology Mini Pins
Oven Safe Dish
Oven
Step 1:  Unwrap your clay.  If your clay is not already in the shape of a brick, you will want to first roll out your clay.  Next, you will use your hands to mold it into a rectangular shape.  You can press your clay against your surface to get straight, smooth sides.
Step 2:  If your clay has any imperfections, use the tip of your finger to smooth them out. You want to make sure you don't press too hard; you don't want to create any dents or impressions in your clay.  You want it to be nice and smooth.
Step 3:  Once your clay in nice and smooth, grab one of your mini pins and place it in your clay.  I placed my first pin about about a 1/4 inch from the end.
Step 4:  I then placed another pin on the other end of my clay.  I made sure it was also about a 1/4 inch from the end.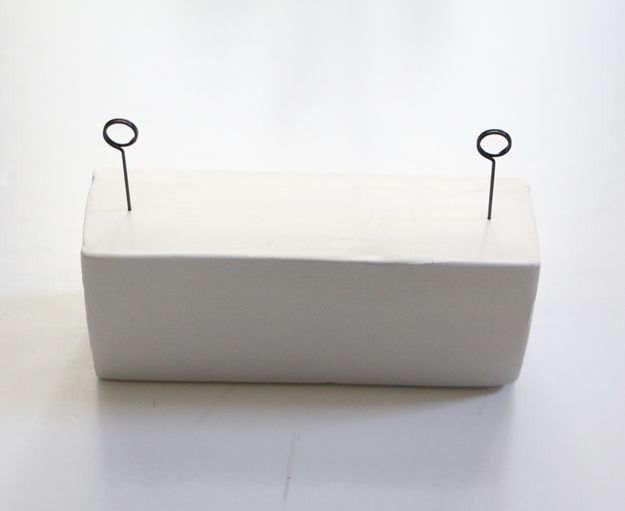 Step 5: I then filled in the space between my pins with two more pins.  I spaced these about 1 and 1/8 inch from one another. Note, you could add your pins closer if you want.  If you add your pins close to one another, you will limit the size of the items you can place inside of your clips as they will be very close to one another.
Step 6:  Once all of your pins have been place in your clay, it's time to bake.  You will want to grab your over safe dish for this.  I went and lined my tray with foil to protect the surface from my clay.  Go ahead and place your clay in your oven at the temp recommended on the package and cook it according to the recommended cook time.
After your clay has baked for the recommended time, remove it from the oven and allow it to cool.  Once it is cool, your pins will be nice and secure inside of your clay!  Now, it's time to add those important cards, receipts, whatever you have on your desk that you don't want to go missing!
You could also use this organizer to display your favorite pictures!