25 Chalkboard Paint Ideas
Chalkboard paint is one of those things that never really goes out of style. It can be used functionally, and it also adds a playful, unique vibe to any space. Keep reading to check out 25 of our favorite DIY projects that utilize the ever versatile chalkboard paint.
1. Rustic Wooden Welcome Sign
This charming little welcome sign is made by painting a slab of raw wood using black chalkboard paint, and then adding twine so you can hang it up. And you can change the message depending on who's visiting! Head over to eHow to find out how to make one yourself.
2. Chalkboard Wine Glasses
This is one of those "why didn't I think of that?" ideas… wine glasses with black chalkboard paint on the bottom, so friends can write their names on them. Gone are the days of catching a cold because you accidentally picked up someone else's glass! Check out the full tutorial at Kristine In Between.
3. Weekly Dinner Schedules
Do you like to plan out dinners at the beginning of the week? Here's the perfect way to keep track of you meal plans… a weekly chalkboard! Simply erase it every weekend and start again. Make your way over to Refresh Living to find out how to do it.
4. Chalkboard Travel Map
Here's another great way to use chalkboard paint… a travel map! Begin by covering a board with chalkboard paint and a hand drawn map, then fill it in with your favorite vacation spots. Head over to Everyday Dishes to check out the full tutorial.
5. Portable Tic-Tac-Toe Game
Never get caught bored again with this impossibly cute travel tic-tac-toe game. Simply paint the top of an Altoids tin with chalkboard paint and then store the chalk inside the tin. Genius! Check out the tutorial over at the Maker Mama craft blog.
6. Heart Candle Jars
These darling candle holders are made using mason jars and chalkboard paint, and then a little chalk detail is added around the outside of the heart. Make your way over to Heart Love Always to find out how to recreate these lovely candles for your own home.
7. Geometric Spice Jars
Transform plain old spice jars with a bit of chalkboard paint in the shape of triangles. This looks super stylish and it is convenient if you need to change the spice name on the jar (rather than having to peel off a label). Check out the tutorial over at Make and Tell.
8. Clear Chalkboard Paint
Did you know that chalkboard paint comes in clear too?! I've tried it, and it does in fact work. For this simple project you will transform a plain old piece of wood into a chic little to-do list. Make your way over to Sugar & Cloth to find out how it's done.
9. Chalkboard Filing Cabinet Makeover
Do you have a functional filing cabinet that doesn't look very pretty? Then this might be the project for you! By covering the whole cabinet with chalkboard paint, it becomes a calendar (or to-list, etc.) all in one. Check out the full tutorial over at Design Improvised.
10. Chalkboard Clipboard
This easy little DIY won't take long to finish, and it's a super fun way to keep track of your daily tasks. Just tie the clips together so they stay open, and paint the board with black chalkboard paint. Learn more about it over at Margeaux Cotton.
11. Chalkboard Garden Marker
Again, chalkboard paint's functionality comes in handy here, with these easy garden labels… you can easily change them up from year to year. Make your way over to Handmade In The Heartland to find out how to make your own set of garden markers.
12. Chalkboard Painted Shoes
This project is oh-so-unique… transform a pair of old shoes with chalkboard paint, creating a changeable pair of shoes that you can customize however and whenever you like. Head over to We Can Re-Do It to find out exactly how to make over your own pair of shoes.
13. Gift Tags
Here's another great use for chalkboard paint – reusable gift tags! This little gem is so cute that it becomes part of the gift itself, and the recipient can use it again. Check out the full tutorial for this easy DIY set of reusable gift tags at The Plumed Nest.
14. Chalkboard Plant Pots
Differentiate between the plants in your container garden by creating these fun chalkboard painted pots! The key is to paint just the bottom of the pot, so you get a good contrast between the black and the terra cotta color. Check out the tutorial here.
15. Chalkboard Wall Calendar
This chalkboard wall calendar is really quite beautiful, with its simple black and white color scheme and pretty script title. Make your way over to the Seamless Days blog to find out how to make your own elegant chalkboard wall calendar.
16. Chalkboard Globe
Turn an old globe into a colorful place to show off quotes and drawings! Simply paint a globe your favorite color, and then cover it with a layer of clear chalkboard paint. Head over to A Little Craft In Your Day to find out exactly how to do this yourself.
17. City Blocks
This is a fun project to make for the kids – add a layer of black chalkboard paint to plain wooden building-shaped blocks, and then have them customize them using chalk. Check out the full tutorial and more photos over at the Hellobee blog.
18. Chalkboard Fridge
Do you have an old, grungy refrigerator that could use a makeover? Give it some serious personality by painting it with green chalkboard paint. Your guests will love to write messages on it! Read all about this fun project over at Keep Smiling Home.
19. Cabinet Chalkboard
Make your kitchen cabinets even more functional by adding chalkboard paint to the inside and displaying measuring equivalents and labeling measuring spoons and cups. Head over to Happily Ever After, Etc. to find out more about this fun project.
20. Chalkboard Paint Dresser
Here's another great use for chalkboard paint – you can cover an old dresser with a bright color, and then add a unique chalk drawing over the drawers. Talk about a conversation starter! Make your way over to The Daily Catch to read more about this piece.
21. Faux Fireplace
If you have a non-working fireplace in your house, consider giving it a fun makeover like the one above! Simply cover the interior portion with black chalkboard paint and then draw a faux fire. Head over to Apartment Therapy to read more about it.
22. Garage Organization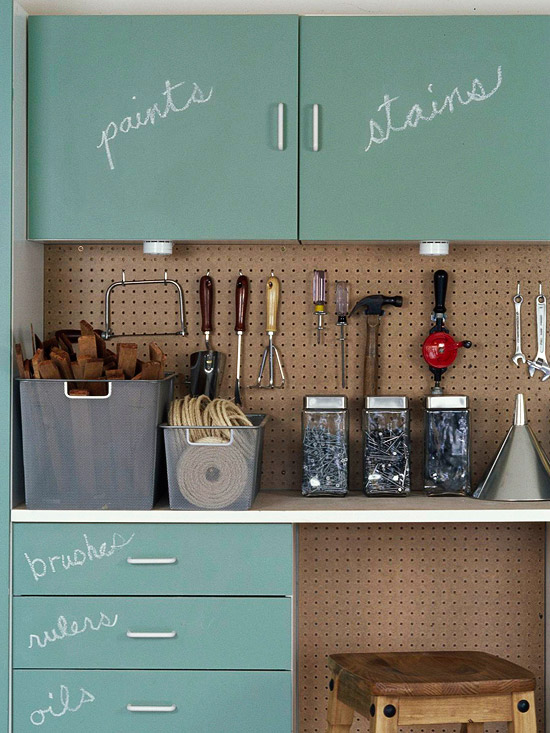 Add an additional element of organization to a garage or basement, by adding chalkboard paint to the cabinets. That way you can label each cabinet's contents, and change it up if need be. Head over to The Inspired Room to read more about this and other organizational ideas.
23. Chalkboard Placemats
If you have some old placemats lying around, consider painting them with chalkboard paint – that way you can write each guest's name on them, so they function as place cards too! Head over to Homedit to check out this and lots of other chalkboard ideas.
24. Drawer Organizer
Line the bottom of a drawer with chalkboard paint and then draw the contents of each section of your clear acrylic organizer. So fun! Make your way over to Teal and Lime to find out how to recreate this look in your own bathroom cabinet.
25. Chalkboard Serving Platter
Serve your guests in style with this fun chalkboard serving platter. Simply paint the bottom of an existing platter with chalkboard paint, and then label what you're serving with chalk. Head over to Wit and Whistle to find out all the details about this great project.