How To Craft A Butterfly from A Clothespin – Simple Recycling Idea
Every since I was little, one of my very favourite parts of crafting has been the transformational possibilities that come with viewing an everyday object a little more creatively than usual.There's just something so fun about giving a random object a different function, decorative qualities, or a new lease on life thanks to the way you've changed or embellished it! Turning household things into something a little more whimsical is actually also one of the ways that I find it the easiest to keep my kids interested in crafting and DY projects; they always think it's really neat to make something fun and fantasy-like out of regular old things they see me use around the house everyday and might not normally be excited about. I recently found a huge pack of spare clothespin in the basement that I don't really need, for example, so I decided to try and come up with ways to help my kids transform them into funny little toys or decorative things to play with or put around their playroom. That's how we found ourselves making these clothespin butterflies together!
I've always been a huge fan of look at other people's crafting tutorials and following along to see how they made something, and sometimes it's even more fun to return the favour by making tutorials of our own so other crafters can try out my ideas as well. Check out these step by step instructions complete with photos! If you'd rather follow along with a video tutorial instead of written words, scroll to the bottom of this post to find just what you're looking for.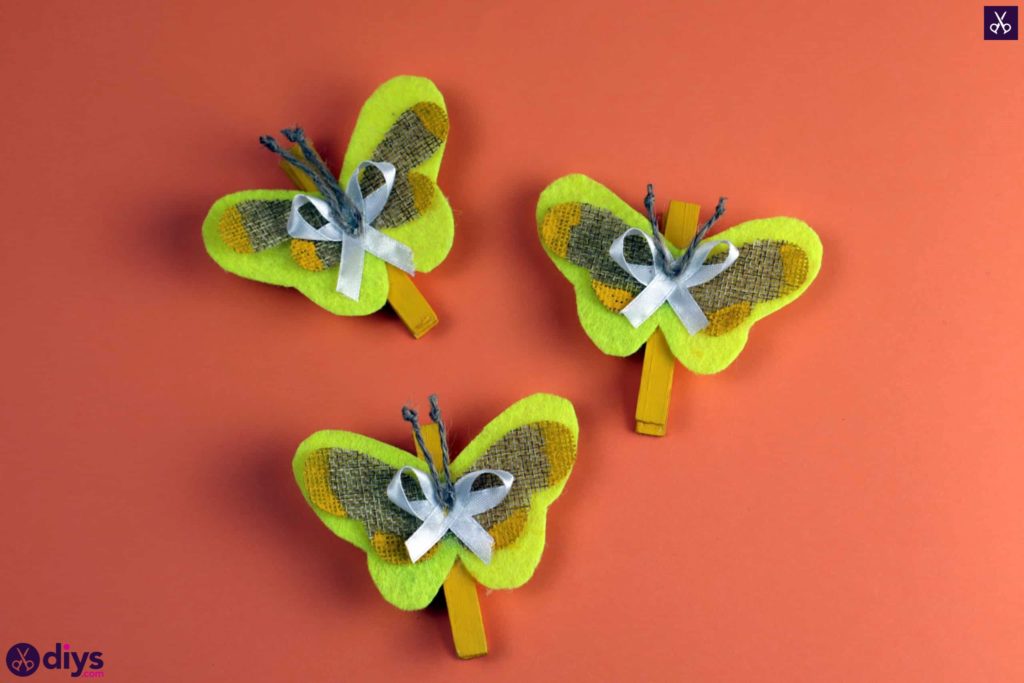 For this project, you'll need:
Clothespins

Yellow paint

A paintbrush

Yellow felt

Scissors

Ribbon 

Jute twine

Burlap
Step 1:
Gather your materials!

Step 2:
Paint your clothespin entirely yellow on all its sides, all the way around its surface. Set it aside to dry entirely while you make your butterfly pieces.