These 15 Brunch Ideas Will Have You Wishing It Was Sunday Morning
From mimosas with mom to lemon curd pancakes with your best pals, brunch time is a fun time. But what are some ways that you can jazz things up a bit and put a fun twist on the meal? Well, we've found 15 brunch ideas that will have you wishing it was Sunday morning all week long. From sweet to savory to cocktails too, let's have a peek at how to make this bite a bit better.
1. Blueberry-Pecan Pancake Bread Pudding
Country Livingstarts us off with a sweet offering of blueberry pecan pancake bread pudding. It's like taking two of our favorite dishes and creating them in a way that makes them a bit brunch-friendly – like adding the blueberries. You'll definitely have the Sunday morning table happier with this addition.
2. Screwed Peach Mimosas
Instead of serving up classic mimosas that everyone is used to, go with something that has a unique twist. And these screwed peach mimosas fun A Simply Pantrywill definitely serve up a bout of uniqueness. Check out the recipe now and make a batch for everyone to try out this weekend.
3. Roasted Pineapple Whipped Ricotta Cheese Toast with Sea Salt
How Sweet Eatshas something both sweet and savory – and unique – to enjoy. We all love avocado toast but this is a fun take on that trend. Using ricotta, pineapples and a bout of honey and sea salt, you'll be delighted by how this combination tastes. And so will all of your guests at the table.
4. Elvis Donut Sandwiches
Elvis loved his fried peanut butter, bacon and banana sandwiches andTournadough Allíused that concept as fuel behind this donut recipe. Taking all of those delicious and cozy flavors and turning them into a pastry to indulge in – and trust us, it's delicious. Whip up some of these for everyone to taste test!
5. Breakfast Taquitos
Breakfast taquitos have the ability to ignite that brunch table as well. All of your favorite breakfast flavors rolled into one tasty bite, The Recipe Critic knew what they were doing with this recipe. Check out all of the ingredients and what you need to do after the jump.
6. Spicy Watermelon Lemonade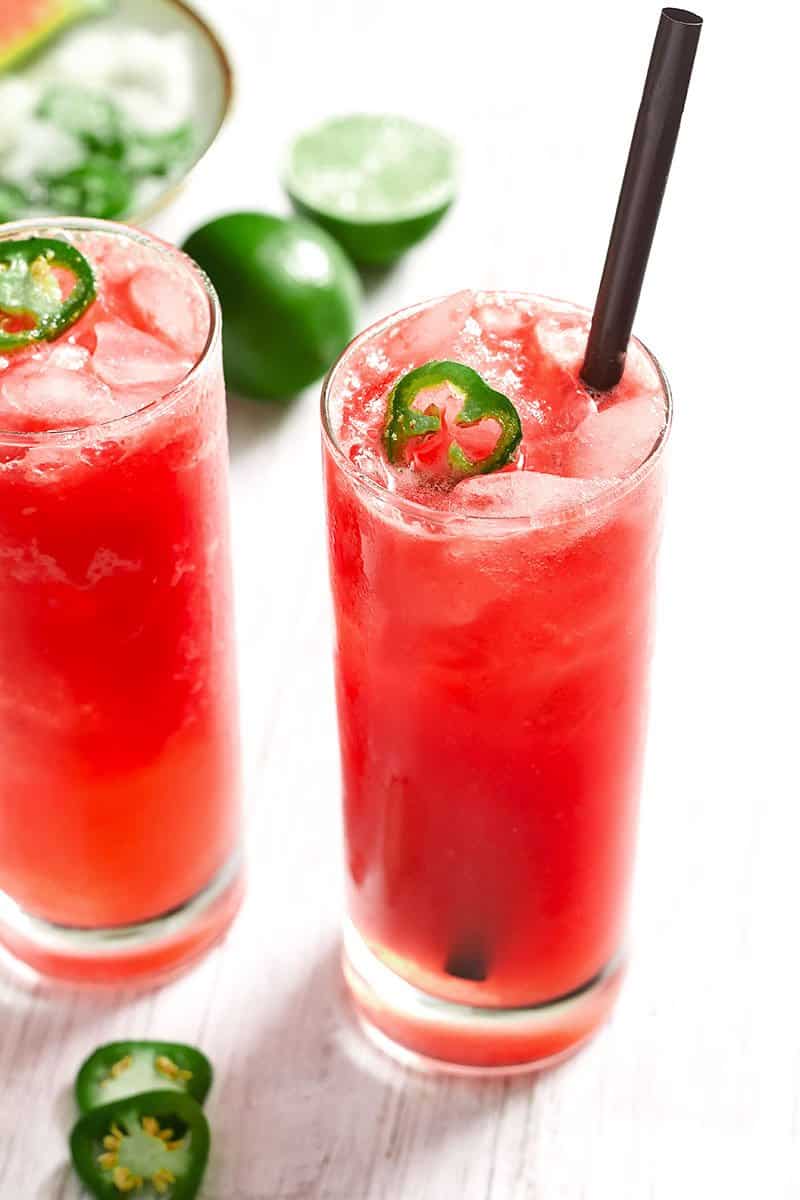 Here's another twist on a classic drink that you'll definitely want to try out. If you're itching for something new and improved at the table, add a bit of spice. That's what Eat Well 101did with this spicy watermelon lemonade creation!
7. Apple Cider Waffles
Perfect as a fall dish at the autumnal brunch table, Add a Pinch infused some apple cider flavors into their plate of waffles and we're in love. The kiddos and the adults both will want a bite of these beauts. And don't forget the syrup and extra crispy bacon on the side!
8. Chocolate Chip Biscuit S'mores
Sugar and Charmwent sweet with their unique creation. We love innovative dishes and combining our favorite bites into something even more special. Some biscuits and everything we love about s'mores was used to create this delicious and pretty dish.
9. Toasted Coconut Pancakes
House of Nash Eatswent with a pancake-inspired plate as well. But instead of classic buttermilk, they infused theirs with some toasted coconut for a tropical and refreshing twist. Have a peek at the recipe and visit the site for all of the details.
10. Sweet Tea Fruit Dip
Everyone loves dips but we get tired of the same ole stuff. Instead of sugary yogurt dip or caramel for our fruit dipping, why not go with this sweet tea creation from Dip Recipe Creations? If you love a glass of cold iced tea, there is no way you won't enjoy this one.
11. Pumpkin Spice Donut Holes
Chew Out Loudknows that everyone loves donuts too. These seasonal favorites won't disappoint. Next time you're on your way to brunch throughout the fall months, whip up a batch of these pumpkin spice holes for the table to nibble on with their coffee.
12. Strawberry Honey Butter
Biscuits, croissants, pastries, toasts, and more can be delighted with a bout of these strawberry honey butter. The Butter Halfhad us swooning and drooling over this creation. Delicious on so many things, it's a must at the brunch table.
13. Apple Butter Ham Pizza
Pizza isn't necessary the most brunch-friendly of foods but it is if you go with this creation from A Latte Food. Combining ham with some apple butter and more, you have a sweet and savory bite that tastes like a late morning treat. Take a peek at what you need to do after the jump.
14. Glazed Mimosa Bread
Okay so mimosas are a must when it comes to brunch but why not use those same flavors in a sweet bite for the table instead? Lemon Tree Dwelling created some glazed mimosa bread that will have you salivating at first glance or as you smell it coming out of the oven. Everyone will want a slice to go!
15. Cocoa Puffs White Russian
And finally, the most unique sip on the list and one that screams, "Have me for brunch!" is from Sugar & Soul. This Cocoa Puffs white Russian masterpiece is a dream drink. Who knew cereal could turn up a cocktail so much?