The 9 Best Standing Desks for 2023 – Optimize Productivity and Health
Are you the kind of person who loves to stay active and will use even the tiniest opportunity in your day to give some part of your body a good stretch or a small workout? In that case, we'd be willing to bet that you're just as intrigued by the whole concept of a standing desk as we are!
There's something that just feels quite motivating about having the option to sitor stand, whichever you prefer in the moment and whichever your body needs on a given day. That's why we've been considering investing in a standing desk for our home office but we wanted to make sure we really considered all of our options to ensure that we got the one that's best for us.
Editor's Choice
The Best Standing Desks
By the time we were done scouring the Internet for options, we realized we had a pretty decent list of recommendations, so we figured we might as well share it! Check out the nine best standing desk models we came across in our search.
Even though you're feeling rather enthusiastic indeed about the idea of investing in a standing desk, are you also hesitant to limit yourself toonly that option because you know that sometimes sitting with your work is best as well? Then we'ddefinitely suggest taking a look at this model fromVaridesk.
The biggest draw of this particular desk is actually the fact that it's electronically adjustable. It's a bit of an investment price-wise as a result of that extremely convenient feature, but the beautiful contrast between its modern capabilities and its beautifully rustic looking reclaimed wood desktop is quite worth the cost.
Pros:
Can be adjusted between 25.5″ and 50.5″
Allows 3 programmable memory settings
Holds up to 200 lb
Cons:
The reclaimed wood surface isn't the smoothest.
View price on Amazon
Are you quite enthusiastic about the idea of a fully adjustable standing desk that will let you work seatedor upright, but you don't absolutely need it to be electronic? Then we'd encourage you to take a look at this design from RIF6!
Rather than needing to be plugged in for adjustment, this particular desk can be raised or lowered using a pneumatic gas system that works on the release of air to change position. Additionally much of this desk's appeal lies in the ergonomic keyboard tray that that sits a little lower than the main desk where your computer screen will go, allowing you to adjust even further for comfort.
View price on Amazon
Pros:
Spacious enough for a laptop and an extra screen.
Comes with a separate keyboard space.
Cons:
Adjusting the height of the desk isn't the smoothest process.
Did we really catch your attention when we started talking about desks that are adjustable but don't need to take up an electrical outlet space for themselves, but you're also not sure the air release design like we showed you earlier is quite the way you want to go? Then perhaps you'd prefer something a little more manual, like this standing desk fromS Stand Up Desk Store.
This particular model lets you do things in a slightly more old fashioned way! Rather than merely pushing a button to set your desk at sitting or standing, this design lets you get thepreciseheight you need for your own comfort using a hand crank. Like the one above, this desk also features a keyboard tray that you can adjust further and somewhat differently to give yourself an eve more custom standing work experience.
Pros:
Desk is very sturdy and stable.
Adjustable between 28.5″ and 47.25″
Cons:
You need to use a crank to adjust the height, which may be difficult for some.
View price on Amazon
Are you feeling quite intent thus far on getting an adjustable standing desk that will also give you one of the ergonomic trays we've mentioned at length now, but you're also in need of a much larger basic desktop surface, since your work requires two sizeable screens? Then we'd suggest considering a desk like this one fromSHW.
For anextremely reasonable price, this desk offers you a work surface that gives you a width of nearly 32 full inches across to work with, and an impressive depth of 22 inches. The adjustable tray that lets you customize your keyboard to the height of your arms, whether you're sitting or standing, can be lowered downward from the main worktop. It even has a slide right behind that piece for leaning a tablet in, letting you work with all kinds of screens and devices at once.
Pros:
Very spacious.
Keyboard space adjustable as well.
Cons:
Adjusting the height of the desk isn't the smoothest operation.
View price on Amazon
Are you actually looking for just about the most heavy duty and most equipped adjustable standing desk you can find because you know you're going to use it into the ground working there every single day and you want spaciousness and durability in addition to adjustability? Then we'd absolutely suggest checking out this model fromVIVO.
This particular desk has an impressively strong materiality in its legs, worktop,and adjustable keyboard tray. The worktop gives you enough space for several screens and, like the design above, it even has a tablet stand. The desk's full height is adjustable electronically while the height and angle of the tray is adjusted manually.
Pros:
Affordable price.
Easily convertible from sitting to stand-up desk.
Cons:
Motion is not the smoothest, so hold on to your screens.
View price on Amazon
Does the idea of having an electronically adjustable standing desk with lots of space and width heavily appeal to you, but you're also the kind of person who always prefers a minimalist design with much more simplified function? Then we have a feeling you might get along a little better with a model like this one fromZhu Chuang.
Besides being electronically adjustable in both heightand worktop angle, part of this desk's appeal comes in the contour at the front; that's the rounded semi-circular cutout you see at the front edge. This lets you lean in towards your work, standing or sitting, and you can make the space you have there as shallow or deep as you want when you select your options upon ordering.
Pros:
Electric standing desk.
Spacious enough for multiple monitors.
Cons:
Quite pricey.
Assembly instructions are lacking in detail.
View price on Amazon
Are you quite interested in the idea of having your screens and keyboard staggered on top of having the ability to adjust your standing desk but you're not sure you want your arms lower than the main stable work surface? Then we think this particular design fromStand Steady might be a little more suited to you!
In this desk, the main worktop features a higher standing platform where your queens are intended to sit, while your keyboard stays on the level, deeper desktop. This manually adjusted desk is also a standout piece because it has a larger height capability than any of the other designs here, making it a particularly good option for people who are very tall.
Pros:
Super spacious desk.
Great purchase for very tall people as it goes up to 46″.
Cons:
Can be a bit slow to raise and lower.
View price on Amazon
Do you love the idea of an adjustable table that you can use standing, sitting, or in essentially any other position but you're a laptop worker almost exclusively and you'd prefer a much smaller, more portable design? Then we're pretty sureGXOK has just the design you're looking for.
This little table is the perfect size for a laptop and a refreshment and it stands on wheels so it can be easily moved around the room. The height is manually adjustable to be good for standing, sitting, or even laying down with the table pulled up to the side of a bed or couch. This piece is a great option for those with chronic pain and accessibility needs who might find their bodies more comfortable doing their work laying down one day and standing up the next.
Pros:
Desk is on the smaller side so it will fit in any space.
Adjusts with a crank.
Cons:
Could be too small for those needing multiple monitors.
View price on Amazon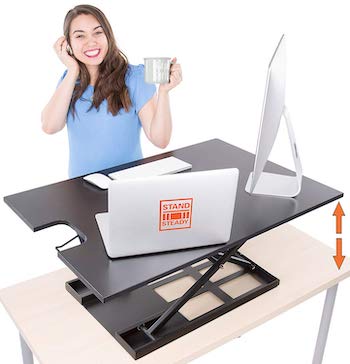 Have you been incredibly interested for a while now in the idea of standing desks but it's actually your work desk at the public office you have in mind and you can't exactly set your whole desk there aside for storage and replace it with a new one of your own? Then we're pretty sureStand Steady has an ideal solution for you!
This particular standing desk is actually more of an extension piece. Instead of buying an entire desk, you're buying a height adjustable platform that can sit on top of any regular desk or tabletop in order to turn itinto a standing desk! It's not a cheap piece- some full standing desks cost as much or more- but the durability and convenience of it is worth the price.
Pros:
Works on any table or desk to help you work standing up.
Fits two monitors.
Cons:
Rather pricey for a standing desk converter.
View price on Amazon
Final Thoughts on the Best Standing Desks
Do you know someone else who has been thinking about investing in a standing desk but who fees like they could use a little more guidance? Share this post with them so they have all kinds of information and options to help them out.