The 7 Best Handheld Pool Vacuums to Get in 2023
One of the best parts of summertime is the fact that you can enjoy endless days out by the pool, laying in the sun, splashing with the family reveling in the warmth of the season. And even though you want to soak up every minute of that rest and relaxation, it doesn't mean there's no work to be done to get to the point of enjoying it all.
Pools are a wonderful luxury, but they take some upkeep. And keeping those sparkling blues clean from debris is one way to ensure moments of fun in the sun. Today we're rounding up some of the best handheld pool vacuums to make those necessary responsibilities checked off the list, so your bouts of R&R are never wasted.
Do I Need A Vacuum For My Pool?
Yes, yes, you do. Although it's hard to equate pool vibes with one of the most traditional (and hated) chores around, pool vacuums are an absolute necessity if you want to keep your pool neat, tidy, and healthy for the fam. Leafs, bugs, hair, and other endless amounts of outdoor debris get caught up and in the middle of your pool – whether it's an in-ground or above-ground design. And no one wants to float or swim around in the midst of all that!
Just like everything else in the world, your pool will get dirty, and you'll want to clean it up before you dive on in. It's important to keep its chemicals balances, and it's also important to make sure you are keeping those waters clear from bits and baubles that you don't want to share the tide with. And that's where vacuums come in handy. They suck up all those unwanted pieces to ensure a clean swim.
What Is A Pool Vacuum?
Before we take a leisurely … swim … through some of the best handheld pool vacuums, let's make sure we are all on the same page in terms of what a pool vacuum really is. They are slightly different than the home vacuums we are all used to such as the fact that it uses suction to remove debris and dirt. But it's a tiny bit more complicated when it comes to the clean-up of the pool. Although a pool has its own filter, which catches larger items such as leaves and sticks, having a vacuum to catch everything else is an absolute must. You'll be surprised how much mere dirt and sand can collect at the bottom!
There are several different types of pool vacuums on the market, though. And you'll want to know a general basis of each kind to make sure you know which one will serve your needs best. Even though we'll be focusing mostly on handheld machines today – as they're some of the most mobile and easy-to-use options – let's take a quick dive into other designs you may want a second look at.
Different Types Of Pool Vacuums
Handheld: These vacuums are held by you throughout the entirety of their use and work for those that want to be a bit more controlled over the cleaning of their pool. They work great for smaller-sized pools and are easily attached to the filtration system of the pool itself. It's one of the most popular and budget-friendly of choices.
Manual: Most handheld pool vacuums are manual vacuums. But the term manual just means that the vacuum is powered byyou. They will attach to your pool's filtration system while moving the vacuum around itself to clean the pool.
Pressure: One of the more powerful options, pressure pool vacuums, also hook up to your pool and use the pressurized water to clean it up. They move and clean on their own.
Robotic: There's also the robotic option. They are hands-free and can be programmed to clean your pool without a lift of a finger from you. They run on rechargeable batteries, and you'll shut off the pool's pump before you let the cleaning begin.
Best Handheld Pool Vacuums
Let's see which are the best handheld pool vacuums we could find, so you'll have an easier time with research.
The Poolmaster 28300 Big Sucker Swimming Pool Vacuum is a great product for removing some of the larger debris that may stumble into your pool. Its design features a 15-inch diameter vacuum and a handle made of durable ABS. It also features 8 high-pressure water jets, 4 multi-directional wheels, and 1 reusable all-purpose leaf bag.
All you need is a standard garden hose and a pool pole to get started. Once connected, those 8 jets turn into powerful suction that help get the pool clean and lift debris into the vacuum bag. It's incredibly easy to maneuver by hand with its directional wheels so the entire family can take turns getting the job done.
View price on Amazon
Pros
Budget-friendly
Works with any standard garden hose
Powerful suction
Cons
Pieces missing in shipment
Intex 28620EP Rechargeable Handheld Vacuum is a battery-powered design with powerful suction capabilities. It's a great purchase for those with above-ground pools or hot tubs and wants to continue daily upkeep manually. This design includes two interchangeable brush heads, a USB cable for recharging the battery, and a 94″ lightweight telescoping aluminum shaft and adapter.
There's an innovative, automatic shutoff feature for when the vacuum is not submerged in water as not to waste the battery. And its telescoping pole makes it easy to get to harder-to-reach nooks and crannies no matter who is cleaning the pool.
View price on Amazon
Pros
Powerful suction
Automatic shut-off feature
Easily maneuvered
Cons
Main brush attachment is small
One of the easier designs to use comes in the form of this Poolmaster AIR Vinyl Liner Swimming Pool Vacuum. It's incredibly light on the water and easy to maneuver around the pool and submerge underwater. The vacuum easily fits standard pool hoses and featured self-adjusting air relief valves to relieve suction pressure on vinyl liners to ensure smooth and effective vacuuming.
The brushes on the head help to loosen up stuck dirt and debris. And as we mentioned previously, the design is incredibly easy to adjust to different hands and submerge under the resistance of the water. Overall, customer reviews are stellar too. It's even a great design to utilize as a backup or a quicker clean when you don't want to waste too much time.
View price on Amazon
Pros
Budget-friendly
Adjustable air-relief valve for controlled suction
Easy to submerge
Cons
The Water Tech Pool Blaster Max Li Pool & Spa Cleaner is a whole pool cleaner that delivers 60 minutes of cordless, hose-free cleaning. It features increased vacuum suction and is engineered specifically for quick and efficient debris pick up for any size pool or hot tub. And all you have to do is allow it to fully charge for just four hours!
For those looking to utilize their time in the most efficient manner, this is absolutely the route to take. The model is designed to clean any pool surface with ease. It also features a large debris capture chamber that will hold acorns, twigs, large clumps of leaves and more.
View price on Amazon
Pros
60 minutes continuous running time
Multi-layer filter
Usable in any size pool
Cons
Some repairs may be required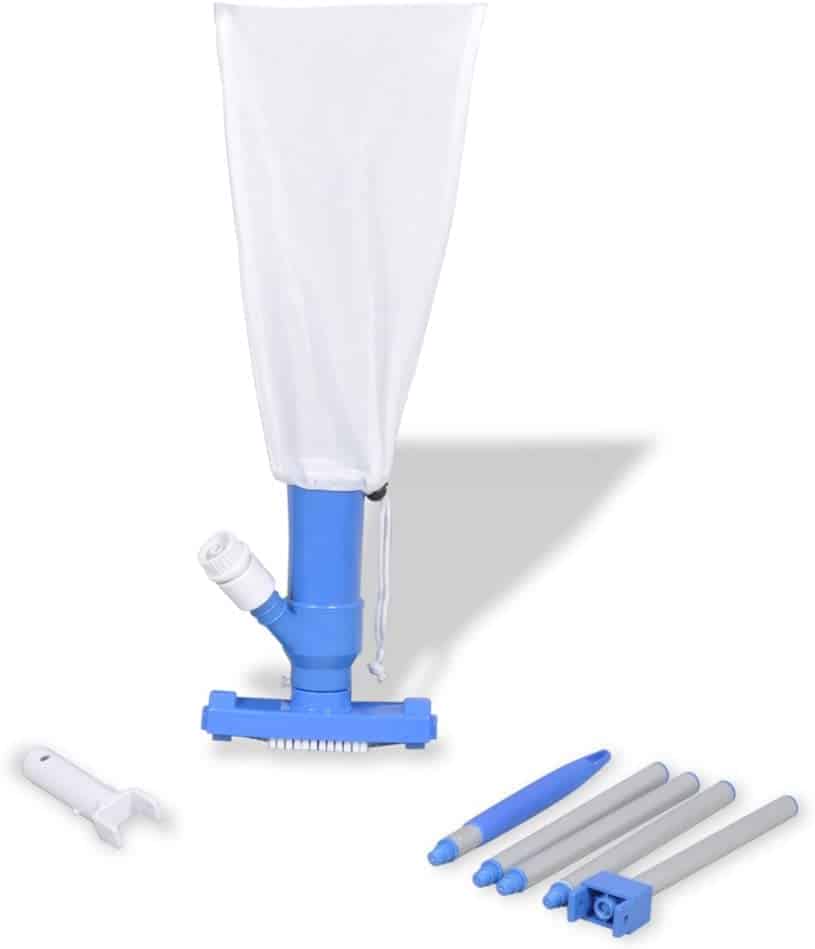 Now we have the ATIE Pool Supply Town Mini Jet Vacuumto take a closer look at. The vacuum attaches to both standard telescopic poles and standard gardens hoses with ease. The water pressure from the hose will create the suction to effectively draw out all debris and clean up your pool, hot tub, or even your backyard fountain!
It's one of the easier models to use, which is great when you want to share the responsibility of cleaning with the family. Just check out this video for assembly and operation instruction.
View price on Amazon
Pros
Attaches to standard garden hose
Works for above-ground pools, spas, ponds, and fountains
Budget-friendly
Cons
Missing instructions
Standard telescopic pole sold separately
According to its description, the Hayward TriVac Automatic Pressure Cleanerfeatures patented AquaDrive water-jet propulsion technology that provides complete coverage of the floor, walls, and coves while minimizing the impact on the pool finish. It featured a wide vacuum inlet with three high-pressure venture jets to easily pick up any and all types of debris.
With this model, you also get an extra-large debris bag that carries more without getting bogged down or needing to be immediately emptied. And don't worry about the wheels tearing up your liner either, they're low friction and won't cause any wear-and-tear.
View price on Amazon
Pros
Patented AquaDrive waterjet propulsion technology
Extra-large debris bag
Works without being emptied
Cons
And finally, you'll want to check out this AIPER Automatic Robotic Pool Cleaner. Like its predecessor, it too is a bit heftier on the wallet, but the quality, ease, and life of the model are absolutely worth it. Unlike some of the handheld models above, this cleaner gets in and out of the pool without help. Just drop it in, plug it in, push and button and let it do its job.
It also featured anti-rollover technology, so you don't have to worry about anything going awry during the cleaning process. There's powerful suction, and anti-tangle swiveling that ensures no issues in that realm as well.
View price on Amazon
Pros
Easy plug and play
Tangle-free technology
Large filter baskets
Cons
What To Look For In Pool Vacuum When Shopping
Once you start shopping, you'll want to be on the lookout for certain necessary features. And those necessary featured largely depend on the type of pool you have and the type of cleaning you want to do. Is your pool above-ground or in-ground? Are you looking to spot clean, or do you need something with a bit more of a heavy-duty feature? Here are some categories to resonate with when shopping:
Type of Pool: Honestly, before you look at features of a pool vacuum, you need to know what type of cleaner your pool needs. Smaller pools can utilize handheld vacuums just fine, while larger pools and spaces may need something more substantial to get the job done right (and well).
Power & Suction: Vacuums come with a variation of suction power, and where it received its power distinguished that difference. Some hoses will hook up to your pool's filtration system, others are battery-operated, and then there are some, like the ones above, that will easily hook up to your home garden hose. Depending on the type of cleaning will depend on the type of power you go for. Battery-powered options seem to be the ones that come out the strongest, while the ones that can utilize your regular hose are the most convenient.
Weight: This matters because you're the one who will be lugging it around. You don't want a handheld or manual vacuum that weighs a ton or is hard to maneuver. Then again, robotic or self-cleaning options may be heavier, but it doesn't matter since they'll be doing all of the work for you.
Price Points: Pool vacuums come in a variety of price points, and we know that this could be the selling point to a lot of people's final decision. Keep in mind handheld, and manual cleaners are far less expensive than those that are sturdier, more durable, and do the cleaning for you. Just weigh your needs!
It's Not Hard, We Promise: Quick Tips For Keeping Your Pool Clean
Sometimes the thought of maintaining a pool can strike up a bit of stress and anxiety. But it shouldn't! As long as your are following the recommended guidelines in terms of healthy chemical balance and cleanliness, this space should serve as the focal point of the family's R&R. It really isn't hard, we promise. And here are some quick tips for keeping your pool clean before any real problems arise:
Check Pool Chemistry – once or twice a week: You can easily find test strips to do your testing instantly and at home. This will ensure that your chemicals are balances right and everything is good to go for a weekend of swimming with friends and family.
Do A Quick Sweep – daily: You don't have to thoroughly sweep the pool every – single – day but spot cleaning settled dirt or hair areas on the bottom will keep things from getting too dirty. And no one will be worried about steering clean from the sandy bits in the middle of the pool!
Empty The Skimmer – daily: This takes just two seconds to complete. You'll see how larger pieces of debris (and sometimes small animals like frogs!) can get trapped here. Take it out, empty it, and move along!
Check Your Water Levels – daily to every other day: Honestly, just keep an eye out for an overflowing pool or one that's too empty. Each causes its own set of problems, and it's not hard to counteract one way or the other.
Clean the Pool Filter – once or twice a year: There will be moments that you'll need to clean out the pool filter just to keep everything in working order. If your hose seems sluggish or your drain is obstructed, it's time!
Conclusion
If you're thinking about installing a pool or you already have one, you know that a pool vacuum cleaner is an absolute must. We're partial to these handheld designs because of their mobility and budget-friendly flair. Make sure to check out our top five picks above and allow us to make your shopping a bit easier.