The 10 Best Gel Nail Polish Kits For Long-Lasting Manicure in 2023
Alongside our love for crafting, we've also always been big DIY enthusiasts in the beauty department. Lately, we've been trying to improve our skills when it comes to nail art, but we feel like we've already mastered regular nail polish pretty well and now we're thinking of learning how to do effective gel polish manicures as well.
In most places, you cannot provide gel manicures as a paid service unless you have a license, but that doesn't mean that you can't have fun doing them on yourself or for free and for fun on your friends!
Editor's Choice
Glossy Gel Polish
Amazon's Choice
What is the best gel nail kit to buy?
Some of the products we found in a recent search of options are ones that professionals might even use, so if you do get licensed in the future or are currently working on it, you can use these products for real clients as well!
As with anything we're planning on purchasing in different colours or as a pack of more than one, we conducted a search for the best possible options, just to make sure we really put our money into the right things. By the time we were done bookmarking the best options and ready to go back and review them to narrow the list down even further, we realized we'd created quite the useful little guide, so we figured we might as well share it for others to see.
Check out these 10 fantastic gel nail polishes and polish kits that are easily accessible for purchase online.
Is this actually your very first time working with gel polishes so, because you know you'll also need to buy the proper UV light and a few other supplies, you've been wondering whether you can't get it all together in one kit? Well, we're very pleased indeed to report that you actually can, thanks to packages like this bundle fromModelones!
This particular option is designed to give you everything you'd need to start off in one place for a reasonable price, complete with a range of colours in their high quality gel polish. In the package, you'll get six colours (two of which are glitters), a base coat, top coats in both shiny and matte formula, a UV lamp for proper, thorough drying, and a series of useful manicure tools that will get you covered in terms of the basics.
View price on Amazon
Are you actually already at, or at least nearing the skill quality of, the professional level in terms of your gel manicures, so you're looking for high quality individual products to round out your already well-built gel polish collection, rather than a kit that involves one or two colours you'll use but otherwise a bunch of things you already have? Then maybe you'd get along better with this brand calledNYK1 that sells deeply pigmented, chip proof gel polishes in a massive range of colours!
One of the best parts of this listing is the sheer range of colours and shades. Their visual colour chart is reviewed as being very true to actual shade, giving you a more realistic idea of what you're actually ordering than many brands afford you up front. At just over $15, these colours are a little more of an investment than some of the things you'll find in a large kit, but they're also made with actual professional quality that's worth paying for.
View price on Amazon
If you're going to to invest in a kit, would you actually rather make it a colour bundle instead of a lamp and tools kit, since you already have those things? Well, sometimes when we're trying new colours in a brand we've never purchased before, we like the idea of purchasing smaller quantities of each colour so we can get a trial run in before committing to larger bottles and more expensive bundles. That's why we liked this kit fromLavender Violets so much!
With this kit, you'll receive a top coat and base coat for durability and long wear, but also a range of 18 colours to try. These colours, however, are in miniature bottles, meaning that you're getting a good spectrum of the brand's shades to work with and try without committing to huge quantities that would be a wast of your money if you didn't like the texture or finish. Not bad for a package that's offered all together for under $30! These polishes are also soak-off, making them easy to remove despite their longevity.
View price on Amazon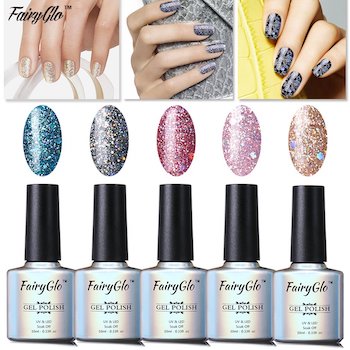 Have we got you feeling quite sold on the idea of buying a gel polish pack rather than a whole kit featuring UV lamps and tools but you're looking for a small bundle that's a little more novelty since you have all your bases covered in terms of classic and staple colours and finishes already? Then we think you might feel intrigued by this offer fromFairyGlo!
This brand offers you a "pick five" style colour combo deal that gives you a small range of shades, but all in super fun glitter finishes. You can choose eclectic colours, five different shades of blue or pink, and so on, customizing the package to a certain extent according to the shades you want or use the most. Besides the fact that these colours are durable and soak-off despite being LED gel, the best part of the offer is absolutely that you'll get the whole kit of five in whatever shade range you choose for only $10!
View price on Amazon
Are you the kind of person who often goes out of your way to primarily choose brands that are specifically formulated to be eco-friendly and made from natural products, without losing any durability, pigmentation, or quality? Then we're pretty sure you'll find everything you need in the brandbeetles Gel Polish, especially if you like deep, rich colours.
Of course, this particular bundle (thereare others available but this is one of their most popular) has a specific tone appeal, but we love that they included a glitter option and a lighter option to keep things rounded out! The high gloss and matte formula base coats are sold separately, but they're just as eco-friendly and high quality. If youwant the full package, thereis also an option to purchase these polishes with a speed curing UV/LED lamp for an additional price; you can choose the option that suits your needs best.
View price on Amazon
Did we really catch your attention with our mention of a kit that gives you warm, deep, rich tones all in one place but you'd much prefer an option that provides you with other coats in the mix as well? Then we think you might prefer this offer fromGellen that gives you a high quality base coat and top coat as part of the package!
This it is named their "Classic Elegance" bundle and the shade range communicates nothing less! The colours are simple to apply, well pigmented, and guaranteed to last at least two weeks without wear. They're also quick drying compared to many other brands if you get them under the right kind of light. Like the previous brand, there are also different bundles with different shades available if you'd rather something lighter or brighter, but this particular set is one of their best selling options.
View price on Amazon
Do you actually know someone who is interested in learning how to use gel polishes more thoroughly and has a birthday coming? Perhaps you'd just like to treat yourself to a kit that has a slightly more eclectic and gemstone based colour palette? Either way, we'ddefinitely suggest taking a look at this kit offered byMEFA!
This formula is scratch resistant but also soak-off, making it durable but not difficult or damaging to remove if necessary. The kit gives you a total of 20 colours in little 8ml bottles, making it the perfect tester set to let a friend or yourself try out which shades they like best before reordering in a custom combination. They also include a base coat and also both shiny and matte top coats in the kid without charging extra!
View price on Amazon
Did we actuallyreally grab your attention when we started talking about deep, rich jewel tones that are eco-friendly but you're convinced that you'd get along much better with a full kit, since you're either lacking a few pieces or could really use an upgrade? Then we think you'll be rather pleased indeed to see this alternative package offered bybeetles Gel Polish!
This bundle still has the rich colours you adored before but, this time, it comes with a top coat, base coat, UV drying lamp, and a series of nail care accessories as well. The price increase to get all of this alongside the polishes you were interested isn't even exorbitant! The piece includes everything you need for a successful gel manicure which makes it a great gift set for a beginner or starter set for yourself.
View price on Amazon
Are you still thinking about the idea of getting a rich bundle of deep colours that come in a complementary set but aren't packed together with a whole bunch of extra features you don't feel like you actually need? Well, just in case the other options you've seen didn't quite nail it for you in terms of the actual shades they offered in combination, here's another set for your consideration thanks toMakartt.
This hard curing and quick drying UV gel is scratch resistant but also soak off, letting you remove it surprisingly easily without damaging your nails and nail beds. This set of six provides you with full standard sized bottles rather than miniature or tester portions, which is particularly awesome since the price for all six of them is actually as low as some other brands sell their polishes for individually.
View price on Amazon
Are you actuallystill feeling totally enamoured with the idea of purchasing a set of gel complementary gel polishes that are eco-friendly and diverse but you'd much prefer to shop in the lighter shades and pink ranges than the deep, more fall inspired ones? We can totally understand that! Check out out this white, nude, and pink range frombeetles Gel Polish.
One of the best parts of this set is that you get regular, solid shades in both pink and whiteand one glitter shade in each as well! This set is useful for spring themed manicures but also for classic French manicures as well, making it quite a useful and practical basic but with a little bit of flare thanks to the sparkles in each fundamental shade.
View price on Amazon
Conclusion
Do you know another beauty lover and DIY enthusiast who loves painting their nails and giving themselves and their friends manicures but who has been thinking a lot about venturing into the world of gel polishes lately? Give them a little more information to work with and a few more options to consider by sharing this post with them!