Prune The Trees On Your Property Safely With A Cordless Pole Saw
Have you decided that, since spring is finally underway, it's time to really take control of your yard and make it look its best? Well, given the amount of time we spend in our own yard throughout the spring, summer, and fall, we certainly can't say we blame you. One of the issues we're facing right now is unruly branches and overgrowth higher up in some of our trees and at the tops of some of our hedges, where we can't reach it with our current yard tools, even if we stand on a ladder. That's why, in order to make our plants look their best and thrive, we've decided to invest in a cordless pole saw to get the job done better (and more safely).
In speaking with family and friends, we learned that a lot of the people around us weren't actually aware of just how useful, affordable, and easy to get pole saws can be, especially the cordless kind. That's part of the reason we decided to build a list of the best options we came across in our own search. Since we're such big fans of researching products before we purchase and comparing and contrasting details, we figured we might as well compile that information and give other people who could use more information a helping hand as well.
Power Pick
What is a pole saw?
A pole saw is a large, electrically powered automatic yard tool that has a wood saw head at one end of a long pole, and a handle with controls at the other end. The handle gives you control over powering and working the saw blades at the top, while the pole gives you the reach to work on bushes, trees, and shrubberies that are taller than you from a safe distance. In general, pole saws are most often used for:
Clearing brush that might weigh down your plant and break its branches or stunt its growth
Pruning hedges and other bushes or trees for a neater and more even look
Trimming dried, dead, or overgrown branches that might otherwise break and fall, posing a safety hazard in your yard
Even though they look like intimidating power tools, pole saws have one last primary purpose: safety. The whole point of the long pole is to give you enough reach that you no longer have to stand precariously on a ladder or stool of any kind to reach the areas you're trying to prune, trim, or clear. Instead, you get to plant both feet firmly on the ground and just concentrate on your work.
Who should invest in their own cordless pole saw?
Of course, notevery household will need to invest in a pole saw of their own. They're primarily useful for those who have lots of bushes, hedges, and trees in their yard or directly surrounding their house, and are responsible for the safe care and maintenance of those plants. People who might purchase a pole saw include:
People whose yards have lots of branch greenery
People with larger properties that are very lush
People running small landscaping businesses
People with experience running automatic power tools in a range of sizes
People with the required physical mobility and strength to hold and safely maneuver a tool of this size and power
Best Pole Saws
Are you feeling like you've learned something from this information so far, but you could still use a helping hand when it comes to determining which actual design is best for you? Check out this pros and cons outline of the seven best cordless pole saws that we came across and considered in our own search.
If you're interested in a pole saw, but you're also concerned that your hedges might even be a little too high, then you'll appreciate how this design from WORX comes with 12″ of extra reach compared to the average model. The pole is detachable for storage but is easy to prepare in place and doesn't require tools. The machine weighs only 10lbs, and the chainsaw tip is speedy for its class thanks to a rechargeable 20V battery. The tool also has an automatic tension sensor that adjusts to ensure perfect tension for every scenario. The saw also features an automatic lubrication system that keeps it running smoothly at all times and makes caring for the chain more low maintenance for you.
Although most previous buyers have been very pleased indeed with the actual function of this saw, several of them reported dissatisfaction with the battery's longevity. It powers the saw for about two hours at a time, which some people found too short a period to get their average trimming job done in. This same branddoes sell more powerful batteries that are compatible with this tool, but they are a separate purchase and, though priced on par, they're not cheap.
Pros:
12″ extra pole reach than average
Smooth saw action thanks to the automatic chain lubrication system
Automatic tension detection and adjustment system
Lightweight (only 10lbs)
Cons:
Battery included only powers saw for about two hours, which some people found too short for average cutting job
View price on Amazon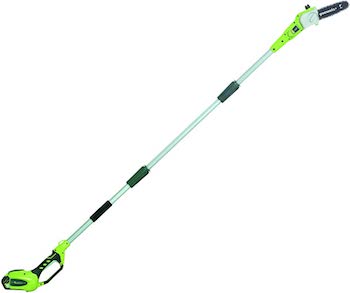 If you're looking for something with a little more battery power and therefore a longer run time, then you might get along better with this design fromGreenworks. This cordless pole saw is powered by a 40V MAX lithium-ion battery system that's rechargeable and interchangeable with other tools that have the same power capacity. The machine is lightweight, weighing just over eight pounds, and has an 8″ chain saw head that's angled for better cutting. The chain tension system is designed for quick and easy adjustment, and the chain oiling system is actually automatic as the saw runs. The pole itself, which is made of durable aluminum, is extendable in three different places for a custom experience, reaching 8ft at its full length.
Most previous buyers have been quite pleased indeed with the actual function and power of this tool, but a few had concerns about the noise it makes. While it's true thatall power saws (of any size, but especially ones this large) will be extremely noisy, this particular model is reported to make a rather alarming grinding sound. No one who noticed it found any cause or undue harm to their power tool, but it was cause for concern at first.
Pros:
Durable aluminum pole that's extendable in three places, for a maximum length up to eight feet
40V MAX lithium-ion battery lets the saw run for about four hours at a time
Angled saw is easy to adjust the chain tension on and has an automatic lubrication system that makes it low maintenance
Cons:
Reported to make a rather unique but off-putting grinding sound that's even louder than the average power saw
View price on Amazon
If you're still quite taken with the idea of a pole that adjusts in several places, but you're not sure you want so much angle on your saw, here's a great alternative from VonHaus. Besides the great reach it provides, this saw is designed for comfort during use. Its handle has a smooth foam grip, and it comes with a shoulder strap that supports some of its weight- which is just under 12lbs- and thereby takes some of the pressure off your hands. The length is also designed to adjust to whatever is most comfortable for you; it extends 8ft while retracted and 10ft if you telescope it. In addition to comfort, the model also prioritizes safety; it has a two-start system to eliminate the chance of unexpected and dangerous false starts. The saw runs on a long-lasting rechargeable battery.
In reality, most people with experience using this saw were very pleased indeed with its effectiveness and how simple it is to use. Here and there, however, a few buyers stated that they had trouble finding replacement chains for the piece after having the saw for a while and using it quite consistently. The chains don't tend to wear down any sooner than any other brand or design, but when they do reasonably need to be replaced, finding ones that will fit properly and safely appears to be a small challenge.
Pros:
Shoulder strap for comfortable weight distribution that takes the pressure off your hands
A telescoping pole that extends from 8ft to 10ft and is controlled by an easy-grip handle with a comfortable foam layer
Two-start system for safety and to prevent unexpected false starts
Cons:
Chain is very difficult to find a well-fitting replacement for after time when reasonable wear occurs
View price on Amazon
Just in case you're still looking for something with even more reach than you've seen so far, check out this model fromBlack + Decker. It arrives disassembled for packing ease, but it is also extremely easy to put together. The pole is made of a lightweight, but shockingly durable fiberglass and can extend up to 14ft long. The 8″ chainsaw blade at the end is easy to maneuver and capable of cutting through branches up to 6″ in diameter. The unit's rechargeable battery powers through up to 100 individual cuts per charge. With the saw, you'll also get a battery charger, chain oiling bottle, and a specialized wrench for assembly and maintenance.
Though most people who tried this saw out were rather pleased with its actual cutting power, a few of them found themselves wishing for a more customizable length. The pole of this sawis adjustable but not in chosen increments; instead, you have to adjust it by a set amount by removing the middle pole. Some people found themselves wishing they could use the saw at lengths that are slightly shorter or longer than what the middle pole's removal allows for.
Pros:
Easy to assemble and adjust fiberglass pole that's durable and lightweight
Extends up to 14ft long at its full range
Comes with a rechargeable battery and charging cord, custom wrench for assembly and maintenance, and chain oiling bottle
Cons:
Past the ability to takeout the middle pole and reduce the saw from 14ft to 8ft, adjustability to other lengths is limited
View price on Amazon
If you're looking for a strong but more moderately sized pole that will afford you some closer trimming, check out this design fromRyobiONE+. This lithium-ion powered pole lets you telescope from 6.5ft to 9.5ft of reach, while the 8″ chain saw head is angled for easily cutting branches up to 6″ in diameter. For convenience, this saw head also features an automatic oiling system that keeps it running smoothly. The tool is powered by an 18V lithium-ion battery that comes with a guaranteed one-hour quick charger to help you get back out and working faster.
Most reviews left for this product are actually overwhelmingly positive, but one or two buyers did come in with a word of caution about storage. They want you to be aware that it's essential to practice care in how full you fill your chain oil and what angle you store your saw at. If stored at some angles and overfilled, the saw's chain oil chamber might leak between uses.
Pros:
18V lithium-ion battery and one-hour quick charger
Useful extension range from 6.5ft to 9.5ft
Sizeable but easy to maneuver 8″ saw head that's angled for ease
Cons:
Chain oil chamber might leak between uses if overfilled or stored at the wrong angle
View price on Amazon
Have you used other pole saws before and felt frustrated when their power fades over time as the battery gets closer to needing to be charged? Then you might get along better with this model from Oregon that's specifically built to avoid that. This constant power, the no-fade battery, is a 40V lithium-ion design that can be charged up to 1000 consecutive times with no wear. It can also make about 750 cuts per charge. The base of this 8″ saw head is built bulkier to balance out the weight of the handle, making for even weight distribution and an easier time maneuvering the tool. This is also the longest telescoping pole on the list, extending from 10ft to 15ft using a twist and lock system.
Most reviews of this saw were extremely positive, but there was a recurring note of caution worth heeding. At the base of the saw, the chain is held in place by a plastic bolt that has a finger-tightened top. This is not the most durable detail and, while it has no history of breaking oroverly interfering, itdoes occasionally come loose, causing the chain to slip off. It's a quick and easy fix, and it isn't pervasive enough to cancel out the saw's perks, but it's good to be aware of.
Pros:
Extra-long pole design, extending from 10ft to 15ft
Battery is no-fade and puts out constant power, allowing about 750 cuts per charge
Saw base is intentionally bulky in design to balance out the handle for even weight distribution and better maneuvering
Cons:
Bolt that keeps the chain in place is plastic with a finger-tightened top; it comes loose sometimes and lets chain slip
View price on Amazon
If you're still curious about the idea of angled saw heads, but you're wary of one that's fixed at only one angle, WEN might have what you need. This saw's telescoping pole extends from 7ft out to 10ft, with the added reach of the saw blade on top. Its battery runs for about 40 minutes at a time, and it comes with a quick-charger and a shoulder strap to relieve pressure on your hands while you're working. Perhaps most notably, the head features an adjustment knob that lets you swivel the saw 30 degrees in either direction to get just the right angle you need for the branches you're tackling.
It's definitely worth noting before purchase that some previous buyers had reported this saw as being much heavier than they expected when they made their purchase, especially when it's fully extended. Although it does come with a shoulder strap, the piece is still best for people with relatively powerful upper body strength, even insofar as pole saws in general go.
Pros:
Telescoping pole from 7ft to 10ft
40 min runtime battery, quick-charger, and shoulder strap to help with weight and maneuvering
Swiveling head that can be angled up to 30 degrees in either direction for better cutting
Cons:
Actual tool is heavier than it looks/heavier than some buyers expected, even with the shoulder strap
View price on Amazon
Pole saws vs. cordless pole saws
In reality, not all pole saws are even cordless. You might find that the only ones falling into your particular budget range are actually ones with cords. These also work very well, but they do require the additional care it takes to not trip over the cord or let it otherwise interfere with your movements and process, as well as those around you. Cordless pole saws are a more convenient version because that additional concern is no longer a factor.
Although notall cordless pole saws are more expensive than their tethered counterparts, the majority are. For many people, the slightly extra cost is worth the freedom of movement that eliminating the cord provides you.
Do you know someone who has been thinking about investing in a new (or possibly their first) cordless pole saw but who could use a hand in getting started? Share this post with them, so they have some quality information to work with.