Beautiful DIY Shed Plans For Backyard
Spring hasn't quite spring yet, but we're still excited for the weather to warm up so we can start enjoying our yard again! There's just something so calming about having a private sunny place to relax in, so we're always altering and adding to the space until it feels perfect. This year, we think we'd really like to make ourselves a shed! We'd use it for all kinds of things but we haven't found a store bought version we like, so we've been combing the Internet for DIY plans and solutions instead.
Just in case the idea of making a DIY shed once the spring comes appeals to you just as much as it did to us, here are 15 of the best plans, designs, and tutorials we've come across so far in our search!
1. Open sided DIY gardening shed
Are you actually looking for something very simple indeed in your shed design and something that's easy to make because you're a bit of a beginner when it comes to woodworking and building structures? Then we just might have found the best idea for you right off the bat! Check out how Morning Chores built this open sided garden shed in surprisingly few simple steps.
2. DIY farmhouse style wooden shed
Do you actually have a lot of experience in woodworking so you're looking to make something a little more detailed, and you might even like it to double as a bit of a decor piece in your picturesque yard as well? In that case, we'd definitely suggest taking a look at how Davidegg22 made this cute little shed that looks just like a vintage inspired farmhouse!
3. DIY modern lean-to shed
Are you quite intrigued by the simple shanty style of the first shed plan we showed you but you live in a place that gets a lot of wet weather so you'd prefer that it actually does have a front side so your things will stay dry? In that case, we think perhaps you'll get along a little better with something like this simple but modern angled lean-to shed featured on DIY Atlanta Modern.
4. Small DIY lawn mower shed
Are you intent on the fact that you could really use a shed and you would much prefer to make it yourself but your yard is very small so you don't have a lot of space to work with? Then we'd definitely suggest taking a look at how Ana White made this skinny, half-width shed that's perfectly sized for keeping a lawn mower in to free up space in your garage!
5. Miniature garden shed from a tall cabinet
Have we really caught your attention with the idea of making a smaller shed for your yard but you think you'd like it even littler because instead of putting a lawnmower in, you'd just like to store some gardening tools at easy access? Then we think you simply must take a look at how A Cultivated Nest made a tall, miniature shed from a cabinet!
6. DIY chicken coop and shed combo
Does part of your interest in having and making a shed of your own actually stem from the fact that you're hoping to start a small farm in your spacious yard but you want to make sure you have a place to put all the supplies you'll need for such a thing too? Then perhaps you'll appreciate how creative Remodelaholic got with their design when they combined a small shed with a chicken cool for their new birds!
7. DIY "she shed"
Have you actually just been thinking about a way to make yourself a private space to socialize with your friends or work on your hobbies because the rooms in your house are all taken and you'd prefer not to make more clutter there? In that case, we have a feeling you'll really like the concept of making a "she shed", which can be anything from a relaxing space to escape in to a place to craft. Get the full details for how this one was made on Ella Claire Inspired!
8. Cedar fence picket storage shed
Are you decently experienced in woodworking but you're also still looking for a way to make this project simple or an opportunity to upcycle, just to make it go a bit more quickly? In that case, maybe this tutorial from Ana White would be a little more up your alley! We love the way they used cedar fence posts to piece the shed together.
9. Little outdoor storage locker
Maybe you've been scrolling through these shed options and thinking about how you really would like a smaller shed like the ones you see here but you still haven't quite seen the size you're looking for? Then we think you'll appreciate how Family Handyman handmade this adorable outdoor storage locker that's sized right in between the lawnmower shed and the skinny cabinet shed idea that we showed you above.
10. Little cottage potting shed
Not every shed you make has to be for storage or garden tools! If you're an avid gardener but you've never really had a space exclusively to work on that before, then maybe you'd get along a little better with something like this fantastic potting shed that looks like an adorable cottage! Home is Where The Boat Is shows you how to make, customize, and organize the perfect cottage inspired gardening space.
11. Simple firewood shed
Are you living in a woodland area with a slightly more rustic lifestyle and the number one thing you find yourself needing is a place to put all the firewood you find yourself using for your wood burning stove? In that case, we think maybe you'd prefer to make something like this simply framed firewood shed! Get the full details for making one of your own on My Outdoor Plans.
12. Reclaimed wood storage shed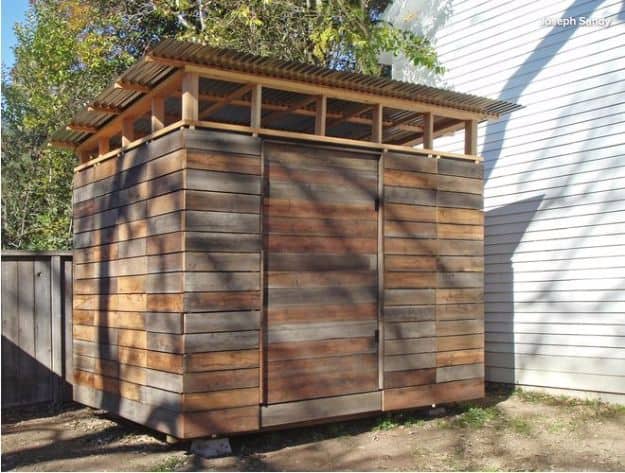 Perhaps the ideas that have some kind of upcycled element to them have had the most appeal to you so far but you're not concerned about making something that looks like a cute cottage or a farmhouse so long as the structure stores your yard tools in a way that's space efficient and dry? Then we'd definitely suggest taking a look at how Houzz made this easy slanted shed from 100% reclaimed wood!
13. Narrow wooden backyard shed
We've shown you a few smaller or more narrow shed designs so far that are great for yards with limited space but you've actually found the doors of those ones much too narrow and you'd like your shed to open the other way? Then we have a feeling this more shallow design outlined by Buildeazy will be a little more up your alley! See how they made this pieced together wooden shed in just a day!
14. Rustic garden shed
If you're going to put in the time and effort it takes to make yourself a wonderful backyard shed from scratch, would you rather make it as darling and decorative as possible so that you really feel satisfied in the end? Then we'd absolutely suggest taking a look at how Montana Happy made themselves this rustic garden shed with a fully functioning sink and worktop inside that looks like something you'd find in a secret fairy garden!
15. Big barn shed
By this point, we've talked a lot about sheds that are average sized or a little smaller than what you'd probably find in stores, but what if you've actually been thinking about how your large property could use something that's much bigger than a lot of what we've shown you? In that case, we think you simply must take a look at these shed plans from How To Specialist that teach you, step by step, how to make a jumbo sized shed that's shaped like a small barn!
Do you know a fellow DIY enthusiast who has been keen to build their very own shed for a while now but who could still use a little bit of help or inspiration? Share this post with them them so they have all kinds of ideas and resources to help them along the way!