Beautiful DIY Garden Boxes
We've never been huge gardeners in the sense of building sprawling, stunning garden plots right into our yard, but that doesn't mean we don't want to add a bit of plant based charm to our outdoor area for the spring and summer! That's where simple things like garden boxes come in. Whether you're intent on building a smaller or window mounted version or even interested in a larger box that might sit further from the house, making your very own garden box using your DIY skills is an incredibly satisfying project because you get to watch the plants and flowers you place there bloom and grow all through the warm season. That's why we've been keeping our eyes peeled for new tutorials that will help us build some more of our own!
Just in case you love the idea of making your very own springtime garden boxes this year just as much as we do, if not more, here are 15 of the very best ideas, designs, and tutorials that we've come across so far in our search for inspiration and guidance.
1. Floating wooden shelf with terra cotta pot cutouts
Are you a little bit experienced in some wood based handy work but you're also quite new to it, so you'd prefer to keep things very simple? In that case, we'd definitely suggest taking a look at how Family Handyman affixed a simple painted board with several circles cut out to their lower outer window pane and popped a terra cotta flower pot into each one!
2. Lattice window box
When you think of a window mounted garden box, do you actually picture the box shaped kind that you can plant a whole sort of miniature garden into for a classic, slightly more old fashioned look? In that case, we think you might get along a little better with something like this cute lattice design outlined step by step on Pretty Handy Girl!
3. Classic farmhouse window box
What if your home has a slightly more rustic chic aesthetic to it that you're feeling intent on continuing both in and outside the house? Then perhaps you'd prefer something like this classic looking farmhouse style window box that's outlined in more detail on Beneath My Heart! We love the idea of using stained and upcycled wood to really stick to that repurposed sort of farm living ideal.
4. Larger, longer window box
Maybe you've been looking through all kinds of window box tutorials for a while now and, despite the fact that you want quite a simple design, you haven't been able to find a detailed guide that will help you build one that's quite big enough for the main front window in your house? Sure, you can always extrapolate on measurements given for smaller designs, but that's hard if you're a beginner to projects like this. That's why we were rather pleased to come across this larger, longer window box tutorial outlined step by step on Two Twenty One.
5. Wooden pallet window box
Have the ideas that have appealed to you the most so far been all of the wooden and slightly rustic looking ideas, but you still haven't quite seen the one yet that looks repurposed and homemade enough for what you're picturing? In that case, we'd absolutely suggest taking a look at how Paradise Perspectives made this lovely slatted window box out of upcycled pallet wood!
6. Cedar fence window box
Pallets aren't the only wooden wares that you can harvest wood from and transform into something else! We're actually also in awe of the way Shanty 2 Chic did something similar and equally lovely looking using wooden from an old cedar fence that had been taken down. Repurposing wood like this gives the finished box sort of a stylishly weathered look.
7. Simple, five-step planter box with corbels
Have you actually been scrolling through our list hoping to find something a little more along the lines of the classic "white picket fence" style home everyone dreams about buying in the suburbs? Then we have a feeling this tutorial from Remodelaholic might be a little more up your alley! They show you how to make a lovely garden box complete with corbels in only five simple steps.
8. Dog-eared cedar fence style window box
Did we actually really catch your attention when we started talking about a planter box that was made from upcycled cedar fence wood but you can't help thinking that, if you're going to use fence wood, you might as well make a box that actually resembles a picket fence? In that case, we think you simply must look at how simply Make It, Love It did precisely that.
9. Trimmed DIY window planter
Maybe you've already got the basic steps down for building your own sort of classic looking window box but you're still looking to add some kind of extra detail that will help you give the design a touch more character than just a plain edged box would have? Then we'd definitely suggest taking a look at how I Heart Organizing added some simple trim to theirs to make it look more finished!
10. Indoor succulent window box
Perhaps you live in a very small apartment that doesn't have its own outdoor area, or maybe you're just not that experienced with plants so you're looking for an option that's a little more low maintenance and will give your inner space some greenery without needing all kinds of care? Then we think you just might be the perfect person to give this fantastic little indoor succulent garden box outlined step by step on Little Paths a try!
11. Bright, chevron window box
Maybe you've already built a window box, or you're still looking to build one from scratch, but you can't help wondering whether it might be the perfect opportunity to add a bit of colour, pattern, or visual texture to your space? In that case, we have a feeling you'd get along quite well indeed with something like this chevron painted wooden garden box outlined step by step on Addicted 2 Decorating.
12. Stacked window box herb garden
Do you love the style of simple rectangular window boxes but you're just not sure that you have a window that will suit one, even though you'd really like to build yourself a simple springtime herb garden? In that case, we think perhaps Unoriginal Mom has the perfect tutorial for you! They show you, step by step, how to build a stacked style, leaning set of wooden boxes that are sized perfectly for growing herbs and putting on your deck or even a balcony.
13. Standing planter boxes for homes with no suitable windows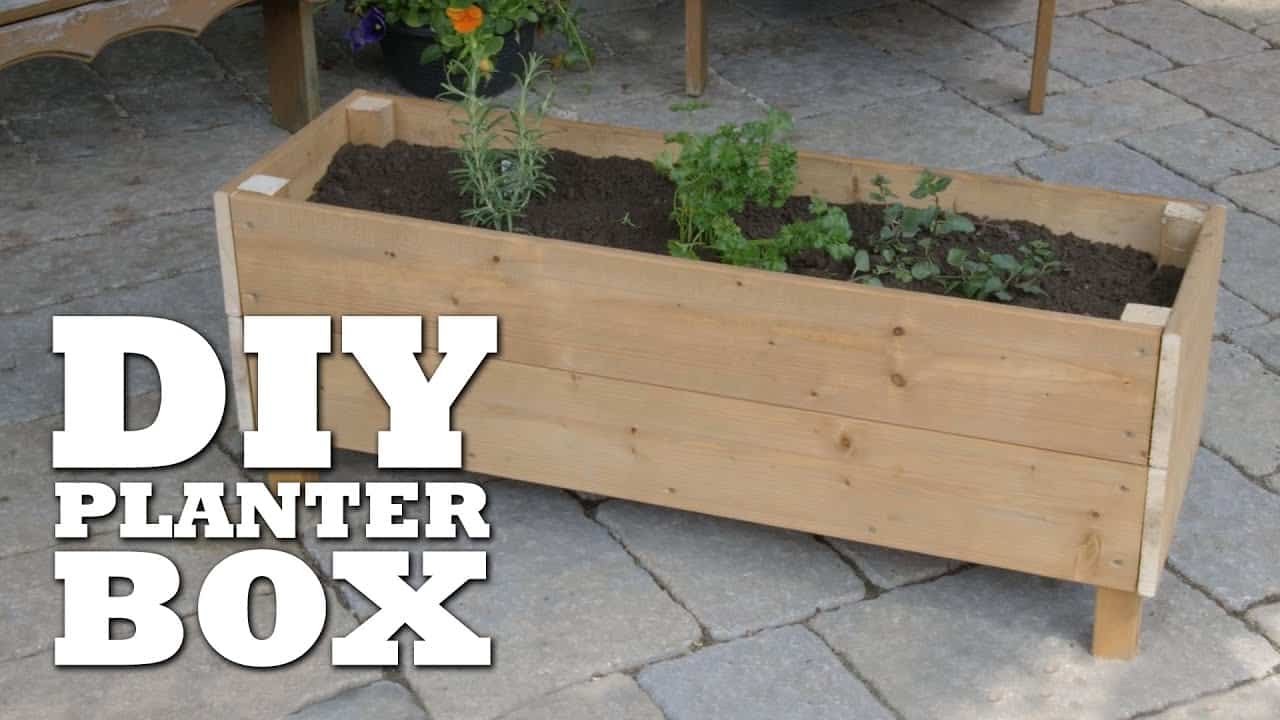 Did we actually really catch your attention when we started talking about homes that don't have any windows suitable for mounted garden boxes because that's your current situation, but you're still feeling quite intent on making yourself a simple boxed garden so you can have some greenery despite that? In that case, we think you'll really appreciate the way Cottage Life built themselves an easy set of freestanding garden boxes instead! These get you the look but don't need any window at all.
14. Indoor window sill box from a rain gutter
Just because most people put their garden boxes on the outside of their window doesn't mean that's the only option! The popularity of wooden homemade window boxes aren't your only option either, believe it or not. We love the way Our Fairfield Home & Garden built themselves a thriving indoor window box garden from a cut length of drain pipe.
15. DIY herb and chalk herb box
Are you the kind of person who is feeling very enthusiastic about building yourself a little herb garden but you're also still learning what each growing plant looks like in order to identify them, so you know you'll need to label whatever you put in your box? In that case, we think you'll really appreciate the way Live Simply made theirs with chalkboard paint on one side so they can label their different herbs right there on the front of the box, just to keep things organized and easy!
Have you made other kinds of stunning and interesting looking homemade window boxes before that you were very happy with indeed but that you don't see anything quite similar to here on our list? Tell us all about what you created and how you did it or link us to photos of your finished work in the comments section!