Breakfast Bake Egg Recipe With Bacon and Scallions
Crispy baked potatoes stuffed with egg and bacon – a delicious breakfast or lunchtime treat! Do you ever find yourself getting stuck in a routine when it comes to baked potatoes? All pretty tasty, but they can get a little dull over time.
Tuna Cheese
Baked Beans
Chili con carne (if you've got some leftover in the fridge)
How about something a little bit different! Let's scoop out that potato (and use it for one of these delicious mashed potato recipes!), then fill that crunchy potato shell with melty cheese, crispy bacon and scallions. All finished off with a baked egg – cooked just long enough so the yolk is a little bit runny.
It is possible to use leftover baked potatoes, but if you do, it's worth heating the potato shells up in the oven for 5-10 minutes to warm them through in the middle. This will help the egg white to cook faster when it goes back into the oven.
Don't scoop too much potato out of the shell, you still want to get that potato taste.
When baked in this way, the egg, cheese and potato cook together, with the flavors mingling, so the egg white is fluffier (rather than being a solid lump).
For an extra scrumptious look, reserve a little of the chopped bacon and scallions to sprinkle on at the end.
Here's what you'll need for the breakfast bake egg:
Serves 3
3 large baking potatoes
1 cup shredded cheddar cheese
8 rashers cooked bacon, chopped
Small bunch scallions, chopped
3 eggs
Pinch of salt and pepper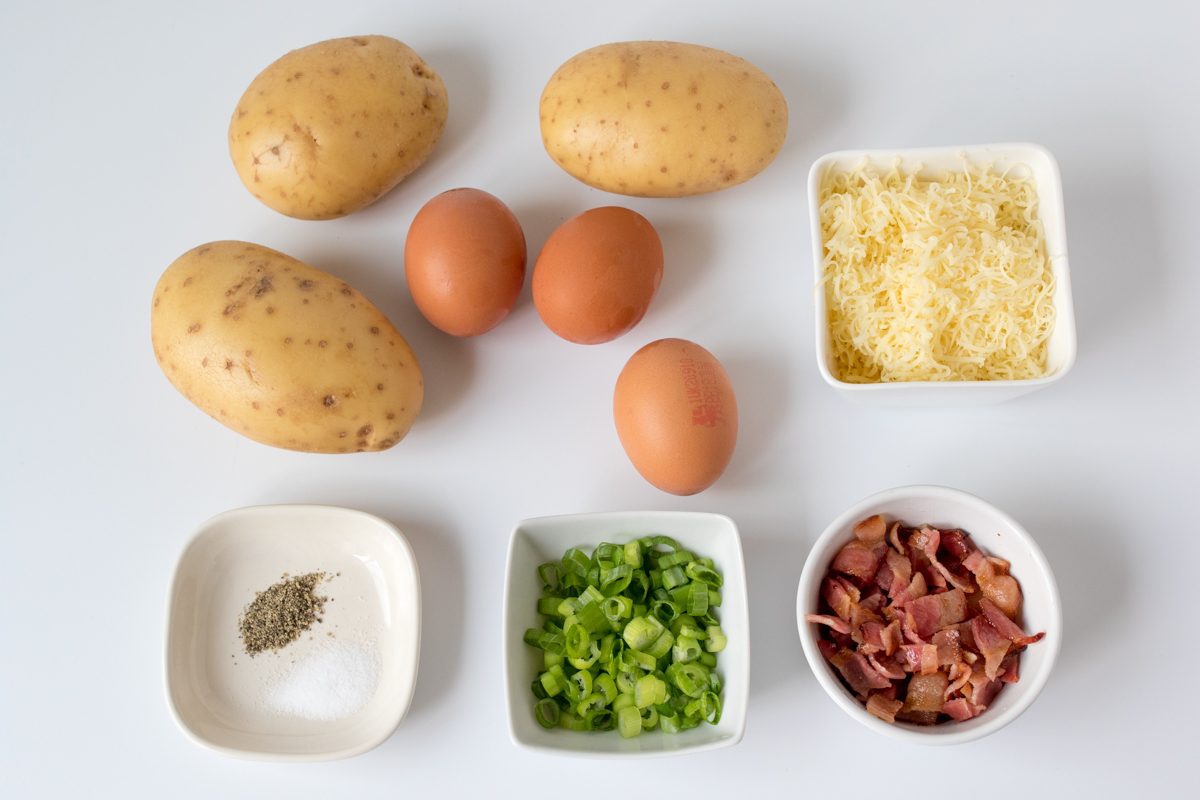 Step by step preparing tips:
Preheat the oven to 400f. Prick the potatoes a few times with a fork and place in the oven. Cook for 60-90 minutes (depending on the size of the potatoes) until cooked throughout. Once cooked, remove from the oven and very carefully (use a kitchen towel to protect your hand), slice the top off the potatoes, then scoop out most of the potato (the removed potato can be used for something else – creamy mashed potatoes anyone?).
Fill the potato shells with the cheese, then top with the bacon and scallions. Crack the eggs into the potatoes (I find it easier to crack each egg into a small bowl, then pour into the potato – this means you can check for egg shell or whether the yolk has broken). Sprinkle with a pinch of salt and pepper.
Place back in the oven for 13-16 minutes until the white has just set. You may need to check a couple of times for the last few minutes. Cooking for this amount of time should ensure the yolk is still a little bit runny.
Serve immediately.
What's your favorite weekend breakfast? we'd love to hear, tweet us @diyscom!