15 Adorable Baby Blanket Sewing Patterns
If you ask us, making a baby blanket for an expectant parent is one of the best gifts you can give. They'll always need a blanket to keep their little one warm and you'll get the satisfaction of making something lovely from scratch and seeing their faces like up when you gift it! Baby blankets are also simple sewing projects for beginners and great ways to practice some of your basic techniques.
Just in case you're as in love with the idea of making homemade sewn baby blankets for those you love as we are, if not more, here are 15 of the cutest, simplest, and nicest looking designs we've come across in our never ending search for great ideas.
1. 30 minute double sided baby blanket
The beauty of being able to make something yourself is that you can choose the features and details, so why make something single sided when you can make it double sided instead? We love the way Taking Care of Monkey Business used two different types of cozy fleece fabric to make a blanket that's soft no matter how you wrap it but has some contrast too.
2. Cute and colourful bunny blanket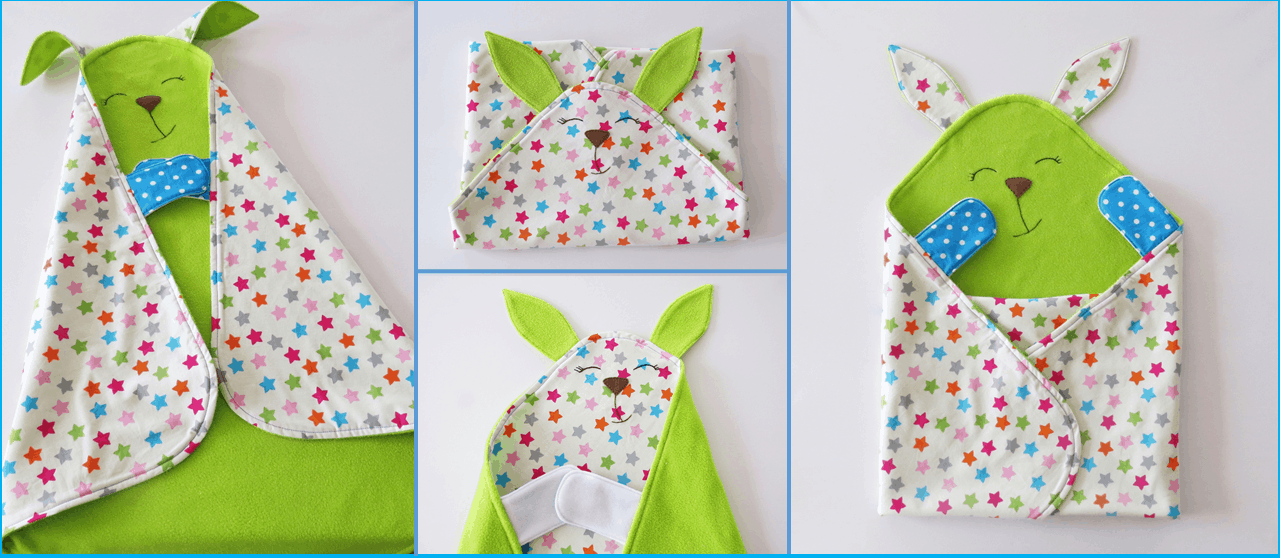 If you're going to make a blanket that has some personality to it, would you actually rather create an adorable little character with it? Then we have a feeling you're going to get along very well indeed with this bunny rabbit blanket that's made complete with ears, an embroidered face, and little hands to hold. We love the contrasts in colour and pattern! Get the full details for making your own on Sew Toy.
3. Easy beginner's baby quilt
What if your idea of the perfect baby blanket is actually a quilt, but you're a total beginner who has only ever done smaller quilting projects before? In that case, we think you'll find this helpful starter's guide from The DIY Mommy very helpful indeed! They walk you step by step through the process of making a double sided, patchwork pieces quilt with a lovely binding border.
4. Quarter Cut baby quilt
Just in case we caught your attention with the idea of quilting but you're not sure the design we showed you above is quite what you have in mind, here's one that's slightly more advanced but still manageable! We love the way Debbie Jeske outlines this lovely striped squares quilt in a nice, clear way.