How to Make a Baby Blanket – 15 Adorable Baby Blanket Sewing Patterns
If you ask us, learning how to make a baby blanket and gifting that to expecting parents is one of the best gifts you can give. They'll always need a blanket to keep their little one warm and you'll get the satisfaction of making something lovely from scratch and seeing their faces like up when you gift it! Baby blankets are also simple sewing projects for beginners and great ways to practice some of your basic techniques.
Just in case you're as in love with the idea of making homemade sewn baby blankets for those you love as we are, if not more, here are 15 of the cutest, simplest, and nicest looking designs we've come across in our never ending search for great ideas.
Learn how to make a baby blanket
See which materials are need to create a beautiful baby blanket
Materials Needed
2 pieces of fabric
cutting mat
scissors or rotary cutter
sewing machine
pins
threat
Easy Steps on how to make a baby blanket
Read through the steps to learn how to create a baby blanket
Measure the fabric
Cut fabrics to desired size
Pin 2 fabrics right-side together (print is on the inside)
Sew all around the blanket. Leave a few inches open
Turn blanket right-side out
Sew together the open corner
Learn about 15 ideas on how to make a baby blanket
1.30 minute double sided baby blanket
The beauty of being able to make something yourself is that you can choose the features and details, so why make something single sided when you can make it double sided instead? We love the wayTaking Care of Monkey Businessused two different types of cozy fleece fabric to make a blanket that's soft no matter how you wrap it but has some contrast too. You can learn how to create a baby blanket in 30 minutes.
2.Cute and colourful bunny blanket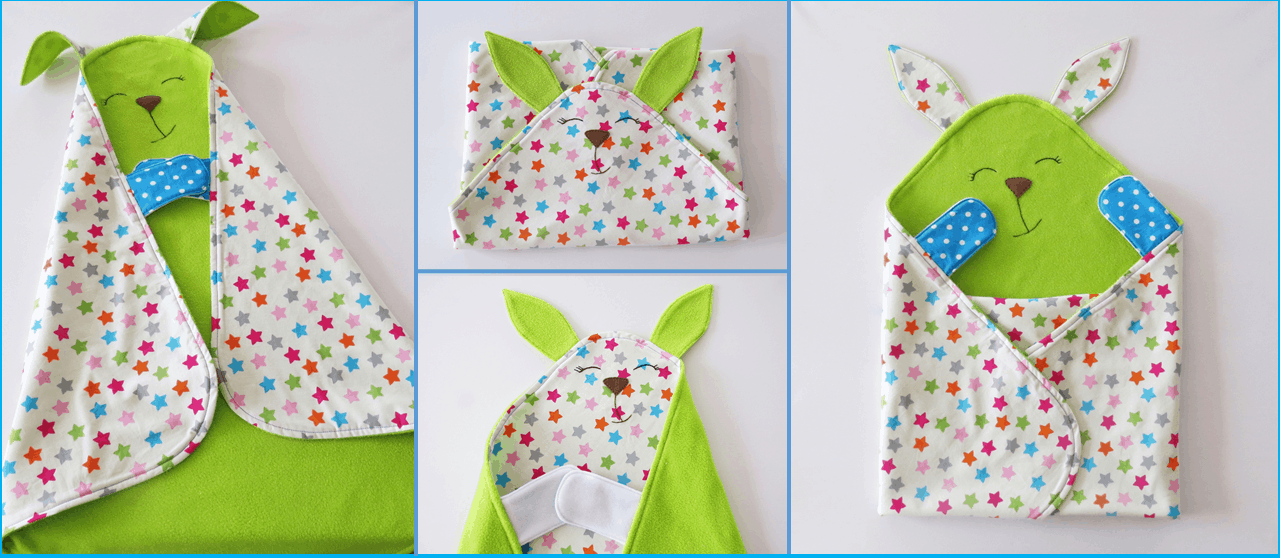 If you're going to make a blanket that has some personality to it, would you actually rather create an adorable little character with it? Then we have a feeling you're going to get along very well indeed with this bunny rabbit blanket that's made complete with ears, an embroidered face, and little hands to hold. We love the contrasts in colour and pattern! Get the full details for making your own onSew Toy.
3.Easy beginner's baby quilt
What if your idea of the perfect baby blanket is actually a quilt, but you're a total beginner who has only ever done smaller quilting projects before? In that case, we think you'll find this helpful starter's guide fromThe DIY Mommyvery helpful indeed! They walk you step by step through the process of making a double sided, patchwork pieces quilt with a lovely binding border.
4.Quarter Cut baby quilt
Just in case we caught your attention with the idea of quilting but you're not sure the design we showed you above is quite what you have in mind, here's one that's slightly more advanced but still manageable! We love the wayDebbie Jeskeoutlines this lovely striped squares quilt in a nice, clear way.
5.Fleece and flannel baby blanket
Just in case you love the double sided baby blanket idea but you'd rather work with more than one soft material rather than just fleece, here's a fantastic tutorial for adding warm flannel into the mix!Patchwork Posseshows you how it's done and gives you some tips for working with two different fabrics, just in case.
6.Cuddle and flannel double sided blanket
If you've never worked with "cuddle fabric" then we're sorry to tell you that you've been missing out, because it's a lot of fun to work with and very cozy indeed to wrap Baby in!Sew 4 Homeshows you how to make sure your sewing machine is adjusted to handle the baubles on the cuddle fabric properly, as well as how to add a little scalloped detail to the edges.
7.Self binding receiving blanket
No matter what you're sewing or what fabrics you're working with, edges can be tricky for beginners. We used to find it hard to keep ours constant in thickness all the way around, as well as to keep them straight and neat. That's why we thought this self-binding design, outlined step by step onSew Much Ado, was such a good idea!
8.Bunny "grow with me" baby blanket
If you're a slightly more advanced sewing enthusiast and you're feeling up for a challenge, here's a fantastic idea that will transform with Baby as they grow! We love the wayDolls and Daydreamscreated a plushy bunny themed "grow with me" blanket that changes in different ways for swaddling, then comfort, then play as the child gets older and needs it differently.
9.Quilted flannel burp blanket
Lovely, cozy blankets are all well and good when you're gifting to new families, but those aren't actually theonly kinds of blankets they'll find themselves needing! We're totally in love with the wayJedi Craft Girlcreated double thick burping blankets that are very simple to wash but that are also lovely to look at, with a pretty edging.
10.Stripy rag quilt
Perhaps you've got a large supply of fabric scraps and you're interested in quilting but you're still practicing the skills required to get all your stitches and seams very neat? In that case, we'd suggest taking a look at howThe Sweeter Side of Mommyhoodmade this lovely stripy rag quilt! We like this idea because unfinished edges and a slightly purposely worn quality is all part of the cute aesthetic.
11.DIY swaddling blankets
Now you've seen several tutorials for comfort blankets and also one for burp blankets, but what if baby needs swaddling in the stroller without folds or large, thick blankets? Perhaps they'll be a summer baby so they need a blanket that's a little cooler than what you've seen so far. In either case, we'd absolutely suggest taking a look at howPurl Sohocreated these light DIY swaddling blankets.
12.Pouffy bubble quilt
Do you feel like gettingvery unique indeed and challenging yourself a little further than some of the ideas you've seen so far might? Well, if new techniques and cool textures are up your alley, then we have a strong feeling this awesome pouffy bubble quilt might be as well! See how it's done in more detail onAwaiting Ada.
13.Minky and cotton blanket
Just like we said when we started talking about cuddle fabric, you're missing out on something fun and trendy if you haven't made a "minky" blanket yet! This incredibly soft material is comforting even just to touch, so it's definitely popular for baby blankets. Take a look atHow Does Sheto find out some great tips and tricks for working with its particular fuzzy texture.
14.Ruffled baby blanket
Just in case you're still convinced that a baby blanket with a bit of extra personality to it is the best idea for you but you're notquite up to the challenge of the bubble blanket, here's another idea that you might get along with very well indeed! Check out howSweet Red Poppymade this stunning ruffle all the way around the edges in a lovely, silky fabric.
15.One-hour triangle quilt
Are you actually still thinking about how much you loved the idea of making a baby quilt and, even though you'd like to keep things pretty simple, you're convinced you could stand a slightly harder pattern than just straight vertical and horizontal lines? In that case, we'ddefinitely suggest taking a look at howSee Kate Sewmade this stunning triangle patchwork blanket with a snazzy metallic border.
Have you made other kinds and styles of sewn baby blankets in the past that you were very pleased with when you finished but that you don't see anything quite similar to on our list? Tell us all about how you did it or link us to the pattern and photos of your blanket in the comments section!