Mouthwatering Vegan Recipes for Thanksgiving
When it comes to cooking for our family and friend group at any holiday dinner, we're faced with quite the array of eclectic likes, dislikes, dietary restrictions, and food preferences. We strive to make each guest we invite feel valued and cared for around the holidays, however, so we're always keeping our eyes peeled for great recipes that might apply to more than one person's needs at once and taste great to everyone present regardless. This Thanksgiving dinner, for example, we've been scouring the Internet for delicious vegan recipes because those meet everyone's needs equally and we've also never tried one that we didn't like!
Are you feeling just as enthusiastic as we are, if not more, about idea idea of learning how to make something new vegan recipes this Thanksgiving? Check out this list of 15 mouthwatering recipes, ideas, and flavour combinations that we've come across so far in our search.
1. Shredded bean sprouts with walnuts
Serving a veggie and nut based salad might not seem like something you really need to make dietary adjustments for when it come to animal products, but you'd be surprised by how many salad dressings aren't actually vegan and, of course, you'll want an alternative for the cheese you might have sprinkled on top! Instead, take a look at how A Thought for Food made a particularly satisfying green vegan opening dish involving shredded brussel sprouts and walnuts. It's an entree veggie served like a salad!
2. Baked vegan sweet potatoes with maple, cinnamon, and citrus
When you're cooking for Thanksgiving with vegans, there are quite a number of things that seem vegan-friendly at face value, because they are originally, but that you have to re-evaluate once you start preparing them. For example, sweet potatoes are vegan but the butter they're often slathered with or the milk you might use to mash them isn't. Instead, give these delicious baked vegan sweet potatoes with maple, cinnamon, and citrus from Healthy, Happy Life a try!
3. Vegan green bean casserole from scratch
When it comes to big family dinners, we've always been huge casserole fans. There's just something so satisfying about a creamy veggie casserole that makes us feel like we're well taken care of! Imagine how pleased we were, then, when we came across this vegan alternative for one of our favourites! The Busy Baker is here to help you make this scrumptious vegan green bean casserole that tastes just like the kind you've probably made before.
4. Vegan nut roast "meatloaf"
Are you still feeling intent on serving turkey because the majority of people in attendance eat meat and you know they have it as tradition but you want to make sure there's an alternative for those who don't eat meat that's still a source of protein and satisfaction? Then we'd definitely suggest taking a look at how Vegan Richa made this vegan but roast "meatloaf" that's packed with unique flavour.
5. Vegan scalloped potatoes
Have we actually really got you thinking about how great it is that you can make all kinds of vegan alternatives to your favourite classically creamy recipes without sacrificing texture and richness or breaking dietary restrictions? Well, if it's the potatoes you're looking to make an animal product free version of next then Nora Cooks has you covered. They show you just how surprsingly easy it can be to make vegan scalloped potatoes that taste just as rich as any you'll have had before.
6. Vegan stuffed butternut squash shells with sage cashew cream sauce
If you're going to put in the time and effort it takes to make something vegan and delicious from scratch, would you actually rather make it something entirely different and unique to what you might usually find on the menu of a standard Thanksgiving dinner? In that case, we'd absolutely suggest taking a look at how Abbey's Kitchen made these mouthwatering vegan stuffed butternut squash pasta shells with a sage cashew cream sauce.
7. Irresistible vegan mashed potatoes
Did we really catch your attention when we started talking about vegan alternatives to classically prepared potatoes but it wasn't he scalloped kind you were hoping to find some guidance for? In that case, we think you'll be rather pleased indeed to see this fantastic recipe from Delish that guides you step by step through the process of making irresistible vegan mashed potatoes that have the perfect texture!
8. Vegan stuffed mushrooms
In your opinion, is cooking vegan really the perfect change to get your family trying vegetables that they might otherwise think they don't really like in new ways that will showcase just how delicious those things really are? Then we simply must show you the vegan recipe that just happened to convinced our kids they really do like mushrooms after all! Check out how Cheftographer outlined the steps for making these vegan stuffed mushrooms nice and clearly.
9. Vegan pumpkin pie
Of course, if you're going to try and find vegan versions of the classic turkey dinner elements involved in the first two courses of the meal, it only makes sense that you'd do the same with desserts, right? In that case, we have a feeling you'll feel rather enthusiastic indeed about how simply Delish shows you the steps for making a vegan pumpkin pie so good you won't even know there's anything different about it!
10. Easy vegan stuffing
Naturally, if we're going to give you diet-conscious alternatives for this many elements of a traditional turkey dinner so far, it only makes sense that we'll cover all of the classic bases, right? In that case, we doubt very much that you'll be surprised to see we've included a stuffing alternative too! After all, most old fashioned stuffings are prepared inside the turkey, which clearly isn't an option here. Instead, check out how Build Your Bite made this veggie packed easy vegan stuffing that tastes as good as ever.
11. Vegan stuffed turkey roll
Are you actually quite experienced in the kitchen and feeling up for a challenge, but you're also completely intent on making a convincing turkey alternative that might still make your vegan guests feel like they're still eating the bird for dinner along with everyone else? In that case, we think you just might be the perfect person to give this vegan stuffed turkey roll from Cheftographer a try! It's like two dishes in one, but both replaced with a vegan alternative that doesn't lose you any flavour at all.
12. Chickpea spinach pie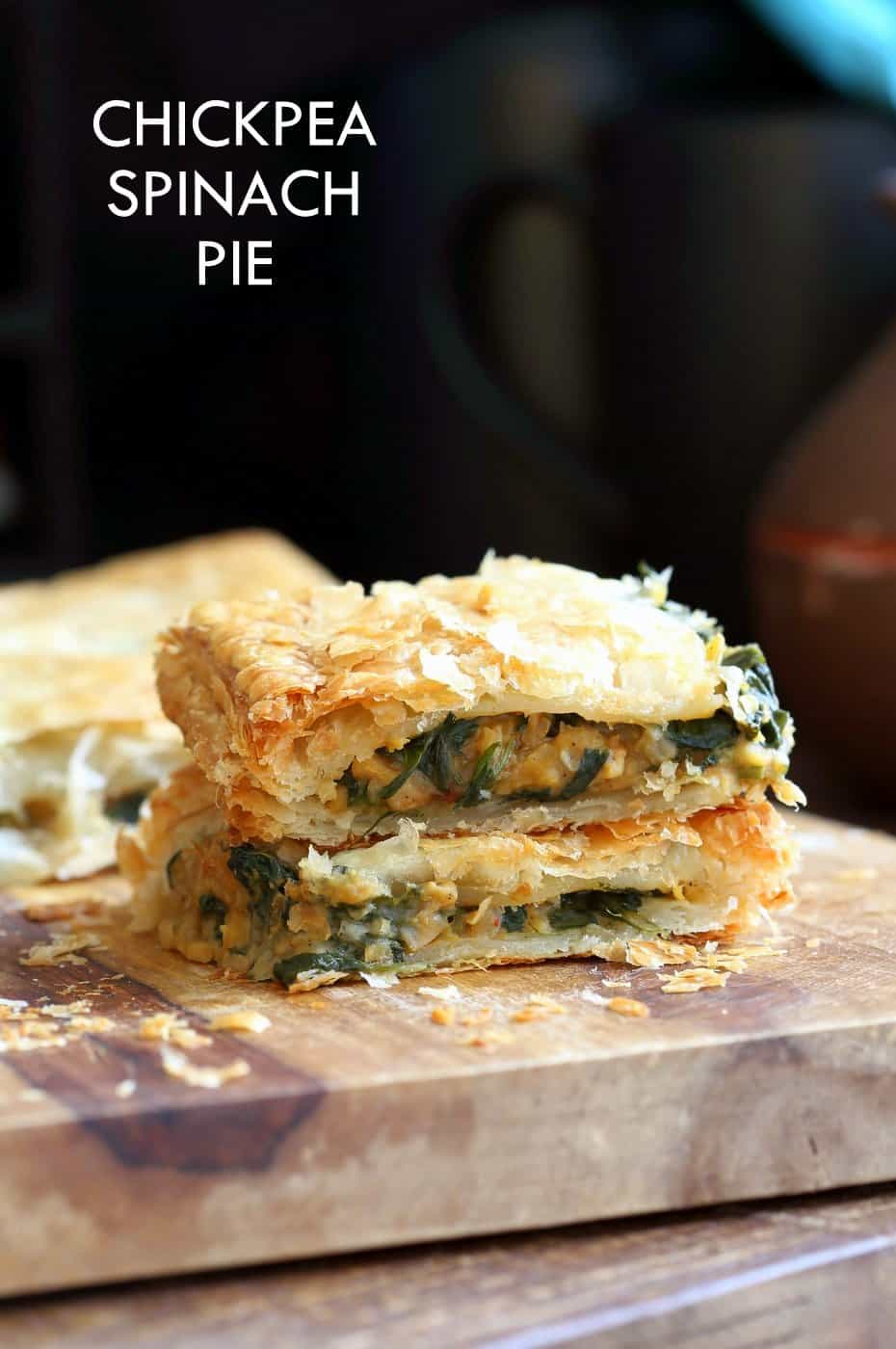 Just in case you're still on the hunt for some kind of unique entree replacement that will really satisfy your vegan guests (and anyone else who tries it, honestly), here's another flavourful option for your consideration! We'd absolutely suggest checking out how Vegan Richa made this chickpea spinach pie that's all at once crispy and also delectably soft.
13. Easy, delicious vegan gravy
Are you the kind of person who absolutely smothers your entire meal in gravy, no matter what's served? We're the same way; we might as well say that gravy is our favourite part of the whole meal. Of course, being the generous friends we are, we want to make sure everyone at the dinner is able to do the same! That's why we were so pleased to come across this awesome recipe from Nora Cooks for a delicious vegan gravy that's surprisingly simple to make.
14. Ginger citrus maple roasted beets
If you're going to venture into cooking vegan, are you still feeling quite interested in putting some things down on the table that you might not have before because you'd love to take this chance as an opportunity to expand your own skills and standard family menu? Well, that's precisely what we did with beets last year, and we used this mouthwatering recipe from Healthy, Happy Life for ginger citrus maple roasted beets to make it happen. It was a huge hit all round!
15. Butternut squash wild rice
With out vegan friends, we've found that rice is a popular base for a lot of meals because it can be easily and deliciously prepared without any animal products at all, but dressed up scrumptiously with so many diverse and wonderful tasting things. This butternut squash wild rice recipe outlined step by simple step on Simple Bites is the perfect example of what we mean!
Have you made other kinds of fantastic and delicious vegan dishes for Thanksgiving before that you don't see here on out list but that are alway a hit? Tell us all about it in the comments section or link us to the recipe so we can try it out as well!